IBM Cognos Analytics software provides personalized analytics driven by artificial intelligence (AI). It enables organizations to become top-performing and analytics-driven entities. From business intelligence to financial performance and strategy management, IBM Cognos Analytics software is designed to help everyone in your organization make the decisions that achieve better business outcomes–today and in the future.
IBM Cognos Analtyics includes flexible deployment options, either on cloud or on premises, enables you to easily scale your analytics to meet changing business needs. Machine learning helps find data not typically obvious to your staff through pattern detection.
Video Overview
Features
Multi tenant cloud
Cloud data sources
Augment data from multiple sources
Content sharing
Dashboard creation
Enhance data stories with media, images, shapes, and more
AI-infused data discovery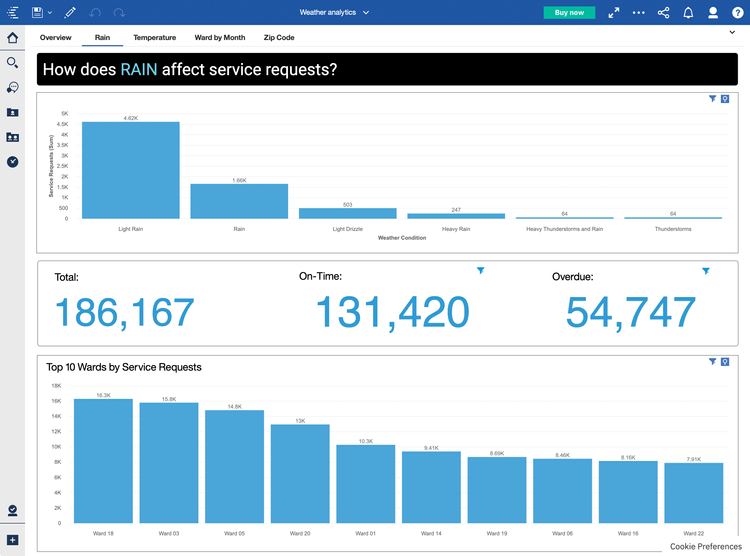 Benefits
| Benefit | Definition |
| --- | --- |
| Rapid and Accurate Operational Decision | Achieve goals for quick decisions requires that your analytics applications quickly turn your data into relevant insights |
| Augmented Analytics | Uncover insights and patterns, engage data in new ways, make better decisions, ask better questions and explore unconsidered possibilities |
| Infused AI in BI | New machine learning and natural-language elements augment the BI functions in Cognos Analytics |
| Self-service capabilities | Every user can perform the data exploration and visualization appropriate to their role |
| Better than average Business Intelligence | Delivers all the capabilities of traditional BI but improved upon with AI-driven content and elements |
Pricing
IBM Cognos Analytics will cost different depending on what version of the software you are running. The software is intended to be deployed in numerous environments by businesses of all sizes with any budget. Flexible financing terms are available for as low as 0% for 12 months.
Trial Version
Try the Premium version for free for 30 days
Full product capacity
Full spectrum of user capability
Premium Version
Starts at $70/user/month
On-demand, SaaS solution
Enterprise Version
Customized pricing (contact a vendor)
Cloud throughput capacity and additional user storage available for added cost