What Is Cloud Manufacturing Software?
Cloud manufacturing software gives manufacturers full control over inventory control, sales order management, quality control, and material requirements planning from anywhere and with any device connect to the Internet. These cloud-based systems won't be installed on your own computers, so you'll save time on implementation, updates, and IT support. Since these systems are web-based, you can also access the system from any operating system whether you have Windows or Mac, or are looking to access with a mobile iOS or Android device.
Manufacturers may also choose a cloud solution for the lower upfront costs compared to an on-premise solution that's purchased outright. The subscription-based pricing allows manufacturers to pay a smaller fee over time.
Features of Cloud Manufacturing Software
Material Requirements Planning (MRP): Gives manufacturing companies visibility into the order to cash process. Features of MRP include shop floor control, purchase planning, demand forecasting, and equipment maintenance scheduling. Ties in with other functionalities including accounting and order processing.
Sales Order Management: Convert sales orders into work orders. Create and send invoices.
Manufacturing Inventory Control: Track quantities, prices, variations, and location of raw materials and finished products. Automate purchase orders for low stock items.
Bill of Material (BOM): A list of raw materials and assemblies used in the production process.
Quality Management: Track defects for finished products and raw materials and manage corrective actions.
Benefits of Cloud Manufacturing Software
Some of the advantages of cloud manufacturing software include:
Streamlined Production Processes
Manufacturing resource planning within cloud manufacturing software streamlines production processes with production scheduling, purchase planning, demand forecasting, inventory control, and more. The system ensures your business keeps up with customer demand by calculating material requirements, coordinating workloads for personnel and equipment, and planning purchasing.
Accurately estimating the quantity and cost of labor, raw materials, and equipment needed to manufacture finished products is an important aspect of manufacturing software. This allows manufacturers to ensure they're making the right amount of products while maximizing their ROI.MRP also helps ensure equipment is properly maintained to reduce machine downtime. The system will track preventive maintenance schedules and maintenance tasks.
With a cloud-based manufacturing system, operators and shop floor personnel can check up on the status of work-in-progress orders, equipment maintenance deadlines, and inventory levels from anywhere.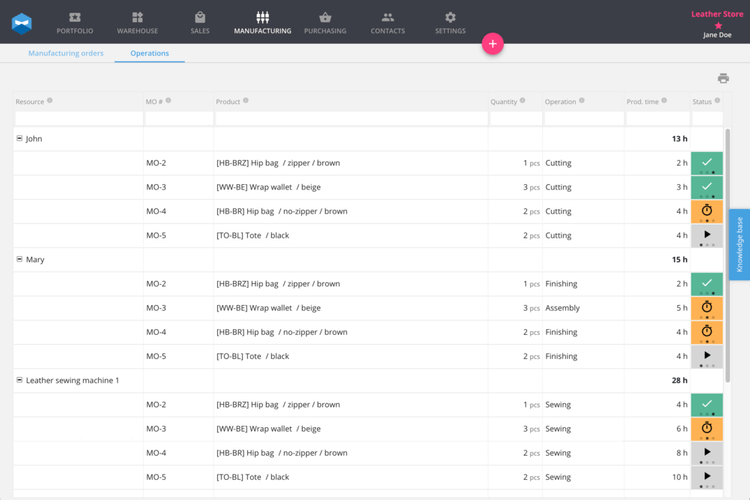 Improved Product Quality
Cloud manufacturing software ensures finished products are up to the standards of your business and regulatory agencies. Quality planning is one of the first steps manufacturers need to take–the system will help you define your quality standards and set dimensions like scrap and waste percentages, defect rate, deviations in measurement, and more.
Manufacturing software also helps manufacturers predict and take action when quality errors occur. Risk analysis predicts failure rates and potential costs associated with the issue. This allows you to take steps to prevent issues before they occur. Corrective Action/Preventive Action tools allow you to assign actions to the right personnel and monitor the status of the corrective or preventive action.
Quality control within the cloud manufacturing software helps maintain regulatory compliance. The system keeps detailed documentation and reports ensuring adherence with strict regulatory standards. Compliance control is an important feature for many industries including manufacturers of medical devices, food and beverage products, chemicals, pharmaceuticals, and more.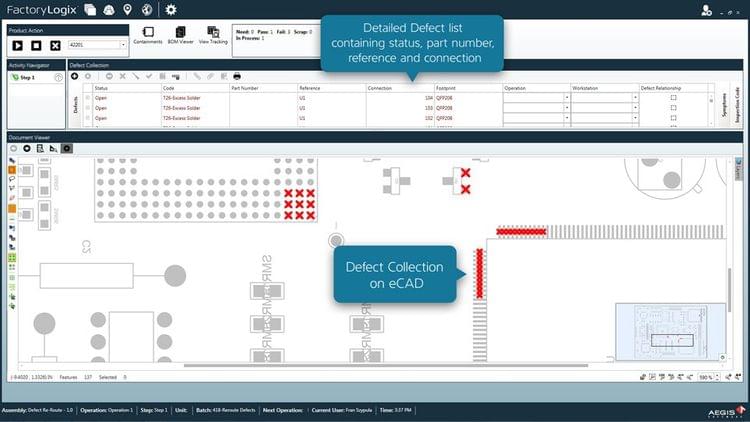 What Does Your Business Need?
The right software solution for your business depends on your unique needs, the size of your business, and the industry space you're in. The most important factors to consider when choosing a cloud-based manufacturing system are your budget and software functionality.
Small nusinesses generally look for a manufacturing cloud platform due to the lower upfront costs than on-premise solutions. Multi-module, cloud-based software makes it easy for small manufacturers to pay for only the functionality they need. More modules can be added easily as the business grows.
Medium-sized manufacturers find manual data entry or solutions meant for small businesses to be too limiting often look for a system that automates more processes for a growing business. The system needs to be able to keep up with your growing inventory and sales orders.
Large businesses often look for a solution that will handle manufacturing operations and day-to-day business processes all in one system. Full enterprise resource planning software (ERP software) handles manufacturing processes like quality control, inventory management, and resource planning in addition to financials, sales, and production management. Warehouse management can also be included for stock control and picking/packing improvements.
Direct to consumer companies that take orders, manufacture, and then ship directly to customers often sell their products online. Finding a cloud-based manufacturing system that integrates with your eCommerce system is important for real-time inventory tracking and processing credit card payments.
Industry-specific solutions are used if your business deals primarily with discrete or process manufacturing only. Depending on your business needs, the system can handle lot and serial number tracking, regulatory compliance management, recipe and formula management, and more.