What is Cosmetic Manufacturing Software?
Cosmetic manufacturing software helps businesses cheaply produce high-quality cosmetic and personal care products through inventory tracking, lot traceability, formula management, and compliance management. This software is used by manufacturers of makeup, hair care, lotions, perfumes, and so on.
Cosmetic manufacturers need to make sure their products are of high quality and safe for human use. Quality control testing ensures each batch meets your standards. The system also keeps track of formulas to ensure your products are consistent. Cosmetics like lipstick and nail polish often come in a range of color options. Using the same formulas ensures each variation is consistent with every batch.
Cosmetic manufacturing software will ensure you're meeting all national and international regulatory requirements including the Food, Drug, and Cosmetic Act, the Fair Packaging and Labelling Act, and the ISO 22716:2007. These regulations prohibit specific chemicals from being used, outline product storage requirements, and dictate label and packaging requirements. The system will track the ingredients used in each product and where the products are being distributed, as well as the packaging used.
Features of Cosmetic Manufacturing Software
| Feature | Description |
| --- | --- |
| Compliance Management | Ensures ingredients are stored, labeled, and procured in compliance with national and international standards including the FDA, ISO, and GMP. |
| Production Scheduling | Schedule the required raw materials, labor, and other resources needed to manufacture each cosmetic product. |
| Quality Control | Test samples from product batches throughout the manufacturing process to ensure pre-specified parameters are met. Automatically flag batches that don't meet requirements. |
| Formula Management | Keep track of the ingredients and quantities used to keep products consistent and scale batches as needed. |
| Inventory Management | Track details on raw materials and finished products including expiration dates, inventory levels, and storage locations. Manage the inputs, outputs, intermediates and byproducts across your manufacturing process. |
| Lot Traceability and Recall Management | Track where each ingredient came from and how it is used throughout the manufacturing process. Batch traceability makes it easy to identify which product is contaminated and where they were sold to effectively recall the products. |
| Product Development | Record and manage the progress of test formulations, while calculating the cost of material inputs, processing, and byproduct disposal. |
| Production Scaling | Determine production capacity based on the availability of machines, labor, and materials. Calculate reserves of finished cosmetic products that will be necessary to respond to uncertain order volumes. Achieve JIT production. |
| Cost Control | Track expenses and risks while identifying sources of revenue loss. |
| Supply Chain Management | Track and ensure the integrity of your supply chain to maintain quality and regulatory compliance. |
Compliance Management with Cosmetic Manufacturing Software
Cosmetic manufacturing software helps businesses keep in line with all national and international regulatory compliance mandates. Certain cosmetics and personal care products need to list the ingredients and potential allergens on the packaging, as well as include a tamper-resistant seal. The system will keep lists of each ingredient used and manage what type of packaging needs to be used with each product.
Cosmetic manufacturing software tracks all ingredients used during the manufacturing process. Specific chemicals are prohibited or heavily restricted in other countries. For example, lead is banned in Canada and restricted to a maximum level of contamination of 10 parts per million in the US for externally applied cosmetics like eye shadow, powders, and lotions. The software will flag products containing specific chemicals that are meant for sale in a country with restrictions against them.
Some of the most common regulations for the cosmetic industry include:
Regulation:
Regulatory Agency:
What Does the Regulation Do:
Food, Drug, and Cosmetic (FD&C) Act
FDA
Restricts unsafe ingredients from being used in cosmetics manufacturing and bans mislabeled products from being marketed. Restricted and prohibited ingredients include bithionol, mercury, vinyl chloride, chlorofluorocarbon propellants, and more.
Fair Packaging and Labeling Act (FPLA)
FTC and FDA
Regulates labeling of cosmetic products - labels cannot be misleading, a list of ingredients must be included, and safe-use directions and warning/allergen statements must also be included.

Many cosmetic and personal care products also require tamper-resistant packaging.
ISO 22716:2007
ISO
It provides guidelines that are accepted under the Good Manufacturing Practices (GMP) for production processes, shipment, and storage of products.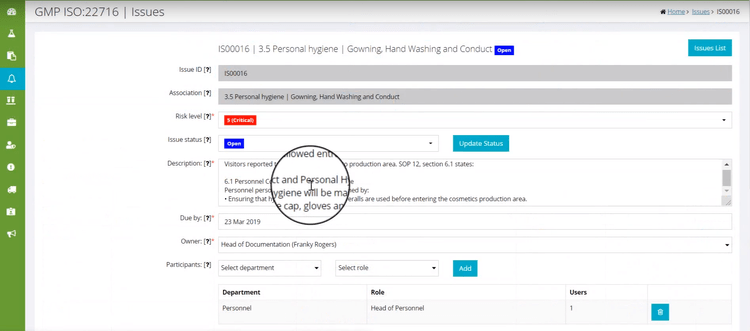 Inventory Control in Cosmetic Manufacturing Software
Cosmetic manufacturing software tracks the location and inventory levels of chemicals and other ingredients, as well as on-hand finished stock. The software allows you to scan barcodes for each product to give you real-time information on product quantities and storage locations.
Automating purchase order is another important feature of cosmetic manufacturing software. When chemicals or other materials are running low, the system will automatically place a purchase order with your preferred vendor. This prevents unnecessary downtime during the manufacturing process and helps ensure customer demand is being met.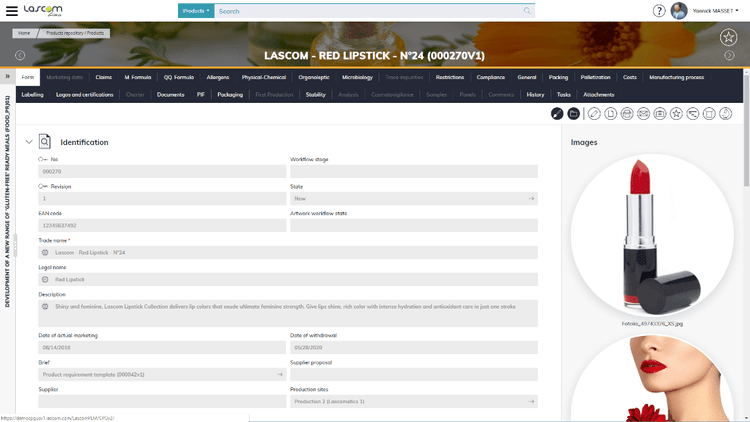 Lot Tracking and Traceability in Cosmetic Manufacturing Software
Cosmetic manufacturing software provides complete traceability of each batch. The system will record the ingredients used, as well as the equipment and labor used to make each product. Detailed records of each QC test will also be recorded within the system to ensure the product's quality from start to finish.
The software helps cosmetic manufacturers track and trace batches throughout the supply chain from manufacturing to packaging and distribution. You can easily see which retailers are selling products associated with a specific lot number. It's important to know where products from each batch were sold in the event of a recall. This allows you to notify affected retailers and reduce the risk of having to recall more products than needed.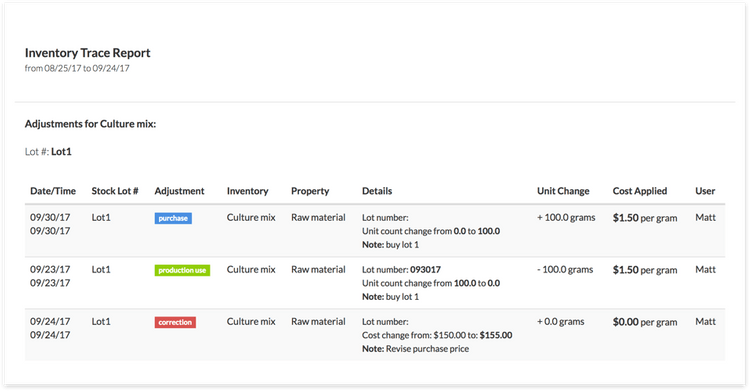 Formula Management with Cosmetic Manufacturing Software
Cosmetic manufacturing software is a type of process manufacturing software, so it stores formulas for each product and variation you manufacture. This ensures your products are consistent among each batch, not only in quality but also in color. For example, some lipstick products have a number associated with them to designate a particular shade. The software will store the formula associated with the shade to ensure the product is always the same color.
The software also stores conversions for batch scaling. The number of cosmetic products can be scaled up or down and the calculations will be calculated automatically. Batches can be scaled based on the availability of raw materials you have on-hand.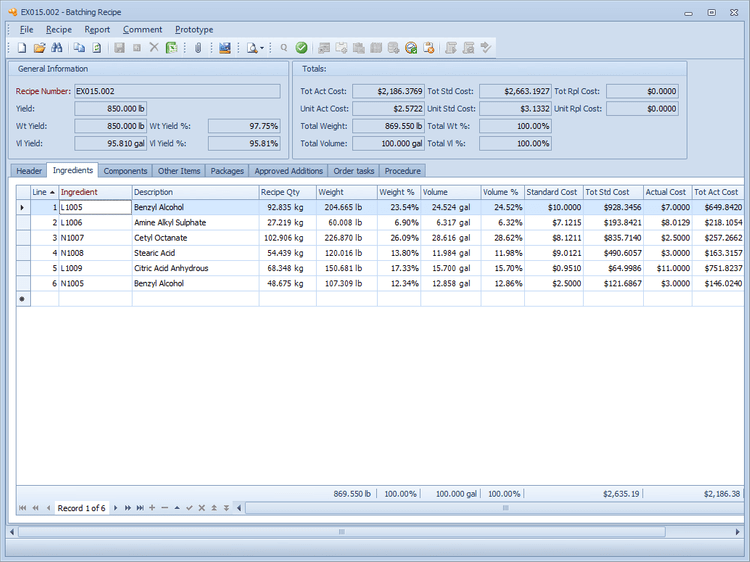 ERP Software for Cosmetic Manufacturers
Many systems tailored to cosmetic manufacturing businesses are complete ERP solutions. These solutions manage manufacturing processes along with other business processes like accounting, human resources, and customer relationship management. Cosmetic manufacturers that sell directly to consumers can also have an ERP solution with e-commerce functionality.
ERP systems typically include manufacturing resource planning (MRP) to help streamline manufacturing processes with advanced production scheduling and inventory control. MRP helps cosmetic manufacturers calculate the chemicals and raw materials needed to manufacture products, as well as coordinate workloads and plan purchasing.
Cosmetic ERP software often integrates with other systems. For example, cosmetic wholesalers and manufacturers can integrate ERP with their warehouse management software or integrate with accounting software like QuickBooks.