Enterprise resource planning (ERP) provides access to a centralized company database and improves collaboration among different departments. The software includes modules to automate business operations in accounting, eCommerce, human resources, project management, procurement, and customer relationship management (CRM).
Well-known businesses worldwide use ERP products to streamline business processes, empower decision-making, and provide historical and real-time data and reporting on demand. Read on for our list of top companies utilizing this robust planning software.
7 Bigs Companies Using ERP Systems
These seven ERP customers generally utilize SAP S/4HANA, or in Tesla's case, an in-house platform called Warp. Corporations like Microsoft and Walmart integrate Microsoft products alongside SAP for cloud-based enterprise management. Large organizations sometimes use multiple ERP systems to support business units and manage internal processes.
What ERP Does Amazon Use?
Amazon.com, Inc. is a multinational, Internet-based enterprise and the world's largest online retailer, specializing in cloud computing, digital streaming, and online advertising.
Amazon implemented SAP in 2008 to better meet long-term organizational goals it could not achieve through its existing system. The multinational technology company utilizes SAP to optimize purchasing, inventory control, financial management, and more critical operations. Specifically, SAP allows Amazon sellers to monitor their sales, enhance customer service, and analyze real-time data.


HANA database
Large network of resellers
Strong BI tools
Difficult setup
Lack of pricing transparency
Relatively new and unproven
Price Range: $$$$$
Client OS: Windows, Web
Deployment: Cloud or On-Premises
Modules & Features
Accounting: Monitors accounts payable/receivable and financial transactions; provides real-time reporting on cash flow and profit/loss.
Distribution: Minimizes costs by managing purchasing processes, inventory levels, and logistics.
Manufacturing: Optimizes workflows in product planning, scheduling, and inventory control; facilitates demand forecasts and real-time visibility into work orders.
Sales order management: Automates order-to-cash processes, prevents errors in fulfillment, and integrates with shipping carrier systems like UPS and FedEx.
What ERP Does Apple Use?
Apple Inc. is a multinational tech company that designs and markets personal computers, smartphones, tablet computers, and wearable devices.
Apple first incorporated SAP into its business practices in 2016. It utilizes the ERP platform to power its online store and services, the App Store, and iTunes. In addition, SAP's financial management, human resources, customer relationship management, and inventory control modules help Apple on multiple fronts.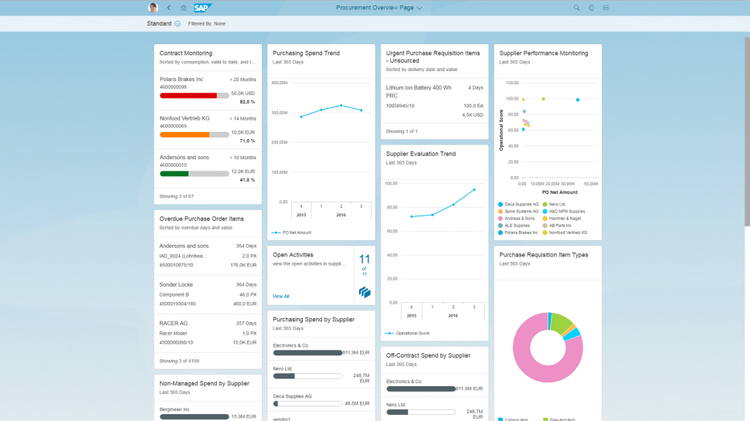 Modules & Features
Customer relationship management: Supports sales and service activities through lead tracking, call center integration, contact management, and invoice creation; personalizes relationships with individual clients through conversation logs and order history tracking.
Human resources: Streamlines onboarding processes, time and attendance tracking, benefits management, and employee data.
Inventory management: Tracks the products and services the organization purchases, produces, or sells.
Supply chain management: Provides cost-effective, efficient distribution of goods transported between suppliers, production centers, and retail stores.
What ERP Does Walmart Use?
Walmart Inc. is a multinational retail corporation managing hypermarkets, grocery stores, eCommerce functions, and discount department stores.
Walmart has used SAP technology in its back office operations since 2007. For example, the retailer utilizes SAP S/4HANA to manage global financial operations and process the company's transaction records.
However, Walmart signed a five-year deal in 2018 to implement Microsoft Azure, a public cloud computing platform. Walmart now utilizes Microsoft's cloud-based enterprise management to monitor warehousing capacity and allocate resources.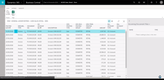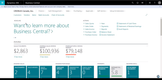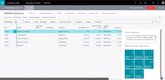 Combined ERP and CRM
Similar interface to MS Word and Outlook
Integrations with Microsoft applications
Not ideal for complex manufacturing needs
May require extensive training
No free version
Price Range: $$$
Starting Price: $70/user/month
Client OS: Web
Deployment: Cloud or On-Premises
Modules & Features
Business intelligence: Collects and analyzes data to show a comprehensive view of company performance and help drive decision-making.
Procurement: Automates purchase orders by tracking vendors, product quantities, delivery timeframes, and payment terms; monitors real-time stock quantities, seasonal trends, and supplier lead times.
Resource management: Helps schedule and allocate employees, technology, and funds to the right projects at the right time.
Warehouse management: Coordinates inventory throughout distribution centers, optimizes storage space and picking processes, and monitors stock levels.
FAQs
Which industries use ERP software?
Companies utilize ERP applications across many industries, including distribution, education, healthcare, hospitality, manufacturing, nonprofit, and retail.
Who benefits from ERP systems?
Customers receive better service and user experiences through CRM features like order and conversation histories, call center integration, and lead tracking. ERP helps employees by reducing the need for time-consuming, redundant processes like manual data entry and reporting. Executives benefit from real-time data visibility across departments to help manage operations effectively.
Who are the leading ERP vendors in the market?
These software companies are top-level ERP vendors with the greatest presence in the market.
Acumatica's cloud ERP is popular in the construction, manufacturing, retail, and distribution industries. It stands out for its consumption-based licensing model, charging based on usage rather than per-user costs.
Epicor Software Corporation's cloud-based Kinetic platform scales with company growth to provide long-term usability. It's well-known for its high ROI in generating purchase orders and invoices.
Infor's CloudSuite Industrial (SyteLine) is a cloud-based ERP focusing on discrete manufacturing. It benefits single and multi-site operations and numerous production styles, including engineer-to-order and build-to-stock.
Microsoft Dynamics 365 offers project management, accounting, and other common ERP apps while integrating easily with other Microsoft software products.
Oracle's NetSuite offers warehouse and supply chain management and apps for finance, sales, and human resources. It provides scalability to small businesses through its cloud-based environment and suite of configuration tools.
Sage designed its X3 ERP for enterprise-level businesses, emphasizing distribution process management support and robust accounting capabilities.
SAP Business One ERP, available on-premise and via the cloud, is popular amongst manufacturers due to its extensive material requirement planning (MRP) features.
SYSPRO is a business management software that automates inventory management, scheduling, customer orders, and more operations. It offers an intuitive, user-friendly interface and production planning.
Which ERP solution is best for my company?
When selecting a new ERP system, consider whether you would like to deploy an on-premise or cloud solution and the functional fit of the application to your specific industry.
Construction: Choose a construction management software with accounting, estimating, job costing, and project management features. Look for a platform with modules explicitly designed with contractors in mind.
Professional services and accounting: Select ERP with robust reporting and sales management functionalities. Look for a system that streamlines cash flow, accounts payable and receivable, bank reconciliation, and general ledger processes. The application should have a built-in compliance framework for ASC 606 and GAAP.
Manufacturing: Research ERP with industry-grade functionalities like demand forecasting, inventory control, and supply chain management. Manufacturing ERP specializes in material resource planning and quality management modules.
Retail and hospitality: Select an ERP platform with EMV compliance, point-of-sale capabilities, inventory management, and integrated bookkeeping solutions. Collect customer data through business intelligence tools to enhance the sales experience.