What is Spare Parts Inventory Management Software?
Spare parts inventory management software, sometimes shortened to just parts management systems, provides real-time tracking of spare parts used by your business. By maintaining accurate stock levels and Bill of Materials for vital assets, these inventory tracking systems are often necessary for preventive maintenance management practices.
You may need spare parts for:
Product assembly
Vehicle repair and maintenance
Machine and equipment repairs
Whether your spare parts are for a warehouse or an auto repair garage, software can make it easier to optimize your inventory levels.
Features of Parts Management Software
Parts profile: Store information on a part's manufacturer, make, model, style, and other identifying features for future reference; record the part's current location, minimum/maximum unit price, and available vendors
Stock count tracking: Provides a record of the on-hand units for each SKU and helps maintain accurate stock levels through automated cycle counts
Minimum stock quantities: Set an alert to automatically reorder when stock levels reach a predetermined minimum to avoid running low on parts; send email or push notifications when stock is low
Inventory costing: Establish the cost value of assets for profitability tracking and tax accounting; potential cost methods include: FIFO, LIFO, and more
Inventory receipts and tickets: Use receipts for inbound stock and ticketing for marking outbound parts
Purchase orders and requests: Build a database with all your purchase orders
Vendor tracking: Keep up-to-date records on vendors and suppliers of your business, along with their pricing data, to know who to contact for specific parts
Work order records: Create a trackable document identifying what parts are needed for work which needs to be done from a Bill of Materials (BOM) and what parts are currently in stock
Location tracking: Automate picking, packing, and shipping tasks related to inventory items by keeping real-time records on stock locations; Improve inventory loss prevention by keeping tabs on the movement of individual units
Serial number, lot number, barcode, and RFID tracking: Identify particular units and track them using the preferred method of your facility, whether it's scanning printed barcodes, QR codes, or using Radio Frequency Identification (RFID) readers to send radio waves and interpret the corresponding frequencies into inventory data
Reporting: Use historical data on stock levels and usage rates to better inform your future decision-making when it comes to reordering spare parts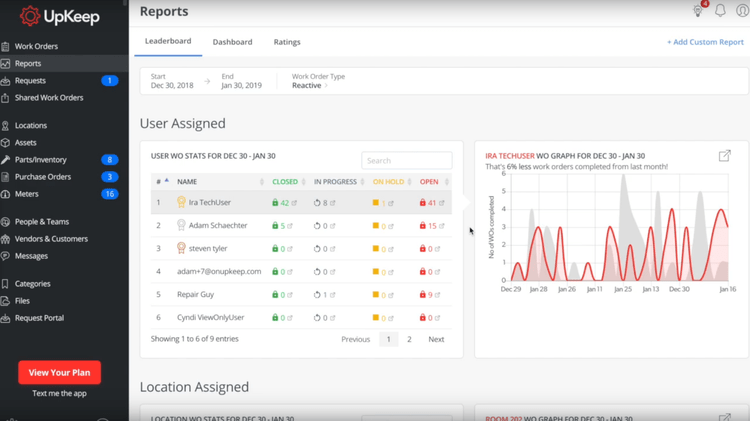 Best Spare Parts Management Software Benefits
Implementing software to manage your inventory can make your job easier in a lot of ways:
Real-Time Inventory Updates
Right now, you might be relying on Excel spreadsheets to track inventory. You might even have a physical checklist on a clipboard showing inventory levels. You deserve a better system, one capable of optimizing your asset management system.
Spare parts management software can do that, using real-time tracking tools such as custom QR codes and barcodes to count stock, set reorder points, and prevent overstock.
Along with real-time location data, you can look at the past of your assets as well. Movement histories can create a trail of how batches or individual parts move through your facility. This information can indicate exactly where each item should be and, more importantly, who was last in control of the missing parts.
Stay Ahead on Preventive Maintenance
Preventive maintenance can lead to a lot of cost savings at your business by reducing the likelihood of complete equipment breakdowns or extended downtime from waiting for replacement parts to arrive. Combined with parts management, you can streamline your maintenance operations by knowing exactly which assets are on hand and which ones are needed according to a bill of materials.
Knowing which spare parts you have in stock can allow your maintenance team to plan out their next repairs without running low on supplies. For example, a factory can use real-time inventory counts to see if anything is overstocked, then begin using those excess spare parts to make preventative maintenance repairs.
Additionally, spare parts management systems can be paired with computerized maintenance management software (CMMS) to streamline your maintenance department's repair schedule of machinery and equipment.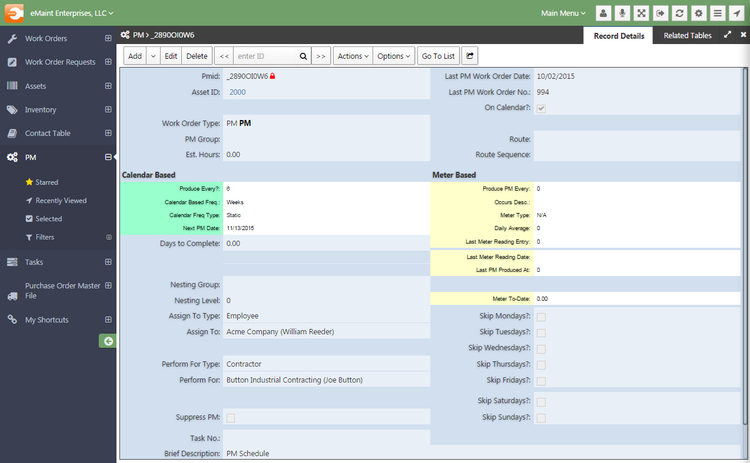 Reduce Loss and Duplicates
Parts loss can happen for a variety of reasons. A piece might break and get thrown out without the system being updated. Employee theft can account for loss as well. Sometimes a part simply gets misplaced.
With a spare parts inventory control system, you can minimize theft and loss by increasing visibility of real-time stock counts to see exactly when parts go missing in the system.
Have you ever ordered an out-of-stock part only to find you still have a few units on hand? The cost of these duplicate reorders can add up, leaving you with extra stock and less storage space. And historical data gathered by cycle counts can reveal when certain assets tend to sell the most, allowing you to plan ahead.
Trends in Spare Part Inventory Management
Parts inventory management has had many changes over the years. From handwritten notes to Excel spreadsheets, businesses of all sizes are always seeking ways to better track inventory. One recent advancement is the inclusion of mobile apps into inventory management systems.
Apps can be used on multiple mobile devices for increased freedom while tracking inventory. For instance, most warehouses rely on third-party hardware, such as handheld scanners or barcode readers, to scan items into the system. These pieces of hardware can be costly and require replacement every few years to stay up-to-date. With mobile apps, a warehouse manager with an iOS or Android smartphone can simply use their own phone to track inventory.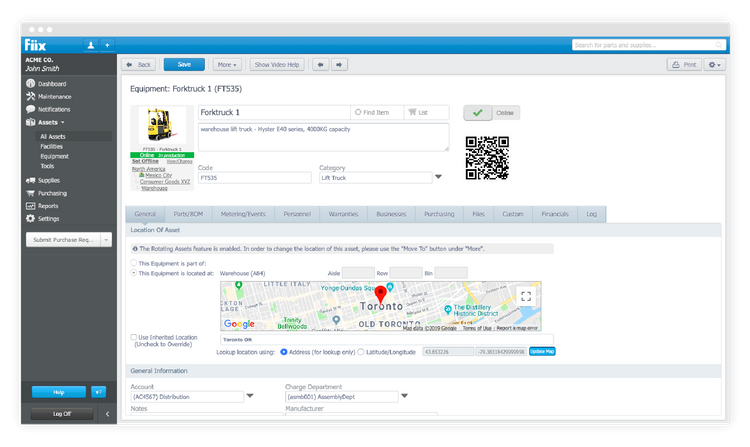 Spare Parts Inventory Management Software Pricing
Free spare parts inventory management software is available, though with limited functionality. Integrations with WMS, CMMS, and ERP software can further increase the cost.
Parts inventory management software is generally priced based on the following factors:
Number of users
Deployment method (on-premise or cloud-based)
Number of warehouses or facilities
Level of inventory being tracked (total SKUs)
Any hardware installation or training
Some warehouse management applications include software for inventory management. However, these full systems are more expensive than standalone parts management solutions and may not fit your budget. If you only need a more efficient way to track inventory, a spare parts management software is your best option for affordability and ease of use.