The top IFS Applications alternatives include NetSuite, Epicor Kinetic, and Microsoft Dynamics 365. In our analysis of the best ERP software, we have ranked these alternatives based on factors like usability, performance, and industry-specific features.
Best IFS Applications Alternatives Shortlist
Below are detailed summaries of the best IFS Applications alternatives that we'll be covering in this article:
Understanding IFS Applications and Its Limitations
IFS Applications is a business solution suite, comprising over 100 business components drawn from 6,000+ software modules. Its modular design offers companies the flexibility to select components tailored to their needs, ensuring adaptability and scalability. A standout feature is its open architectural design, facilitating easier integration with other BI solutions. With a web browser-like interface, users can navigate with ease. As they become more proficient, the software adapts, and they're supported by an extensive online help system and product experts.
However, some have raised concerns about its usability, with the interface being less intuitive for newcomers, leading to a potential learning curve. Occasional performance hiccups have also been reported, and while it boasts a wide array of modules, the customization options might seem limited for businesses seeking highly tailored solutions.
1

NetSuite: Best for Growing Businesses

Why we chose it: NetSuite excels at inventory and supply chain management, particularly for scaling businesses. Its tight integration with eCommerce platforms and point-of-sale systems simplifies and automates inventory control and supply chain functionalities. This interconnectedness assists growing companies in maintaining product availability, streamlining workflows, and reducing overheads from manual inventory checks.

Furthermore, NetSuite offers industry-specific versions. This tailored approach means businesses aren't forced to adapt a generic ERP to their specific requirements. They benefit from features crafted specifically for their sector, minimizing setup time and fostering a more intuitive interaction.

Read our full NetSuite review.
2

Epicor Kinetic: Top Pick for Mixed Manufacturing

Why we chose it: Epicor Kinetic supports a variety of manufacturing styles, from discrete and make-to-order to engineer-to-order approaches. It provides specialized tools tailored for each, allowing manufacturers to optimize their operations and reduce inefficiencies. Notably, Kinetic's flexible scheduling enables make-to-order manufacturers to quickly respond to changes in orders, reallocating resources or adjusting production schedules as needed.

Read our full Epicor Kinetic review.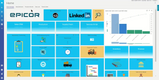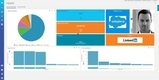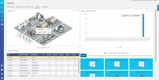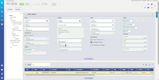 Built for manufacturers
Collects real-time shop floor data
Built-in artificial intelligence support
Not ideal for multinational organizations
High learning curve
Price Range: $$$$
Starting Price: $175/user/month
Client OS: Windows, macOS, iOS, Android, Web
Deployment: Cloud or On-Premises
3

Microsoft Dynamics 365: Best Product Ecosystem

Why we chose it: Microsoft Dynamics 365 Business Central is renowned for its seamless integration capabilities, particularly with prominent Microsoft products like Office 365, Power BI, and Dynamics CRM. Beyond this, Business Central's open API framework facilitates smooth connections with third-party solutions, ensuring adaptability across various business landscapes. The result? Minimized data silos, less manual data input, and a cohesive business platform.

Read our full Dynamics 365 Business Central review.
4

SAP S/4HANA: For Advanced Manufacturing

Why we chose it: SAP S/4HANA works well in intricate manufacturing contexts due to its rapid data processing capabilities. Harnessing the power of the SAP HANA in-memory database, it facilitates prompt data retrievals, allowing leaders to swiftly peruse large datasets. Utilizing SAP S/4HANA, businesses can anticipate supply chain disruptions.

Additionally, its synergy with the Internet of Things, amplified by artificial intelligence and machine learning, fosters predictive maintenance. This is crucial for manufacturers as it aids in evading unexpected challenges and diminishing costs.

Read our full SAP S/4HANA review.
5

QAD Adaptive ERP: Great for International Manufacturers

Why we chose it: QAD Adaptive ERP is tailor-made for global manufacturers, adeptly handling multiple currencies, intercompany dealings, and worldwide financial standards. Such proficiency ensures these manufacturers keep financial records both precise and compliant, irrespective of operational intricacies.

With a strong emphasis on the manufacturing domain, QAD delivers solutions to optimize operations, financial governance, and customer relations. Its user interface is not only contemporary but also versatile across devices, amplifying productivity. Built with adaptability in mind, it grants users the liberty to customize workspaces in alignment with their preferences and roles, fostering both quick adoption and operational efficiency in manufacturing settings.

Collaborative supply chain portal
Popular user interface
Product data management integrates with PCC or PLM
Slow speed of filtering large data sets
Lack of flexibility in customization
Steep learning curve
Price Range: $$$$$
Client OS: Windows
6

Infor CloudSuite Industrial: Best for Discrete Manufacturers

Why we chose it: Infor CloudSuite Industrial addresses the intricacies of discrete manufacturing, from complex product configurations to nuanced scheduling needs. In sectors like aerospace and automotive, where product specifications can be particularly intricate, Infor furnishes tools that streamline advanced product customizations, enabling manufacturers to meet unique customer demands.

Given the nature of discrete manufacturing, which can involve multiple, priority-differing production sequences, Infor's advanced scheduling system supports resource allocation, sidestepping production hold-ups.

Read our full Infor CloudSuite Industrial review.
7

Oracle E-Business Suite: Top Pick for Scalability

Why we chose it: Oracle E-Business Suite is scalable because of its modular architecture. This approach enables organizations to initiate with essential components and integrate more as their operations expand. From finance to human capital and supply chain management, every module delivers a comprehensive feature set.

Furthermore, Oracle E-Business Suite's architecture is conceived for customization and extension. It furnishes businesses with the tools and frameworks necessary to adapt the system to distinctive operational requisites, ensuring that, as market dynamics or business strategies evolve, the ERP adapts seamlessly without the need for extensive modifications.

Supports multi-national data formats

Supports multiple languages and currencies

Embedded Oracle E-Business Intelligence tools

Pricing requires consultation

Tedious implementation

Less user-friendly than newer cloud solutions

Price Range: $$$$$

Client OS: Windows, macOS, Web

Deployment: Cloud Hosted
8

Odoo: Top Choice for Open-Source Flexibility

Why we chose it: Odoo is the best open-source solution because businesses can adapt its source code to cater to distinct workflows. Additionally, Odoo is crafted to effortlessly synchronize with third-party applications, allowing enterprises to establish a harmonized network of tools complementing their central ERP system. The comprehensive documentation and support tailored for both developers and everyday users guarantee seamless usage and adaptability to evolving business conditions.

Read our full Odoo review.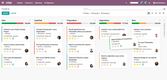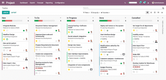 Community version is free
Heavy customization options
Double entry inventory system
May have to build specific modules yourself
No centralized support
Upgrades not free
Price Range: $$$
Starting Price: $25/user/month
Client OS: Web
Deployment: Cloud or On-Premises
Key Factors to Consider When Choosing an IFS Applications Alternative
While IFS Applications offers a full suite of business solutions, there are various reasons why an organization might consider alternatives.
Usability and Interface: Some users find IFS Applications' UI to be unintuitive. When evaluating an alternative, prioritize systems that provide a more user-friendly interface. This not only reduces the need for extensive training but also ensures that employees can navigate the system effortlessly.

Industry-specific Features: IFS offers an open architectural framework. If you're considering a transition, it's essential to choose an ERP system that can seamlessly integrate with your existing technological infrastructure, ensuring that workflows remain uninterrupted.

Cost Implications: The total cost of ownership for IFS Applications, which encompasses licensing, support, and potential customization, may not align with every organization's budget. When exploring alternatives, look for solutions that strike a balance between cost-effectiveness and the provision of essential features.

Performance Issues: Some users have reported occasional slowdowns or lags with IFS Applications. A responsive ERP system is crucial for maintaining business efficiency. As you examine potential alternatives, prioritize those with robust performance credentials and minimal reports of operational hiccups.
Summary
IFS Applications provides a multitude of business components, sourced from thousands of software modules. Its modularity allows businesses to curate functionalities specific to their operations, ensuring both adaptability and future growth. Its architecture allows for ease of integration with other BI tools. The system evolves as users gain proficiency, and extensive online resources and expert support bolster user confidence.
Yet, newcomers might find the interface less than straightforward, suggesting an initial learning curve. Some users have also noted intermittent performance issues. Moreover, despite the breadth of modules, businesses with unique or niche requirements may feel constrained by its customization capabilities. Given these aspects, organizations might explore alternative ERP solutions that prioritize user-friendliness and a broader spectrum of customization.
Still not sure which option is best? Get recommendations from our team today!
Why might a company consider an alternative to IFS Applications?
While IFS Applications is feature rich, some companies might find its interface less intuitive than they'd like. Additionally, concerns regarding cost implications, performance issues, or the need for industry-specific features might lead companies to seek alternatives.
What should I prioritize when searching for an IFS alternative?
Prioritize usability to ensure minimal training and efficient navigation. Seamless integration capabilities are also essential, allowing the new system to work cohesively with existing technological infrastructures. Finally, consider cost-effectiveness and strong performance credentials.
Are there industry-specific ERP systems that could serve as alternatives to IFS?
Yes, several ERP systems cater to specific industries. For example, Epicor ERP is known for catering to manufacturing and distribution. Infor CloudSuite Industrial has variants specifically designed for industries like healthcare, hospitality, and manufacturing. NetSuite has versions tailored for e-commerce and retail operations.