The accounting software experts at Software Connect pulled together a list of offline accounting software, showcasing the top products in two categories: perpetual license pricing and QuickBooks Desktop replacements.
The majority of modern accounting systems are cloud-enabled with a month-by-month subscription. Even non-subscription versions of QuickBooks Desktop are being phased out for the subscription model.
We've researched secure, low-priced alternatives. Our top picks for security are AccountEdge Pro and DENALI Business+Accounting. For low pricing, we chose LedgerLite and MoneyWorks. Learn more about what each has to offer your business.
AccountEdge Pro - Top Pick for Security
AccountEdge is a small business accounting software for Windows and Mac. It offers robust security features and tools like sales and expense tracking, payroll, purchase orders, time tracking, and accounts receivable and payable. Additional functions include inventory management, customer relationship management (CRM), project management, and more. All of these are accessible offline.






Starting Price
$399 (perpetual license)
Deployment
Cloud or On-Premises
AccountEdge's Audit Trail Tracking function, a security staple of most accounting software, monitors which users create and edit transactions. You can also establish a Lock Period, disallowing data entry before a specified date.
Similarly, you can turn on Prompts for reminders about creating data backups and running verification checks. These checks determine the integrity of your files and notify you if any corruption has occurred.
Optimal for freelancers and small businesses, AccountEdge offers a starting price of $399 for a perpetual license. It's your go-to for a simple, streamlined program that provides multiple ways to protect your data.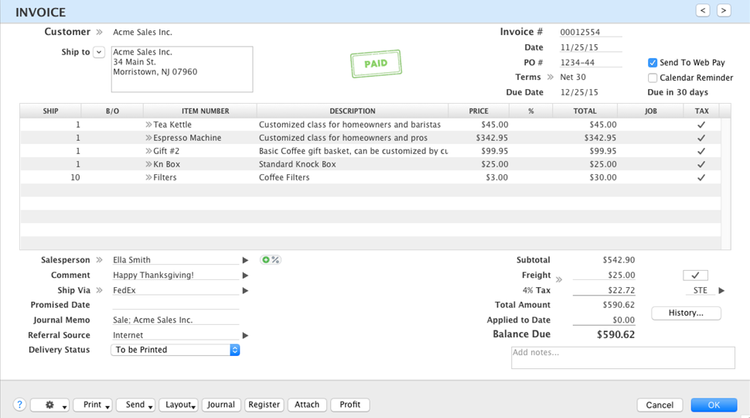 DENALI Business+Accounting - Top Pick for Security
Designed by Cougar Mountain Software, DENALI offers complete desktop accounting for Windows. DENALI provides an advanced, multi-tiered security system that allows you to establish user rights by application and function. In addition, with built-in, user-defined protocols for access to payroll and employee records, you can reduce opportunities for theft and errors.







Starting Price
$1,999/user (perpetual license)
Deployment
Cloud or On-Premises
Your startup or small business can utilize tools to manage cash flow, track inventory, set up recurring invoices, adjust sales tax, and monitor profitability through real-time data. DENALI also allows for easy and secure electronic transactions of checks, debit and credit cards, gift cards, and EBTs. Automate direct deposits from the company account to your employees and monitor bank accounts with their Bank Reconciliation module.
This accounting solution touts an unbreakable audit trail, with transaction documentation for consumers and auditors of financial reports to help identify internal fraud or data breaches. You can even eliminate the cost of reissuing lost or stolen checks through their add-on ACH Direct Deposit module, lending a layer of security to your payroll process.
DENALI offers excellent customizability to tailor the program to your particular requirements. Starting at $1,999 for a perpetual license, this fully-integrated ERP software cuts down on accounting tasks for anyone from the self-employed accountant to the small business owner.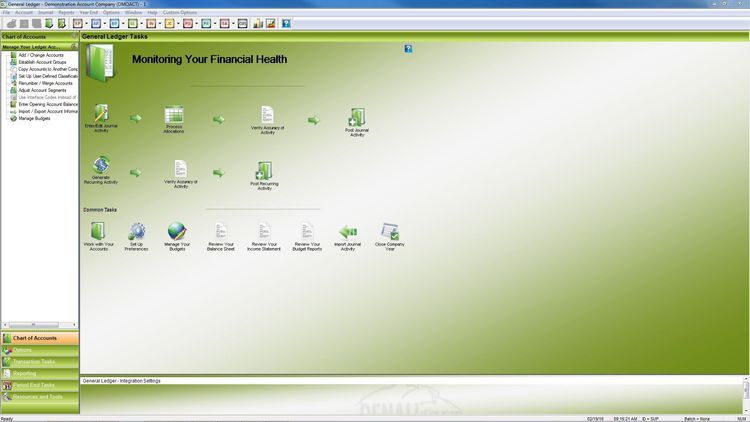 LedgerLite - Top Pick for Perpetual License Pricing
Described as the world's simplest bookkeeping software, LedgerLite provides double-entry accounting to Windows users. With a low perpetual license fee starting at $50, LedgerLite offers only the basic accounting features you need to manage your general ledger accounts on a clean user interface. In addition, the program is available for you to use as long as you own it, with no ongoing subscription.






Starting Price
$99 (perpetual license)
Visit Website
Accounting tools include expense tracking, bank reconciliation, fixed asset management, accounts receivable, cashbooks, taxes, and asset registers for multiple users and companies. User-friendly with offline access, LedgerLite will fulfill all of your accounting needs. It's the perfect bookkeeping software for the self-employed, from freelancers to independent consultants.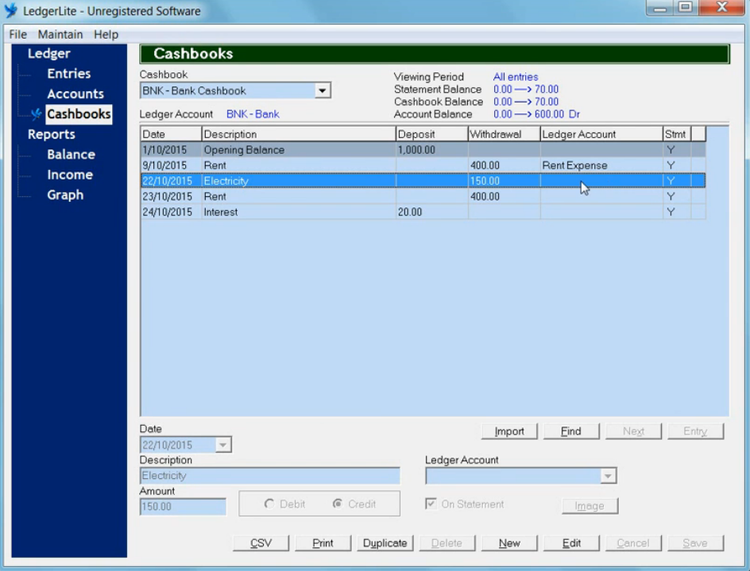 MoneyWorks - Top Pick for Perpetual License Pricing
MoneyWorks for Windows and Mac offers flexible, user-friendly bookkeeping solutions. Pricing options include a month-to-month subscription or a perpetual license starting at $249 for MoneyWorks Express. From Cognito Software, this on-premise accounting system is also customizable through scripting to meet your business needs.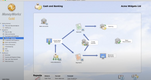 Starting Price
$249 (perpetual license)
Other features include a window designer to streamline workflow, point-and-click bank reconciliations, accounts receivable and payable, manufacturing and inventory management, audit trails, enhanced security and backups, and more.
If you decide later that you want online access to your data, MoneyWorks also provides this option through MoneyWorks Now.
Versions of MoneyWorks include:
Cashbook: A single-user cashbook and general ledger
Express: Cashbook package plus invoices and statements
Gold: Job costing, inventory management, cost center accounting, and more
Datacentre: Gold package plus multi-company capabilities
MoneyWorks Now: Gold package but accessible in the cloud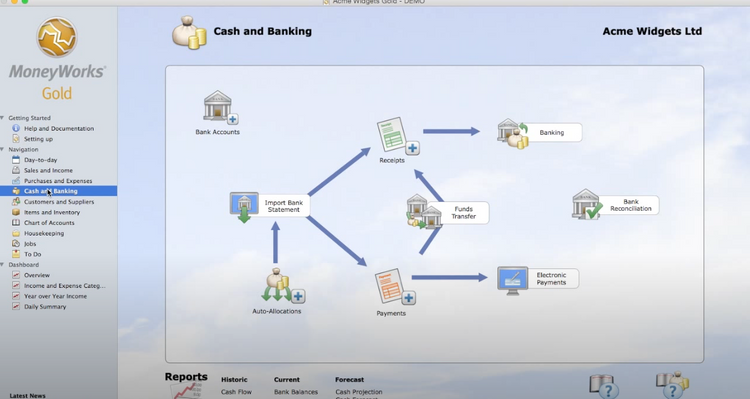 Why Choose Offline Accounting Software Over Cloud-Based?
Cloud-based systems offer accessibility, automatic upgrades, and rapid deployment, but what advantages can you expect from software intended for desktop only? The top benefits of offline solutions are:
Security: With no online presence or cloud-based functionality, desktop accounting software protects the integrity of your business's information. You maintain control over your financial data through a self-hosted server, minimizing the risk of security breaches in the cloud.

Pricing and Perpetual Licensing: Since online accounting tools like FreshBooks, Xero, and Zoho Books are cloud-based, you can expect to pay on a month-by-month subscription basis. This can lead to a higher total cost of ownership over time. With perpetual licensing, you're paying a one-time fee for the right to use the software endlessly.

Other features of standalone accounting software include customizability for your business needs. In addition, you can always access your financial data, even in cases of unreliable internet connection or speeds.
Is QuickBooks Desktop Being Phased Out?
Is QuickBooks desktop, one of Intuit's most popular accounting solutions, being phased out? The answer is yes and no: QuickBooks Desktop Pro and Desktop Premiere have transitioned to subscription models rather than one-time purchase licenses.
Official resellers can still provide perpetual licenses for the standalone desktop version, for now. Non-subscription versions of QuickBooks Desktop have limited support for 3-4 years, with Quickbooks Desktop 2020 through May 2023 and QuickBooks Desktop 2021 through May 2024.
If you're interested in exploring online accounting software, you can convert QuickBooks Desktop to QuickBooks Online.
QuickBooks Alternatives
Looking to replace QuickBooks Desktop? You can find perpetual license accounting software for your small to mid-sized business with accounting basics plus inventory control, manufacturing, order entry, job costing, and more.
Our recommendations:
Connected Accounting and ERP is a business management application for Windows or Mac with a perpetual license price starting at $499. Go for the Connected Enterprise configuration for features mentioned above, plus lot/serial number control, quote management, and more.

Adagio Accounting is an ERP software for Windows with a perpetual license price starting at $950. Ideal for small to mid-market companies, it provides over 25 accounting modules for bank reconciliation, invoicing, multicurrency, and more.
Cloud accounting through applications like QuickBooks, Sage, or Wave isn't for everyone. If you want secure and affordable desktop accounting software for your business, you're sure to find the best program from this roster of truly offline solutions.
Further Reading