Sage is a worldwide provider of accounting software and ERP systems. Sage Peachtree has historically been one of the most popular small business accounting systems–and Sage continues to support individual functionality needs and industries through specialized products such as Peachtree Quantum and Sage Timberline.
Functionality needs have been covered throughout the years through software such as Sage Estimating, Sage Fixed Assets, Sage Timeslips (for billing and time tracking), and CakeHR (for workforce management). Whether a small business, a medium business, or a larger enterprise in the construction and real estate industry, Sage has a variety of business management software to meet your bookkeeping needs.
Sage Accounting Software Products
Millions of customers are managing their financials, payments, operations, and people with Sage Business Cloud options. Sage offers a large profile of solutions that help your business make smarter business decisions and plan for the future through user-friendly automation.
Accpac
AccPac is mid-market ERP suite providing enterprise-level applications for both management and accounting needs. The solution has a large market share in small and medium-sized businesses. Accpac has been around in some form since the late 70s, adding capabilities and expanding its availability across multiple operating systems. The software was acquired by Sage Software in 2004–maintaining the Accpac name until 2012 when it was renamed to Sage 300 ERP.
Today, Sage 300 ERP remains an all-in-one business management software–serving 40,000 customers across 150 countries in a variety of industries. The solution is primarily deployed as Sage 300cloud for managing finances, operations, and inventory.
As a business accounting software, Sage 300 allows you to handle multiple locations, multiple entities, multiple currencies, and reconcile your books with bank statements. Along with the ability to manage sales order transactions, automate purchase orders, and manage your inventory, Sales 300 is a very robust solution for the fraction of the cost of most ERP systems.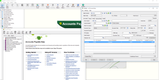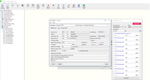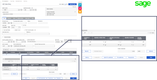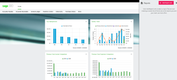 Multi-currency and multi-company support
Strong financial module
Difficult for new users; high learning curve
Somewhat outdated user interface
Some users report performance issues, especially with large datasets
Price Range: $$$
Starting Price: $2,075/user (perpetual license)
Client OS: Windows, Web
Deployment: Cloud or On-Premises
ERP X3
ERP X3 has been a member of the Sage family since 2005. Before then, the product line was known as Adonix X3. The solution has evolved over the years many times–changing its name as it has tried to find a new identity with established businesses. Today, the solution is simply known as Sage X3.
Dropping ERP from the name was intentional, as Sage wants the X3 market to "Move beyond ERP". In reality, the solution will perform as well as any other ERP system on the market–with a strong focus on production management, supply chain management, and financial management.
Sage X3 is a powerful cloud software option that allows collaboration on workflows across multiple sites. Over the year, the solution has been customized for a number of industries, such as food and beverage, process manufacturing, discrete manufacturing, distribution, chemicals, and services.







Compiles data in real-time for better decision-making
Covers finance, sales, customer service, manufacturing, and more
For mid-sized companies
Complex and steep learning curve
Limited user community
Users complain of less responsive customer support​​.
Price Range: $$$$
Starting Price: $4,500/user (perpetual license)
Client OS: Windows, Web
Deployment: Cloud or On-Premises
MAS 90/200
MAS 90 (Master Accounting Series) is a feature-rich solution that spans core accounting, distribution, manufacturing, BI tools, project management, and more. MAS 200 is equivalent in terms of offerings but intended for businesses that require a higher level of data processing. Released in 1985, the "90" stood for the 1990's–aiming to be one of the top accounting options of the decade. Its popularity boomed through its use by certified public accountants (CPAs) who went on to recommend it to their clients.
Today, the solution is known as Sage 100 or Sage 100cloud. More than accounting software, Sage 100 acts as a cloud ERP software to also manage sales, plan projects, and provide the analytics you need. The Essentials package includes GL, AP, and AR, bank reconciliation, credit card processing, budgeting and planning, along with the Sage CRM tool. Versions beyond the base package provide the capabilities to manage purchase orders and control your inventory.





Scalable software for growing businesses
Cost effective system compared to competitors
Can customize POs, invoices, and more with company logos
Rigid system with minimal ability to interface or receive outside documents
Difficult to pull concise data for reports
Limited in the visual reporting tools it offers such as dashboards
Price Range: $$$
Starting Price: $76/month
Client OS: Windows
Deployment: Cloud or On-Premises
MAS 500
MAS 500 is a complete enterprise business management solution created to streamline operations more efficiently and include far more business intelligence data than options before it. It includes a full range of financial accounting features along with full supply chain management and eCommerce capabilities, advanced customization options, source code, and human resource management.
MAS 500 was created as a high-end solution for larger MAS 90 customers and prospects. It started as an accounting software with a general ledger, accounts receivable, accounts payable, and cash management. It quickly grew into a favorite for distributors and manufacturers in 1999 with the addition of sales orders, inventory management/replenishment, and material resource planning (MRP). By 2001, the solution was acquired by Sage.
Now known as Sage 500, the ERP system today remains a strong option for both the manufacturing and distribution industries. With a combination of financials, sales tracking, and operations, along with advanced capabilities such as kitting and advanced planning and scheduling.
Starting Price
$115/user/month
Master Builder
Master Builder is the contractor-specific solution from Sage. Offering invoices, project schedules, overhead costs, project costs, and construction payroll, Master Builder has long been a preferred construction management software that helps a business achieve higher efficiency, organization, and structure.
The software was created in the early 1980s by a former general contractor looking to run his business more efficiently. There was a lack of presence in the construction software market–letting Master Builder become a preferred option for bookkeepers and accountants with construction clients. Due to the success of the solution, it was eventually bought by Intuit (the developers of QuickBooks) in 2001. By 2006, Sage Software stepped in and would eventually rename the software to Sage 100 Contractor.
The solution today provides any and all construction related financial capabilities, such as job cost and construction reporting. This includes vendor lists, payables, and worker compensation reports. It also has some light project management functions which work great for the intended market of small to midsize businesses.






Large network of resellers and knowledge experts
Simple interface
Strong job costing
Price Range: $$$
Starting Price: $160/user/month
Client OS: Windows
Deployment: On-Premises
MIP Fund Accounting
MIP Fund Accounting has been a part of the Sage family since its acquisition in 2001. It remained the fund accounting staple in the Sage family of software solutions until 2013 when the nonprofit solutions division of Sage was purchased and rebranded to Abila.
Today, the product is known as Abila MIP Fund Accounting–providing you with the most memorable brand in the world of Fund Accounting. The solution is no longer considered to be a Sage accounting software.
Abila MIP Fund Accounting still provides all the needed nonprofit accounting tools that businesses used when it was back with Sage. The solution is highly scalable and can grow and change as you develop more human capital management and payroll changes. Abila also provides association management and a fundraising CRM tool–allowing you to have a complete suite of products to round out your nonprofit operations.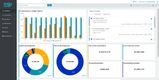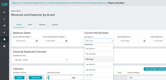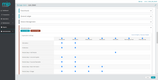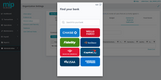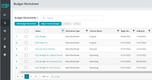 Collect donations from desktops, tablets, and mobile devices
Customizable Reports
Integrates well with other software
Clunky design
Not very user-friendly
Weak Reporting Capabilities
Price Range: $$$
Client OS: Windows
Deployment: Cloud or On-Premises
Peachtree
Peachtree was one of the first business software made for home computers back in 1978. A variety of acquisitions over its first few years of existence catapulted it as a leading accounting software by 1984. The software was acquired by The Sage Group in 1998 and remained under the Peachtree name until 2013.
Peachtree is now known as Sage 50cloud, or simply Sage 50c. Today the solution thrives as a top cloud accounting software that provides the reliability of a desktop system. Features include cash flow and invoicing, payments and banking, advanced inventory management, job costing, payroll, and reporting.
Sage 50c also offers different versions depending on where you live. As of now, there are versions for the US, Canada, and the UK–providing the satisfaction that you are working with an accounting program tailored for your country's finances.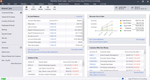 Powerful job costing
Robust financial reporting
Great invoice customization
Poor inventory management
Dated user interface
No remote access to data without add-on
Price Range: $
Starting Price: $439/user/year
Client OS: Windows
Deployment: On-Premises
Peachtree Quantum
Peachtree Quantum is an industry-specific version of Peachtree intended for contractors or manufacturers. In addition to enterprise-level accounting, the solution boasts tools ideal for small manufacturers such as bill of materials, work orders, serialized inventory tracking, and operational report. You can also track jobs, projects, and other areas of importance in construction and distribution-based businesses.
After Peachtree was acquired by The Sage Group (mentioned above), Peachtree Quantum became Sage 50 Quantum Accounting. The solution is the most expensive of all the Sage 50 versions, but also has the most robust feature set available. The solution also allows access for up to 40 users–making it one of the most affordable options for businesses that require that number of users.
Pro ERP
Pro ERP, or SBT/Accpac Pro Series, was an ERP software for mid-sized businesses across numerous market segments. While mostly used by manufacturing companies for accounting, it could integrate with a number of solutions through unlimited customization while providing real-time access to business reports.
With Accpac's acquisition by The Sage Group, Pro ERP became one of the leading ERP choices for businesses who desired more than accounting. Since March 31st, 2014, Sage Pro ERP has been retired. Many businesses transitioned into one of the many ERP solutions offered by Sage–such as Sage 100 ERP, Sage 300 ERP, or Sage X3.
If none of the aforementioned Sage accounting solutions sound like a fit, please visit the accounting software guide to view alternatives.
Timberline Office
Timberline Office is an accounting and management software for construction, estimating, property management, and architect/engineering industries. Created in 1975, the solution was one of the first industry-specific accounting software packages for the home computer. Timberline would eventually break off into a number of versions that either focused on a specific industry (such as engineering) or a specific functionality (such as estimating).
After a number of improvements, expansions, and overall growth in the 80s and 90s, Timberline was acquired by The Sage Group in September of 2003. Like many solutions before it, it remained under its popular brand name until eventually becoming Sage 300 Construction and Real Estate.
Today, Sage 300 Construction and Real Estate is a market leader providing job cost tracking, change order management, accounting and payroll, estimating, project management, service management, and property management.



Mobile accessibility
Robust project management tools
Strong financial management features
Price Range: $$$
Client OS: Windows
Deployment: Cloud or On-Premises
About Sage Software
The Sage Group, known as Sage Software or simply Sage, is a British enterprise software company. They are the third-largest ERP software supplier behind Oracle and SAP. Today they have millions of customers worldwide that depend on them to manage their finances, operations, and people.
Sage is one of the leading choices for small businesses and the largest current supplier to small businesses–with over 6.1 million customers worldwide.