The top Sage 300 alternatives include QuickBooks Enterprise, SAP Business One, and NetSuite. In our analysis of the best ERP software, we have ranked these alternatives based on user-friendliness and ease of integrations.
Best Sage 300 Alternatives Shortlist
Below are detailed summaries of the best Sage 300 alternatives that we'll be covering in this article:
Understanding Sage 300 and Its Limitations
Sage 300 is a financial and business management solution designed for small to medium-sized businesses. It's known for its strength in accounting and financial modules, providing powerful tools for financial management. The software is modular, enabling businesses to select only the components they need.
However, some businesses note challenges related to the software's outdated user interface and limited features in areas beyond financial management. The platform could also be cumbersome and not as intuitive as some of the more modern ERP solutions. Integration with other software can sometimes be a pain point for users, and customizing the system to fit unique business needs might also pose challenges.
1

QuickBooks Enterprise: Comprehensive Financial Tools

Why we chose it: QuickBooks Desktop Enterprise is a comprehensive financial tool that offers accounting, inventory management, reporting, pricing rules, job costing, payroll, and time tracking. Unlike other software, it has a desktop solution with built-in payroll. It features over 200 customizable reports and allows users to create bespoke ones to meet company needs.

The software provides performance insights for business owners to make decisions and align spending with long-term objectives. QuickBooks Enterprise integrates key functions like marketing, accounting, sales, costing, planning, and product delivery for both small and large businesses.
2

SAP Business One: Scalable for SMEs

Why we chose it: SAP Business One is designed to accommodate both small start-ups and larger enterprises, making it scalable for SMEs. It consolidates systems, mobilizes the workforce, and provides real-time insights across the business. The software manages diverse functions from accounting, purchasing, sales, and customer relationships to operations, project management, and human resources.

It streamlines processes, offers insight into operations, and supports decision-making for growth and profitability. While tailored for small to medium-sized businesses, it is also customizable to meet specific business growth needs.
3

NetSuite: Cloud-Based Solution for Growth

Why we chose it: NetSuite is a cloud-based solution tailored for growing companies. It's designed to scale with businesses, from start-ups to established enterprises, making it a top choice for financials/ERP, CRM, and ecommerce applications in the cloud. As an all-encompassing business management solution, NetSuite ERP automates core processes and offers real-time visibility into operations, encompassing accounting, order processing, inventory, production, and supply chain.

It aids in financial management and data analysis, essential for businesses with 10 to 1,000 employees, while also breaking down silos for a comprehensive business view. NetSuite is customizable, adapting to business needs over time. Its cloud-based nature reduces IT costs and enables remote work capabilities.

Read our full NetSuite review.







Hundreds of third-party add-ons available
Feature sets for multiple industries
Highly customizable
Must schedule a consult for pricing details
Tedious setup
Difficult to build reports
Price Range: $$$$
Starting Price: $99/user/month
Client OS: Web
Deployment: Cloud Hosted
4

Odoo: Modular and Open Source

Why we chose it: Odoo is a modular, open-source software for businesses due to several reasons. Its modular design allows businesses to select and adjust modules based on their needs, making it both flexible and scalable. As an open-source solution, businesses can access and modify its source code, ensuring tailored functionality at a cost-effective rate.

Odoo provides a comprehensive range of business operations tools, from accounting and CRM to project management. Its architecture is customizable, catering to unique business requirements. Additionally, Odoo's low implementation cost makes it an affordable choice, especially for small and medium-sized businesses.

Read our full Odoo review.
5

Acumatica: Best for Mobility and Usability

Why we chose it: Acumatica offers mobility and usability due to its cloud-based ERP nature, which ensures users can access it from any device and location. Its user-friendly interface, enriched with adaptable workflows, allows users to complete tasks swiftly without the need to constantly switch between modules.

It offers role-based views and dashboards tailored to various roles, such as business, finance, IT, operations, and sales, which enables user-specific dashboard customization. The intuitive and mobile features of Acumatica further enhance its overall usability. Additionally, the platform provides an integrated approach to managing finances, operations, and customer interactions, making it an effective tool for businesses aiming to optimize their operations.

Read our full Acumatica review.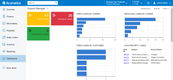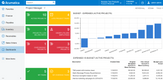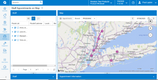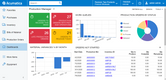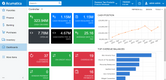 Open architecture for rapid integrations
Multi-entity support
Mobile accessibility
Must schedule a consult for pricing calls
High learning curve
Tedious setup
Price Range: $$$$
Starting Price: $1,800/month
Client OS: iOS, Android, Web
Deployment: Cloud or On-Premises
6

Microsoft Dynamics 365: Seamless Product Integration

Why we chose it: Microsoft Dynamics 365 Business Central facilitates product integration with various Microsoft products and services. It can be integrated with Dynamics 365 Sales, allowing salespeople to access Business Central information, offering them insights into backend processes like inventory levels. Similarly, its integration with Dynamics 365 Marketing streamlines the lead-to-cash process by synchronizing shared data, such as customer details and sales information.

Beyond Microsoft, Business Central can also connect with e-commerce platforms like Magento through apps like connect2Magento, and with the marketing automation platform, Klaviyo, using the connect2Klaviyo app. Furthermore, its foundation on the Microsoft platform ensures compatibility with other Microsoft products like the Power Platform, O365, and Azure, delivering a unified experience in managing finances and operations.

Read our full [Business Central review](/accounting/microsoft-dynamics-365-business/.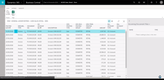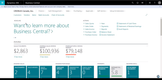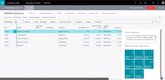 Combined ERP and CRM
Similar interface to MS Word and Outlook
Integrations with Microsoft applications
Not ideal for complex manufacturing needs
May require extensive training
No free version
Price Range: $$$
Starting Price: $70/user/month
Client OS: Web
Deployment: Cloud or On-Premises
7

Patriot Software: Simple Payroll and Accounting

Why we chose it: Patriot Software offers simple payroll and accounting primarily due to its affordability and user-friendly design tailored for small businesses. Its interface is intuitive, making it suitable for those unfamiliar with accounting or payroll. The company offers competitive pricing compared to most rivals and boasts notable recognition in the Accounting and Payroll industries through reviews and awards. Their commitment to customer support is evident with USA-based assistance available for users.

They don't tie customers down with long-term contracts, allowing for greater flexibility. Additional benefits include free onboarding and setup, free USA-based support, and a free 2-day direct deposit feature, streamlining the payroll process for small businesses.

Read our full Patriot Software review.


Create & print unlimited 1099 and 1096s
Does not require use of their accounting package
Low starting price
Difficult to upload 3rd party time sheets
No mobile app
Limited inventory management
Price Range: $$
Starting Price: $20/month
Client OS: Windows
Deployment: Cloud Hosted
8

MIP Fund Accounting: Tailored for Non-Profits

Why we chose it: MIP Fund Accounting is a cloud-based solution tailored for nonprofits. It addresses the specific fund accounting requirements of these organizations, enabling them to efficiently track and report on multiple funds across various budget periods. This ensures both compliance with reporting mandates and enhanced accountability.

The software aids in efficient financial management by facilitating budget planning, grant maximization, payroll maintenance, and rapid custom report generation. Given its flexibility, nonprofits can easily customize the software to fit their distinct needs. Recognized for its effectiveness, MIP Fund Accounting has received awards and is adopted by a range of institutions, including charities, schools, and hospitals.
Key Factors to Consider When Choosing a Sage 300 Alternative
When evaluating a Sage 300 ERP replacement, you should consider the following:
Modern Interface: As user experience is a common concern with Sage 300, look for an alternative that offers a modern, user-friendly interface to enhance productivity and ease of use.
Enhanced Integrations: Ensure the new ERP system can seamlessly integrate with other tools and platforms your business uses. An open API and pre-built integrations can be beneficial.
Customizability: Given that customization can be challenging with Sage 300, an ideal replacement should offer flexible customization options without requiring extensive technical expertise.
Broad Feature Set: Beyond just financial management, the chosen ERP solution should provide comprehensive features that encompass various business functions, from CRM to inventory management.
Summary
Sage 300 ERP is a solid choice for businesses looking for strong financial management capabilities. Its modular design allows for scalability, catering to small and medium-sized enterprises. However, with an aging interface and some limitations in non-financial modules, businesses might be inclined to look elsewhere for a more comprehensive and modern solution.
Considering a change involves not just seeking a platform with broader features but also ensuring the transition is smooth and the new software aligns well with your specific business needs.
On the search for new ERP software? Let us help!
How does Sage 300 ERP cater to small and medium-sized businesses?
Sage 300 ERP is designed with the needs of SMEs in mind. It provides modular financial management tools that can be tailored to the specific requirements of smaller enterprises. However, some businesses seek alternatives due to its older interface and limitations in broader business functionalities.
What are the customization challenges in Sage 300 ERP?
While Sage 300 ERP offers flexibility through its modular design, customizing the system to cater to unique business processes can be challenging. This might be due to technical constraints or a steep learning curve for those without IT expertise.
Why do users find Sage 300's interface outdated?
Compared to newer ERP solutions with sleek, intuitive designs, Sage 300 ERP's interface is often considered less modern. This can make navigation more cumbersome and decrease overall user satisfaction, especially for those accustomed to contemporary software interfaces.