The top AccountMate alternatives include NetSuite, SAP Business One, and Microsoft Dynamics 365. In our analysis of the best ERP software, we've ranked these alternatives based on accounting features, deployment options, and integration capabilities.
Best AccountMate Alternatives Shortlist
Understanding AccountMate and Its Limitations
AccountMate is ideal for businesses of any size with complex accounting demands. It has a modular structure tailored for growth-centric firms desiring a system with shifting needs. It includes modules for manufacturing, CRM, inventory management, payroll processing, and more. The software stands out due to its flexibility in deployment and its capacity for customization, allowing businesses to mold it to their unique requirements.
On the downside, AccountMate's user interface looks outdated, and its absence of built-in integrations may pose challenges. While the platform offers accounting features, companies in search of a comprehensive ERP solution with a modern look and smooth integrations might need to explore other options.
1

NetSuite: Comprehensive Cloud-Based Solution

Why we chose it: NetSuite is comprehensive because it offers a full-fledged suite of business management applications, not just accounting. This includes ERP, CRM, professional services automation (PSA), and eCommerce capabilities all integrated within the same cloud-based platform. This holistic approach ensures that as a business grows, it doesn't need to invest in and integrate separate systems.

Organizations can expand NetSuite's feature set through the SuiteCloud development platform. This enables companies to build new applications, create workflows, or integrate third-party solutions directly into their NetSuite environment. The platform employs industry-standard technologies such as Java, making it easier for businesses with IT resources to make modifications.

Read our full NetSuite review.
2

SAP Business One - Tailored for SMBs

Why we chose it: SAP Business One is great for SMBs because it provides actionable insights in the moment, making companies more agile and responsive to market changes. This is due to its real-time data processing capabilities. SAP Business One runs on the SAP HANA platform, a high-performance in-memory database that performs analytics and reporting at high speeds.

Additionally, its end-to-end integration ensures that SMBs have a consistent and unified view of their businesses at all times. Its suite of features includes accounting, sales, CRM, purchase and inventory control, and business intelligence. A sales order entered into the system triggers automatic inventory checks, updates, and financial postings, saving time and manpower for scaling firms.
3

Microsoft Dynamics 365 - Best Product Ecosystem

Why we chose it: Microsoft Dynamics 365 Business Central has the best product ecosystem because of its integrations with Office 365. This means that users can work directly within familiar applications like Outlook, Excel, and Word. This deep integration provides an enhanced user experience, reduces the need to switch between applications, and enhances productivity.

Business Central also integrates with Microsoft's Power Platform, which includes Power BI, Power Automate, and Power Apps. This allows users to extend their ERP capabilities, automate workflows, and gain deeper insights into their data without the need for extensive custom development.

Read our full Dynamics 365 Business Central review.
4

Sage Intacct - Top Financial Management Features

Why we chose it: Sage Intacct provides top accounting features through its multidimensional general ledger. It allows companies to track and report on their finances in multiple ways. For instance, a company can view its finances by location, project, department, or any other dimension critical to the business.

As an organization grows, its financial management needs become more complex. Intacct's API and a marketplace full of pre-built integrations mean that as a company evolves, the software scales with it. CRM add-ons help automate the hand-off from sales to finance, while eCommerce platforms like Shopify feed sales data directly into Intacct for accurate reporting.
5

Acumatica - Flexible Licensing & Deployment

Why we chose it: Acumatica allows users to choose traditional on-premises deployment, host the platform on a cloud provider of their choice, or utilize Acumatica's cloud services. Flexible deployment allows firms to align the software with their IT strategy, whether they're aiming for full cloud adoption or a hybrid model.

Additionally, Acumatica operates on a unique licensing model. Instead of charging per user, Acumatica licenses based on the transactions or volume of resources a company uses. This means that businesses can add unlimited users without incurring extra costs. Additionally, it promotes company-wide system adoption since larger organizations don't have to restrict access to certain employees.

Read our full Acumatica review.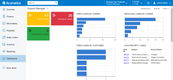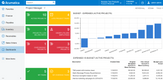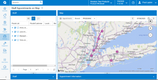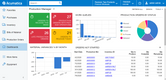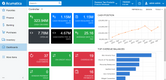 Open architecture for rapid integrations
Multi-entity support
Mobile accessibility
Must schedule a consult for pricing calls
High learning curve
Tedious setup
Price Range: $$$$
Starting Price: $1,800/month
Client OS: iOS, Android, Web
Deployment: Cloud or On-Premises
6

QuickBooks Enterprise - Familiar Interface with Advanced Features

Why we chose it: QuickBooks Enterprise's advanced feature set include inventory management, pricing, and reporting. The Advanced Inventory system can span multiple locations, including features like barcode scanning, bin location tracking, FIFO costing, and serial or lot tracking.

The Advanced Pricing feature allows businesses to control, customize, and automate their pricing within the software. Users can set up rules based on factors like quantity, vendor, customer type, and more without the need for manual updates. Additionally, Advanced Reporting lets users access industry-specific templates curated by other QuickBooks users. These include Top Customers by Sales, Inventory Valuation, Estimate vs. Actual Costs, and more.
7

Odoo - Modular and Open-Source

Why we chose it: Odoo offers a modular approach, enabling businesses to start with basics like CRM or accounting, then add more modules as their needs evolve. A business could start with Odoo's Sales and Inventory modules, then later integrate eCommerce, Manufacturing, and Human Resources as they grow.

Additionally, Odoo is open-source, which means its source code is freely available for modification and enhancement. This open nature encourages a large and active community of developers to continually contribute to its improvement. As a result, businesses using Odoo benefit from rapid innovations, a vast array of third-party apps, and the flexibility to customize the software deeply to fit their unique needs.

Read our full Odoo review.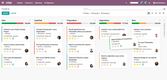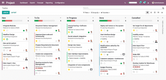 Community version is free
Heavy customization options
Double entry inventory system
May have to build specific modules yourself
No centralized support
Upgrades not free
Price Range: $$$
Starting Price: $25/user/month
Client OS: Web
Deployment: Cloud or On-Premises
8

Epicor Kinetic - Designed for Manufacturing and Distribution

Why we chose it: Epicor Kinetic is a good fit for manufacturers due to its end-to-end production management system. Features include real-time tracking, work order management, and multi-level bill of materials with full revision control. The software also provides advanced scheduling and machine learning-driven insights to optimize production throughput, reduce waste, and improve operational efficiency.

The platform also provides a supply chain and distribution management module. This includes capabilities like demand forecasting, shipment tracking, and warehouse management with advanced picking and packing. It also offers CRM and supplier relationship management tools, allowing distributors to streamline interactions across the supply chain.
Key Factors to Consider When Choosing an AccountMate Alternative
Consider these key factors when choosing an AccountMate alternative:
Deployment Options: Some businesses may prefer on-premises solutions, while others might opt for cloud-based systems. Ensure the alternative offers the deployment option that best fits your organization's IT strategy. AccountMate is typically deployed on-premises, which might suit companies that prefer direct control over their data and infrastructure.

Industry-Specific Needs: Different industries have unique requirements. Ensure the alternative software caters to the specific needs of your sector, whether it's manufacturing, distribution, or retail. AccountMate is a modular system, meaning it can meet the needs of various industries by adding specific modules.

User Experience and Interface: The software's usability can impact productivity overall. Look for a solution that offers an intuitive interface, is user-friendly, and requires minimal training. AccountMate's UI can look outdated, so finding an alternative with a modern look and simple navigation is another consideration.
Summary
AccountMate caters to businesses spanning various sizes, especially those with complex accounting needs. Modules encompass areas like manufacturing, CRM, inventory, and payroll. What sets AccountMate apart is its adaptability in deployment options and its deep customization potential, enabling companies to tailor the system to their needs.
However, its somewhat dated interface and limited native integration capabilities can be points of contention for some users. While AccountMate provides accounting functionalities, businesses eyeing a holistic ERP solution with a modern design and seamless integrations may want to consider alternative platforms.
Searching for the best ERP for your business? Let our team guide you through the process.
What features should I look for in an AccountMate alternative?
Given AccountMate's strength in modular design and customization, explore alternatives that offer flexibility in module selection and customization potential. Also, look for platforms with modern UIs and native integration capabilities, areas where AccountMate is lacking.
Are there AccountMate alternatives that offer a modular approach with a modern interface?
Yes, many ERP and accounting solutions offer modular approaches similar to AccountMate but with updated user interfaces. Software platforms like Odoo and NetSuite, for instance, provide a modular design allowing businesses to choose and integrate specific functionalities while offering a sleek user experience.
How do I ensure a smooth transition when moving from AccountMate to another platform?
Begin by mapping out the specific modules and custom features you use in AccountMate and ensure your new software choice aligns with these requirements. Engage with vendors that offer comprehensive onboarding, training, and migration support to minimize disruptions. It's also helpful to run a pilot or trial with key users before full implementation to identify and address potential challenges.