Having recently published our commercial printing accounting software guide, we thought it would be useful to share some software success stories directly from companies in the industry.
Today's profitable commercial printing businesses increasingly rely on robust business software to help answer some of their toughest management questions, such as:
How can we more accurately and efficiently communicate order information through the enterprise?
How can we precisely assign costs to business sectors to improve our visibility of which areas are driving profitability and which need improvement?
How can we maximize throughput and revenue opportunities by better leveraging our investments in human resources and equipment?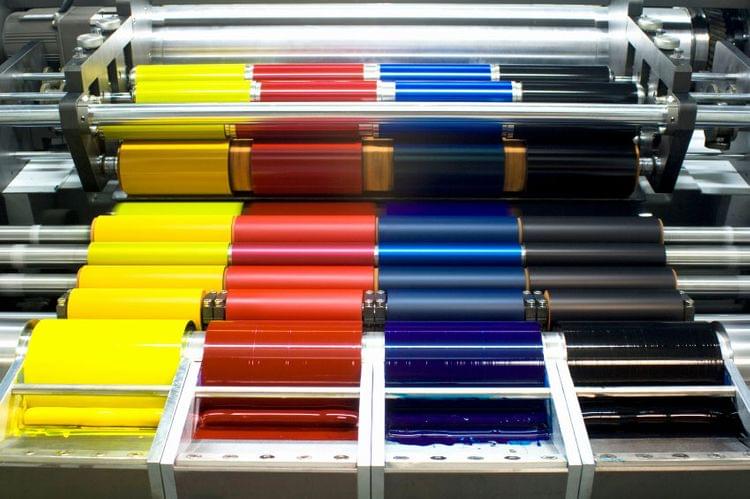 Each of the software options selected in the four case studies highlighted here represent very different approaches to solving these issues. The variety of solutions illustrates the reality that one size does not fit all when it comes to accounting, ERP, estimating, MIS, and business management software solutions for the print industry.
Let's take a closer look at each company's decision:
Dynamics NAV Provides 50% Reduction in Order Processing Time
After considering our options, we chose Microsoft Dynamics NAV over competing offerings for three reasons: superior technical flexibility, the partner ecosystem, and a long-term cost advantage. James O'Brien, President, Print Management Partners.
Decision overview: Since their operations expand beyond commercial printing into distribution and business communication management services, Print Management Partners required the flexibility offered by a mainstream ERP solution.
| Info | More Details |
| --- | --- |
| Company | Print Management Partners |
| Business model | Business communications solutions, including printing, distribution, and marketing |
| Company size | 100 employees |
| Product implemented | Dynamics NAV by Microsoft |
| Implemented by | Solution Systems |
| Key Objectives | Respond more quickly to customer requests, Decrease reliance on software vendor to make system changes, Find a strong combination of functionality, flexibility, and cost-effectiveness, Meet requirements of both distribution and print service operations |
| Positive Outcomes | 50% reduction in time spent processing customer orders; Fewer than 3 errors in every million transactions; Support for global expansion via multi-language, currency, and tax support; Ability to enact system changes, such as interface customizations, without vendor support |
Read the original case study on Microsoft.com
Accura Print MIS System Provides Commercial Printer With New Confidence in Estimating Accuracy and Quick ROI
When we saw Accura it all made sense, it connected all the dots - this was something with which we could work. The pricing of Accura was also very competitive compared to others, and had a much lower 'cost-of-ownership' in terms of an ongoing full maintenance agreement. Steve Larson, Co-Owner, C&D Printing.
Decision overview: With a focus targeted primarily on estimating and job costing requirements, C&D Printing chose a program strong in those areas, but which also offered additional modules to support future growth.
| Info | More Details |
| --- | --- |
| Company | C&D Printing |
| Business model | Litho, screen, and digital printing |
| Company size | 20 employees |
| Product implemented | Accura Print MIS System by Data Design Services |
| Key Objectives | Identify option capable of scaling to provide e-commerce, file submission, pre-flighting, estimating, document review; Understand the true costs of each job; Streamline back-office operations |
| Positive Outcomes | Less time spent on estimates and greater confidence in quote accuracy; 12 month ROI on software investment; 1 month deployment timeframe |
Read the original case study on Accura MIS's website
EFI PrintSmith Helps Digital Printer Capture Additional $3,000 of Billable Costs in First Month After Install
Selecting EFI PrintSmith was an easy decision. Its intuitive interface was a key factor. From start to finish – estimating to invoicing–it was clear that PrintSmith could operate our business smoothly. Todd Warren, Owner, MPI Commercial and Digital Printing.
Decision overview: MPI Commercial and Digital Printing needed to solve estimating and costing issues, but selected a product that allowed them to additionally incorporate invoicing, reporting, and e-commerce functionality.
| Info | More Details |
| --- | --- |
| Company | MPI Commercial and Digital Printing |
| Business model | On-demand digital printing of advertising and marketing materials |
| Company size | Small business |
| Product implemented | EFI PrintSmith |
| Key Objectives | Update antiquated approach to price list management to assist with estimating; Improve job reporting visibility to drill-down into costs; More easily create invoices and access reports |
| Positive Outcomes | Quicker invoice turnaround with fewer errors; Capability to handle more work and add to the bottom line via improved efficiency; $3,000 in billable work that previously would've been missed captured in first month alone; Data driven decision-making via real-time report access rather than waiting until month-end |
Read the original case study on EFI's website
PrintVis Shortens Commercial Printing Invoice Cycle From 10 to 3 Days
The ultimate goal for the business was to understand how our own business worked, where costs were incurred and where profits were created. Firstly we need to have a clear and effective flow of information from area to area and then use that information to make key decisions. The system has given us clarity in our thinking turning decisions that traditionally could have been seen as risky into an action based on solid facts with data to strengthen its case. Andrew Jones, Group Managing Director, Stephens & George Print Group.
Decision overview: Driven by the requirement for a holistic approach to accounting and operations management, Stephens & George Print Group chose an industry-specific commercial printing ERP system.
| Info | More Details |
| --- | --- |
| Company | Stephens & George Print Group |
| Business model | Litho printing, magazines and commercial products |
| Company size | 220 employees |
| Product implemented | PrintVis |
| Integrated by | Crimsonwing |
| Key Objectives | Integrate ordering, marketing, production, and finance into one manage platform; Ease access to business intelligence via consolidated, single system reports; Manage credit limits and control cash flow risks; Integrate pre-press and press room job communication; |
| Positive Outcomes | Increased efficiency from commercial departments without additional labor expense; Improved flow from estimate to order; Elimination of support costs associated with supporting multiple programs; Visibility for profitability drivers by assignment of costs to group, department, and cost centers; Reduction of invoice times from 10 to 3 days |