Infor has been around in some capacity since 2002 but has been one of the leaders in cloud-computing since 2010 when they begin an aggressive push towards modernizing their product lines and providing a solution for virtually every industry. Today, their CloudSuite line of ERP software options includes over a dozen sub-industry solutions for manufacturing, distribution, field service, and consumer packaged goods (CPG).
Likewise, SAP has been a leader in business applications since the launch of its first ERP system in 1972. Today, the company has over 425,000 customers in over 180 countries and employs over 100,000 people worldwide. They offer dozens of ERP solutions for seemingly every size of business and every type of industry, and as of 2021 unveiled the first step toward creating the world's largest business network with SAP Business Network.
If you'd like, feel free to skip ahead to our individual reviews of Infor and SAP software offerings:
Companies like Infor and SAP have traditionally been leaders in enterprise resource planning (ERP) with large and seemingly complicated systems. Over time, small businesses desired to find an ERP system that helped streamline their workflows and business processes, provide visibility into their workflows, and give better financial planning and decision-making.
This meant the number of companies looking for enterprise software was growing, and companies such as Infor and SAP needed to adapt. Many businesses desired to find a suitable ERP solution for a number of reasons:
Over-reliance on 3rd party applications
Data kept in disparate systems
Desire to move from an on-premise deployment to the cloud
Looking for something less expensive
Companies may research on their own and notice Infor and SAP coming up a lot. When comparing Infor vs SAP products, you might notice a large amount of overlap when it comes to functionality. So how do you choose which is right for your organization?
Infor Software Comparison
Infor ERP software is available for almost every industry, in part due to the number of acquisitions they've been a part of since their inception in 2002 as Agilsys and ultimate rebrand to Infor in 2004. Today, Infor provides ERP software to over 68,000 organizations worldwide. This is largely in part to their large network of software partners. With over 2,100 ERP vendors selling their product in 47 countries, Infor is consistently a vendor that companies consider when changing ERP systems.
Below you'll find our side-by-side comparison of Infor CloudSuite Industrial, Infor CloudSuite Field Service, and Infor CloudSuite Distribution. This includes a look at their deployment options, their pricing levels, and more.
Infor CloudSuite Industrial
Infor CloudSuite Industrial provides end-to-end visibility into your company's supply chain. For many years this product was known by Infor Syteline. Today, you still may see people refer to it as such. Whatever it's called, Infor CloudSuite Industrial is a top choice by manufacturers all across the globe.
The manufacturing ERP software will coordinate all of your manufacturing data in the cloud, all while ensuring software security and reliable, off-site access to the application. Data can be fed into the ERP so we can proactively maintain the units, and offer a cost-effective and complete managed service to our customers.





Multi-site and multi-company support.
Built-in business intelligence.
Comprehensive supply chain management.
Limited QMS module.
Difficult upgrades
Steep learning curve for new users
Price Range: $$$$$
Starting Price: $25,000/user (perpetual license)
Client OS: Windows, Web
Deployment: Cloud or On-Premises
The Industrial CloudSuite product helps improve productivity in the back office as well as the manufacturing shop floor. Whether you are a discrete or process manufacturer, you'll be able to take advantage of predictive analytics and lean production tools.
The core capabilities offered through Infor CloudSuite Industrial include planning and scheduling (such as finite capacity planning) and quality and service management (such as continuous improvement).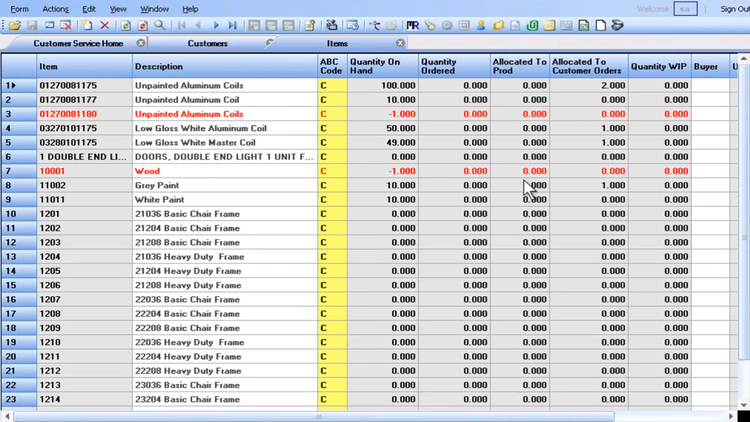 Infor CloudSuite Field Service
Infor CloudSuite Field Service is the field service management offering that helps empower teams with access to data in the field. Your technical field staff needs to be as responsive as they can without sacrificing time using a complicated system. Field technicians can become powerful sources of data in the field, which can lead to your company providing better work and better customer service.
Any worker in the field with access to a device can quickly process activities conducted on the job site. This can help accurately track materials being used to complete projects and the costs associated with them. Workers can also punch in and out for the day when arriving on-site, which can improve payroll management and job costs.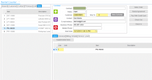 Price Range: $$$$
Client OS: Windows, Web
Deployment: Cloud or On-Premises
As a fully integrated field service software, you won't require a separate accounting software or other disparate systems to round out the offering. Service technicians will be able to complete service orders, employees will be able to answer customer concerns, and managers can analyze data for growth opportunities.
Common features include work orders, scheduling/dispatching, service contract management, rental management, service history, and warranty and claims management.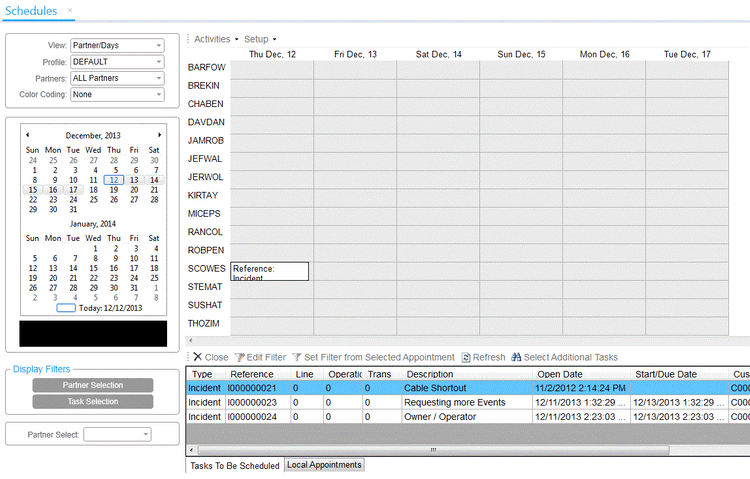 Infor CloudSuite Distribution
Infor CloudSuite Distribution (formerly known as Infor Distribution SX.e) was built exclusively for wholesale distributors. The software provides automated control across the core areas of a distribution business: materials management, financial and transaction, and sales operations. Once these areas are improved, your business will be able to better focus on optimizing customer service, getting a better grasp to you inventory levels, and increasing productivity and profitability.
Infor aims to reduce transaction costs by better management of repeat buyers who create a consistent flow of similar or releated orders. This increased level of automation can leads to fewer errors due to the lack of manual processes that need to be completed to fulfill orders.
Some of the most discussed benefits of Infor CloudSuite Distribution include reducing backorders, improving on-time delivery to customers, and a demand dashboard that can improve your purchasing process through color-coded notifications.



Build complex pricing structures
Manage inventory levels at customer locations
Client OS: Web
Deployment: Cloud Hosted
Infor has had, or at some point acquired, a number of distribution software throughout their history as a company. If you are a previous user of Infor Distritbution A+ or Infor Distribution FACTS, you will likely be urged to move to the CloudSuite Distribution system the next time you discuss potential updates or have any serious issues with your legacy ERP system.
The former SX.e system is a great way to keep track of pricing, inventory, and other key features desired by a distributor. It can keep records of a number of different statistics related to the purchasing process in order to ensure you are fulfilling orders as quickly as possible. Outside of core supply chain management software features, it can also improve your warehouse management, manage your vendors, and handle service and repair of machinery and equipment.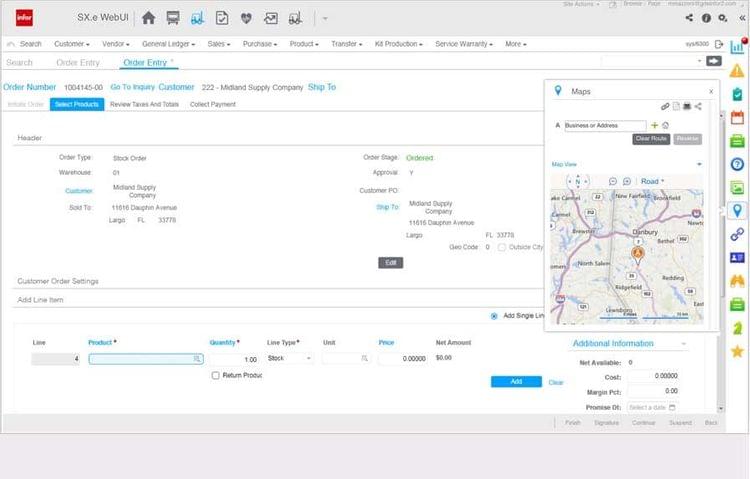 SAP Software Comparison
ERP solutions from SAP give your business access to tools designed to simplify your business processes and gain an advantage over your competitors. This is provided through integrated financial management, supply chain management, and CRM tools. Most SAP ERP software is scalable, allow you to adjust the package towards your unique needs.
Regardless of the size of your business, SAP has a worldwide ecosystem of over 21,000 partners that can help you buy, build, implement, service, support, and run the SAP solution that best fits your unique needs. For small and midsize (SME) businesses that have concerns working with such a large company, SAP provides local partners that can help you face-to-face and handle local regulations.
Below you'll find our side-by-side comparison of SAP Business One, SAP ERP, and SAP S/4HANA. This includes a look at their deployment options, their pricing levels, and more.
SAP Business One
SAP Business One is an affordable and easy-to-implement business management solution designed specifically to meet the needs of growing small companies. Your managers will have on-demand access to critical real-time information through one single system containing financial, customer relationship management, manufacturing, and management control capabilities.
Most SAP products such as SAP Business One were originally intended to be on-premise. SAP has evolved and now has a large library of cloud ERP software that can be externally hosted if the user chooses. SAP Business One is one of those options.



Highly customizable
Improved decision-making capabilities via extensive BI
Multi-currency/multi-language support
Requires phone consult for pricing
Setup usually requires help from a Value Added Reseller (VAR)
No payroll module
Price Range: $$$$
Starting Price: $410/user/year
Client OS: Windows
Deployment: Cloud or On-Premises
Some users claim SAP Business One provides a lack of flexibility to choose what you want. Many small and medium businesses desire an ERP that lets them pick and choose the modules or functions they want and leaving out anything else. SAP Business One does not give you this choice, with the exception of being able to drop the CRM application.
SAP Business One has a reputation as a proven software solution backed by a more reputable developer. Due to this, they may be perceived as having more stability and experience in ERP compared to others. Which works best for your business will come down to your tolerance levels with affordability, reliability, scalability, and performance.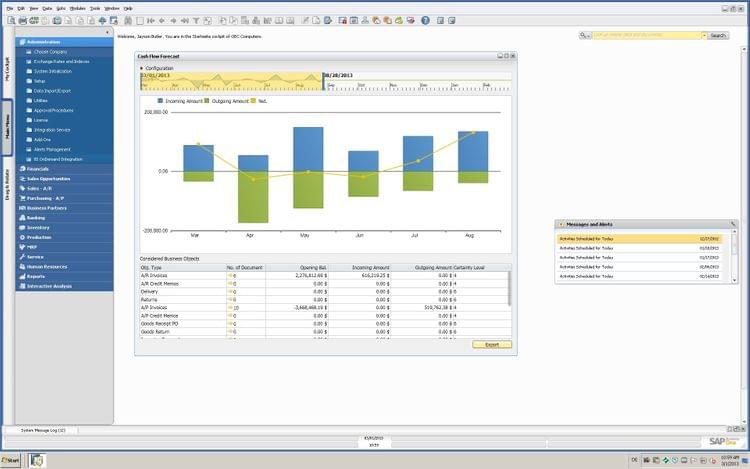 SAP ERP
SAP ERP has been one of the most successful on-premise offerings since it's inception in 2006. With the market share leadership of SAP, it's marquee ERP software is a very sophisticated product with a wide application breadth.
SAP ERP has made a strong push to use HANA (their in-memory columnar database) as it's core relational database, which can help CIO's save money and advanced their Big Data opportunities. The use of the NetWeaver, a tool designed to transfer data between SAP and non-SAP systems, provides master data management capabilities to mobile clients and other applications.






Customer/Partner community
Hybrid deployments
Large network of resellers
Complex learning curve
High upfront costs
Rigid configuration
Price Range: $$$
Client OS: Windows
Deployment: On-Premises
While SAP ERP has tried to become a more mobile product, SAP still lags behind products that market themselves as a cloud-first solution. Trying to use SAP ERP as a mostly-mobile solution is similar to trying to fit a square peg through a round hole. However, with SAP's industry expertise and corporate visibility, it won't be long until SAP ERP capitalizes on becoming a top cloud ERP software. But for companies in the market right now, just remember that SAP ERP is thought to be more of a traditional on-premise offering.
Due to the complex nature of SAP ERP pricing, you'll be hard-pressed to find anything figures online. Many customers may feel like they are being gamed by salesmanship, and a constant stream of updates that have costs associated to them doesn't bode well for clarity when it comes to the true cost of ownership.
Most SAP ERP vendors will be reluctant-to-share pricing information without any sort of in-depth demonstration. This isn't alarming; in-fact it's a rather common practice when it comes to the discussing costs of ERP software. ERP software is modular in nature, and pricing can vary greatly depending on the number of users required. Most SAP ERP vendors will charge varying amounts for the services they offer, and would rather sell you on their company and reputation than a figure you can plug into your budget.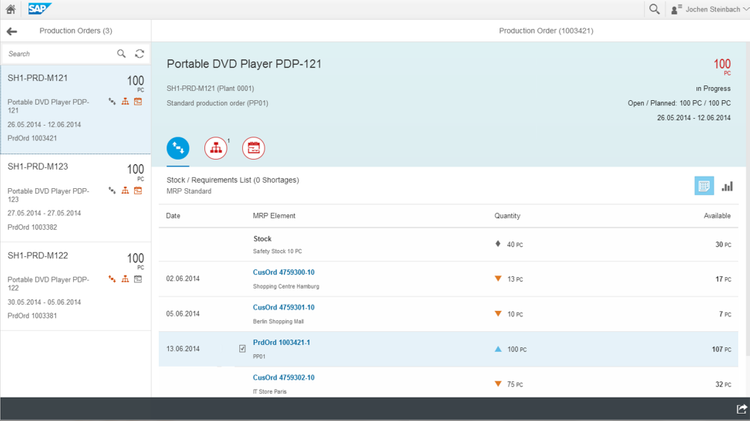 SAP S/4HANA
SAP S/4 HANA stands for Suite 4 HANA, which is a new generation ERP solution that runs on SAP HANA database architecture. Deployable in the cloud or on-premise, SAP S/4HANA is designed to drive instant value across all lines of business and industries.
When it comes to business intelligence and reporting tools, SAP S/4HANA has a big advantage over Infor software. Things such as analytics, data modeling, and database management are all strong suits of SAP's HANA in-memory relational database management system.


HANA database
Large network of resellers
Strong BI tools
Difficult setup
Lack of pricing transparency
Relatively new and unproven
Price Range: $$$$$
Client OS: Windows, Web
Deployment: Cloud or On-Premises
Additional capabilities of SAP S/4HANA include machine learning-enabled business processes, real-time embedded analytics, automated group-wide processes, live material requirements planning, and delivery delay prediction and intelligent remediation.