The top Fishbowl Inventory alternatives include Acctivate, Finale Inventory, and inFlow Inventory. In our analysis of the best inventory management software, we've ranked these alternatives based on ease of customization and user-friendliness.
Best Fishbowl Inventory Alternatives Shortlist
Below are detailed summaries of the best Fishbowl Inventory alternatives that we'll be covering in this article:
Understanding Fishbowl Inventory and Its Limitations
Fishbowl Inventory is an inventory management solution tailored to the needs of small to midsize businesses expanding beyond QuickBooks' inventory capabilities. Founded in 2001, Fishbowl offers a range of features including barcoding, advanced bill of materials, and seamless integrations. Its functionality mirrors that of a light MRP and ERP system, with virtual assistance, modules for niche sectors, and customization options to ensure users see only relevant data.
However, it may not be as compatible for non-QuickBooks users. The software presents a steeper learning curve for beginners, and its transactions do not synchronize with QuickBooks in real-time, necessitating manual or scheduled updates. Though its customization is a unique selling point, it can sometimes complicate support situations, and it lacks the capability to store quotes. As such, potential users might consider other alternatives.
1

Acctivate: Seamless QuickBooks Integration

Why we chose it: Acctivate integrates with QuickBooks, ensuring real-time inventory visibility, high-volume order fulfillment, and insightful business analytics. Its features range from traceability, purchasing, and warehousing to multi-channel orders and comprehensive reporting.

Its design enhances inventory control, streamlines order management, and bolsters overall business management. Growing small to mid-sized distributors, online retailers, and manufacturers often find it's a noticeable improvement over the base QuickBooks system.
2

Finale Inventory: Best for High-Volume eCommerce Sectors

Why we chose it: Finale Inventory is renowned for its specialized cloud-based approach tailored for high-volume eCommerce sectors. This is due to its real-time stock level views, order management capabilities, and scalability across multiple warehouses, locations, and online sales channels.

Its capabilities span multichannel inventory management, integrating with key eCommerce platforms and financial tools. With a centralized inventory overview, businesses can efficiently manage products across various stockrooms. Additional features like real-time inventory syncing enhance its appeal, making Finale an effective solution.

Read our full Finale Inventory review.
3

inFlow Inventory: Multi-Channel Sales Management

Why we chose it: With integrations to leading eCommerce apps, inFlow Inventory allows seamless multi-channel sales management. Its centralized database provides an immediate item count, streamlining operations. The platform also offers product history analysis and timely low stock notifications.

It sets itself apart with its comprehensive suite tailored for businesses overseeing purchasing and manufacturing. inFlow's feature set includes product organization, stock tracking, and manufacturing. This suite ensures businesses maintain optimal inventory levels and prevent stockouts.

Read our full inFlow Inventory review.





Audit trails that highlight abnormal behaviors
Base package includes sales and purchasing
Unlimited user accounts to track transaction processing
Difficult for multiple warehouses
Limited integrations
No lot code tracking
Price Range: $$
Starting Price: $69/month
Client OS: Windows, Web
Deployment: Cloud or On-Premises
4

Zoho Inventory: Great for Online Retailers

Why we chose it: Zoho Inventory stands out as a prime choice for online retailers, primarily because of its adeptness in multichannel selling. By seamlessly integrating with renowned online marketplaces like Amazon, eBay, Etsy, and Shopify, it facilitates businesses in harmoniously managing their inventory across various sales channels.

The app presents a centralized dashboard that offers real-time stock level insights across different sales channels. Barcode scanning eradicates manual entry errors by auto-populating item details during order or transfer creation.

Read our full Zoho Inventory review.
5

HandiFox: Best Mobile App

Why we chose it: HandiFox provides a mobile app ideal for businesses with multiple inventory sites. Its real-time tracking and sales management tools allow users to oversee stock and handle sales orders, invoices, and receipts directly from smartphones.

HandiFox Online integrates with QuickBooks Online, granting businesses flexible inventory management on the go. With compatibility on Android and iOS devices, HandiFox emerges as a top choice for businesses seeking a streamlined, mobile-centric inventory solution.

Read our full HandiFox review.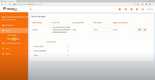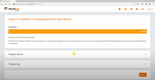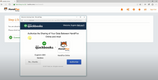 Automate inventory counts
Integrates with QuickBooks to monitor supply chain and sales
Multiple pricing plans
Price Range: $$
Starting Price: $39/month
Client OS: Windows, Web
Deployment: Cloud or On-Premises
6

EZOfficeInventory: Best Tracking Capabilities

Why we chose it: EZOfficeInventory offers advanced tracking capabilities. Users can access asset information anytime and from any device. The platform integrates QR codes and barcode tags and provides comprehensive asset lifecycle management, from procurement to retirement.

It provides mobile apps available across Android, iOS, and Windows. The software offers a seamless check-in and check-out system for IT assets, ensuring current asset data.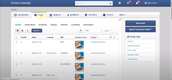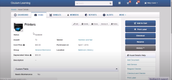 7

Logiwa: Best for Warehouse Management

Why we chose it: Logiwa WMS is a good warehouse management solution tailored for high-volume fulfillment, streamlining every facet of the order process. It offers real-time visibility and control over inventory by integrating online order data from eCommerce channels. Designed with user-friendliness in mind, Logiwa makes it simple to update warehouse automation, manage inventory, tweak automation rules, and incorporate new clients or fulfillment centers.

Read our full Logiwa WMS review.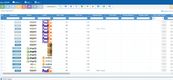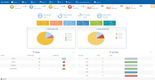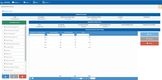 3PL friendly
7+ available integrations
7+ integrations available
Limited out of box features–requires personalized support
Poor user task management
Unfriendly user interface
Client OS: iOS, Android, Web
Deployment: Cloud Hosted
8

Pomodo: Best Customer Support

Why we chose it: Pomodo offers dedicated onboarding specialists, ensuring a seamless introduction for new users. Additionally, their US-based support team is available around the clock. Users benefit from easily accessible ZenDesk help resources, including documentation and videos. Plus, every pricing plan for Pomodo comes with the assurance of 24/7 support, continuous training, and secure cloud backup. The only notable absence is chat support.

Read our full Pomodo review.
Key Factors to Consider When Choosing a Fishbowl Inventory Alternative
When assessing an alternative to Fishbowl Inventory, keep the following in mind:
Ease of Use: Given the steeper learning curve associated with Fishbowl Inventory, it's essential to opt for an alternative that's intuitive and user-friendly, ensuring a smoother onboarding experience.
Real-time Synchronization: As Fishbowl doesn't offer real-time updates with QuickBooks, consider a system that guarantees real-time synchronization with your accounting software, eliminating the need for manual or scheduled updates.
Technical Support: Fishbowl's customization, although an asset, can sometimes complicate support scenarios. An ideal alternative would provide straightforward, effective technical support even when custom features are involved.
Quote Storage Capability: Since Fishbowl lacks the functionality to store quotes, ensure your chosen alternative can handle and store quotes efficiently, streamlining your sales process.
Summary
Fishbowl Inventory serves small to midsize businesses that need advanced inventory management features beyond what QuickBooks provides. Established in 2001, its functionalities are akin to light MRP and ERP systems. Fishbowl includes various features like barcoding, advanced bill of materials, and niche-specific modules. Additionally, the software offers customization to display only pertinent data.
However, for those not using QuickBooks, it might not be the ideal fit. New users might find the platform challenging due to its learning curve. One major concern is that it doesn't offer real-time synchronization with QuickBooks, leading to a need for manual or scheduled updates. While customization offers a tailored experience, it can make technical support a bit complex. The software also doesn't support quote storage. Therefore, those in the market for such a system might want to explore other options.
Looking for new inventory management software? Get in touch with our software experts.
How does Fishbowl Inventory cater to small and medium-sized businesses?
Fishbowl Inventory bridges the gap for businesses outgrowing QuickBooks' inventory functionalities, offering features like barcoding and advanced bill of materials. Nonetheless, some businesses search for alternatives, especially non-QuickBooks users, due to its complexity, additional costs, and limited reporting.
What are the learning challenges in Fishbowl Inventory?
Although Fishbowl Inventory provides robust features, newcomers often encounter a steeper learning curve. Grasping its functionalities and customizations might be demanding, especially for those without a strong background in inventory management systems. Some users might struggle with concepts such as lot tracking, serial number tracking, or FIFO/LIFO costing methods if they're unfamiliar with them.
Why do some users find Fishbowl's synchronization with QuickBooks suboptimal?
While Fishbowl Inventory is tailored to seamlessly integrate with QuickBooks, its transactions do not synchronize in real-time. This requires users to either manually update or schedule updates, which can be a drawback for businesses needing instantaneous data integration.