The top Zoho ERP alternatives include QuickBooks Online, Microsoft Dynamics 365, and Xero. In our analysis of the best ERP software, we have ranked these alternatives based on financial management features and scalability.
Best Zoho ERP Alternatives Shortlist
Below are detailed summaries of the best Zoho ERP alternatives that we'll be covering in this article:
Understanding Zoho ERP and Its Limitations
Zoho Books is a cloud-based accounting component of the Zoho ecosystem, tailored primarily for small businesses in online retail and digital marketing. It stands out with its client portal for transaction approvals, seamless integration with various Zoho products, robust inventory management, a precise time-tracking feature associated with projects, and a diverse range of sales and expense forms.
However, customizing invoices can be challenging, and its bank synchronization is somewhat restricted. While the software accommodates up to 10 users and has a time-tracking feature linked to projects, businesses with extensive inventory needs will eventually have to pivot to Zoho Inventory. Thus, while ideal for growing businesses with up to ten employees, those seeking an expansive ERP system might need to consider alternatives.
1

QuickBooks Online: Most Third-Party Integrations

Why we chose it: Quickbooks Online distinguishes itself in the realm of accounting software with over 750 eCommerce, POS, and payroll integrations. When compared to Zoho, QuickBooks offers a broader spectrum enabling businesses to connect seamlessly with numerous platforms. This extensive integration ecosystem allows businesses to streamline their operations, enhance automation, and reduce manual data entry.

QuickBooks Online can be easily tailored to fit the specific needs of different industries and business models. Whether it's CRM or project management, QuickBooks' adaptability through its integrations makes it a versatile choice for businesses of all sizes and sectors.

Read our full QuickBooks Online review.
2

Microsoft Dynamics 365: Best Product Ecosystem

Why we chose it: Microsoft Dynamics 365 Business Central is notable for its exemplary integration potential, especially with leading Microsoft applications such as Office 365, Power BI, and Dynamics CRM. In addition, its open API structure ensures effortless interfacing with third-party tools, making it versatile for diverse business environments. This results in reduced data fragmentation, diminished manual data entries, and an integrated business ecosystem.

Read our full Dynamics 365 Business Central review.
3

Xero: Best Accounting for SMBs

Why we chose it: Xero is our top accounting pick because it offers strong invoicing capabilities. Users can customize invoices, set up recurring invoices, and send them in multiple currencies. What truly sets Xero apart is its "online invoices" feature, where users can see when a client has viewed their invoice, making follow-ups more timely and relevant.

One of Xero's most praised attributes is its intuitive user interface. The platform's dashboard provides a visually appealing and organized overview of a company's financial health. Users can quickly glance at bank balances, outstanding invoices, upcoming bills, and cash flow. This at-a-glance feature means SMBs can make informed decisions without wading through complex financial reports.

Read our full Xero review.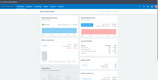 Basic inventory management capabilities
Free trial available and no setup fees
Large number of add ons and integrations
Big learning curve
Hard to get phone support (email is more frequent)
Limited to 2,000 transactions per month
Price Range: $$
Starting Price: $13/month
Client OS: Web
Deployment: Cloud Hosted
4

SAP Business One: Leading in CRM Integration

Why we chose it: SAP Business One is our leading pick for CRM integration because it ensures that sales insights influence and inform production and delivery. Unlike many platforms where CRM and ERP operate as separate entities, SAP Business One's architecture is inherently built to bridge the two. This means customer data, sales analytics, and order history are natively connected to supply chain operations, financial management, and inventory controls.

With SAP Business One, there's no lag between what's happening in your CRM and how it's reflected in the rest of your business operations. The moment a salesperson updates a customer's information or logs a new sale, this data immediately permeates other relevant departments. This instantaneous data flow facilitates more accurate forecasting, inventory management, and financial planning.
5

NetSuite: Top Pick for Growing Companies

Why we chose it: NetSuite is best for expanding businesses because of its inventory and supply chain management features. Its seamless connection with eCommerce solutions and POS systems makes inventory oversight and supply chain operations both straightforward and automated. Such integration ensures that burgeoning enterprises can ensure product readiness, refine operational flows, and curtail manual inventory-related burdens.

Moreover, NetSuite introduces versions tailored to specific industries. This specialized focus ensures that businesses aren't shoehorned into retrofitting a one-size-fits-all ERP. Instead, they enjoy functionalities meticulously designed for their domain, slashing implementation durations and ensuring a user-friendly experience.

Read our full NetSuite review.
6

Odoo: Most Customizable Open Source Option

Why we chose it: Odoo stands out as a prime open-source option because it allows businesses to tailor its source code to fit specialized workflows and distinctive needs. What's more, Odoo is designed to integrate seamlessly with other third-party tools, helping organizations create a cohesive ecosystem of applications centered around their main ERP. Comprehensive guides and dedicated support for both tech-savvy developers and regular users ensure a smooth experience that can easily adapt to changing business landscapes.

Read our full Odoo review.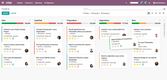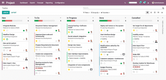 Community version is free
Heavy customization options
Double entry inventory system
May have to build specific modules yourself
No centralized support
Upgrades not free
Price Range: $$$
Starting Price: $25/user/month
Client OS: Web
Deployment: Cloud or On-Premises
7

FreshBooks: Best for Small Businesses

Why we chose it: FreshBooks is ideal for freelancers, sole proprietors, and small businesses due to its intuitive design and easy-to-use features. With customizable invoices, expense tracking, and time-tracking functionalities, it offers all the essential tools a small business might need without unnecessary complexities. Its cloud-based nature also means accessibility from anywhere, ensuring business management on the go.

Read our full FreshBooks review.























Customizable payment terms
Discounted intro pricing
No setup costs
Client-based pricing
No bulk invoice creation
Limited report customization
Price Range: $
Starting Price: $15/month
Client OS: iOS, Android, Web
Deployment: Cloud Hosted
8

Wave Accounting: Free for Start-ups

Why we chose it: Wave Accounting is best for start-ups and small businesses primarily because of its zero-cost approach. The software offers essential accounting features such as invoicing, expense tracking, and financial reporting for free. While it might not have all the advanced features of ERPs, its simplicity and cost-effectiveness make it a solid choice for businesses that are just starting out or those on a tight budget.

Read our full Wave Accounting review.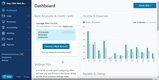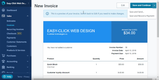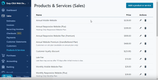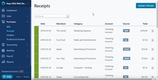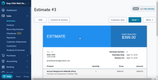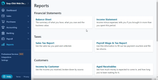 Accounting features are free
Mobile app
Multi-currency invoicing
Collecting online payments is "pay-per-use"
Payroll costs extra
Payroll is a monthly add-on
Price Range: $
Client OS: iOS, Android, Web
Deployment: Cloud Hosted
Key Factors to Consider When Choosing a Zoho ERP Alternative
If Zoho ERP falls short of your expectations, here are some key factors to consider when looking for an alternative:
Scalability for larger teams: An essential factor to consider in an alternative is the ability to accommodate larger teams. Seek out platforms that either have higher user limits or offer plans that scale with the growth of the company, ensuring everyone in the organization has the necessary access without constraints.

Comprehensive inventory management: When considering an alternative, prioritize those that have robust inventory management features or can integrate seamlessly with specialized inventory management tools. This ensures the system remains efficient and accurate as inventory needs expand.

Invoice Customization: When searching for alternatives, it's crucial to find a solution that allows for more flexibility in designing and adjusting invoice formats. This ensures that businesses can personalize invoices in line with their branding and specific needs, offering a professional appearance to clients.

Enhanced Bank Synchronization: The ideal alternative should provide comprehensive and real-time bank synchronization capabilities. This ensures efficient cash flow management, reduces manual data entry errors, and offers a seamless experience for reconciling transactions.
Summary
Zoho Books, part of the broader Zoho ecosystem, is a cloud-based accounting solution primarily designed for small businesses, notably in the realms of online retail and digital marketing. Its strengths lie in its client portal for transaction approvals, integration capabilities with other Zoho products, solid inventory management, and versatile sales and expense forms. Additionally, its time-tracking feature, which is tied to projects, serves specific niche needs.
However, there are notable limitations to be aware of. The software presents challenges in invoice customization, offers limited bank synchronization, and restricts its user base to a maximum of ten. Furthermore, as businesses grow and their inventory demands expand, they might find themselves compelled to transition to Zoho Inventory. As such, businesses aiming for a more comprehensive ERP experience might find themselves looking beyond Zoho Books for alternatives.
Searching for the best ERP for your business? Let our team guide you through the process.
What is Zoho Books best suited for?
Zoho Books is primarily designed for small businesses, especially those in online retail and digital marketing sectors. It excels in offering a client portal for transaction approvals, robust inventory management, and easy integration with other Zoho products. However, as a business grows, they might need to explore other modules in the Zoho ecosystem or alternative ERP solutions to meet more comprehensive needs.
Are there limitations in Zoho Books that might make me consider alternatives?
Yes, Zoho Books, while adequate, does have certain limitations. Customizing invoices can be a tad challenging, and its bank synchronization feature might not meet the needs of all businesses. Additionally, with a maximum user count of ten and the potential requirement to shift to Zoho Inventory as inventory needs expand, some businesses may outgrow its capabilities.
What should I look for in an alternative to Zoho Books?
When considering alternatives to Zoho Books, prioritize software that provides flexibility in invoice customization, offers enhanced bank synchronization, and caters to larger teams or scaling operations. It's also worth checking if the alternative provides more comprehensive inventory management features or integrates easily with specialized inventory tools.