What Is Vacation Rental Software?
Vacation Rental Software (also known as "Vacation Rental Management Software") centralizes, simplifies, and automates short-term rental property management. Vacation rental systems are best utilized for renting out individual properties and units. Whereas property management software is used to rent out hotels or apartment buildings. Vacation rental software works well for both property owners and property managers, as it customized features for each.
Vacation rental management systems reduce costs and raise revenue by simplifying and centralizing listings, bookings, staff scheduling, communications, accounting, report generation, document storage, and more. They provide end-to-end solutions to save time, reduce administrative costs and errors, and increase guest satisfaction.

Features of Vacation Rental Software
Communications: Centralize all communications from guests, maintenance crews, owners, property managers, cleaning crews, and more. Assign different inboxes for certain teams, properties or tasks.
Online Booking: Allow guests to search, book and pay online, at their convenience.
Reporting: Save time and resources by using internal accounting and reporting software to fill in ledgers, generate reports, automate yearly IRS reports, update guests of their remaining balances, create owners statements, and more.
Travel Site Integration: Create just one listing and automatically publish it on all of the top booking/travel sites at once.
Automated Document Generation: Create custom and automated contracts, confirmations, rental agreements, waivers, maps, arrival instructions, etc. for your guests and yourself.
Guest Feedback: Send automated messages to guests thanking them for their stay and asking them to leave a rating review. Include links to sites like Yelp or Vrbo, or to your own website's feedback page to make leaving a positive review as easy and as likely as possible.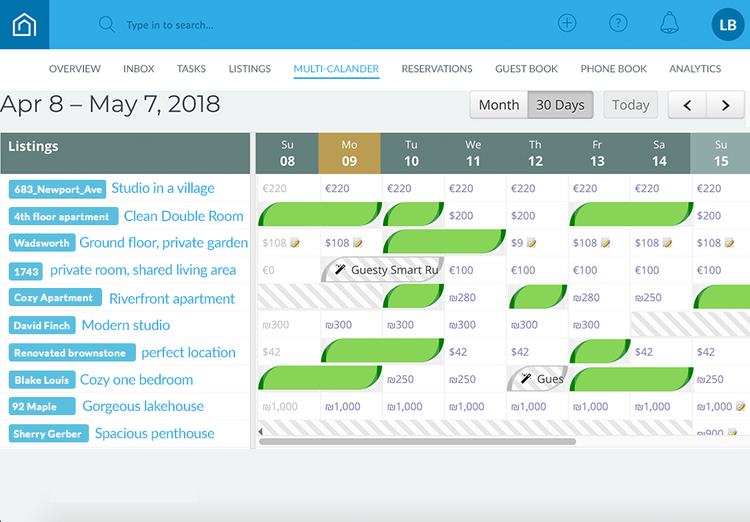 Benefits of Vacation Rental Software
Vacation rental software aids vacation rental owners and vacation rental managers from beginning to end. These highly customizable systems help publish listings, make booking easier, centralize communications, boost traffic, automate charges and payments, manage teams, create schedules, generate legal forms, and more.
All of these tools increase revenue, reduce costs, raise customer satisfaction, and help vacation rental businesses grow.
Easily Publish Listings Across the Most Popular Sites
Vacation rental software use channel management systems to automatically publish all of your vacation rental properties across all major booking sites from a single source. These software systems maximize exposure for your listings with minimal effort and resources.
Help guests find your listings on Expedia, Airbnb, Booking.com, Homeaway, Hotels.com, and any others. Channel managers eliminate publishing and updating listings for each individual property on each individual site. And they help remove the hassle of guests having to find and book through your own vacation rental website.
Instead, get direct bookings from these popular travel sites. Once guests do that, all necessary data (dates, payment information, number of guests, contact information, etc.) will automatically upload onto your vacation rental system.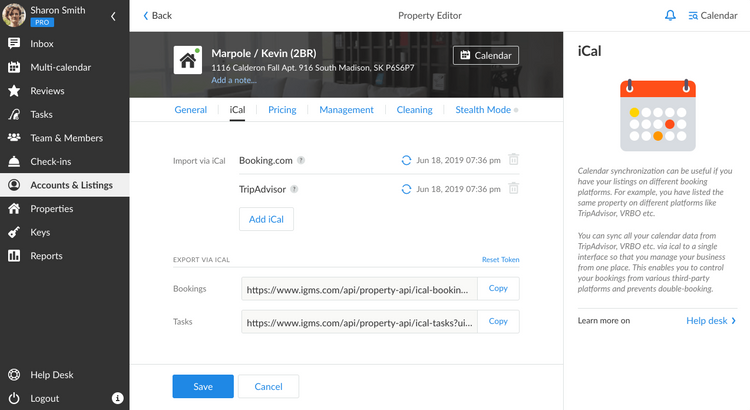 Boost Search Rankings
Vacation rental software has tools to raise your listings on booking sites through automated SEO tools. Get tips on things like property descriptions, meta tags, header tags, and more.
Some software has features that automatically update your listing on their own every day. Booking sites promote accounts with a lot of activity and updates, so some software will automatically, for example, adjust rates back and forth on all listings by a dollar day after day.
And you can use their channel managers to update your listings on all of these sites from a centralized location, on your own. Updates will not create entirely new listings but will just keep existing ones up to date.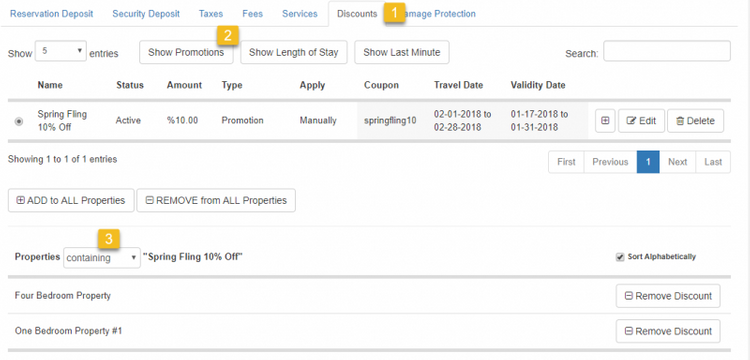 Centralize Guest, Team And Property Management
Find everything you need from a single, centralized portal. Navigate by properties, teams, services, inboxes, guests, schedules, reviews, and more. Some rental software even has tabs to see where all of your keys are in real-time. Avoid double-booking, inconsistencies, and having to pay for and navigate several software options at once.
These vacation rental software include automated reminders to keep everyone on time and on the same page. These systems help vacation rental managers hand off keys at the correct times, alert guests to payment deadlines, and let cleaning crews know where to be and when.
And these systems will consolidate guest management by sending all messages to a single platform. All incoming messages will be sent to a centralized tool, where agents easily can communicate right back. This will raise customer satisfaction and encourage good reviews.
Find, Manage And Convert Leads
Vacation rental software helps you manage phone, email, and online leads in one place. You can prioritize leads by date or value, and you can assign leads to agents from a single portal.
Quotes and availability are all easy to generate and find, as schedules, rates, amenities, and services are all available in one software. Quicker response times will lead to more conversions and customer satisfaction. And having all information in one place reduces double-bookings and other errors.
Minimize Accounting And Administrative Work
Most vacation rental software either have their own accounting, contract generation, and reporting software; or they integrate with other existing software. Syncing incoming and outgoing payments with accounting software saves time and resources, makes sure books are consistent, and reduces data entry mistakes.
Many software will integrate with QuickBooks and other existing software, but internal tools from these vacation management software could help save money on additional software. Reservations online will be automatically added to certain ledgers, as will work orders and invoices. These tools make sure that all bills are properly recorded and paid correctly.
You can also easily generate downloadable tax forms, like 1099's and 1042's. Vacation rental software will also separate and give specific access to property owners, property managers, or whomever else. These tools help those individuals gather the information they need from a single system and cut down on you gathering that information for them. And these systems can handle different variables, like multiple owners of a single property, commissions, recurring charges, and more.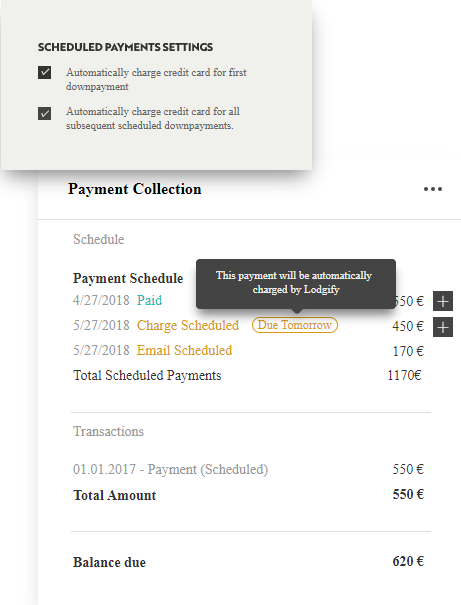 Vacation Rental Software Pricing Guide
Pricing varies quite a bit from the amount paid to how payments are structured. Services can charge by the month, per listing, by tiers of service or some combination. The cost of vacation rental software can start from $3/month/listing all the way to $299.99/month.
The cost of vacation rental software for your business will depend mostly on how many properties you manage and where they are located.
Contracts, Data Security And Online Signatures
Crafting unique documents, forming contracts and getting signatures are critical to making sure sales are completed and proper legal procedures are followed. Instead of worrying about faxes or mail or having guests print out, sign, scan and send back contracts, streamline the process with simple electronic signatures (e-signatures). Guests can do this through your phone, tablet or personal computer.
This generates more sales, as guests have fewer obstacles to overcome in booking. It also makes things quicker and easier for businesses. Not only that, but the forms and documents are all stored together for future reference.
Some software will allow you to easily generate contracts off of a simple template. You can generate complete, downloadable documents by automatically transferring the names, dates, addresses, and more from a particular listing onto a particular document.
Guests also want to know their information is safe, and these rental software work to make sure it is. Vacation rental software has its own firewall and operates secure payment processes. And be sure to check each individual policy, but almost all of these software do not share, sell or give away customer or user data.
Manage Housekeeping And Maintenance Staff
Get updates on maintenance and cleaning duties, assign tasks and have certain tasks automatically trigger at certain times (upon checkout, for example). With all schedules in the same place, you can make sure to have extra staff when needed. And you can schedule for maintenance if you see a large enough gap between bookings on a particular listing. Then, though the software, make those dates unavailable.
And calendar syncing features mean that the housekeeping crews and maintenance are on the schedule you created. Some vacation rental software will then let you inspect properties remotely, by having crews post pictures throughout their assignment. You can then send back messages in real-time to ask questions and make adjustments.