Warehouse management tools control actions and coordinate inventory throughout distribution centers. Warehousing without any sort of established system can lead to costly mistakes and poor customer relations. Often shortened to WMS, these systems offer greater control over typical warehouse operations to:
Optimize storage space and picking processes
Measure stock levels
Generate and send invoices
Analyze KPI reports
Schedule labor
Coordinate delivery transportation with distributors
By incorporating all these factors into a single system, a well-managed warehouse can increase overall employee and customer satisfaction through improved operational efficiency. A WMS is intended to give you a complete overview of products in your stock to be logged, received, put away, picked-and-packed, and finally shipped off to retailers or customers.
Important Warehouse Management Terms
Barcode, QR code, and RFID: Two specific methods of tracking inventory through identification markers like scannable SKU or UPC numbers
Inventory or stock: All products which pass through a warehouse, whether for temporary storage or distribution to a final destination
Key performance indicators (KPI): Set performance indicators used to measure success and areas for improvement
Picking: The retrieval of products from the warehouse, includes various order picking methods such as discrete picking, zone picking, pick-to-light and voice-picking
Purchase order: Requests for inventory from retailers or direct customers
Putaways: The transfer of an incoming merchandise to a set location for storage, generally determined by product line, SKU, or other identifying factors
Receiving: The intake of new stock from the manufacturer or producer into warehouse inventory
Replenishment: The movement of stock to prevent shortages or overstock along the rest of the supply chain
Scalability: How efficiently a company can increase or decrease its production in order to satisfy customer demand
Third-party logistics (3PL): Independent logistics providers who coordinate between warehouses and other steps of the supply chain for fulfillment, shipping, and billing
Warehouse: Any distribution center which stores merchandise before it reaches retailers or customers
Common Questions about Warehouse Management
Here are some frequently asked questions about warehouse management systems and practices:
How do warehouse management systems optimize operations?
The first way WMS optimize warehouse operations is through organizing processes into a centrally controlled system. For instance, digitizing inventory records by scanning barcodes can reduce the amount of paperwork your warehouse would otherwise need to process with every inbound shipment and outgoing delivery.
Additionally, warehouse management organizes and optimizes storage space. An analysis of the existing layout can reveal areas for improvement, such as pairing frequently purchased products together or placing items from the same product line in specific zones for easier retrieval. Pickers can then check the computer-based WMS to determine where any piece of merchandise is located throughout the warehouse in real-time, all without having to waste time physically checking storage units themselves.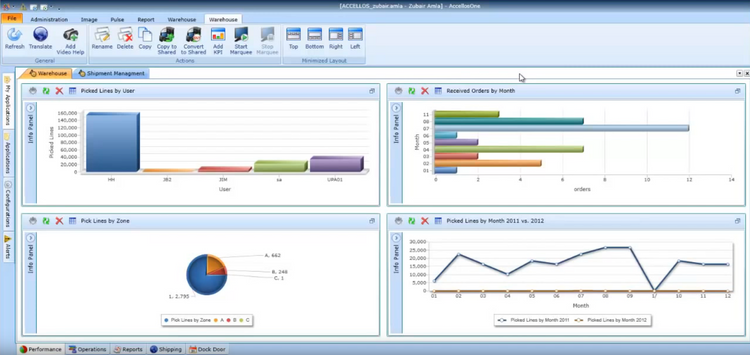 How does warehouse management improve order picking?
Order picking refers to the selection of merchandise selected from storage to fulfill specific purchase orders. A well-constructed warehouse management system can use multiple picking and fulfillment methods to optimize product distribution. Primary methods include:
Batch picking
Cluster picking
Discrete order picking
Wave picking
Zone picking
After using a WMS to organize a warehouse's layout, order picking can be streamlined as well through more efficient picking paths. Changing up or combining picking methods, such as discrete or batch picking, can further improve operational efficiency. All of these factors make a major difference when it comes to customer satisfaction, as more efficient picking means faster fulfillment and deliveries. There are also warehouse order picking software to help optimize order selection.
How does WMS improve employee productivity and satisfaction?
Increasing order picking efficiency means warehouse employees have an easier workload. No more making multiple trips to fulfill orders, no more wasted time manually checking every order for accuracy before shipping. Automation of fulfillment processes lets them instead focus their time on other important tasks, making the warehouse more productive than ever before.
How does warehouse management differ from control and execution systems?
Over the years, a lot of different systems have been designed for streamlining distribution center operations. Warehouse control and warehouse execution systems, shorted to WCS or WES, are just two examples. The first, execution, provides vital logistics for on-site operations. Control is more focused on real-time operations within the warehouse or distribution center. All of these solutions are capable of being integrated together to provide a complete warehouse operating system.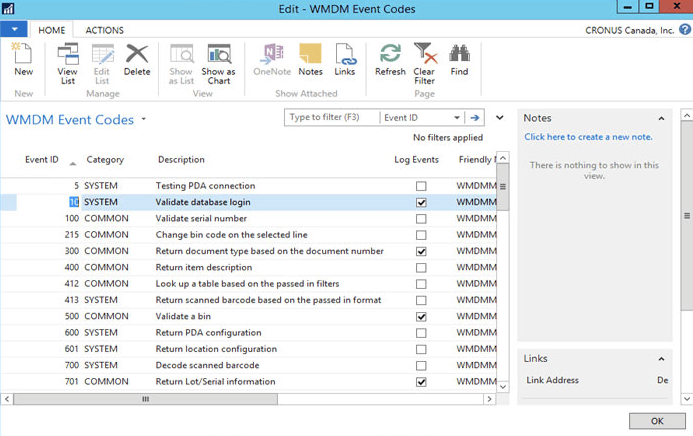 How is a WMS different from inventory management systems?
As described, warehouse management systems provide an overview of all warehouse operations including the inventory stored within. Inventory management or control software tracks all information about the items your company builds, buys, stores, transports, or sells, regardless of whether it passes through a warehouse or distribution center. The WMS is more about coordinating logistics from inbound and outbound transportation, employee scheduling, and measuring performance analytics.
Additionally, inventory management in a warehouse setting helps differentiate between product batches. Merchandise can be tracked from pallets down to individual units. This advanced inventory control allows warehouse managers to break up larger units into smaller packs to fulfill individual orders as needed.
How do WMS coordinate with transportation management?
As one part of supply chain management, WMS ties in closely with the transportation and delivery of merchandise to vendors, retailers, and customers. Transportation management (TMS) or trucking software automates this aspect of the supply chain, though it must coordinate with warehouse management systems to ensure timely deliveries and shipments. Without an established WMS, cross-docking is impossible as inbound and outbound shipments may be delayed from reaching their final destination.
Food and beverage distributors in particular need to work closely with transportation or trucking logistics to prevent spoilage during delivery. eCommerce businesses which ship products directly to customers will also want to ensure clear communication with transportation services to improve customer satisfaction.
How do warehouse management systems work with third party logistics?
Many warehouses have to work with third-parties at various points along the supply chain. There are integrated management systems for third party warehouses (3PL warehouses) that are not directly controlled by your company but impact your supply chain. For example, a third-party manufacturer may not know a warehouse is at capacity, thus causing overstock with their next delivery. Coordinating 3PL with your WMS can prevent these issues before they happen.
Further reading: Discover the best 3PL software.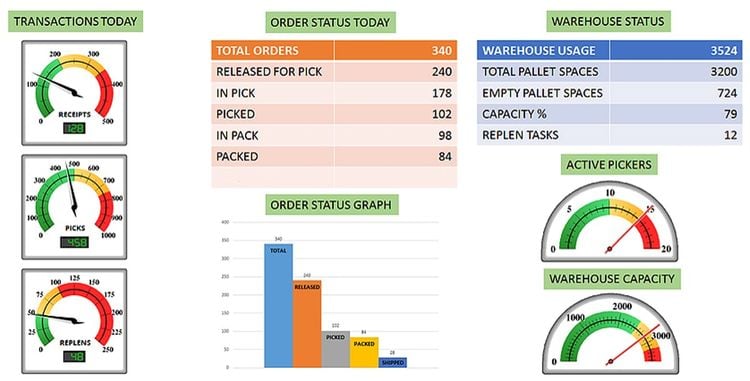 Automate Warehouse Management with Software
The implementation of warehouse management software (WMS) is one of the many ways to automate your complex warehouse operations. By using software, warehouse managers can review inventory levels, labor schedules, and 3PL deliveries all from one source. This modern approach to warehouse optimization streamlines order fulfillment more than ever before.
Operating as a standalone system or as part of a larger enterprise resource planning (ERP) package, these solutions make it possible for managers and laborers alike to automate everything happening on the warehouse floor. Cloud-based WMS make inventory data accessible from anywhere, perfect for multi-warehouse operations. On-premise implementation allows for coordination between hardware and software.
Finally, the functionality of your warehouse management system directly ties into customer satisfaction. Using WMS can improve your customer relationship management (CRM) by keeping orders accurate and delivered on time.