Construction software packages and construction ERP software provide financial accounting and operational modules designed specifically with contractors in mind. Get up to speed on the tools you need with our buyer's guide below.
This guide offers direction on figuring out:
What Is Construction Management Software?
Just as a building needs a solid foundation, a construction business does, too. Part of laying the foundation of a construction business involves technology, including construction management software, or construction ERP.
But while there's not a lot of leeway in terms of how the foundation of a building is constructed, there's a ton of leeway in terms of buying construction management software. For instance, different kinds of construction management software come with different functionalities. Then, of course, each software product comes with a different price tag.
Let's just say that it's not simple to nail down what a business needs in the way of construction management software. That's why Software Connect created this Construction Software Buying Guide–to help build knowledge and confidence about construction management software so the right technology decisions can be made.
Before we dig deeper into the specifics, let's get one thing out of the way: What is construction management software? The term might mean different things to different people, but generally speaking, this software enables a construction business to set up a one-stop shop for an array of functions, including project tracking and cost estimating. It's similar to the hub of a job site.
Common Features
When shopping for construction management software, a business should concentrate on software functionalities that will boost efficiency and effectiveness–and not be dazzled by the bells and whistles.
In other words, buy the software that fits your business' needs. Put a different way, a low-cost Chevy Colorado gets you from Point A to Point B just as well as a pricey Nissan Titan XD Platinum Reserve does. Sure, the ride in the Chevy Colorado isn't as fancy, but it gets the job done. Construction businesses should be honest with themselves when assessing the functionalities of construction management software: Will the features be useful or wasteful?
As you do this, make sure you also keep your eye trained on the future: what functionalities will you need in the coming five years? You want to select a tool that will accommodate you now, and have the capacity to scale with you as you expand. Construction management software isn't one-size-fits-all, so whatever product is chosen should be tailored to the business' specific needs.
| Feature | Description |
| --- | --- |
| Core Accounting | Tracks revenues and expenses. Includes modules such as accounts payable, accounts receivable, and a general ledger. |
| Job Costing | Facilitates the assignment of costs to individual cost categories in order to enable improved cost control and job profitability analysis. Such cost categories typically include labor, equipment, materials, and subcontractors. |
| Project Management | Coordinates the execution of project tasks, including planning, scheduling, resource allocation, quality management, time tracking, and collaborative document sharing. |
| Bid Management | Streamline the entire construction procurement and bid process. |
| Estimating | Provides standard processes to build cost models for executing job-based work. Includes functionalities such as takeoff which allows for dimensional information to be extracted from blueprints and converted into a list of required materials |
Most Requested Features
Our recent survey discovered that 2/3rds of construction software buyers desire job costing, project tracking, and project estimating.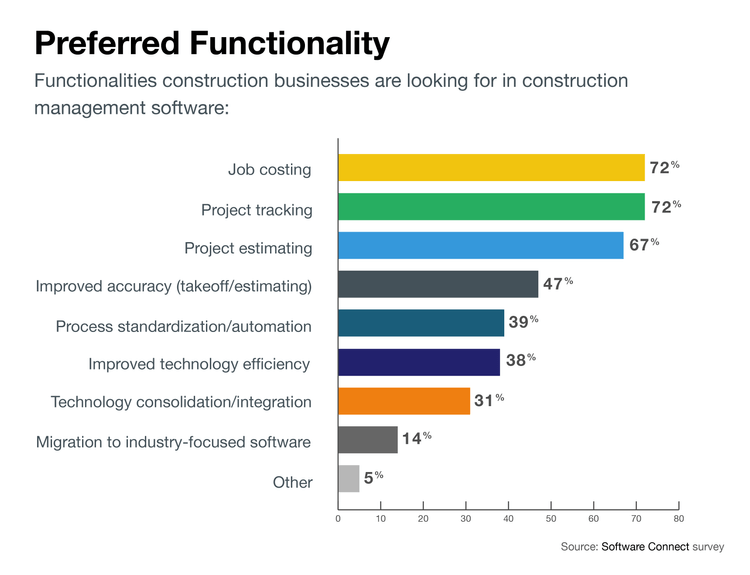 Benefits
Simply put, construction management software can improve the efficiency and effectiveness of a business. Construction management software puts a lot of functionality in one place, rather than having several disjointed software products that may or may not communicate well with each other.
Manually tracking projects in a spreadsheet or jotting down cost estimates with paper and pencil might be the most comfortable way of running a business, but it's definitely not the most efficient.
Construction management software helps keep expenses and projects in line with functionality such as job costing, project tracking, project estimating, material take-off, time and materials billing, bid management, and purchasing.
Above all, a construction business should look at how construction management software can ease or eliminate pain points:
Disorganization: One of the worst pain points for a construction business is disorganization. It's no wonder: A single construction project has many moving parts. Multiply that by five or 10, and you've got a blueprint for chaos. Construction management software can take a construction business from disorganization to complete organization by offering a broad, consolidated view of the business in one spot. This can help a business make more effective use of its time through project tracking, reduce expenses through job costing, and collect timelier payments through simplified billing.
Document management: With construction management software, paper shuffling can become a thing of the past. By using construction management software, "teams can immediately collaborate by creating, sharing and archiving documents while adding quality to the process and providing greater job satisfaction," according to Construction Executive magazine. "As a result, the contractor will learn to better manage day-to-day tasks, time and risks."
Freedom from the office: Construction management software also can release a contractor from the shackles of the office. "To get a contractor mobile and away from the desk, construction management software can provide collaboration in real time so users can access and upload project contacts, plans, drawings, and photos at any time," writes Construction Executive magazine.
When shopping for construction management software, a construction business should try to solve several pain points, such as organizational oversight and document management, and not just one pain point. Having one software product to address each pain point is an expensive pain.
Cost
Construction software pricing depends on your needs, desires, and expectations. In the previously mentioned buyer trends survey, 43 percent of construction businesses indicate they spend one percent to two percent of their revenue on software. That range is right in line with what partners of Software Connect say a construction business should expect to spend on software. Therefore, as a rule of thumb, a construction business might want to apply the one percent to two percent spectrum to software spending.
While that might sound like a lot of money, spending on construction management software should be considered an investment. This is particularly critical as the price of doing business in the construction industry keeps going up.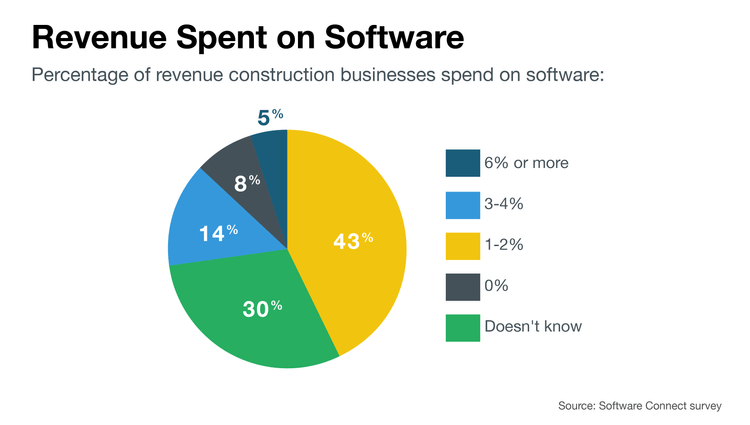 With rising material and labor costs, firms will likely struggle to maintain their margins in the coming year," Construction Dive said in a review of construction industry trends for 2017.
Construction management software can help a business trim those costs and ensure profit margins aren't squeezed.
By the way, it's important for a construction business to keep an eye on how much money it's spending on software. In the Software Connect survey, 30 percent of construction businesses were unaware of the amount of money they're earmarking for software. How can a construction business truly measure the effectiveness of its software if it doesn't have a complete picture of its related expenditures?
What Does Your Business Need?
When a construction business is looking at adding or replacing construction management software, consideration should be given to who's going to be using the software and how much training will be required.
In our recent technology trends survey, 37 percent of construction businesses identified ease of use as the most important consideration when buying construction management software. That ranks as the top consideration.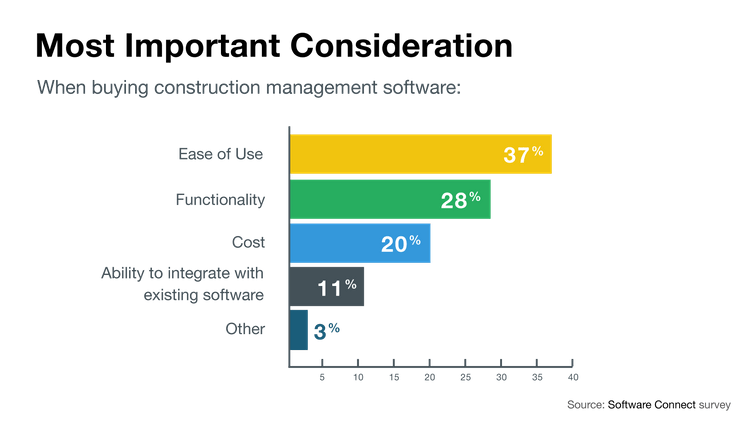 Given that ease of use is vital, a construction business should pay close attention to whether any red flags pop up when construction management software is being demonstrated. Is the software overcomplicated? It is clunky? Does it cause pull-your-hair-out frustration?
If the answer is "yes" to any of those questions, then the product isn't the right one. Construction management software makes life easier, not harder.
Also, a construction business should be clear about who'll be using the software and, as such, who'll need to be trained on how to operate it. Before a business buys the software, it should inquire about the availability of training and customer support from the vendor.
Taking a DIY approach to construction management software rather than depending on professional guidance could be a costly mistake, even though help from the pros likely will add to the price tag. Foregoing professional training and customer support is a lot like driving a backhoe while blindfolded–it's very risky.
New buyers and small businesses: Job costing will be the most important feature to help you manage your basic accounting much easier. Most basic accounting solutions should offer some sort of costing functionality. It may not be industry specific but will allow you to categorize costs and combine them to form a complete job and begin evaluation on what jobs are more profitable than others.
Mid-level companies desiring functions beyond basic construction accounting: Companies upgrading will likely desire a more in-depth estimating tool and some level of bid management. These types of functionalities will be best provided by an industry-specific solution or a vendor that specializes in implementing their software into construction environments.
Large construction companies: Companies in need of a full suite of functionalities should look towards construction ERP solutions that provide enterprise level construction management. These will be software solutions with a long proven track record of assisting construction companies. Advanced ERP software can have a level of custom-development to make them more in-tune with a company's estimating and bid management needs, to ensure the solution works as a complete all-in-one system.
Use in the Cloud
"Cloud computing" is a common buzzword in today's technology environment. But what does it actually mean? IBM offers this simple definition: It's the delivery of hosted, on-demand computing resources–such as software–over the internet on a pay-for-use basis.
Whereas in the past "people would run applications or programs from software downloaded on a physical computer or server in their building, cloud computing allows people access to the same kinds of applications through the internet," according to Salesforce.com.
In the construction industry, the adoption of cloud-based software is a big trend, just as it is in other business sectors. In the Software Connect survey, 35 percent of construction businesses said they host or plan to host construction management software through a cloud platform, with 38 percent saying they don't have such plans and 28 percent saying they aren't sure.
Among other benefits, the cloud-based software provides easy access to documents.
"With cloud storage, files remain in one place, allowing contractors to pull them up on the job without having to manage physical files," according to Construction Executive magazine. "This prevents unnecessary loss of important paperwork, reducing stress, saving time, and improving project delivery overall."
As cloud computing advances, it's highly likely that more and more construction businesses will host software in the cloud. Those construction businesses that fail to do so will be at a competitive disadvantage compared with their cloud-dependent peers.
Best Available Software
Do you need a simple construction solution? Or are you looking to evaluate some of the best ERP solutions for construction companies? Large or small, the following options are some of the most reviewed options: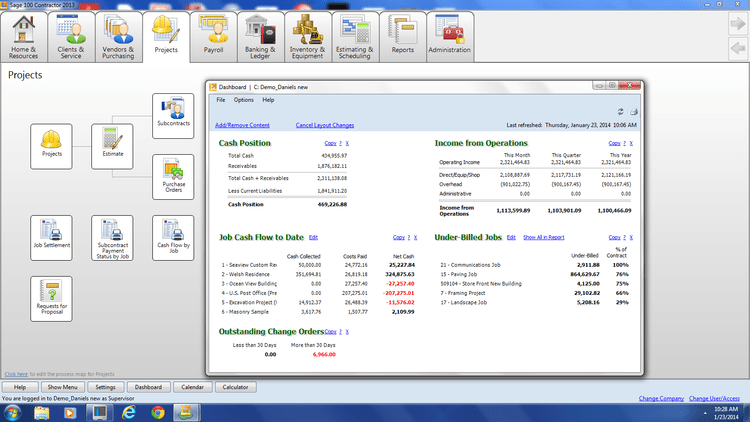 Sage 100 Contractor (pictured above) is a popular choice for small to mid-size contractors. The integrated solution offers construction management and accounting to meet your estimating, scheduling, project management, equipment management, and payroll needs.
ProContractor by Viewpoint is a cloud offering for mid-sized contractors. It offers a complete solution to handle all things construction, from accounting to estimating and project management. Former users of Maxwell Systems American Contractor will find that the solution was acquired by Viewpoint Construction Software back in 2014.
Can You Use QuickBooks?
QuickBooks has been used successfully by thousands of construction companies. While not an industry-specific construction software, the solution can handle the needed accounting for most construction businesses. This includes managing job costs, tracking time and expenses for projects, and running the appropriate reports on a job/project level.
QuickBooks isn't an inherently bad product; it just may be limiting what a construction business can do technologically. Fortunately, a number of software options are available for a construction business that has outgrown QuickBooks.
The research shows that over the past few years, more than 35 percent of construction businesses have been looking to upgrade from QuickBooks in some way.
"Many QuickBooks users fall for the seductive marketing messages that boast 'easy to set up, easy to learn to use' and fall prey to the myth of do-it-yourself accounting," says Nancy Smyth, author of the QuickBooks for Contractors blog.
For a construction business considering a shift away from QuickBooks, it's important to ask this question: Is QuickBooks serving the company's needs? If the answer is "no," it's time to contemplate another software product that's more robust and geared more toward construction management.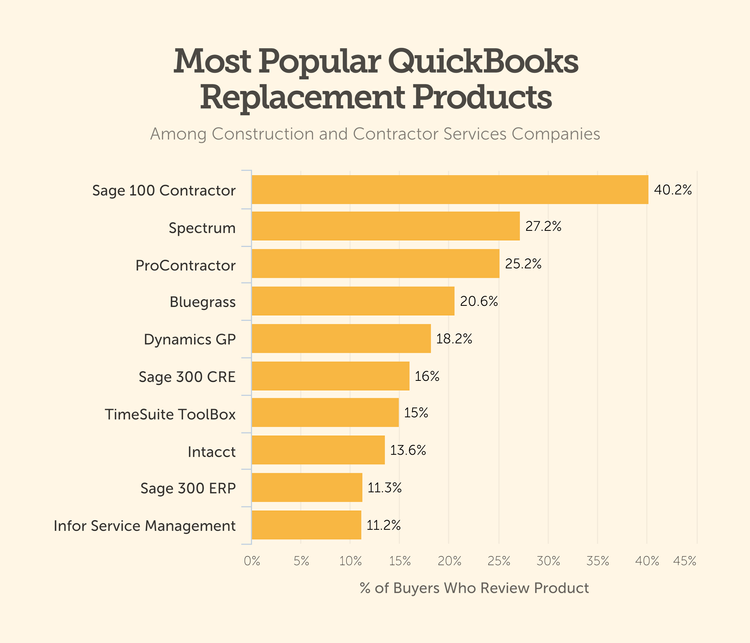 Market Trends
Changing trends in construction technology. A recent technology survey we conducted found the following pieces of information: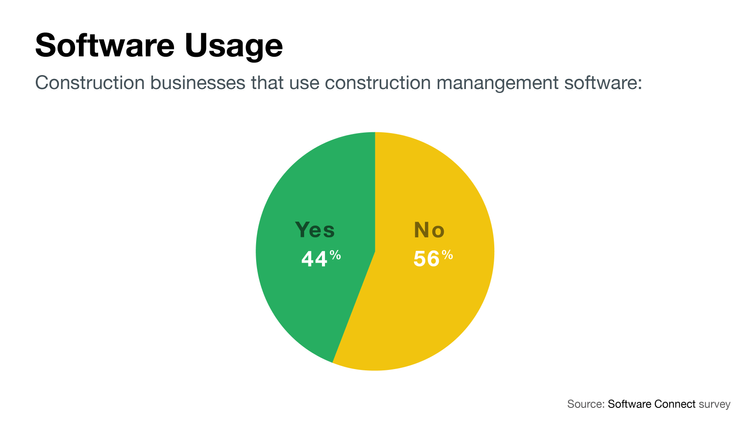 Fifty-six percent of construction businesses said they use construction management software. The remainder (44 percent) don't use construction management software and, as a result, might be wasting time and money.
80 percent at least sometimes rely on manual methods to carry out basic business functions.
Job costing and project tracking are the top two functionalities sought by construction businesses (72 percent each), with project estimating in third place (67 percent). While this ranking of functionalities should not dictate the software needs of a construction business, it does offer some guidance.
---
Slow adoption of new technology. As noted in a report published in February 2017 by the World Economic Forum and the Boston Consulting Group, the construction industry has been slow to adopt new technology and has undergone "no fundamental change" over the past 50 years.
In line with that, just eight percent of construction and engineering professionals surveyed in 2016 by professional services firm KPMG classified themselves as "cutting-edge visionaries." Meanwhile, 41 percent said their companies had numerous software platforms in place that are monitored manually, and just 20 percent had one fully integrated project management information system across the entire organization.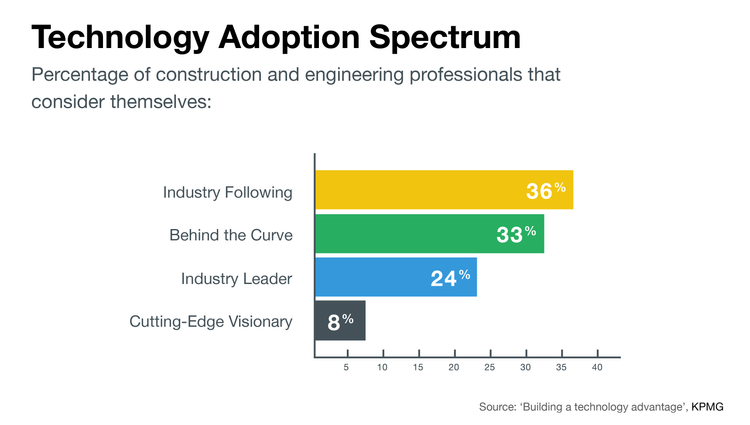 "Without fully integrated automation, the effectiveness of these tools is severely compromised," KPMG points out.
The World Economic Forum report declared that construction businesses have largely failed to embrace new technologies, "and the gap between the innovation leaders and laggards is widening," according to the report.
Bottom Line
Construction management software is one key advancement that's separating the leaders from the laggards. Whatever the reason a construction business is weighing a purchase of construction management software, it's not a decision that should be made hastily. Relying on this guide and other research, a construction business can make a smarter choice about the purchase of construction management software, enabling the company to increase efficiency, competitiveness, and profitability.