Enterprise resource management (ERP) systems provide an integrated suite of business applications to streamline back office operations. For eCommerce businesses, this means providing tools to better advertise, sell, and distribute goods and services online. There are lots of great ERP systems available, so it's best to find one which addresses your eCommerce needs.
1

Dynamics 365 Business Central - Best for Small Businesses

Dynamics 365 Business Central by Microsoft combines the functionalities of ERP and CRM products into one powerful solution. Dynamics 365 Business Central is intended for use by small companies which are scaling up to mid-market and need financial management, CRM, project management, supply chain management, HR, and warehousing. This entry-level software can be purchased on a modular basis, so you only buy what you need when you need it. For eCommerce businesses, this can make it easier to handle seasonal sales.
2

Acumatica - Best for Integrations

Acumatica is a cloud-based ERP using leading-edge technology to deliver unparalleled value to small and midmarket eCommerce organizations. One major benefit of this software is that it has several industry-specific editions, including:
Construction Edition
Manufacturing Edition
Retail-Commerce Edition
Distribution Edition
The Retail Edition is the ideal choice for eCommerce businesses. And Acumatica's many integrations help make it a future-proof platform built on open architecture for long-term scalability.
3

Aptean - Best for Distribution

Aptean Distribution ERP is an all-in-one system designed to handle everything consumer goods distributors need to run and grow their business. By creating efficiencies across the enterprise, distributors will see increased profits and ensure that the entire business uses the same real-time data.
4

SAP Business One - Best for SMB

SAP Business One is well-suited for small to medium eCommerce businesses looking to streamline operations and drive growth. The ability to integrate finance, sales, supply chain management, production, and project management into a single platform simplifies business processes, reducing manual work and ensuring data accuracy. This integration enhances decision-making through robust business intelligence capabilities, enabling eCommerce businesses to analyze customer trends, inventory levels, and sales performance in real-time.

With a wide range of add-on applications available, eCommerce companies can extend the functionality of SAP Business One to further optimize their operations.
5

Odoo - Best for Free

Odoo is an open-source ERP software that integrates various business apps, including CRM, manufacturing, and eCommerce. This ability to add modules incrementally as businesses scale allows eCommerce enterprises to tailor their ERP system to their specific needs.

Odoo's free community version, extensive customization options, double-entry inventory system, and a full suite of business applications make it a cost-effective solution perfectly suited for eCommerce companies that have outgrown their basic accounting and inventory software.
6

Epicor Retail - Best for Point of Sale

Epicor Retail is an optimal choice for eCommerce businesses seeking effective multi-channel point-of-sale management. This platform integrates sales channels with order processing and inventory operations to ensure real-time data.

Additionally, Epicor Retail's Loss Prevention module enhances security by automatically detecting fraudulent activities in store-level transactions, crucial in the eCommerce sector.
7

Adobe Commerce - Best for No Installation

ADobe Commerce is a great choice choice for eCommerce businesses seeking a versatile and user-friendly platform. It empowers merchants to create captivating online shopping experiences effortlessly. What sets Adobe Commerce apart is its hassle-free setup:there's no need to install software or manage servers, as Adobe handles all the technology aspects. This allows eCommerce businesses to concentrate on core operations and growth.

With a rich toolkit, Adobe Commerce offers robust support for designing and managing online stores, making it accessible to users with varying levels of design expertise. Users can choose from professionally designed templates, easily customize layouts with drag-and-drop functionality, and edit text without any HTML knowledge. For those familiar with web design or working with designers, complete customization options are available, including CSS editing and the ability to upload custom JavaScript.
eCommerce stores may be entirely digital, but they still need the same backend, back office functionality as a brick-and-mortar storefront. One of the most popular methods for streamlining your digital services into a single, accessible platform is through implementing ERP software.
What is eCommerce ERP Software?
eCommerce software provides tools for digital businesses to sell and advertise their products or services online while enterprise resource planning (ERP) software automates back office functions, such as financials, sales, and operations, through an integrated suite of business applications. A combined eCommerce ERP software offers the best of both systems on a single, easy to use platform.
ERP solutions designed for eCommerce sync online orders with your inventory and supply chain management tools. The eCommerce side of the software provides the capability to create a web store complete with a shopping cart, shipping options, and payment processing. Through the ERP system, the combined solution manages inventory, calculates taxes and performs everything else necessary to fulfill orders. Together, your online business can thrive with a single software solution automating operations behind the scenes.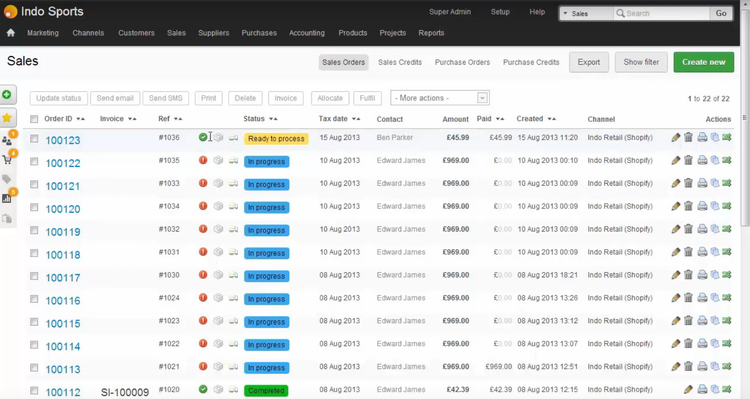 Best ERP Features for eCommerce
Product management: Make product listings which accurately detail what you're selling, along with relevant pricing information, specifications, and measurements if necessary; categorize products by category, type, or variations such as size, color, materials, and more
Sales order management: Set automated notifications to alert staff to new orders, manage priorities via an order dashboard, print custom shipping labels, monitor delivery status, process returns or refunds, and manage ongoing customer subscriptions
Inventory management: Continuously track real-time data about the products and services your company offers through your eCommerce store; maintain effective stock levels while letting you know exactly what you have on hand and where to find it
Supply chain management: Manage the flow of goods and services between real-world locations as efficiently and as cost-effectively as possible
Customer relationship management (CRM): Support online sales and marketing through organized contact management, using conversation history, lead tracking, order histories, quote/invoice templates, and call center integration to maintain good relationships with customers and clients
Accounting services: Track revenue and expenses such as accounts payable (AP), accounts receivable (AR), a general ledger (GL), and payroll
Budgeting and forecasting: Create in-depth financial plans to estimate revenues and expenses based on current budgeting
Human resources (HR): Manage the hiring and onboarding process for new employees through application processing; assist current employees with attendance tracking and benefits management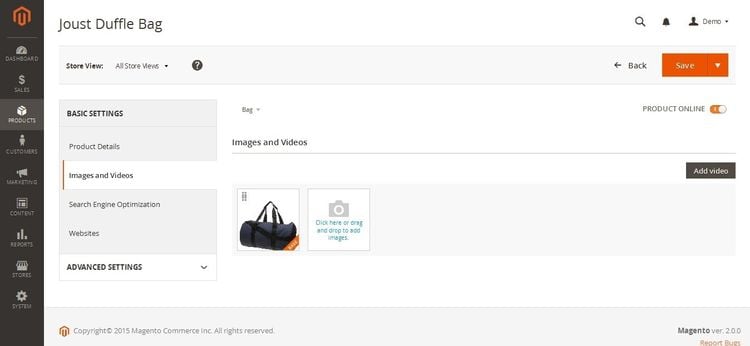 Best eCommerce ERP Software Benefits
A specific ERP software for an eCommerce company can provide you with many useful benefits:
Real-Time Inventory Levels with Automation
eCommerce platforms have a major advantage over traditional storefronts: the ability to sell products and services at any time from anywhere. Yet this benefit can lead to problems when maintaining your inventory levels, as sales outside of traditional business hours can throw off your product counts.
Inventory management modules track and trace your products as they move through the supply chain. ERP software has tools for both supply chain and inventory management which automates the movement of your products from the original manufacturer to the final destination. Through eCommerce ERP software you can continue making sales and increasing profitability without running low on stock.
Another major benefit of ERP software is the ability to gain real-time updates on your business performance. Keeping all your business intelligence data in one central database can inform your upcoming decision-making regarding new products or sales efforts.
Accurate Accounting
While there are standalone eCommerce software solutions out there, many need to be integrated with an accounting software in order to provide detailed financials. Yet implementing multiple software add-ons can lead to miscommunication between the separate systems. ERP integration covers most of the basic accounting functions your online store needs, from balancing a general ledger to calculating employee payroll.
ERP software also includes modules for forecasting your budget so you can free up more money to purchase new merchandise, expand your marketing outreach, and keep your accounts payable up-to-date.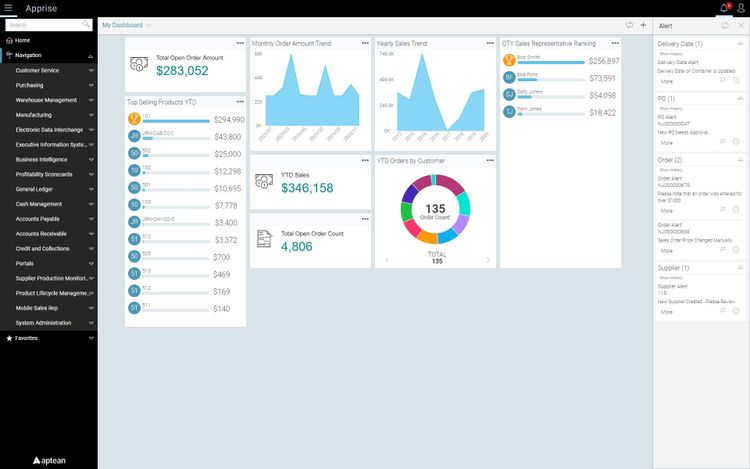 Combine Real World and Digital Solutions
Many eCommerce retailers also have physical storefronts ranging from permanent locations to temporary shops at trade shows, farmer's markets, conventions, and local festivals. ERP software built specifically for an eCommerce platform can simultaneously coordinate between real and digital storefronts, including marketplaces like Amazon.
Popular eCommerce Software Integrations
Another important aspect of ERP software with eCommerce capabilities is the ability to integrate with additional solutions. Some standalone software you might want to consider include:
ERP software often includes these tools as add-on modules, which could lower your overall costs by managing all your business processes through one solution.