eCommerce stores may be entirely digital, but they still need the same backend, back office functionality as a brick-and-mortar storefront. Software implementation is one of the most popular methods for streamlining your digital services into a single, accessible platform. There are a lot of ways to improve your eCommerce business with ERP software.
What is eCommerce ERP Software?
eCommerce software provides tools for digital businesses to sell and advertise their products or services online while enterprise resource planning (ERP) software automates back office functions, such as financials, sales, and operations, through an integrated suite of business applications. A combined eCommerce ERP software offers the best of both systems into a single, easy to use platform.
ERP solutions designed for eCommerce sync online orders with your inventory and supply chain management tools. The eCommerce side of the software provides the capability to create a web store complete with a shopping cart, shipping options, and payment processing. Through the ERP system, the combined solution manages inventory, calculates taxes and performs everything else necessary to fulfill orders. Together, your online business can thrive with a single software solution automating operations behind the scenes.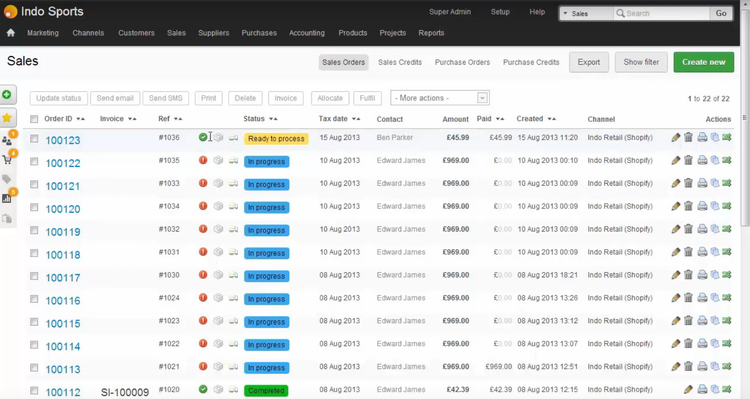 Features of ERP for eCommerce
Website generator: Build a functional, branded eCommerce platform customized to your store needs with preloaded themes; access the site via mobile phones and tablets linked to your social media accounts
Marketing tools: Promote your digital store via online marketing methods such as targeted ads, email lists, search engine optimization (SEO), product reviews, and customer feedback
Shopping cart: Create a way for customers to add products or services into a digital cart before going through the checkout process. Calculate necessary shipping rates, taxes, and other costs prior to the checkout process
Payment gateway: Calculate sales tax and process online payments via credit card processing, PayPal, or similar services
Product management: Make product listings which accurately detail what you're selling, along with relevant pricing information, specifications, and measurements if necessary; categorize products by category, type, or variations such as size, color, materials, and more
Sales order management: Set automated notifications to alert staff to new orders, manage priorities via an order dashboard, print custom shipping labels, monitor delivery status, process returns or refunds, and manage ongoing customer subscriptions
Inventory management: Continuously track real-time data about the products and services your company offers through your eCommerce store; maintain effective stock levels while letting you know exactly what you have on hand and where to find it
Supply chain management: Manage the flow of goods and services between real-world locations as efficiently and as cost-effectively as possible
Customer relationship management (CRM): Support online sales and marketing through organized contact management, using conversation history, lead tracking, order histories, quote/invoice templates, and call center integration to maintain good relationships with customers and clients
Accounting services: Track revenue and expenses such as accounts payable (AP), accounts receivable (AR), a general ledger (GL), and payroll
Budgeting and forecasting: Create in-depth financial plans to estimate revenues and expenses based on current budgeting
Human resources (HR): Manage the hiring and onboarding process for new employees through application processing; assist current employees with attendance tracking and benefits management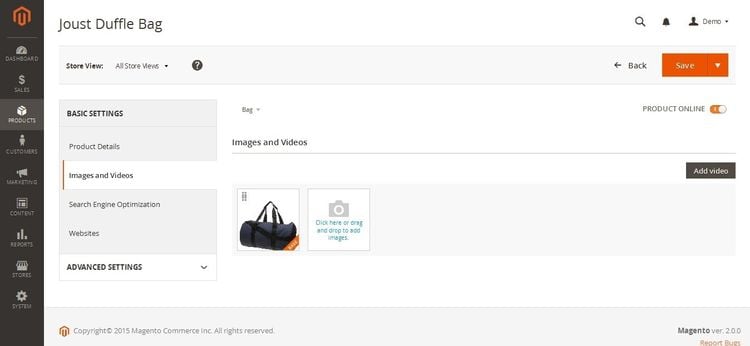 Best eCommerce ERP Software Benefits
A specific ERP software for an eCommerce company can provide you with many useful benefits:
Accurate Accounting
While there are standalone eCommerce software solutions out there, many need to be integrated with an accounting software in order to provide detailed financials. Yet implementing multiple software add-ons can lead to miscommunication between the separate systems. ERP integration covers most of the basic accounting functions your online store needs, from balancing a general ledger to calculating employee payroll.
ERP software also includes modules for forecasting your budget in order to ensure you have the funds necessary for operations. Calculating more detailed estimates can free up more money to purchase new merchandise, expand your marketing outreach, and keep your accounts payable up-to-date.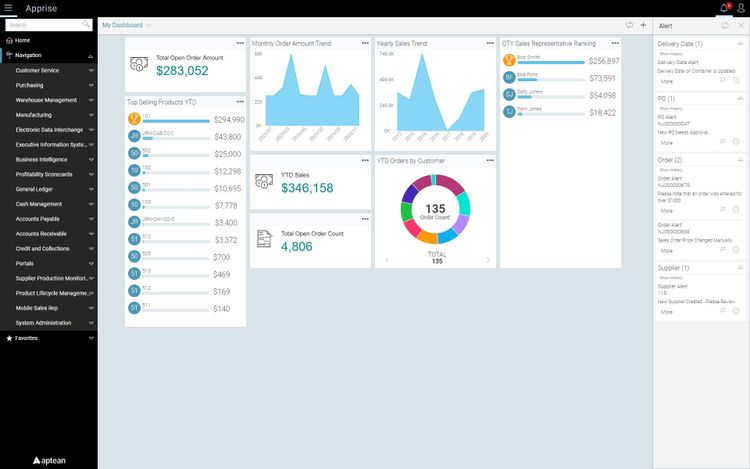 Faster Fulfillment with Automation
eCommerce platforms have a major advantage of traditional stores: the ability to sell products and services at any time. Yet this can lead to problems when someone has to physically maintain your product lists and inventory levels outside of traditional business hours. Software fully automates the process, so the shop can keep running even when store personnel are not on the clock.
ERP software has tools for both supply chain and inventory management, greatly streamlining the movement of your products from the manufacturer to the final destination. As an eCommerce operation, you'll need to have automated methods for keeping track of available inventory at all times. And you'll want a way to keep customers informed about when their sales will be completed by showing details about the delivery.
Real-Time Inventory Updates
Another major benefit of ERP software is the ability to gain real-time updates on your business performance. Inventory management modules track and trace your products as they move through the supply chain. Regular updates can even alert the site to mark products out of stock if necessary, avoiding overselling merchandise and disappointing customers. Through eCommerce ERP software you can continue making sales and enjoying profits without worrying about falling behind on inventory.
Updating your inventory in real-time also provides valuable information about how different products or services are performing. You can see how each item fares depending on factors like time of day, sales specials, discounts, variations, and more. All of this business intelligence data can then inform your upcoming decision-making regarding new products or sales efforts.
Combine Real World and Digital Solutions
Many eCommerce retailers also have physical storefronts. If not permanent locations, there are many opportunities to set up temporary shops at trade shows, farmer's markets, conventions, and local festivals. ERP software built specifically for an eCommerce platform can coordinate between real and digital storefronts to streamline operations.
Additionally, eCommerce software serves both single vendor or multi-vendor marketplace. A single vendor setup sells only your own products while multi-vendors invite additional vendors to sell their products through your platform. Unfortunately, multi-vendor stores have to compete with larger, aggregate eCommerce sites like Amazon. For a small startup, going against these established corporations is nearly impossible. Fortunately, software helps balance the playing field. With an ERP, you can keep tabs on these different vendors, track their production schedule, and stay ahead of the third-party logistics (3PL) with re-stock demands.
Popular eCommerce Software Integrations
Another important aspect of ERP software with eCommerce capabilities is the ability to integrate with additional solutions. Some standalone software you might want to consider include:
Many of these independent software systems are available as modules with ERP software. However, there are times when a separate solution is preferable, depending on the exact nature of your business. For example, if you move your merchandise through a third-party warehouse, a combined ERP may be the best option. If you own and control your own warehouses across the country or globe, an independent software may be more up to the task of keeping everything running smoothly.