Off the shelf software is a pre-developed, readily available platform designed for a broad user base. These applications offer prepackaged feature sets and aren't customized for any specific business.
Evaluating different types of software is overwhelming enough. But choosing between custom and off-the-shelf solutions throws yet another wrench into the works. Before locking yourself into a decision, consider this: is it worth the time and investment to go with a customized option? Or can an off the shelf app meet all your needs?
Commercial Off The Shelf (COTS) software caters to as many use cases and workflows as possible. Its out-of-the-box functionalities fit most companies' operations, reducing the need for software customization. Providers deliver these pre-built solutions as finished products, designed to be used "as is."
Pros of COTS Software
Cost-effective: Off-the-shelf software allows providers to distribute the development costs across a large number of customers, leading to more affordable solutions. That means your SMB could save big with a commercial off the shelf product.
Quick deployment: Canned software deploys quickly, saving you time and delivering faster results. This is great if your business is growing rapidly or facing issues with your current system.
Standardization: COTS applications come with predefined standards widely accepted in the industry. This can simplify training, increase user acceptance, and ease integration with other systems.
Frequent updates: Developers generally push out regular updates, ensuring your software is secure and optimized. Typically, off the shelf software updates are smoother and less problematic than for custom solutions.
Cons of COTS Software
Underlying costs: While upfront prices are affordable, shrink-wrapped software can sometimes cost more over the long term. Underlying expenses include ongoing license fees, additional user charges, and integrations. Make sure you understand how pricing scales with the size of your team and any future projects.
Inflexibility: COTS applications may not always align with your organizational needs and operations. In fact, many businesses have to adapt their workflows to the software. Otherwise, integrations can provide a more custom experience, though these may come with a price tag.
Dependency on developer: Your software provider controls updates, maintenance schedules, and customer support. You're at their mercy, whether they discontinue the software, remove a vital feature, or shift from a perpetual license to a subscription model like QuickBooks.
Generic features: COTS off the shelf software caters to a wide audience. Typically, these applications include many features your business will never touch, which can complicate their use and frustrate some users. However, some developers allow you to turn features on and off within the software.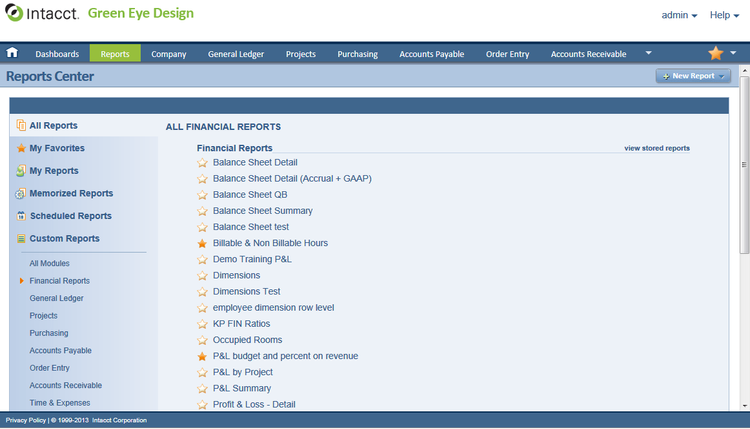 Off The Shelf vs. Custom Software
Ultimately, deciding between off the shelf and custom software depends on your unique situation and available resources. You might find convenience and affordability in COTS software. On the other hand, maybe your organization is complex and requires the adaptability of custom-built software.
| | Off The Shelf Software | Custom Software |
| --- | --- | --- |
| Definition | Pre-developed, readily available software designed for a wide user base. | Custom-built software designed to meet the specific requirements of a single organization. |
| Advantages | Cost-effective, quick deployment, standardized features, regular updates. | High degree of flexibility, aligns with company's specific workflows, scalable. |
| Disadvantages | Possible hidden costs, may not meet unique business needs. | Higher initial cost, longer development time, requires more involvement from the company, needs dedicated technical expertise. |
| Best for | Businesses requiring immediate, affordable solutions and standard functionalities. | Companies anticipating significant growth, requiring software to align perfectly with their unique workflows and operations. |
COTS Software Examples
You'll find that off the shelf software fits many use cases, whether you're a small accounting firm or a mid-market retailer.
Retail: Lightspeed is a popular example of POS software, while inventory management software includes platforms like inFlow Inventory. Off the shelf POS systems can streamline the checkout process, track inventory, and provide sales data for retail operations. Businesses can track stock levels and manage orders through a canned inventory management app.


Clean design
Frequent updates
Offers their own payment processor
Basic reporting
Difficult to use outside payment gateways
Expensive upgrades
Price Range: $$
Starting Price: $99/month
Client OS: Web
Deployment: Cloud Hosted
Facilities and assets management: eMaint is an off the shelf CMMS platform that offers tools like work order management and preventative maintenance. As a shrink-wrapped solution, eMaint provides a pre-designed and user-friendly interface that helps technicians maintain assets and facilities.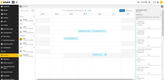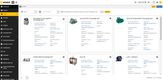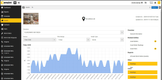 Customizable KPIs
Customizable workflows
Customized workflows
Difficult to customize work orders and purchase orders
Limited formatting options
Price Range: $$
Starting Price: $69/user/month
Client OS: Web
Deployment: Cloud Hosted
Financial services: Off the shelf accounting software like QuickBooks Online can manage invoices, track sales, and organize tax information. Another example is Sage Intacct, offering bill tracking and payment scheduling right out of the gate.















Widely used by most accountants
Tons of integrations available
Customizable invoicing
Comparatively expensive
Few industry-specific features
Limited users per plan
Price Range: $
Starting Price: $30/month
Client OS: Web
Deployment: Cloud Hosted
Enterprise-level companies: Off the shelf ERP software like SAP ERP or Oracle NetSuite manages day-to-day activities such as accounting, HR, and reporting. A canned ERP system offers a cohesive, integrated suite of business applications in everything from inventory control to project management.







Hundreds of third-party add-ons available
Feature sets for multiple industries
Highly customizable
Must schedule a consult for pricing details
Tedious setup
Difficult to build reports
Price Range: $$$$
Starting Price: $99/user/month
Client OS: Web
Deployment: Cloud Hosted
In all these examples, off the shelf software provides immediate functionality with minimal setup time. This helps your company hit the ground running with a new system, increasing efficiency and scaling with your business.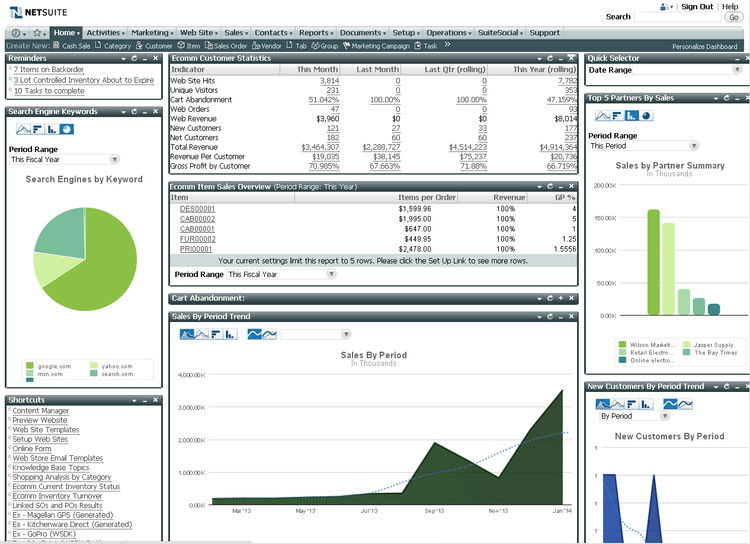 FAQs
What is the difference between COTS and SaaS?
COTS refers to ready-made applications designed for a broad user base. Software as a Service (SaaS) is a distribution model where the app is hosted by a cloud provider and accessible online, typically for a subscription fee.
What is the difference between COTS and open source software?
COTS software is:
A proprietary, ready-to-use product.
Regularly updated and includes user support.
Convenient and reliable. Open source software is:
Freely available for use, modification, and distribution.
Flexible and customizable.
A solution that requires technical expertise.
Often resource-intensive due to regular maintenance and management. An example of open source software is Odoo Community. Its source code is freely accessible, allowing users to modify or enhance it according to their needs.
What do I look for when buying off-the-shelf software?
When purchasing off-the-shelf software, consider these factors to ensure it suits your team and is a good investment in general:
Total cost: This includes licensing, user count, upgrades, and maintenance and support fees.
Compatibility: Check the minimum and recommended specifications of the software to ensure it's compatible with your hardware and operating system.
Integrations: Consider native or built-in integrations included in the software. Make sure it has a robust API that allows for custom integrations if needed.
Customer support: If you operate around the clock, 24/7 support is critical. Also research the provider's response time, training, and online documentation and tutorials.
Scalability: Check that the software can scale with your business. Does it have features or versions tailored to enterprises or more advanced use cases?
Security: Assess security features like encryption, role-based access control, and authentication and authorization. Ensure the software complies with industry standards, like 21 CFR Part 820 for medical device manufacturers.
What is the opposite of off-the-shelf software?
The opposite of off-the-shelf software is custom software, often called bespoke software. Developers tailor these applications to the specific needs and workflows of a business. While flexible and scalable, custom solutions are usually more expensive and resource-intensive than off the shelf products.