Manufacturing inventory software does more than just track on-hand materials. To help manufactures, we've reviewed some of the top products on the market:
1

Fishbowl Inventory - Best Overall

Fishbowl Inventory is an ERP with inventory tracking capabilities. The out-of-the-box software is designed with scalability in mind, making it particularly suitable for growing businesses looking for powerful yet cost-effective inventory management solutions. And the software's ability to function as a light MRP system, including various aspects of inventory management, makes it an invaluable asset for manufacturers.

The Manufacturing perpetual license pricing plan is a minimum of $8,895 for 2 users. The per user cost goes down when adding additional users to the plan. Integration with QuickBooks streamlines inventory control functions, making it a top choice for businesses already using that software for accounting.
2

Zoho Inventory - Best for Small Online Retailers

Zoho Inventory is an excellent choice for businesses seeking manufacturing inventory software, particularly for small to midsize enterprises with a focus on online retail. This cloud-based solution makes it easy to maintain stock across inter-warehouse transfers. And individual units can be tracked by expiration dates, serial number, or batch.

Zoho Inventory is more aimed at managing inventory in the eCommerce sector. Those tools are still useful to manufacturers looking to bundle products, manage warehouses, merge orders, and efficiently track inventory using features like RFID and barcode scanning. However, it's worth noting that users may require additional add-ons to meet all specific manufacturing needs.
3

Katana MRP - Best for Real-Time Inventory Control

Katana MRP is a full MRP with modules for real-time inventory management. This gives manufacturers better control over raw materials and finished products at all times in the assembly process. This capability helps small and medium-sized manufacturers streamline production processes and reduce waste.

Katana integrates with popular platforms like:
Shopify
WooCommerce
Xero
Quickbooks Online
4

Prodsmart - Best for Data Analytics

Prodsmart is an MES aimed at SMB manufacturers. A suite of features that cover a wide spectrum of production-related functions, including:
MRP and ERP
Production scheduling
Quality management
Inventory management
Bills of material
And more
The support for tracking associated operations and raw materials, along with lot traceability, adds value for inventory management.Prodsmart uses a data-driven approach to allow businesses to make informed decisions and adapt swiftly to changes in the manufacturing landscape.
5

MRPEasy - Best for Integrated Production Planning

MRPeasy is a cloud-based MRP designed for small manufacturers. One notable feature of MRPEasy is its flexibility, allowing users to select the features that align with their specific requirements, thus catering to both smaller and growing enterprises.

However, it's important to note that MRPEasy is primarily a manufacturing resource planning software and requires integration with a separate accounting system for best functionality, but it excels in handling stock, BOM, and inventory management while simplifying production and assembly orders.
6

Oracle NetSuite - Best for Integrated ERP

NetSuite is an ERP but it includes tools for inventory management. The shop floor control features enable manufacturers to gather real-time updates from the manufacturing process, enhancing accuracy and efficiency. The system's order management capabilities are designed to optimize inventory, reduce shipping costs, and enhance the customer experience.

NetSuite isn't great for process manufacturers since their core manufacturing module focuses more on discrete bill of materials rather than recipes and formulas.
What is Manufacturing Inventory Software?
Manufacturing inventory software keeps track of the on-hand physical inventory levels of raw materials and finished goods for manufacturing production orders. Manufacturing businesses need a system that accurately tracks inventory to reorder supplies as needed to keep up with demand.
The inventory management system will automate purchase orders as soon as your supplies drop below a certain threshold, ensuring you don't run out.
Manufacturing inventory management software allows you to track the cost of each item in your inventory. Knowing the cost of your manufactured goods helps with budgeting and financial planning to ensure you're receiving ROI on your finished products.
Improving inventory traceability is a strong benefit of manufacturing inventory systems. These systems are usually compatible with RFID and barcode scanners that allow you to quickly gather information about a product.
Some of this information can include pricing, physical location, and vendor info. Having the location and vendor information on-hand allows you to quickly identify any recalled products from which vendor the materials came from to where the product is stored.
Features of Manufacturing Inventory Software
| Feature | Description |
| --- | --- |
| Bill of Materials (BOM) | List of raw materials and assemblies needed in order to manufacture a product. |
| Inventory Costing | Establish a cost value of the inventory items to improve profitability tracking and manage tax accounting. |
| Purchase Order Management | Reorder raw materials and supplies before running out. Purchase orders will automatically be sent to the appropriate vendor. |
| Inventory Tracking | Track inventory item quantities, pricing, and physical location. Uses barcoding, serial number and lot number tracking, and RFID tracking. |
| Inventory Matrix | Track product combinations by color, size, or another dimension. |
Benefits of Manufacturing Inventory Software
Some of the benefits of manufacturing inventory software include:
Benefits of Manufacturing Inventory Software Your section on the benefits of manufacturing inventory software is off to a good start. Here are additional details and examples to enhance it:
1

Improved Traceability
Batch Tracking: Essential for process manufacturers, batch tracking ensures product quality and safety. In case of a recall, manufacturers can quickly identify and isolate affected products, reducing risk and maintaining consumer trust.
2

Integration with eCommerce Channels and Point of Sale
Real-time Stock Updates: When integrated with eCommerce and POS systems, inventory software ensures stock levels are updated in real-time. This synchronization prevents overselling and enhances customer satisfaction.
3

Time Savings
Automated Processes: By automating inventory management tasks, manufacturers save considerable time, allowing staff to focus on strategic tasks instead of manual inventory processing.
4

Improved Accuracy
Error Reduction: Automated systems significantly reduce manual data entry errors, improving inventory accuracy and preventing costly mistakes like duplicate entries.
5

Enhanced Visibility
Real-time Monitoring: Inventory software provides a comprehensive view of inventory levels, stock movements, and sales margins, aiding in quick decision-making and response to market changes.
6

Optimized Supply Chain
Efficient Inventory Levels: By effectively managing inventory levels, manufacturers can streamline their supply chain, improving cash flow, reducing excess stock, and lowering carrying costs.
7

Cost Savings
Reduced Wastage and Excess Inventory: Inventory software helps in avoiding over-purchasing and holding excess inventory, thereby saving money and reducing wastage.
8

Data Analytics
Sales and Wastage Tracking: Software systems offer valuable insights into sales trends and wastage, enabling strategic decision-making and process optimization.
9

Customer Satisfaction
Quality Control and On-time Delivery: Inventory management software enhances customer satisfaction by ensuring quality products are delivered on time and providing transparency in order tracking.
10

Production Efficiency
Lean Manufacturing Principles: Inventory software aligns with lean manufacturing principles, optimizing the flow of parts and materials to enhance overall production rates.
11

Reduced Risk of Out-of-Stock Situations
Accurate Stock Information: Systems using perpetual counting provide current stock numbers, reducing the risk of out-of-stock situations and associated customer dissatisfaction.
12

Simplification of Inventory Management
Ease of Tracking Orders and Products: Inventory management systems simplify the process of tracking orders, production, and stored products, allowing managers to focus on core business operations.
13

Accurate Sales Forecasting
Informed Production Decisions: The data from inventory management systems help in accurately forecasting future sales, enabling manufacturers to adjust production accordingly and avoid over- or underproduction.
These benefits, ranging from time savings and improved accuracy to cost savings and enhanced customer satisfaction, illustrate the significant impact that manufacturing inventory software can have on a manufacturing operation's efficiency, profitability, and customer relations.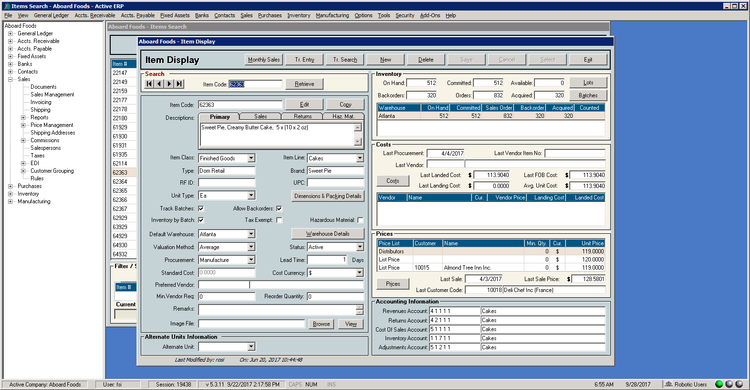 Cost of Manufacturing Inventory Software
The cost of manufacturing inventory software varies widely based on factors such as features, deployment options (cloud-based or on-premise), and the scale of the manufacturing operation.
Here are some specific examples to illustrate the range of pricing:
1

Perpetual License Pricing Plan

For a manufacturing perpetual license, the cost starts at a minimum of $8,895 for 2 users. These plan's with higher upfront costs are more common with on-premise systems that you purchase outright, compared to subscribing to (like a cloud option).

The per-user cost decreases with the addition of more users. Such plans are suitable for businesses looking for a long-term investment with a one-time payment, often chosen by larger companies or those requiring extensive customization.
2

Monthly Subscription Models
Some basic software options start at $39/month, which may include essential features suitable for smaller or less complex operations.
Mid-tier options are closer to $99/month, likely offering more advanced features or catering to larger manufacturing operations.
Higher-end solutions can cost around $600/month, indicating a more comprehensive feature set for large-scale manufacturing needs.
There are also user-based pricing models, such as $49/user/month, which can be scalable based on the number of users or employees who need access to the software. These pricing models typically have a minimum number of users required.
When evaluating the cost of manufacturing inventory software, consider the specific needs of your operation, including the scale of your manufacturing, the complexity of your inventory processes, and the level of integration required with other systems.
Keep in mind that while some software options might appear expensive, they could offer a higher return on investment due to their comprehensive features and efficiencies. On the other hand, more affordable options could be sufficient for less complex needs and offer an economical solution without compromising on essential features.
How To Choose The Best Manufacturing Inventory Software
When choosing the best manufacturing inventory software, consider the following key aspects, integrating real-world examples and specific factors:
Assess Business Needs and Existing Processes: Analyze warehouse procedures to identify inefficiencies in inventory turnover, stock control, demand forecasting, reorder points, safety stock, and customer demand.
Key Software Features: Look for features like real-time inventory updates, barcode scanning for data accuracy, enterprise mobility, purchase order management, advanced inventory tracking (batch traceability, bulk moves), optimal replenishment automation, and integration capabilities with systems like MES and WMS.
Deployment Options: Decide between on-premises and cloud-based solutions. While cloud-based (SaaS) solutions are popular for their scalability and reduced IT burden, some organizations may prefer on-premises deployments for specific needs. Hybrid solutions that offer flexibility between these two models are also available.
Evaluating Software Providers: Research providers with a proven history in your industry. For instance, food and beverage companies may need software that automates traceability, while industrial manufacturers might focus on shop floor data collection. It's crucial to read reviews, request demos, and consider the provider's track record in implementing similar solutions effectively.
Cost and ROI Considerations: Analyze the cost and potential return on investment (ROI). More complex solutions may have higher upfront costs and longer implementation times, affecting the ROI timeline. Compare pricing plans, considering one-time purchases versus subscription models, and factor in additional costs like support, upgrades, and customization.
The Cost of Waiting: Ineffective tracking and manual processes can be costly, leading to significant losses in operational efficiency and accuracy. Implementing modern inventory software can address these issues through automation, potentially reducing material handling costs and increasing data accuracy, thereby saving companies significant amounts annually.
Benefits and Challenges: Manufacturing inventory software offers time savings, improved accuracy, enhanced visibility, optimized supply chain, and integration with other business applications. However, challenges include implementation difficulties, training and adoption, cost considerations, and data security.
Current Market Trends: Stay informed about trends like smart inventory tracking (RFID, barcoding), cloud-based solutions, business intelligence and analytics, mobile applications, and IoT advancements. These technologies enhance inventory tracking, decision-making, operational efficiency, and facilitate remote work capabilities.
Implementation Steps: Begin by evaluating your inventory management requirements, researching software options, defining essential features, and requesting demos or trials. Assess user-friendliness, integration capabilities, customization options, and the level of support and training offered by the software provider. Analyze scalability and seek references or case studies before planning the implementation.
In summary, choosing the best manufacturing inventory software involves a comprehensive evaluation of your business needs, understanding the key features and deployment options of the software, evaluating software providers, considering cost and ROI, and being aware of the potential costs of delaying implementation. Incorporating these factors will guide you in selecting a software solution that aligns with your business's specific requirements and objectives.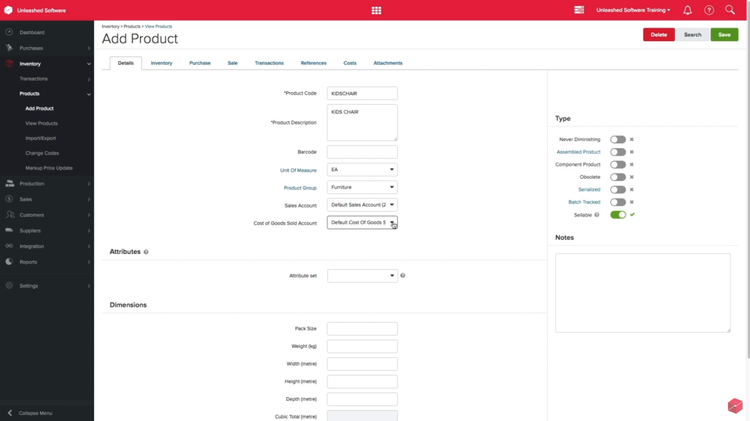 What Systems Provide Functionality Beyond Inventory?
You may be looking for a dedicated inventory program because you are at peace with your existing systems and don't want to go through the ordeal of implementing a manufacturing ERP software. This may lead to
Depending on your business needs, you may want to consider another solution that includes or integrates with inventory systems. Some examples include:
Manufacturing ERP Software
Inventory control is an important part of general manufacturing software. These systems are ideal for businesses looking to improve product quality and efficiency during the manufacturing process.
Manufacturing software generally includes additional functionality like:
Supply Chain Management
Work Order Management
Production Planning and Scheduling
Demand Forecasting
Shop Floor Control
Quality Control
Bills of Material
Manufacturing software solutions can be designed for a specific industry or type of manufacturer. Solutions are available for discrete or process manufacturers and can be broken down further into specific industries, including:
Apparel Manufacturers
Food and Beverage Manufacturers
Medical Device Manufacturers
Pharmaceutical Manufacturers
Chemical Manufacturers
Finding the right solution for your industry is important for ensuring your manufacturing processes and finished products meet compliance for specific regulatory industries.
Warehouse Management Software
Warehouse management solutions coordinate and manage inventory and actions in a warehouse. The system tracks where inventory items are located and allow managers to optimize warehouse picking methods.
Small businesses often use warehouse software to track inventory and speed up the shipping process. Larger enterprises use warehouse management systems to manage inventory of multiple warehouses, track serial numbers, and manage retail compliance laboring.
Material Resource Planning (MRP) Software
Manufacturing resource planning (MRP) helps streamline the manufacturing process through production planning, scheduling, and inventory control. Known as a leading type of manufacturing software, MRP systems allow manufacturers to plan and calculate material requirements, coordinate personnel and machine workloads, and optimally plan purchasing to meet customer demands.
MRP also aids in inventory and production schedules to produce products and complete manufacturing jobs. An MRP system determines which assemblies must be built, what materials must be purchased, and the order in which to build products to meet customer due dates.