What is Manufacturing Inventory Software?
Manufacturing inventory software keeps track of the on-hand physical inventory levels of raw materials and finished goods for manufacturing production orders. Manufacturing businesses need a system that accurately tracks inventory to reorder supplies as needed to keep up with demand. The inventory management system will automate purchase orders as soon as your supplies drop below a certain threshold, ensuring you don't run out.
Manufacturing inventory management software allows you to track the cost of each item in your inventory. Knowing the cost of your manufactured goods helps with budgeting and financial planning to ensure you're receiving ROI on your finished products.
Improving inventory traceability is a strong benefit of manufacturing inventory systems. These systems are usually compatible with RFID and barcode scanners that allow you to quickly gather information about a product. Some of this information can include pricing, physical location, and vendor info. Having the location and vendor information on-hand allows you to quickly identify any recalled products from which vendor the materials came from to where the product is stored.
Features of Manufacturing Inventory Software
| Feature | Description |
| --- | --- |
| Bill of Materials (BOM) | List of raw materials and assemblies needed in order to manufacture a product. |
| Inventory Costing | Establish a cost value of the inventory items to improve profitability tracking and manage tax accounting. |
| Purchase Order Management | Reorder raw materials and supplies before running out. Purchase orders will automatically be sent to the appropriate vendor. |
| Inventory Tracking | Track inventory item quantities, pricing, and physical location. Uses barcoding, serial number and lot number tracking, and RFID tracking. |
| Inventory Matrix | Track product combinations by color, size, or another dimension. |
Benefits of Manufacturing Inventory Software
Some of the benefits of manufacturing inventory software include:
Improved Traceability
Manufacturing inventory control software offers many traceability features including barcoding, serial number tracking, lot number tracking, and RFID tracking. Serial number tracking allows manufacturers to identify a particular unit that is being sold or built. Lot number tracking allows manufacturers to track groups of inventory products that can't be tracked as an individual unit. Barcoding and RFID scanning allow manufacturers to gather product information by scanning the item with a mobile device instead of manual data entry.
Manufacturing inventory software designed specifically for the process manufacturing industries offer lot tracking capabilities. This functionality is important for process manufacturers that need to trace back recalled products to a specific lot or batch. The software system will also track expiration dates for ingredients and finished goods that will go bad over time.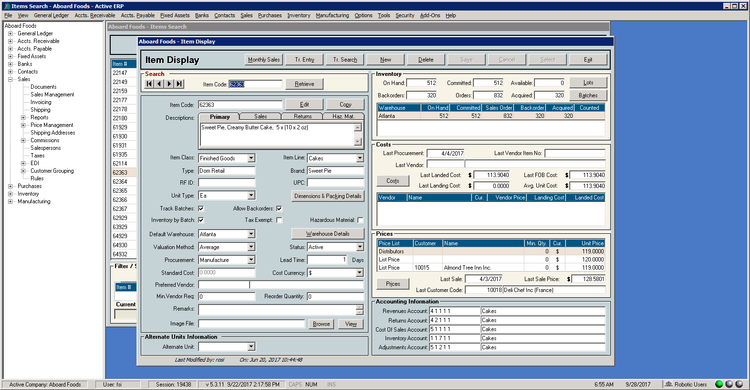 Integration with eCommerce Channels and Point of Sale
Many manufacturing inventory management solutions integrate with eCommerce websites and point of sale (POS) systems for manufacturers that sell directly to consumers. This ensures that when an item is sold online or in-store, the available quantity is updated in real-time on the front-end and back-end.
These integrated systems also cut down on time-consuming data entry processes. Inventory details can be automatically imported to your eCommerce system. You won't have to enter inventory items into different systems multiple times.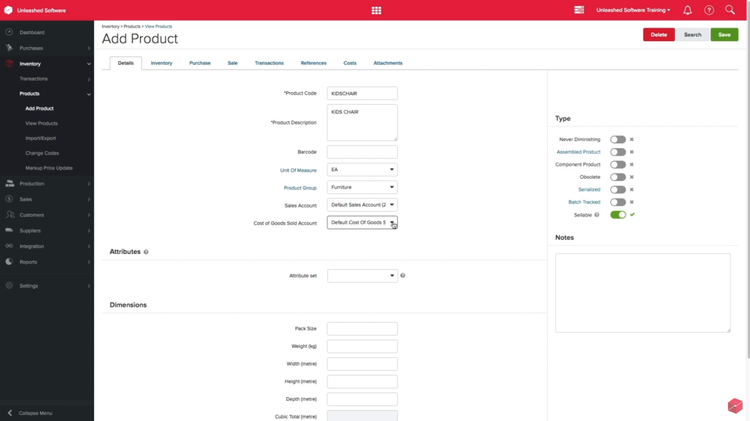 Other Solutions to Consider
Depending on your business needs, you may want to consider another solution that includes or integrates with inventory systems. Some examples include:
Manufacturing Software
Inventory control is an important part of general manufacturing software. These systems are ideal for businesses looking to improve product quality and efficiency during the manufacturing process.
Manufacturing software generally includes additional functionality like:
Supply Chain Management
Work Order Management
Production Planning and Scheduling
Demand Forecasting
Shop Floor Control
Quality Control
Bills of Material
Manufacturing software solutions can be designed for a specific industry or type of manufacturer. Solutions are available for discrete or process manufacturers and can be broken down further into specific industries, including:
Apparel Manufacturers
Food and Beverage Manufacturers
Medical Device Manufacturers
Pharmaceutical Manufacturers
Chemical Manufacturers
Finding the right solution for your industry is important for ensuring your manufacturing processes and finished products meet compliance for specific regulatory industries.
Warehouse Management Software
Warehouse management solutions coordinate and manage inventory and actions in a warehouse. The system tracks where inventory items are located and allow managers to optimize warehouse picking methods. Small businesses often use warehouse software to track inventory and speed up the shipping process. Larger enterprises use warehouse management systems to manage inventory of multiple warehouses, track serial numbers, and manage retail compliance laboring.
Full ERP Systems
Manufacturing businesses that need a suite of business applications to manage different aspects of their business from one system should look into ERP software. ERP systems automate many back-office functions including financial management, sales, and operations. Common functions of ERP software include:
Accounting
Budgeting and Forecasting
Customer Relationship Management
Human Resources
Supply Chain Management
Manufacturing ERP systems (or MRP systems) also provide material resource planning, quality management, and inventory control capabilities.