Efficiency through automation has been the goal of every manufacturing business since Henry Ford.
But how do you automate while manufacturing an entirely customizable product? That's the real question for any growth-minded ETO manufacturer.
Edmonton-based Lenmak Exterior Innovations is an architectural metal panel manufacturer that has earned its success not only by building a superior product, but also through a commitment to using technology to automate operations.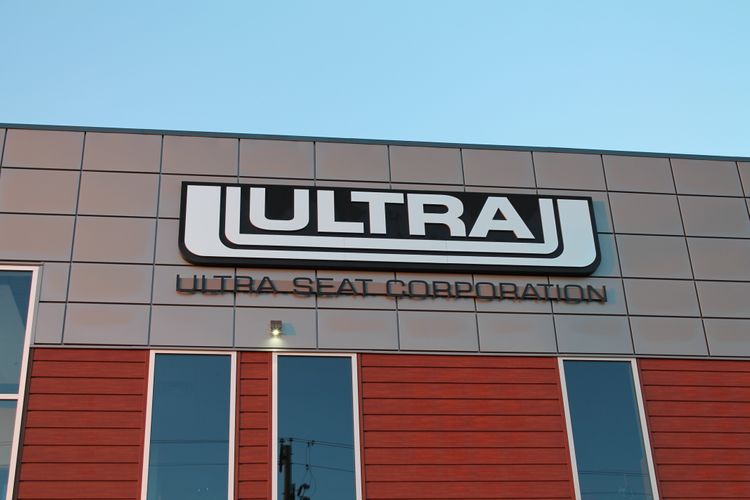 Lenmak began in 1996 with husband and wife team Ray and Lori Turner providing 100% of the manpower. Today, the business has grown to a 40 person company supplying a variety of innovative products to a large and growing base of building trade customers.
The company uses many of the technologies employed by high-tech manufacturers: robotics, CNC machines, gantry systems, CAD software, and a robust ERP platform for business management. Each tool testifies to Lenmak's commitment to investing in automation. But it's not only the individual technologies, but the integration between each of these separate tools that provides Lenmak with a critical competitive advantage in the form of their streamlined order fulfillment process.
By tearing down the walls on information silos, Lenmak has removed many of the communication obstacles between sales, engineering, production, the warehouse, and accounting that conspire to lengthen order delivery lead times in other manufacturing companies. It's an example of digital age automation well worth a closer look.
Laying the Groundwork for an Integrated Order Process
In 2012, Lenmak was already a high-tech operation. But when company president and owner, Ray Turner, looked at the business, he saw an opportunity to take further advantage of technology.
Despite the fact that Lenmak had already significantly invested in both hardware and software, shop floor control was still a largely manual process. Additionally, there wasn't a digital means to consistently monitor order fulfillment status. Discovering the status of an order often required person-to-person communication. And, even though the company employed a skilled production team, resource allocation decisions were made without the assistance of centralized software.
Investing in an ERP system promised not only to coordinate production activities, but to solve some accounting and business management challenges.
Says current CFO, Terry Rolph:
They were on a QuickBooks platform prior to moving to this ERP. They were getting to the size where QuickBooks was just not satisfactory in terms of security and handling the number and complexity of the transactions. It was also difficult to get adequate metrics and reporting out of the software. They wanted to be able to manage the business from within the ERP system, so they could actually not only go from what they see on the floor, but what they see in financial results in the accounting software. So, that was the reason for the move toward ERP.
After conducting a thorough software review process, Lenmak decided on the purchase of Reflex ERP from fellow Edmontonians, Reflex Enterprise Solutions Group. Besides providing a local technology partner, Reflex was able to offer significant industry expertise, having served the made-to-order manufacturing vertical since the 1980's.
The Reflex ERP suite features 51 available modules and 250 workflows designed to help standardize business processes. Equally important to Lenmak, the Reflex platform would provide the connective tissue for a series of system integrations that would refine and reshape the order process.
Describing two of the primary integration initiatives, the lead integration engineer on the Lenmak project from Reflex, Director Rob Giesbrecht, commented:
I should give credit where credit is due. The web order portal project, along with the integration of the CAD drawing software, originated with Lenmak. It was the brainchild of Ray Turner, their president and owner. He along with his draftspeople came up with the idea and came to us asking, "Can this conceivably be done?" We partnered up with them and went about integrating it into our software.
The goal of the integration was to facilitate the fluid exchange of order data by removing bottlenecks and preventing manual data re-entry. Terry Rolph explains the motivation in more detail:
The fewer times that a human touches data within the chain, the better. If you get the order capture right the first time, it's far more likely to be completed accurately at the end. There's no risk for transposition errors, missing data, or not being able to read information properly because of putting it in wrong a second or third time. So the first reason for the integration is accuracy. The second is efficiency. We pride ourselves on being a lean manufacturer. It's all about efficiency and touching something once and having it flow automatically until the final product is shipped out the gate.
Optimizing Order Capture
The more data is required at the time of order placement, the greater the opportunity for errors. It's a fact-of-life in the custom manufacturing world that Lenmak has to take seriously given the fact that each panel, flashing section, or trim piece is manufactured to precise specifications.
Customer expectations for quick turnaround further up the ante on the order entry challenge.
"A lot of our customers have time sensitive requirements," says Rolph. "Builders often need product as quickly as possible to get owners or tenants into commercial and residential properties. They're usually under a time crunch."
Traditionally, Lenmak has received orders by email, fax, or phone. They still do, but they've also added the ability for customers to place orders via a web portal. When ordering from two of Lenmak's most popular product lines, customers can now specify desired product attributes, including the type of metal, color, and dimensions directly through a web interface.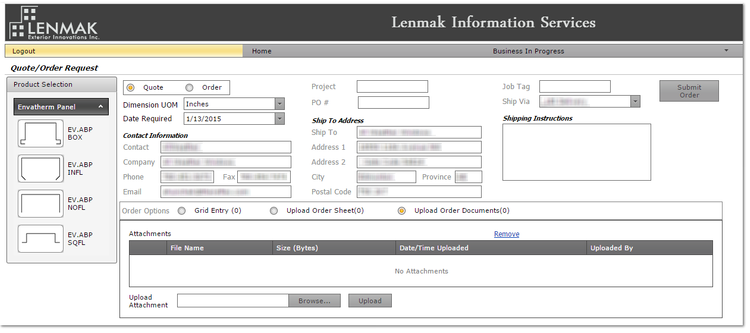 Whether the customer submits their order via the web portal or by connecting with Lenmak's order desk, order data is immediately transferred into the Reflex ERP system. The repository for this order info in Reflex ERP is called the "clipboard." Once entered to the clipboard, the Reflex software functions as a sort of traffic controller. The ERP system guides the fulfillment process and manages a series of document conversions, without the need for any secondary manual entry of order information.
Supporting Parallel Processes: Estimating and Design
Order fulfillment is often discussed as single, unified process. But scratch the surface and there are really two interrelated but discrete processes to manage. There's a transactional, largely financial process that begins with estimating, and proceeds forward to include quoting, approvals management, billing, and receiving. But order data also determines the physical processes required to design, produce, and deliver the final goods.
Lenmak has managed to achieve efficiency in their order process by instituting a miniature version of the concept of mass-customization. To enable efficient customization, Lenmak draftspeople have developed a library of CAD design templates within their SOLIDWORKS drawing software. Integrating SOLIDWORKS with Reflex ERP via each system's APIs allows the custom attribute order details held in the Reflex clipboard to flow directly to a selected design template. Bi-directional integration returns the resulting design documents and attaches these drawings to a specified order record within Reflex.

In parallel with the design document creation, the Reflex ERP system initiates an estimating process that translates custom product attributes into cost and pricing information. Pricing that used to be primarily a manual process has been almost completely automated. What was once in Ray Turner's head is now calculated by the ERP system.
Giesbrecht describes how their "attribute pricing" model enables the pricing creation:
What we did about 4-5 years ago is we brought in what we call "attributes" into order entry–and we have a whole host of rules that can be applied to attribute pricing. In Lenmak's case, that's exactly what they did. If you think about the different attributes that could be involved in sheet metal, you could be talking about things like gauge. So, it's just a natural fit to be able to say that a 16 gauge versus a 24 gauge has a different effect on pricing.
Managing Order Approvals Within an Automated Workflow
The document conversion automation in the Lenmak order process does not preclude the opportunity for order oversight or adjustment. One of the important review points comes immediately after the estimates and design drawings are created.
"In terms of our sales model, a lot of it is direct contact and referrals," says Rolph. "We have a strong core base of repeat customers."
Lenmak's return customers frequently place repeat or slightly-modified orders. And, as their customers generally operate on tight scheduling timeframes, very often client contractors have sufficient information to submit orders that do not require a formal proposal and approval process. However, when customers do need to review quotes and drawings, the order process offers a standardized model for supporting this preference. Rolph describes the approval process this way:
Before [an order requiring customer approval] is released to the floor, an order confirmation is automatically created and emailed to the customer. Once they confirm the product is what they ordered, the paper is released to the production floor.
Enabling Production Automation Through Integration
Production of the bulk of Lenmak products involves up to three specific machine operations: punching or cutting, bending, and foam lining.
Following any necessary customer order approval, and before machine production commences, the order will first travel automatically to the production manager. Careful systems integration provides the production manager the necessary data points to make intelligent shop floor control decisions from directly within Reflex ERP.
Giesbrecht describes how integration between CNC machines and Reflex supports better resource utilization:
From within order entry we've created views into machine data–for instance, the Centurio spy. Basically the Centurio is a great big robot that can unwind coils of sheet metal that come on rolls. It has a bunch of stations that are accessible through a gantry system that can pick up these different rolls and bring them to the decoiling area. The Centurio spy is basically where we are communicating with that CNC machine to find out what its values are for the material it has in-stock according to the coil. So, we can see the weight in pounds and judge availability. The reason that is relevant is because quite often a sheet of metal might have one color on one side and another color on the other side. So the production manager can look here and say, "Well, I can use this item in #19 because it is black or charcoal without having to pull materials from the warehouse."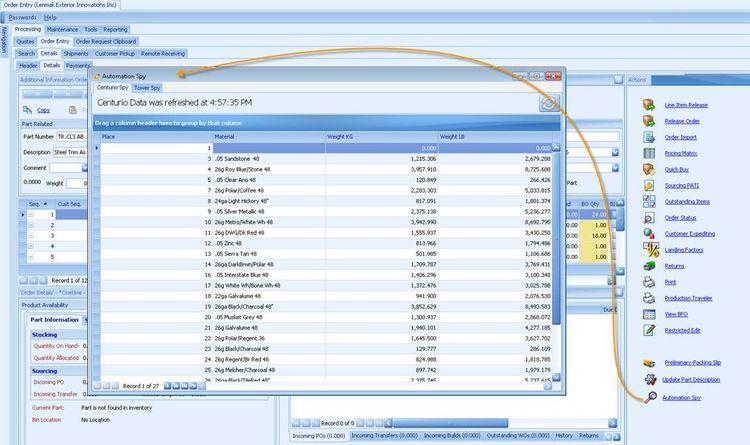 Rolph says that the real-time access to live machine data has changed the way they approach production scheduling, inventory usage, and optimizing production throughput:
There are a lot of different factors to consider when determining which material to use to get the finished product. Before Reflex ERP, all of those decisions–who was to do what, how it was to be done, in what order, and what material would be used–that was all done on the shop floor. Now a lot of those decisions are made in the front office where we can actually see which machines are busy and which are not. The operations are very often set up in a template and we can pick and choose the materials based on which ones are moving quickly or slowly. So a lot of those decisions end up at the front end rather than the back end of the process.
To track the movement of orders through the production sequence, each order dispatched to the production floor is accompanied by a document called "the traveler." The traveler is bar-code scanned at each work station. Consequently, the status of every order is visible at all times–right down to the precise step in the production process.
As the work order is passed to each punching, bending, or foam CNC machine, the relevant CAD drawing is entered into an application called NC Express, which converts the design document into an NC file. The final steps in the physical order fulfillment process involve sending an order to quality assurance and off to the warehouse for delivery or customer pick-up. Once the order exits the production phase, the final billing and accounts receivable work is triggered, as well.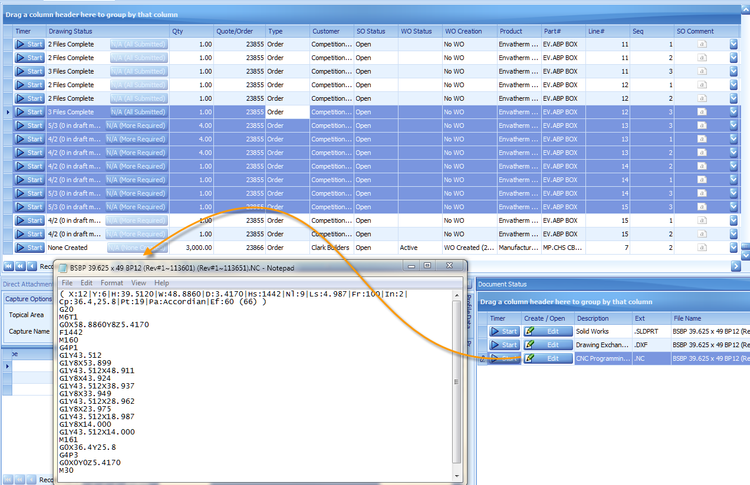 Measuring the Results and Enabling Future Opportunities
Tearing down the walls between departments and systems that fragment order fulfillment is hard work. But the old adage, "Nothing worth doing is easy," rings true in the case of Lenmak's pursuit of order process automation.
"Of the 1,000 or so orders we produce in a month," says Rolph, "I can probably count on a hand the number that require rework. We're far more accurate than we were before."
Turnaround time has quantifiably improved as well. "It used to be the case that we would get an order on Monday, we would enter it on Tuesday, and we would have it on the shop floor Wednesday morning. We're now able to get it down to the floor within half a day."
With the groundwork for a robust order system in place, the next order of business is clear: more of the same. Rolph says that Lenmak intends to continue to educate their existing customer base on the benefits of initiating orders through the web portal and expects their ongoing process refinements will help them continue to expand the business.