Nonprofit organizations require a lot of work to meet funding compliance all while operating on a tight budget made up of donations. Spending time manually performing accounting processes can take away valuable time and money from the mission. Intuit QuickBooks accounting software products are among the most popular for automating accounting processes for NPOs all at a low cost.
Is QuickBooks right for your NPO? Learn more about what this accounting software has to offer:
What is QuickBooks Accounting Software?
To start, the majority of QuickBooks accounting products include modules for:
Accounts Payable (AP) and Accounts Receivable (AR)
General ledger with balance sheet
Invoicing
Financial reports and analytics
These features can be used for both nonprofit and for-profit entities. Additionally, specific QuickBooks products offer tools for business management, payroll, sales tracking, and much more necessary to streamlining day-to-day tasks.
What Custom Features Does QuickBooks Have for NPOs?
On a superficial level, NPOs using QuickBooks software can mark their account as nonprofit during setup to change the terminology to fit, i.e. reporting features will change "customers" to "donors". Beyond these changes, QuickBooks products are fully customizable to best suit your needs all in real-time.
Of course, NPOs have significant operating differences from for-profit businesses. Nonprofits looking to automate should seek QuickBooks accounting software with very specific functionality, primarily:
Fund accounting
Donation management
Grant management
All of these tools are designed to handle funding, whether from individual donations or acquired through government grants. For instance, donation tracking allows for your NPO to record both one-time pledges or recurring payments to accurately report when and where all donated funding came from.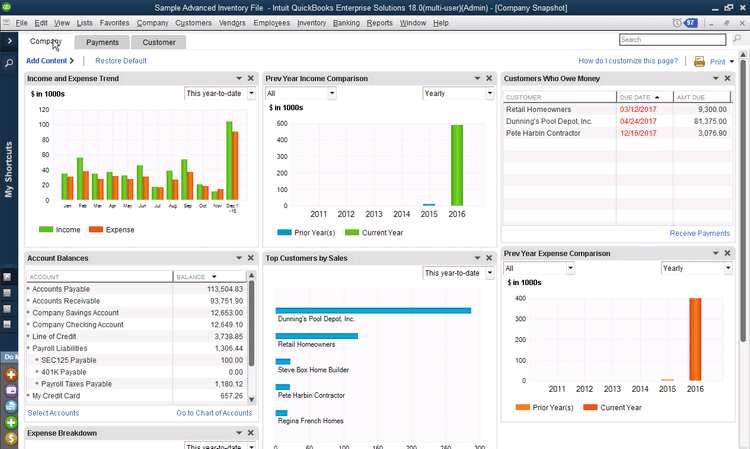 Which QuickBooks Products are Best for NPOs?
QuickBooks has multiple accounting software solutions which are suitable for nonprofits, 4 of the most popular are:
QuickBooks Enterprise Nonprofit
QuickBooks Online
QuickBooks Pro
QuickBooks Premier
While some of these products are not specifically designed for NPOs, they can still be used by organizations in need of basic financial management. Learn more about each now:
QuickBooks Enterprise
QuickBooks Enterprise by Intuit offers the most comprehensive business management solution for growing businesses with up to 30 simultaneous users. Enterprise Solutions allows you to customize over 120 built-in reports and template forms to look the way you want. There is a specific version of QuickBooks Enterprise designed for nonprofits to easily store and access data from thousands of donors and vendors. Included with this edition is a nonprofit chart of accounts, PO workflow approvals, and customized payment receipts.
Enterprise Solutions integrates with a broad number of compatible business applications to provide additional solutions for your nonprofit business. Streamline all the critical operations of your work, including finances, inventory, sales, purchasing and payroll into one cohesive system.
QuickBooks Online
QuickBooks Online (QBO) is the most flexible accounting software solutions to link multiple users and locations to their business finances-anytime, anywhere. It has the accounting functionality of QuickBooks desktop software yet is accessible through the Cloud from anywhere with a high-speed Internet connection.
There are multiple versions of this software to best suit your current needs:
QuickBooks Online Simple Start: Ideal for new startups
QuickBooks Online Essentials: Intended for small businesses
QuickBooks Online Plus: Suited for project-based businesses
QuickBooks Online Advanced: Offers the highest level of support
QuickBooks Pro
QuickBooks is the undisputed leader in accounting software for small businesses with over 2 million users worldwide. Intuit's QuickBooks Pro to bring complete financial management capabilities to small nonprofits who do not understand technical accounting jargon and just want to handle their finances. Available on-premise or cloud-hosted, this is more than an accounting software: it's a comprehensive business management solution.
QuickBooks Pro integrates with 15 business solutions to streamline operations:
Microsoft Word and Excel
TurboTax
Online banking and bill payment
And much more!
While QB Pro will work, it was not designed with nonprofits in mind, and therefore has for-profit language which may not be comparable for NPOs.
QuickBooks Premier
QuickBooks Premier builds on the foundation of QuickBooks Pro while giving you additional industry specific features in specially designed Editions. The QuickBooks Premier Nonprofit Edition will allow you or your accountant to easily prepare the IRS Form 990. QuickBooks Premier Nonprofit Edition will organize all your finances according to IRS requirements. The system will simply require you to transfer totals arrived at automatically by QuickBooks onto your 990 form without any manual calculation.
Managing multiple programs can be difficult for any nonprofit. With limited funds, you can see why most NPOs choose to create separate budgets for each program. QuickBooks Premier includes tools to build budgets which allow you to compare the actual amounts against what is used. This functionality is accomplished in the report center.
What are the Benefits of Using QuickBooks for Nonprofits?
Modern nonprofits have the ability to automate administrative processes so staff and volunteers can focus on fulfilling their mission. As described above, QuickBooks offers some of the most popular and robust accounting software products available for any business, capable of performing a wide range of tasks to reduce time spent on manual data entry and report analysis.
While all QuickBooks products can be used by nonprofits, Premier and Enterprise offer dedicated nonprofit editions. For instance, QuickBooks Premier can create IRS Form 990, the Statement of Functional Expenses, to fully identify your internal expenses for presentation to your board, major donors, and, of course, the Internal Revenue Service. This data can be gathered by Online, though it will not be able to instantly generate end-of-year donation statements without some manual intervention.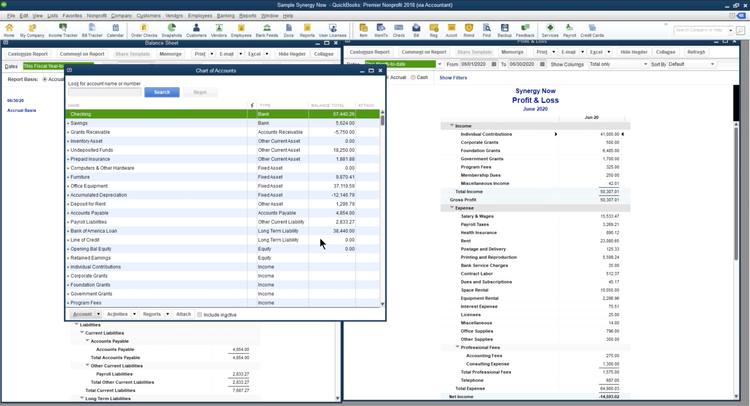 Does QuickBooks Integrate with NPO Software?
Since QuickBooks is primarily focused on accounting features, you may need additional tools to optimize other aspects of your day-to-day operations, such as volunteer management or fundraising event planning. Most QuickBooks products are able to seamlessly integrate with other types of software, especially those created by Intuit QuickBooks, such as their solutions for payroll management and employee time tracking.
There are limitations when it comes to third-party software and mobile apps. Fortunately, many software vendors, such as Salesforce and MailChimp, have made integrations possible between their solutions and QuickBooks. Some have limited compatibility, such as the ability to export data into Microsoft Excel. Other popular integrations include:
Amazon Business
Paypal
Quicken
Shopify
Square
Stripe
TurboTax
There are hundreds of NPO-specific integrations available as well. QuickBooks Online in particular can integrate with specific nonprofit software like Fundly, DonorPath, and Kindful in order to track donations, manage volunteers, and consolidate financial data into custom reports.
Is there a QuickBooks Discount for Nonprofits?
QuickBooks accounting software pricing plans are as low as $25 per month, though with discounts first-time subscribers can start as low as $12.50 per per user for the first few months of service. Other plans featuring additional features can range from $50 per month up to $180 per month. However, there are no special discounts just for NPOs, with the exception of plans donated through TechSoup.
How Much Does QuickBooks Cost?
As mentioned above, each version of QuickBooks has different per user pricing plans with add-ons available for an additional fee. Single-user, on-premise solutions can cost hundreds or thousands to implement. Since there are no contracts for monthly subscriptions, users can upgrade or cancel at any time based on changing budgetary concerns. There is an additional, one-time fee for customized setup with a QuickBooks Live Bookkeeper, though these customer support sessions are not required.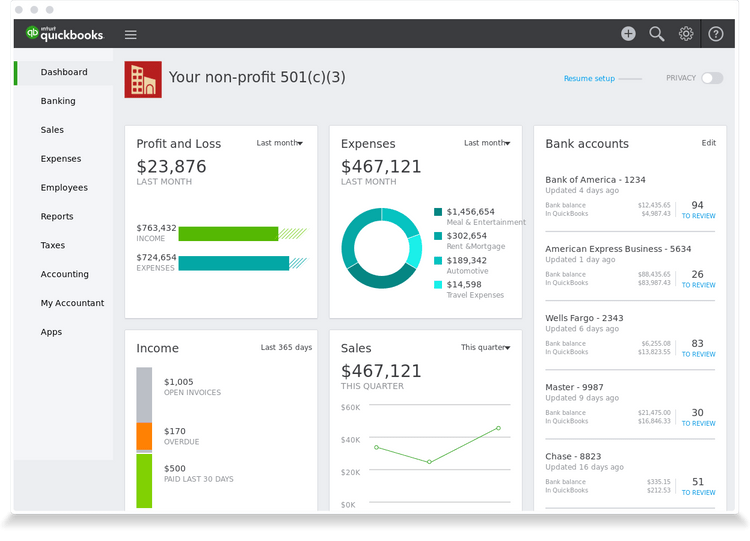 What are Nonprofit Accounting Software Alternatives to QuickBooks?
While QuickBooks is highly popular, it is not always the right fit for NPOs. For instance, it might not integrate with an existing legacy system at your organization. Or it could simply be too expensive for the size of your NPO. Fortunately, there are several QuickBooks alternatives for nonprofits wanting to try different software to better suit their needs or budget. A few of the top options are:
Of these alternatives, some offer special pricing for NPOs in order to reduce operating costs. Others are even free for small organizations or those with limited funding.
Need help finding an affordable nonprofit accounting software alternative to QuickBooks? Software Connect can help with recommendations for your NPO.