Non-profit management is different than for-profit management. How could it be any other way? Pursuing a mission--rather than profits--puts an entirely different engine behind what drives organizational success.
Responsible financial management is no less important in the non-profit sector, though. It just faces unique challenges.
One of the big challenges is technology. The truth is that most accounting and management software wasn't designed with nonprofits in mind. Many popular programs therefore lack the controls, terminology, reports, and structures that are critical for effective and efficient nonprofit management.
The problem is, it's easy for overhead costs to pile up without the right software. Executing transactional and reporting tasks becomes unnecessarily complex when complicated workarounds are needed to overcome a lack of basic features. Additional, difficulty providing management, funding sources, and the government with required financial data can prevent organizations from accomplishing their core missions in a variety of ways.
An Interview with Bill Dean of Accounting Systems Integrator
In order to help nonprofits understand how they can more efficiently access the information they need for effective management, I reached out to an expert in the field, Bill Dean.
Bill is the President of Accounting Systems Integrator, the company that develops NonProfitPlus. Bill has years of experience helping nonprofit organizations effectively manage their finances. Read on to find out what Bill had to say about how the right technology can help address key financial management challenges.
What Benefits Do Non-Profits Lose When They Purchase a Financial Management Program That Isn't Designed Specifically for Non-Profits?
When nonprofits purchase for-profit accounting software systems, they are forced to operate within the confines of general accounting principles. In many situations, this isn't a problem - but more often than not, nonprofits have different requirements for reporting and accountability. Fund accounting sticks out to me as one of these requirements that the for-profit industry doesn't need to adhere to. It would be difficult to produce a trial balance by fund without a proper fund accounting system working on the organization's behalf. We could also site the specific need to associate fund activity to specific cash accounts to avoid the commingling of cash. Functionality like this is only available in a solution designed for nonprofits.
Can You Explain the Difference Between a Fund Accounting Approach and Conventional Accounting?
Fund accounting emphasizes accountability for one's finances whereas conventional accounting emphasizes profitability.

Nonprofits don't have fiscal margins they are trying to maintain. They evaluate themselves on the progress of their programs and how they are meeting their social mission. For this reason, a fund accounting approach helps nonprofits carry out additional responsibilities they are often legally required to adhere to.

An example of this could be correctly allocating expenses across grants and funds, keeping funds separately according to donor directives, or measuring the overall success of a program.

In a conventional accounting approach, companies are concerned with increasing their bottom line, closely eyeing the profit and loss throughout the year. The focus in a fund accounting system is to provide management with insight on the financial health of their funds and programs and spending all monies available for the benefit of programs to achieve mission objectives.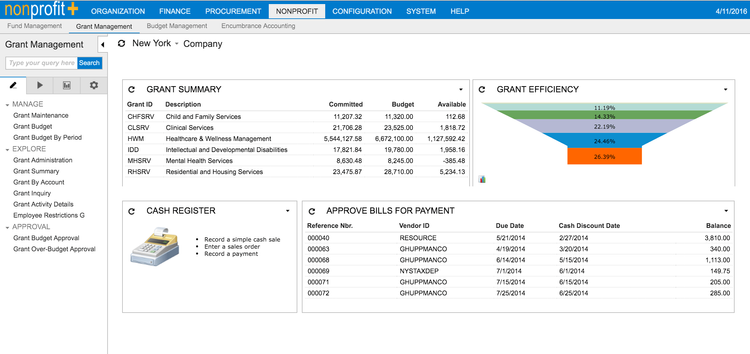 Can Non-Profit Leaders Without an Academic Accounting Background Manager Their Own Books With the Right Software?
It really depends on the software. Some systems are very intuitive and include integrated e-training to help non-financial users to use the system. Others are very complex and require a team of both technical and accounting personnel to run the system.

It is possible to have a basic understanding of accounting principles and nonprofit specific workflows and be very successful in an accounting system.

Regardless of background or education, all nonprofit leaders should have access to high-level dashboards, financial reporting to assist in tracking progress, and access to information that enables and supports good decision making.
How Does the Threat of Fraud in Non-Profit Organizations Compare to the Fraud Risks Faced by For-Profit Companies?
Unfortunately, nonprofits often fall victim to fraud. This is often a by-product of limited budget, old or limited software, and few people keeping an eye on the books.

The best way to prevent fraud from a software standpoint is to have a system that tracks all user activity and does not allow a user to change financial input after the input has been processed or released. A secure system will track user logins, IP addresses, and all activity completed. Users should never be able to delete records from the database. Outside of the financial software, organizations should setup sensible workflows, approvals and a system of checks and balances that keep everyone accountable.
What Functionality Is Most Beneficial to Non-Profits Who Need to Present Financial Data to Management & Potential Funding Sources?
When you are responsible for reporting to a board, information should be easily accessible by board members while providing ample time to digest the information provided, a board portal is a great option. This is a place where board members log in and have access to high-level financial data via dashboards and reports. This allows financial administrators the ability to annotate and highlight what is important. If possible, these dashboards should be interactive, so that board members that are interested in drilling down into the details can do so.
What Benefits Can Non-Profit Organizations Gain by Using a Single Software Platform for Their Fundraising, Grant Management, and Accounting?
As we continue to use more cloud technologies, we recognize the benefits of having all of our financial data and records in one single system and location. This expedites decision making, allows everyone in an organization to be involved in a single system, and gives management visibility of the entire organization's financial picture quickly and efficiently.

Most importantly, how will choosing the right non-profit accounting software help non-profit organizations deliver on their core organizational mission?

We've arrived at a crossroad with technology. Years ago, people started using accounting software to digitally record their books. As a record stored in a database, we were able to visually report and manipulate data. Now, we can manage our finances, submit expense receipts, make approvals, and view pertinent financial data from any device at any time within the cloud where the information is available 24 / 7. This allows everyone in the organization to be on the same page and to focus on the mission at hand, not laboring over data entry, figuring out how to achieve a task or waiting for someone to come into the office to approve a purchase.

Nonprofits should look for an accounting system that can save time, taking advantage of the latest technology as well as provides online training for self-pace learning. This system will be considered their most valuable resource in achieving success in their programs.
For more information on how to put technology to work to improve non-profit management, check out NonProfitPlus on Twitter at @NonProfitPlus.