Contact management software provides a cloud-based repository for storing contact information on customers, prospective leads, and companies. Like a modernized Rolodex, this software organizes all the contact details related to your business communication. This can include phone calls, emails, website visits, social media engagement, purchases, in-person visits, and more interactions based on how your company operates.
Sometimes described interchangeably as customer relationship management or CRM software, contact management solutions help foster and improve business-customer relationships. As an affordable, standalone solution, contact management features tools to capture, record, and classify event data related to all customer interactions at your business.
Key Contact Management Features
Contact database: Use an onsite or cloud-based server to store basic contact information (name, address, phone number, email) with detailed communication notes for additional information on contact interactions
Data import/export: Automatically import digital information on contacts; tag incoming customer data with metadata for easier retrieval
Search and filter: Use custom search parameters to locate contact information within the storage database; use a tag system to filter through results based on names, dates, and other details
Shared address book: Allow employees to share all contact information with others on their team, in their department, or the company as a whole
Lead management: Assign or distribute new leads to available representatives based on past contact interactions or other specifications
Opportunity/lead tracking: Track potential sales opportunities, such as lead source and sales assignment
Calendar notifications: Set automated reminders for future calls, emails, and meetings with contacts
Follow-up scheduling: Manual and automated options for scheduling follow up help improve the reliability of ensuring proper customer follow-up occurs
To-do lists: Generate specific task lists for employees based on past interactions with contacts
Customer order history: Automatically capture details on customer purchases (via integration with applications such as invoicing and AR) to build a custom profile for the customer to anticipate future orders
Employee logs: Review employee interactions with contacts to ensure accurate follow-through
Analytics: Report on important trends amongst contacts, sales records, and employee performance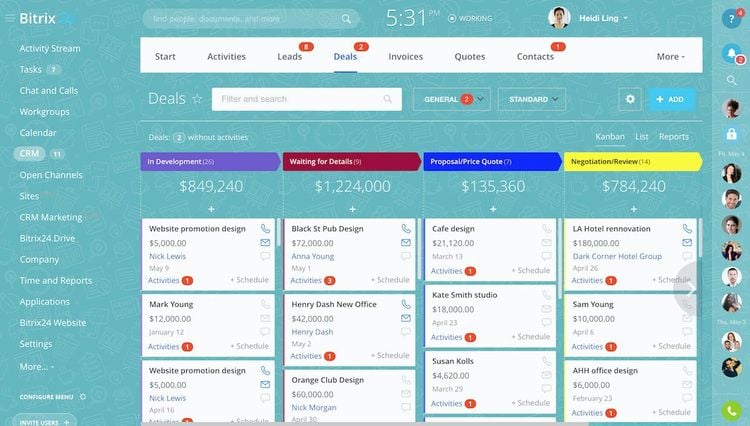 Best Contact Management Software Benefits
A contact management solution can streamline a lot of your business processes. Start automating your operations and enjoy the following benefits:
Get Organized (and Updated)
The age of the handwritten notes on the back of a business card stuffed into an overcrowded Rolodex is over. Not only is the system outdated, it's ineffective and a huge risk. One lost card can mean losing contact with a valuable customer or vendor. And physical notes can easily get damaged. Contact management software provides a way to digitize existing customer records while also automatically importing data from online interactions.
For instance, imagine a sales representative cold calling prospective leads. If someone instantly hangs up, they can be marked in the system as a missed opportunity. In contrast, the sales rep can schedule follow-up with an interested buyer directly through the software. No more handwritten notes - all pertinent information about the customer is gathered during the call in real-time. And contact management software goes beyond recording phone numbers as well. Data can be imported from email addresses, social media profiles, and scanned copies of physical documents.
Custom fields allow you to create incredibly specific information from your business contacts. Use software to classify contacts as:
Customers
Clients
Employees
Vendors/Suppliers
Companies/Organizations
This more effective identification of new prospects through the online database can make it easier to handle marketing automation. For example, third-party vendors and suppliers would not be interested in buying products, and thus shouldn't be included in sales outreach lists. Properly identifying different contacts can ensure the right names are on marketing materials.
Easier Collaboration
Keeping all your contact information in a shared database also increases internal collaboration. In the past, sales leaders and department heads would have to create physical files for each client which could then be shared with new team members on the account. If someone was physically absent from the office, their address book wouldn't be accessible. Now, everyone can be given instant access entirely online with cloud-based software. Reductions in time and labor costs related to collecting, organizing, and managing customer information amongst various departments can lead to a lot of savings.
Contact management software streamlines the sales pipeline by allowing multiple people access to the same contact information. An initial cold calling sales person can pass along information to an account representative in an efficient workflow when all the relevant material is online. Automated notifications can inform all reps of how a prospective lead is reacting to various sales efforts.
For example, a new lead opportunity may indicate during a cold call that they prefer to communicate via email. A simple note left in the online database can indicate they should only receive email marketing and prevent anyone from directly calling in the future, keeping the customer happy in their interactions. And email tracking can show when they were last contacted and what was discussed, preserving your internal records.
Better Customer Service
Knowing your customers is the first step to better meeting and anticipating their needs. A contact management software with lead tracking and order history can show sales teams valuable information on both prospective and current customers. Analytic data on your entire customer network can also reveal valuable information. Instead of using time-consuming, manual data entry to mark everything in a spreadsheet, contact management software can automate the process and import customer data automatically.
Further improve sales management by creating best practices for your sales process and marketing outreach. Do customer contacts respond more quickly to email marketing than phone calls? That revelation can be recorded in a CRM system to shape your future marketing campaigns to increase successful sales. Other customer support efforts can be implemented by knowing more about your past customers and their orders.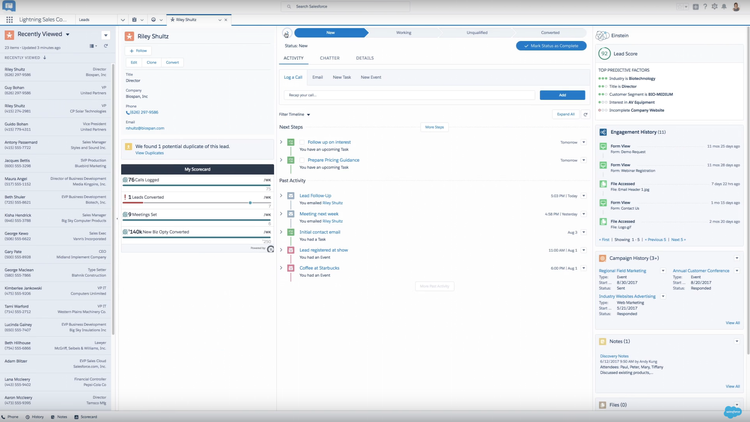 As mentioned before, there are many similarities between contact management software and CRM tools. However, there are a few key distinctions to consider when selecting a software for your business:
To start, CRM software is a broad application category providing functionality to manage business-customer relationships. A full CRM platform is designed more for supporting the entire sales process, along with marketing and service activities. This is useful for companies with large sales teams or the frequent transfer of responsibilities along the sales pipeline.
In contrast, contact management software is more limited in scope, focusing on the literal information necessary to successfully contact business associates and customers. As a standalone solution, a contact management system is ideal for startups and small businesses which are looking for an easier way to manage their business relationships without the need for a physical contact list or address book anymore. The pricing is also more affordable than a full CRM, allowing you to stay within your budget while modernizing your business needs.
Pricing on Contact Management Tools
Contact management software, as described above, is often more affordable than a full CRM solution. Costs range from $7 per month per user to $99 per month per employee. Some are offered for a one-time per user fee averaging $99. There are some free contact management systems available, though installation, training, and add-on modules for extra functionality will contribute to the final cost of free and paid plans alike. Most cloud-based options include access to mobile apps for on-the-go contact management.