What is Lawn Care Software?
Lawn care software helps businesses schedule jobs, create invoices, dispatch employees, and plan routes. Lawn care businesses have to keep track of a large volume of customers, many of which have recurring services scheduled. The software keeps scheduling information organized, so appointments aren't missed or overlap. Job routes can be determined based on how close together each client is and which teams are assigned to the client, so your teams can complete more jobs in less time.
Some lawn care solutions also feature asset and maintenance tracking. You will always know where your equipment is, who's using it, and when preventative maintenance needs to be done to keep it working longer.
Field service software can also be used by landscaping businesses and lawn care companies. Larger companies often use field service software for additional functionalities like fleet management and parts inventory management.
Most companies offering lawn care services offer snow removal during the winter months. Either lawn care software or field service management software can still be used for managing snow removal services. The software will assist with invoicing, scheduling, customer management, and route optimization.
Features of Lawn Care Software
| Features | Description |
| --- | --- |
| Invoicing | Automatically send bills to customers when the job is complete. Collect online payments and set up recurring payments for regular services. |
| Job Scheduling | Schedule the date and time for each job around the availability of your teams. Set up recurring jobs for regular lawn care services. |
| Work Order Management | Assign lawn care teams to specific tasks or customers and track the progress of each task. |
| Time Tracking | Track employee time for lawn care services that are billed on a per hour basis to accurately bill clients for the service. |
| Route Optimization | Plan driving routes for your lawn care team based on the location of your customers to get as many jobs done as efficiently as possible. Send real-time route updates to drivers in case of detours and automatically notify clients of estimated arrival times. |
| Equipment Maintenance Tracking | Keep track of your lawn care equipment and maintenance information to maximize the lifespan of your equipment. |
Estimating and Invoicing with Lawn Care Software
Lawn service businesses typically charge a flat rate for each job based on the yard's square footage. However, some companies charge per hour. Lawn care software calculates the price based on the yard's size or how long similar jobs have taken in the past to create an estimate.
After a job is complete, invoices are automatically sent to the customer. The customer can use the client portal to login and make online payments with a credit card. Automated payments can be set up for regularly scheduled services.
Many lawn care specialists also offer extra services like weeding, leaf cleanup, or edging. Customers can request those services in advance or at the time of the appointment. With cloud-based lawn care software, the invoice can be adjusted in the field with a mobile device to account for last-minute services.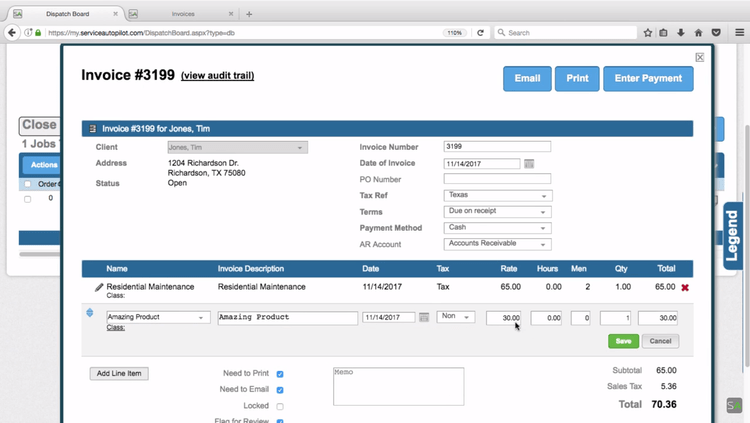 Scheduling with Lawn Care Software
Lawn care software makes it easy for scheduling everything from new customers needing a one-time lawn trimming to customers with regular service contracts needing weekly mowing. The software lets you schedule new appointments in open time slots and allows you to cancel or reschedule easily. Schedules can also be optimized based on location, so your teams don't have to travel too long between client properties.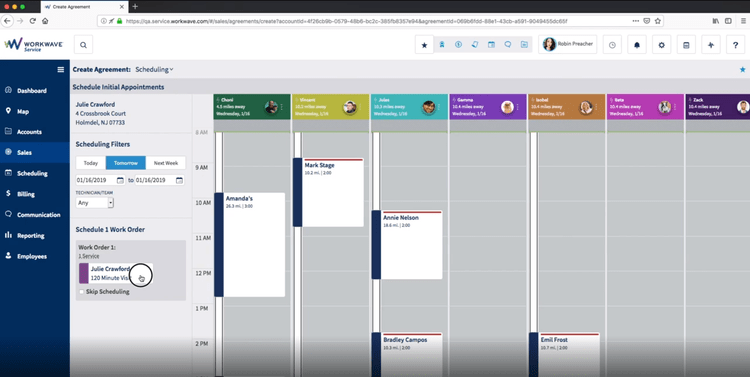 Free Lawn Care Software
Free lawn care business software typically includes very basic functionality including job scheduling, invoicing, and estimating. Software advertised as free can have hidden charges for things like online payment processing. Free lawn care software also often limits the amount of data you can store. Some full lawn care solutions have free trials or a basic free plan meant for testing out the system before purchasing.
Popular free lawn care software includes:
Yardbook - Yardbook advertises itself as a free landscape business software that features estimating, scheduling, billing, and customer management. Premium features are available for purchase. These include geo-tracking, bulk email and text messages, automated payment reminders, and auto job scheduling. Yardbook does not advertise pricing for premium features online.
LawnPro - A free starter plan is available for LawnPro that limits you to 50 customers. Features include email invoicing and estimating, client portal, online payment processing, and real-time route details. If you need more, the paid plan starts at $29/month.