What is Sales Commission Software?
Sales commission software, sometimes referred to as commission tracking software, assists accounting or HR departments with calculating accurate compensation for the sales team. Occasionally part of sales performance management systems, this software automates processes for all types of commission structures, including:
Split commission
Tiered commission
Sliding scale commission
Percentage commission
Flat commission
Trailer commission
Marginal or tax-rate commission
Commission plans should account for various forms of incentive as well, such as bonuses, additional time off, or stock options. With software, your sales reps can select their own preferences for incentivization to improve their personal performance and company sales overall.
Sales Commission Software Features
Commission rules: Set certain rules regarding how sales reps can apply for and receive various forms of commission; include customizable variables to accommodate various forms of sales compensation
Commission calculator: Use the established rules to calculate commission based on sales, quotas, seniority, and other factors
Commission tracking: Real-time sales dashboards keep tabs on how much compensation each sales team member has received, how much they are owed, and what types of commissions they are eligible for based on past sales quotas or performance
Incentive programs: Encourage increased sales with various forms of incentive compensation; use gamification to increase sales
Compliance management: Ensure compliance with tax requirements and other forms of revenue recognition, such as ASC 606, when providing employee compensation from incentive plans
Audit management: Increase transparency with your commission statements and payment systems by compiling auditable reports with historical data
Reporting and analytics: Review sales performance information and report on any notable changes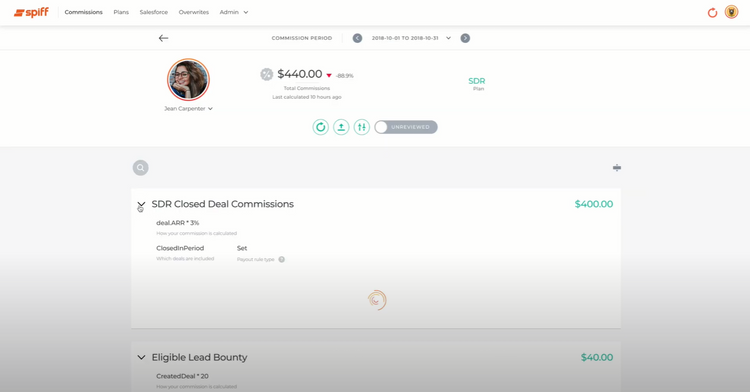 Best Sales Commission Software Benefits
Any company which offers a core commission payment structure to their sales department can benefit from utilizing sales commission software:
Add Incentive to Sales
The first goal of sales commissions software is to increase sales through better incentivization. A motivated sales team can increase overall profits in a short amount of time. Gamification is one method for encouraging sales by directly allowing reps to compete against each other. Real-time leaderboards can show which sales reps are on track to meet their goals and who may need help to hit company quotas on time.
Of course, incentive programs can be hit or miss. After all, metrics alone are not always enough to measure actual sales success. And what works for one sales rep might not suit the entire team. For instance, a sales rep might manage to secure one big account which brings in more revenue to the company than multiple smaller ones. However, a straightforward commission plan would only count their sale as one entry. Software overrides allow managers to still pay commissions to these high achieving workers who technically fail to meet quotas while increasing profitability.
Ensure Fairness with Compensation
Sales team members can select their own compensation plans based on their ideal form of incentive. Some sales reps prefer short-term compensation, such as monthly or quarterly bonuses. Others want long-term benefits, like company stock options. Sales commission management software offers ways to give each salesperson the exact compensation they want to encourage a better performance.
For instance, trailer commissions are often used to entice new employees with higher commission rates after their probationary period has ended or upon their first anniversary with the company. To more senior members of the sales team who have long passed this mark, this can initially seem unfair. However, a sales commission software can show exactly how fair the payment structure is for everyone. Reports can provide transparency from every angle, from the sales transactions to management approving commission to the accounting team responsible for making payments.
In other situations, the salesperson themselves is necessary for sustained customer relationship management (CRM) with particular clients. Since their accounts cannot be easily transferred, special compensation may be necessary. Commission software provides ways to address these unique sales situations and provide bonuses appropriately.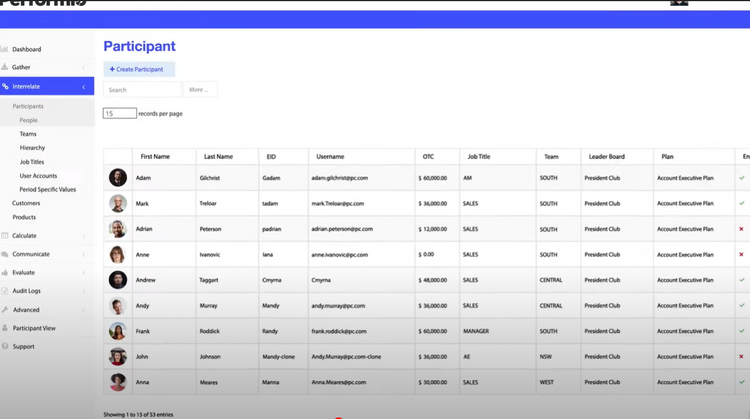 Streamline Compensation Management
Commission plans can get complicated if your company offers multiple options, such as split or tiered commissions. Simplify complex commissions by using tracking software. You can use modules to create advanced commission rules to provide a better compensation process for everyone on the team.
Instead of spending hours manually filling out Excel spreadsheets, allow software to automatically calculate quotas in real-time. Then pass that information onto the accounting or HR department to ensure everyone receives their correct commission on time. No more delays from checking over accounts by hand. Get accurate numbers for payroll in an instant.
Commission systems can integrate with other software to coordinate accounting and administrative tasks. This is especially useful for marginal or tax-rate commissions which can have an impact on employee and company taxes. With software, you can calculate those rates automatically while protecting your company from audits.
Sales Commissions Software Pricing
There are products to fit companies and budgets of every size, from small businesses to global enterprises. Free commissions tracking software options are available, though they don't offer full-scale functionality. SaaS plans often charge on a monthly basis, though some are available with discounted annual plans. Low cost plans start at $10 per month per employee while others can reach $499 per month for up to 30 users.
How is Sales Commissions Software Different from Compensation Management?
Sales commissions and compensation have a lot of significant overlap. The most significant difference between the two is the scale. Commission tracking solutions are made to monitor the sales made by the company and the respective bonuses applied to those transactions. For this reason, the commission payouts from sales incentives are mostly applied only to members of the sales team.
Compensation management software covers all aspects of employee payroll across every department. This means balancing commissions and long-term salary planning. For example, a sales representative will likely receive commission based on their sales record. Someone working in IT will not be eligible for commission since they are not responsible for any sales. Yet they may still have internal goals to meet which can earn them various forms of rewards. The companies which do offer certain bonuses regardless of department need software to manage general compensation programs.