What is Service Dispatch Software?
Service dispatch software primarily assists with scheduling and route planning to ensure drivers can get to as many jobs as efficiently as possible. More advanced systems also include GPS tracking to give you greater insights into vehicle performance and driver behavior. Data analytics from service dispatch software helps businesses keep vehicles properly maintained, reduce travel time, and cut down on fuel costs.
Web-based and mobile field service tools allow you to handle your dispatch operations from anywhere. Dispatching features are beneficial for any size company that sends multiple technicians, drivers, and vehicles to customer locations. However, medium to large service companies often find industry-specific options that include dispatching to be a better option than standalone service dispatch software. These all-in-one options have more niche features tailored to help with day-to-day business needs.
Some industry-specific software solutions with dispatching include:
Service Dispatch Software Features
| Feature | Functionality |
| --- | --- |
| Job Scheduling | Assign jobs to the right technician based on skills, availability, and urgency; drag-and-drop functionality allows for instant adjustments. Use time tracking to keep tabs on workers in the field. |
| Route Optimization | Schedule field technicians and drivers to specific areas, so travel time and fuel costs are reduced and response times are improved. Assign last minute/emergency calls to the closest employee. Send real-time directions and detour information. |
| GPS Tracking | Track real-time locations of vehicles, drivers, and field service technicians, as well as vehicle info like speed, gas levels, and maintenance information. |
| Work Order Management | Create work orders and track job status in real-time when on site. |
| Parts Inventory Management | Track parts inventory on service trucks to ensure the right equipment and materials are on each vehicle for a job. |
| Electronic Signature Capture | Capture signatures for deliveries or services electronically for faster approvals. |
Best Service Dispatch Software Benefits
Service dispatch software offers a lot of potential benefits to your business, including:
Enhanced Scheduling Capabilities
The scheduling functionality in dispatch software ensures you're only assigning technicians or drivers that have availability to jobs. You can also match techs to specific jobs based on experience or certifications. Booking too many jobs at once or double-booking drivers for multiple time slots will only cause problems. The software will notify you if a driver has too many or overlapping jobs to complete, so you can make necessary changes.
Cloud-based service dispatch software also helps optimize schedules based on the job location. This allows technicians and drivers to complete more jobs at a quicker pace. The drivers can spend less time driving back and forth between locations and more time doing jobs.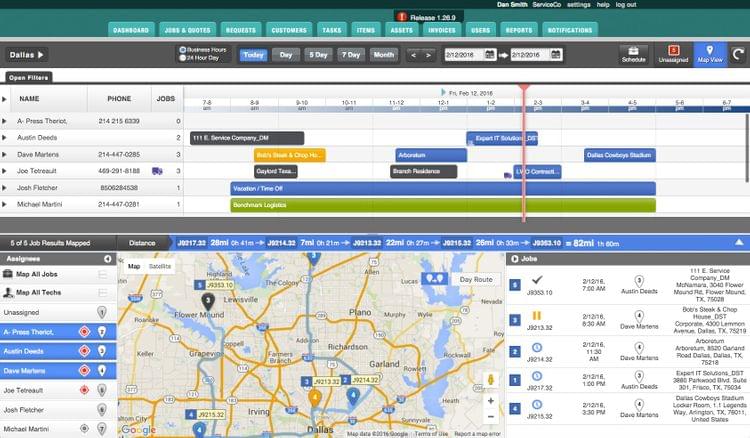 Automation of Route Optimization
Service dispatch software assists with route optimization to cut down on fuel costs and improve response times. The software takes into account the number of left-hand turns, the number of required stops on a particular route, and traffic conditions at specific times of the day to calculate the best route possible.
Having well-optimized routes will also allow your drivers to complete more jobs in any given day. Drivers can spend less time on the road and more time with customers. Faster response times will improve customer satisfaction and allow you to schedule more appointments without hiring more employees.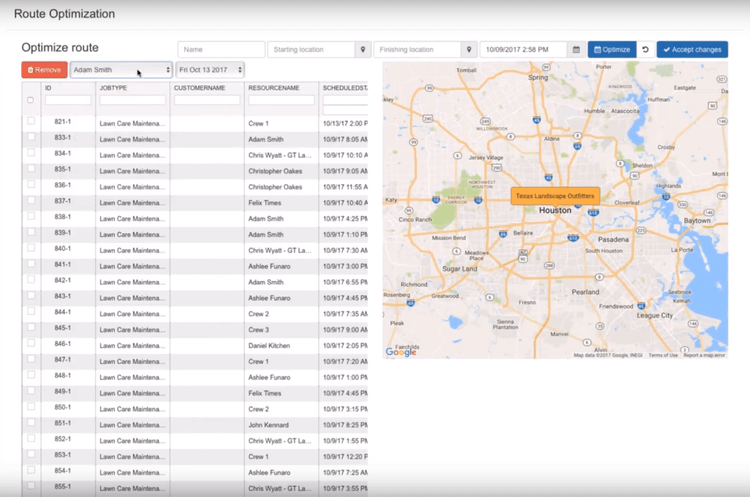 Real-Time GPS Tracking
GPS tracking in service dispatch software gives dispatchers the ability to track vehicles and transmit messages to drivers. The dispatcher will be able to track vehicle information including real-time location, speed, gas mileage, and maintenance records. This ensures drivers are being safe on the road and aren't making unscheduled stops.
Dispatchers can also transmit new directions to drivers in case of slowdowns or unexpected detours. Notifications can be sent to customers if the driver is running ahead or behind schedule, keeping them fully informed.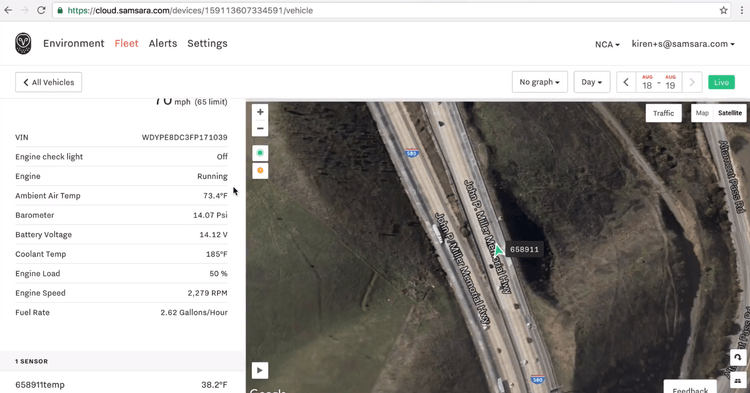 Types of Service Dispatch Software
Some examples of service dispatch software include:
Field Service Dispatch Software
Dispatch software is important for many field service businesses including HVAC techs, plumbers, landscapers, and more. These systems assist with field service scheduling and managing the real-time location of technicians.
Dispatch software keeps tech schedules and credentials organized in one location to ensure the right technicians are assigned to the right job based on qualifications and availability. Any new jobs and last-minute service calls can be scheduled easily into the nearest open slot.
Field service management software includes dispatching as a core feature. If you're looking for an all-in-one software to handle invoicing and project management in addition to dispatching, field service software is a great fit.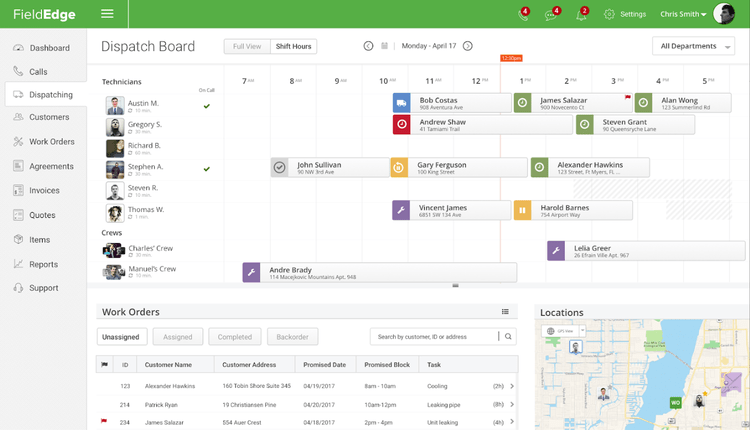 Trucking Dispatch Software
Dispatch solutions assign new orders to available agents and optimize the most efficient route for the driver. Route planning helps improve customer satisfaction with faster delivery times. Fuel and maintenance costs are also reduced because fewer miles are driven.
All-in-one trucking software features dispatching in addition to accounting and fuel tax management. Trucking software also assists with International Fuel Tax Agreement (IFTA) fuel and mileage reporting. Standalone fleet management systems also often include dispatch functionality if you're primarily looking to manage vehicles.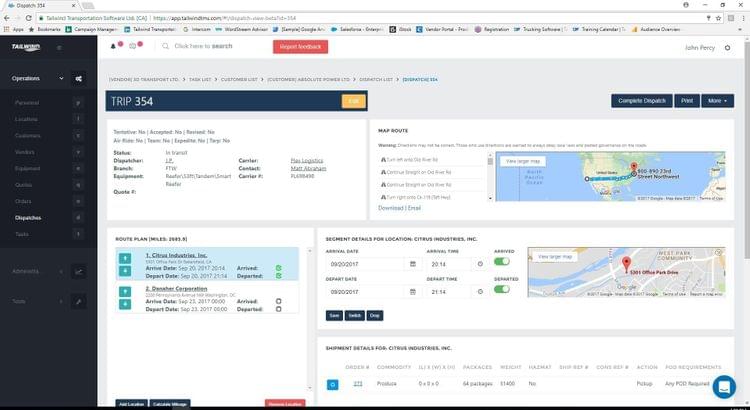 Emergency Dispatch Software
Dispatching medical personnel, first responders, or police officers efficiently is extremely important. Dispatch software streamlines operations to help emergency personnel to get on the scene as quickly as possible. The dispatcher can transmit the location, directions, and a description of the situation to the right department during the emergency call. The nearest responder can then be routed to the location, ensuring better response times.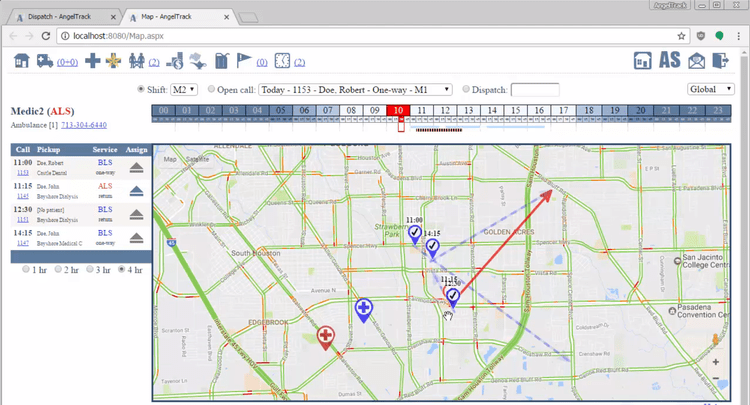 Taxi Dispatch Software
Taxi dispatch software assists with scheduling and dispatching taxis, rideshare vehicles, or professional drivers to customer locations. GPS tracking shows you which taxis are available, so you can send the closest one for last-minute pickups. Some systems will automatically assign the closest available taxi for a pickup while others let you schedule drivers in advance.
Some solutions feature mobile apps for customers to download, allowing them to use the app to hail a cab without having to make a phone call. Nearby drivers can accept the job through their own mobile device. Customers to pay and tip with online methods, along with rating their driver's performance.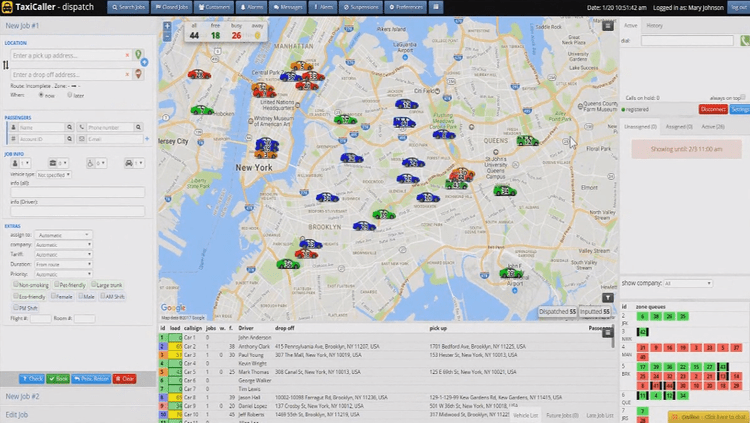 Mobile Service Dispatching Software
While many dispatching solutions have on-premise deployment, many now include cloud-based access. Mobile dispatching software allows field technicians, drivers, and anyone on your service team to see job details and real-time directions updates from dispatchers while on the road. The software can also accept electronic signatures at the job site from a smartphone or mobile device. Some solutions have dedicated mobile apps to download that allows employees to see job details, schedules, and routes, as well as accept payments.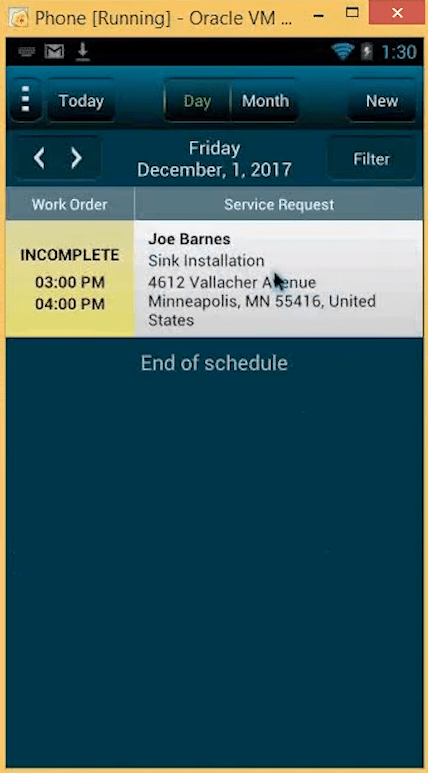 With so many different types of service dispatch software available, it's important to know there are also many integrations offered to help you coordinate between different software products.
Dispatch Software with QuickBooks Integration
There are many dispatching solutions that offer QuickBooks integration, so you can continue to manage your accounting without an entirely new system. Going with a third-party solution that integrates with QuickBooks can be better for some businesses. For example, features like IFTA mileage tracking for trucking industries will only be available in an industry-specific solution. Some dispatching software providers with QuickBooks integration include ServiceTitan, Housecall Pro, and Tailwind.
Work Order Scheduling and Dispatching for QuickBooks
QuickBooks is great for managing the accounting side of your business. However, if you're looking for strong scheduling and dispatching features, QuickBooks alone won't be a great fit. There are options available to you, including:
Intuit Field Service Management
Intuit has its own solution - Intuit Field Service Management for QuickBooks Online and QuickBooks Desktop versions. This system is primarily designed for commercial and residential field service, repair, maintenance, and installation companies. Intuit Field Service Management assists with GPS tracking, customer management, mobile payment processing, work order status tracking, and more.
QuickBooks users will have access to Intuit's Field Service Management system, allowing back-office staff to manage both accounting and field service processes. Intuit Field Service users will not have access to QuickBooks.
Demo of QuickBooks Online Field Service Management