If you run a business, you've probably considered using software to streamline operations. Two terms you've likely encountered during your search are enterprise resource planning (ERP) and customer relationship management (CRM), as these are two of the most popular software suites available to customer-facing businesses. Yet what do they do? How are they different? And does your business need both to succeed?
The very short version is this: ERP software covers primarily financial processes while CRM solutions are focused on streamlining external customer communication.
Need more information before selecting a software? Take a look at how ERP and CRM are different (and areas where they overlap) to see how these two software types benefit your business. Here are the basics you need to know:
What is ERP Software?
ERP usually refers to any suite made up of financial business management tools to keep your budgets balanced and calculate ROI. There are also various human resource (HR) tools for scheduling, attendance tracking, and employee onboarding. Finally, there are applications for inventory and supply chain management.
Main features include:
Accounting
Budgeting and forecasting
Inventory management
Additionally, there are limited CRM and supply chain management modules. The many features of ERP make it an incredibly popular option for optimizing financial business processes across every department in real-time. And its versatility makes it useful for companies within every industry.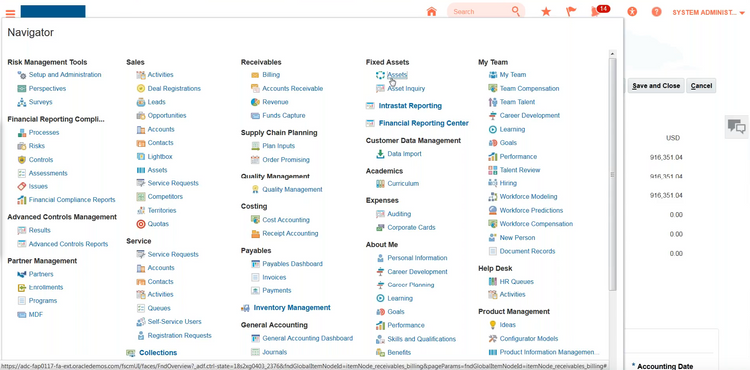 What is CRM Software?
CRM stands for "customer relationship management" for both B2B and B2C operations. As a software suite, it includes all sorts of features to streamline communication between your customers and market your company to potential partners. In particular, this software includes:
Contact management
Marketing and advertising campaign management
Email integration and templates
Call center integration and call scripts
Follow-up scheduling
Lead tracking and customer order history
Social media channel management
As a customer relationship software, CRM is used by any business which deals directly with customers or clients. This might mean sending newsletters to customers who visit a physical storefront or delivering invoices to suppliers who buy your goods earlier on the supply chain. Whatever customer interactions your business relies on, CRM can handle.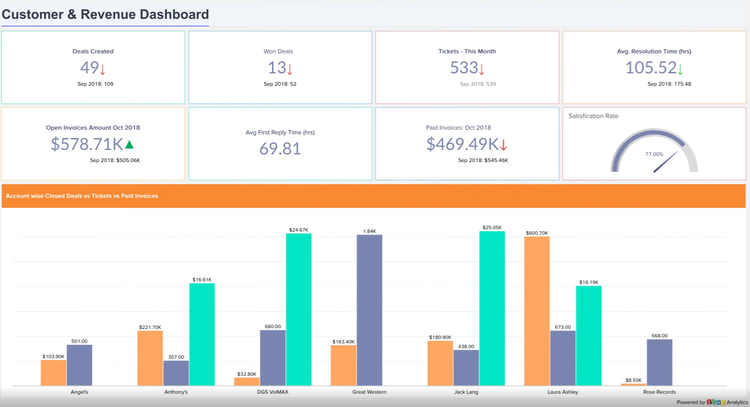 ERP vs CRM: Software Similarities
As mentioned above, ERP and CRM overlap in several ways, primarily since they both streamline business processes. In fact, several ERP solutions even include modules for CRM. They each make it easier to perform previously manual tasks, reducing the likelihood of human error when making calculations or scheduling workflow. Finally, both are available as software as a service (SaaS), making these applications available online from anywhere.
The Main ERP and CRM Differences
Now that you know the basics, here are the important ways ERP and CRM differ:
ERP vs CRM by Function
Of course, ERP and CRM have different, though similar, functions. ERP software tends to focus on inter-departmental processes like accounting and supply chain management. There is a definite emphasis on financial and HR services. There are many ERP solutions which allow businesses to customize functionality to better fit their individual needs.
While ERP automates business management throughout the production lifecycle, CRM focuses on compiling contact information for potential customers. The software allows sales teams and managers to look at customer information to improve their experiences, increase sales opportunities, and provide sales reps with better support.
ERP vs CRM by Scale
ERP suites tend to be more encompassing than CRM software as they have to cover more parts of your business operations. As mentioned before, ERP is meant to handle every aspect of your business from the start of the supply chain until the end. Essentially, you notify the entire company about changes to your business process through one platform.
For example, imagine a shortage of raw materials means you have to slow down production. You can use an ERP to inform every step of the supply chain at once so every department can begin to prepare.
CRM is only focused on improving and maintaining customer, lead, and opportunity interactions. The amount of customers you have determines how big your software is. There are CRM systems which focus on one form of communication while others include multiple options. Use email templates and call scripts to keep all outgoing communication consistent in your marketing campaigns.
ERP vs CRM by Department
The core functionalities of ERP can be used by an entire company through every step of the product or service supply chain. Manage production from the raw materials all the way until a finished product arrives on store shelves. ERP has tools for financial workers, manufacturers, distributors, human resource representatives, sales, marketing, and, in some cases, legal departments. An ERP system minimizes miscommunications by standardizing data across all departments.
By comparison, CRM is primarily for sales and marketing departments to stay in control of customer communication. While some other departments may benefit from CRM, it depends on how much interaction there is. For example, you may use a CRM to issue tickets for customer support problems. The IT department isn't normally in contact with customers but through a CRM system they can maintain the personalized communication established by sales across multiple channels.
ERP vs CRM by Industry
General ERP applications can be used by any industry since it offers universal business features like accounting, scheduling, and more. However, there are types of ERP software made for certain industries:
In contrast, CRM software is more useful for companies which deal with a high volume of B2B and B2C customers on a regular basis. Amongst B2C companies, the retail and hospitality industry in particular both rely on clear customer communication to avoid overstock and overbooking mistakes.
If your business operations highly depend on manufacturing and distribution, you'll be glad to know both ERP and CRM solutions can integrate with supply chain management software. SCM controls the flow of goods and services between different locations as efficiently as possible, making it a valuable addition to ERP and CRM.
ERP or CRM: What Does My Business Need?
Now that you know the key differences between ERP and CRM, do you know which one your company needs? Both help clear up communication and cut down on errors. Which one you use comes down to whether you need a general business software or a specific solution for a single purpose.
If you want your company to have all the benefits of ERP and CRM without paying twice as much there's good news! There are many ERP suites which include CRM modules. It may make more sense for your business to get an ERP suite with CRM than to purchase two separate programs. For example, a distributor who works exclusively with one supplier would only have one point of contact and likely wouldn't need an entire software suite for managing that relationship.
Some of the most popular ERP software options include:
However, if your business is heavily customer-facing, you may want to have a standalone CRM software separate from your ERP system in order to meet those needs. Or if your marketing or sales department is very large, you may benefit from an integrated CRM system just for them.
Some top recommended CRM software includes: