Securing grant-based funding is an exhausting and complex problem for businesses and nonprofits. You have to sort through thousands of grant opportunities to find ones relevant to you - and when you do find a relevant opportunity, there are different restrictions and requirements from the grantor that you have to match. After finding the right grants, you'll have to go through the application process as well as maintain the grantor's requirements post-award.
Your organization needs robust grant management software to aid in grant discovery, application, acquisition, compliance, reporting, and budgeting.
The right grant management solution will take much of the burden out of securing funds, allowing your organization to cut down on uncertainty.
These points were reported as the most frustrating parts of the grant management process among public sector and nonprofit organizations: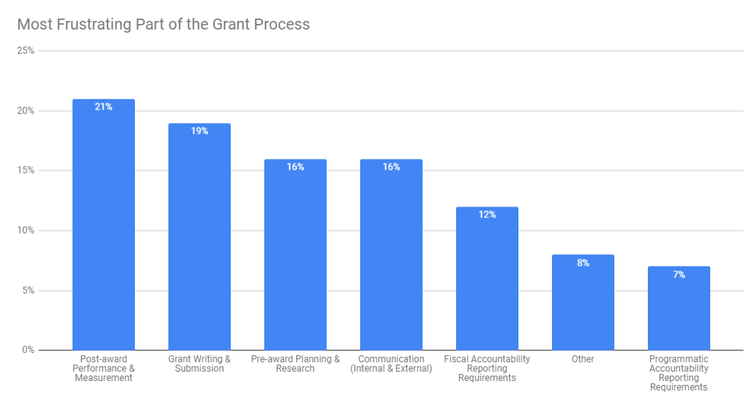 Check out any of the sections below to get a better idea of what grant management software can do:
What Is Grant Management Software?
Grant management software helps automate and manage nearly all administrative processes from grant discovery to status tracking, to post-award reporting. Grant management systems are most often used by nonprofit organizations, government agencies, research centers, universities, and other institutions looking for funding from federal and non-federal grants.
Common Features of Grant Management Systems
| Feature | Description |
| --- | --- |
| Database of Available Grants | Quickly search for grants that match the goals of your organization. |
| Grant Collaboration | Users can vote on grants to apply for, review grants, and communicate with team members. |
| Grant Application Templates | Store previous grant applications and create templates for future use to make applying more streamlined. |
| Document Management | Upload, store, share and retrieve important documents including financials, reports, and proposal attachments. |
| Application Progress Tracking | Monitor the current status of a grant application. |
| Deadline Notifications | Be automatically notified about upcoming deadlines for application submissions, reporting, and meetings. |
| Budgeting & Post-Award Reporting | Easily monitor and report grant-related activity to the grantors. See historical and current data on how your funds are being used. |
| Grantor Compliance Management | Ensure your organization meets the grantors' criteria post-award. |
Key Benefits of Grant Management Software
Find more applicable grants. There are thousands of small to large, federal and non-federal grants out there. With the proper grant management software, you'll have access to a comprehensive database where you can search for opportunities based on your needs and criteria you'll need to meet to receive the funding. The right grant management system will help you narrow down your search and can notify you when new, relevant opportunities arise so that you can save time.

Improved document management and organization. Grant management systems make it easier to upload and store important documentation including contact information for current, past, and potential grantors, financial statements, and reporting data.

Improved communication and information sharing between departments and individuals. Internal communication between individuals and departments will be much more streamlined. Authorized users will have access to the documents they need. Users can check for grants across departments to ensure the organization has not submitted duplicate applications and can avoid accepting duplicate awards.

Track application statuses. You'll be able to easily see the status of every grant application submitted.

Save time on grant writing and application submission. Create, modify, and store templates for grant applications to save time on writing future applications.

Get notified of important deadlines. Grant management software can send alerts about important upcoming deadlines, so your staff won't miss an important meeting or forget to submit an application by its due date.
What Does Your Organization Need?
As your organization grows, you'll want a grant management system that can scale well with your business. A grant management system can help increase the number of grants without adding too much more administrative work.
Smaller nonprofits, universities, and organizations should look into grant management systems that can easily integrate with existing software they may already be using like QuickBooks. Many grant management systems can work independently of any financial systems already in use. Smaller businesses can get by with basic add-ons that just provide the level of grant management they need at a lower cost than a fully integrated solution.

Medium and large nonprofit organizations need a solution that will store a larger volume of grant information and keep it well organized. Some ERP software and other nonprofit accounting software systems have grant management included as another core feature or a module that can be added on. If you're unsure whether your existing software solution has grant management capabilities, speaking with your existing software vendor would be the best first move before looking into replacing it with an alternate fully-integrated option.
What Should Your Organization Expect to Invest?
How much you should spend on grant management software depends on the size of your organization, as well as what you expect out of the system. If you need more complex systems in place, you will have to pay more. Costs of grant management software can range from below $3,000 to over $200,000.
NTEN's 2017 "Nonprofit Technology Staffing And Investments Report" details the average technology budgets their respondents had based on the size of their organization including hardware, software, hosting, networking, consulting, outsourced services, backups, and other technology.
Key findings:
Small organizations budgeted on average $5,106 for software and allocated 13.2% of their total operating budget toward technology.
Medium organizations budgeted on average $8,221 for software allocated 4.8% of their total operating budget toward technology.
Large organizations budgeted on average $50,225 for software and allocated 2.8% of their total operating budget toward technology.
Very large organizations budgeted on average $112,523 for software and allocated 1.5% of their total operating budget toward technology.
In the report, it was also noteworthy that medium to large organizations spent more on software than any other tech category, including hardware.
Popular Grant Management Solutions
Abila MIP Fund Accounting (in the video above) is a popular fund accounting system that handles grant management and administration. This solution keeps track of all important grant information and documentation, monitors the organization's budget position and forecasts expenditures, and creating reporting and budgeting performance data to measure program effectiveness.
Financial Edge NXT by Blackbaud (in the video above) is another popular nonprofit accounting software option. This solution features grant management tools to reduce the amount of administrative work for your organization. Some of the functionalities include storing and organizing important grant information, set and get notified about upcoming deadlines, reporting, and automating reimbursement billing.
Pain Points
Spending too much time applying for grants. The 2014 State of Grant Management Report, 19% of respondents cited grant writing as the most frustrating part of the grant process (only behind internal and external communication issues at 21%). One of the best ways to cut down on time-consuming grant writing is to look for grants with a high-probability of success by looking over the grantor's criteria.

Integration with Quickbooks or other software systems. Data integration can be easy or difficult depending on how your grant management system's connection is configured. A few grant management solutions will have the vendor set up integration for an additional charge.
Industry Trends
Cloud-based software is increasing in popularity. The report, "A Consumers Guide to Grants Management Systems" by Idealware, Grant Managers Network, and Technology Affinity Group, found that "cloud-based systems now greatly outnumber those which must be installed on a local server, and there's a strong trend toward a more widely accessible user interface." Many organizations are moving to cloud-based grant management systems in order to manage grants from anywhere through personal computers, laptops, and tablets. Cloud-based systems also make it easier for collaboration among teams and departments.

Transparency is becoming increasingly important. The Digital Accountability and Transparency (DATA) Act of 2014 was passed so Americans can have easy, transparent access to information about federal expenditures to see how tax dollars are being spent. This act also streamlines reporting requirements for organizations receiving federal grants.
Nonprofits, universities, and other institutions in need of accounting or donor management should check out these solutions: