What is Board Management Software?
Board management software provides a digital space for board members to communicate, strategize, and share information. Sometimes referred to as board portals, these solutions facilitate better paperless board management practices on a secured, shared platform.
It's important to note this type of board management software tends to be used by nonprofit organizations and other charitable entities in order to streamline operations at a low cost. However, these meeting tools can be used as a time-saving measure by for-profit corporate governance as well, though a project management software may be best suited for their needs.
Features of Board Management Software
Strategic planning: Determine out the best plan for your organization moving forward in order to maximize your impact
Schedule meetings: Use a shared calendar or automated notification system to keep the board of directors informed about upcoming meetings; Send digital RSVPs to invite participants to board-related events
Pre-meeting preparation: Allow the board of directors, team members, and guests the opportunity to fully prepare for meetings in advance
Meeting agendas: Develop a list of approved topics or speakers for each meeting to prevent distractions during the meeting itself
Document management: Save and store digital copies of documents created for and during board meetings for posterity and future reference
Collaboration tools: Share meeting documents, such as agendas and minutes, instantly before, during, and after meetings; make private or public annotations to discuss during the meeting
Vote management and recording: In the event a vote or poll is held during a meeting, record the results automatically, custom categorized as "for/against", "yea/nay", or "abstain" based on the needs of your board
e-Signature collection: If digital documents need signatures or approvals, members and attendees can virtually add their name with verified e-signatures
Phone and video meetings: Facilitate remote board meetings through teleconferencing; Record meeting audio and video for absent members and posterity
Performance management: Review past meeting details and organizational information to find opportunities for improvement
Best Board Management Software Benefits
There are many tasks your nonprofit organization can automate through board management software.
Schedule Board Meetings and Invite Participants
First, board management software provides the tools to streamline the meeting process. No more running around confirming who is or isn't attending, trying to rearrange schedules at the last minute. Instead, automate the scheduling process using board management software to guarantee everyone has synced calendars.
The ability to send virtual RSVPs also makes it easier to schedule meetings. Messaging notifications clearly indicate when there are new messages for board members to read, or new meetings added to their calendar. No more excuses for missed meetings or unread emails! Management tools keep everyone on the same page.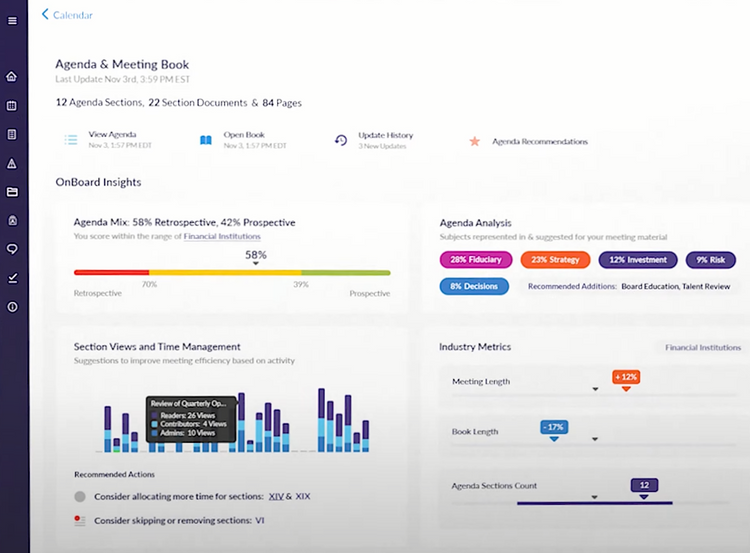 Streamline Meetings to Minimize Downtime
It's well known how much wasted time can cost companies money, even in the nonprofit arena. Being slow to organize the next fundraiser can lead to missed financing deadlines. Forgetting to contact volunteers far enough in advance can lead to shorthanded events. And legal consultants can charge by the hour, quickly adding up if invited to board meetings which do not get to the point.
Fortunately, board management solutions optimize meetings themselves. An automated agenda builder can reduce time-wasting opportunities by clearly allocating time only to approved speakers, guests, or board members. By keeping agendas tight, board members can minimize costly disruptions and stay focused on the mission at hand.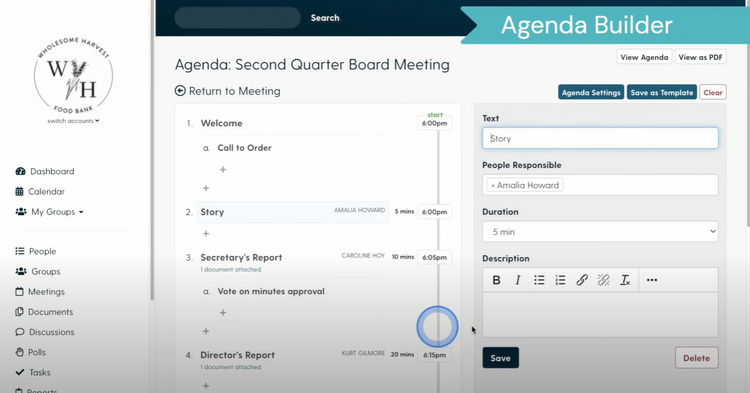 User-friendly templates make it possible to create new meeting agendas and then make real-time edits as items are discussed. Last minute speaker? Added. Want to remove a strawpoll? Done. Your board meetings can be as customized as you want by utilizing templates provided by board meeting management software.
Maintain Legal Compliance
There are a number of rules regarding how nonprofits are run. For example, the Internal Revenue Service (IRS) requires there to be three board members minimum in order to start a new NPO. The first members of the board must establish a budget and bylaws, file legal paperwork, and much more. Every state has different rules about who can or can't be on a nonprofit board of directors. This can further vary by country for international NPOs. Board management software can help manage these complicated board operations, ensuring compliance with local and federal requirements. Further, this allows interested donors and volunteers to know exactly who is in charge of the NPO.
In addition to general transparency, nonprofit board of directors must follow several legal requirements, notably the three fiduciary duties:
Duty of Care
Duty of Loyalty
Duty of Obedience
Each duty is intended to serve as a reminder of where board priorities need to be. Software makes it easier for the board of directors to optimize their workflow according to these duties.
Document storage and management further protects your organization by keeping all meeting materials available in the event of audits. Keep everything from meeting minutes to past agendas for the use of your board directors. and since board information is often sensitive if not confidential, storing documents within a secure board management platform reduces the risks of misplacement.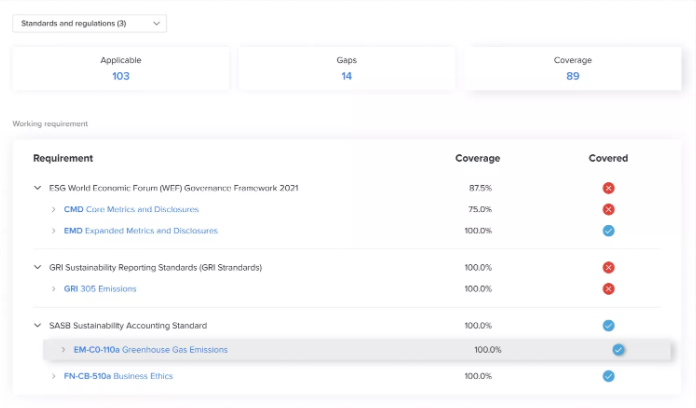 Is there a Difference between a Board Portal Software and a Board Management Software?
Board portals provide a secure way for directors and administrators to access online information necessary for meeting preparation. In some situations, a board portal may refer to how a board management platform is accessed. In others, the portal offers a stripped down version of board management software, offering the most basic functionality for an organization's board members. Similarly, sometimes "board meeting software" is used as the term instead of "management".
Cost of Board Management Software
Costs typically depend on the scope of your organization. The larger your nonprofit, the higher the SaaS price will be. Small grassroots campaigns can begin at $55 per month while full-fledged professional packages can reach $249 per month. There are many free board management software options available.
Other pricing factors include whether you want a cloud-based or on-premise solution. Most on-prem systems will have at least some hybrid capabilities to allow board members remote access to information. Some include mobile apps, compatible with iPad and Android devices for more mobile access options. Features like IT and customer support are often included in monthly subscriptions, but may not be covered by all plans.