Business continuity planning (BCP) helps companies avoid disruption from unforeseen circumstances, whether it's related to severe weather conditions, supply chain shortages, or global pandemics. Having a comprehensive disaster recovery plan in place can be the difference between a business surviving and shutting down for good.
What is Business Continuity Software?
Business continuity software creates disaster recovery plans for your company in order to minimize disruptions and increase productivity during difficult times. This software helps automate the process behind building a plan by accounting for various factors specific to your workplace or industry. Along with advance planning, BCP solutions help you determine the business impact analysis (BIA) of potential delays and recovery efforts.
Common situations which you can plan for include:
Natural disasters
Security threats
IT disruption
Cyberattack
Medical emergencies
Human error
Business continuity management has some similarities to risk management applications, though there are differences. However, BCP goes into handling absolute worst-case scenarios while risk management is more about taking preventative measures so incidents do not occur.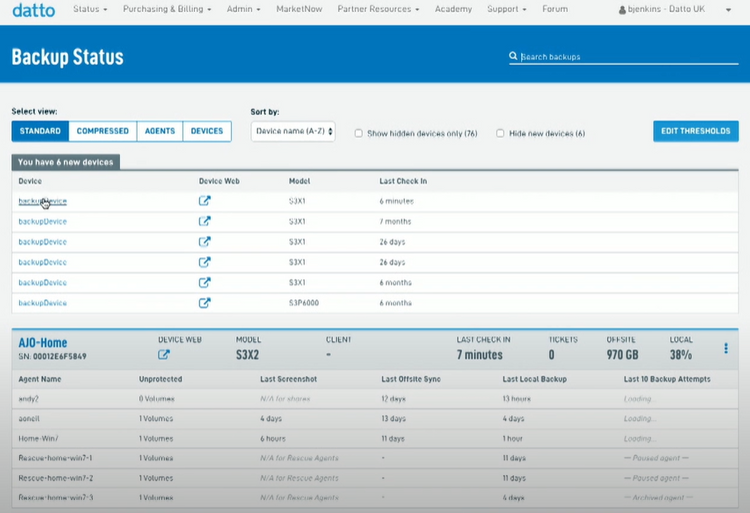 Features of Business Continuity Software
Business-impact analysis (BIA): Calculate the possible costs related to unexpected shutdowns and delays from natural disasters, threats, and accidents
Risk identification: Identify relevant risks to your business before they have a chance to occur
Recovery plans: In the event the worst does happen, use pre-existing plans to mitigate damages as much as possible
Crisis and incident management: Set plans for handling real-time incidents at your workplace
Continuous data backups and scheduling: Store duplicate data in a secure location for use in the event of network disruption; either upload new data continuously or schedule downtime for backups
Data compression and encryption: Improve cybersecurity by storing sensitive data more effectively in compressed files; encrypt the data to protect it from cyberattacks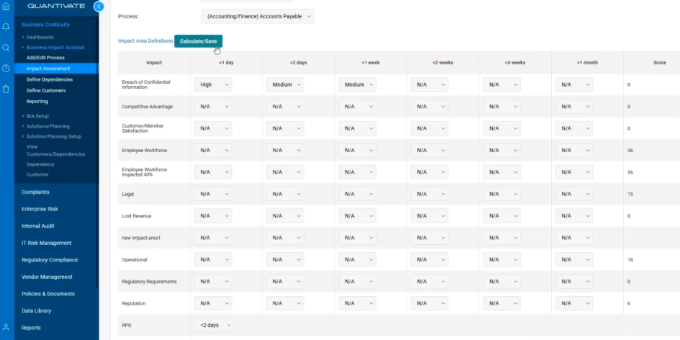 Business Continuity Software Benefits
Implementing a business continuity planning software at your company is an ideal way to protect yourself from risk. Just some of the benefits include:
Better Prepare for Planned Outages
Every business needs some downtime, either to perform preventative maintenance or to upgrade equipment. For large enterprises, even a short, planned interruption of services can result in thousands of lost dollars. In order to reduce this downtime as much as possible, a business continuity software can help you plan ahead and schedule for all interruptions.
Incremental backup systems can further reduce the duration of planned outages. Instead of having an extended period of downtime to backup the system, BCP software can continually make small changes in real-time. These limited interruptions save you from larger outages later.
Be Ready for Unplanned Disruptions
Of course, not every outage is planned. Anything from natural disaster to human error can cause your business operations to go down. Having a business continuity software lets you prepare for these situations in advance, avoiding potential downtime in the long term.
The more specific you can be with your recovery plans, the more likely your chances of overcoming hardship. Business continuity software helps you plan for every possibility, no matter how unlikely. Customize scenarios ranging from brute-force hacking to being short-staffed during the busy season.
BCM programs with crisis management applications and emergency notifications can help you coordinate your recovery efforts in real-time. Whether there's severe weather or an employee incident, you can keep your employees informed of changes to prevent the crisis growing. Send instant messages to keep employees home during dangerous scenarios or call in essential workers with the push of a button.
Safely Store Data
In addition to real-world events, online interactions can cause problems for your business. Cyberattacks from hackers and network disruptions can lead to the loss of valuable data. Fortunately, this data can be stored on local servers at your facility or through remote servers operated by a third-party by using a business continuity software.
BCM platforms provide protection against cyber attacks which can expose your valuable data. Regular updates can store your data in secondary servers while encryption applications can make the data unusable to anyone outside your organization.
Establish Manual Workarounds
Before a disaster causes a complete loss of electricity or network connection, use BCP software to identify all tasks which can be performed manually. These manual workarounds can be incredibly valuable by allowing some of your operations to continue as normal as possible.
Some departments may be more reliable during incidents than others. For example, imagine an ecommerce business experiences a sitewide power outage from a severe storm. Warehouse staff can easily adapt to manually fulfilling orders in order to prevent a backlog, as long as they have printed out order forms. HR representatives can still track attendance even if the electricity is out by using old-fashioned time sheets. And sales staff can still take orders over the phone as long as they have order forms. But these solutions only work if you have prepared for the possibility of electrical failure beforehand. Business continuity software can set reminders for printing out physical documents to have on-hand during disasters.
How is Business Continuity Different from Risk Management?
Business continuity software is sometimes considered a form of specialized risk management applications. However, there are several distinctions between the two. Generally, risk management software can contain BCP tools, though it's not always included.
Risk management is about preventing your company from getting into risky situations in the first place, whether it's from bad investments or real-world disasters. Business continuity is about handling the aftereffects of those risky scenarios which have come to pass. The idea is to utilize disaster recovery plans to save your business from failing after an unforeseen crisis or incident.
Overall, it is important to have both BCP and risk management solutions at your disposal to protect your business interests.