Enterprise resource planning (ERP) software creates a system of business applications designed to streamline and automate the back office functions of your organization–including accounting, forecasting, customer relationship management (CRM), and human resource (HR) operations. Some offer different functionality based on industry standards or company size.
A few examples of the most well-known ERP software include SAP, Oracle NetSuite, Epicor, Acumatica, and Microsoft Dynamics 365.
Featured Products
Discover what makes each of these systems an ERP:
What is ERP Software?
ERP stands for "Enterprise Resource Planning", the consolidated process of gathering and organizing business data through an integrated software suite. ERP software contains a suite of applications which automates business functions like production, sales quoting, accounting, and more.
An ERP creates a single source of information for all different aspects of your business, allowing you to focus on your specific needs from a single system. ERP implementation is designed to serve as many departments of a company as possible to facilitate better business processes.
Read More: What is ERP and How Do ERP Systems Work?
ERP Industry Example #1: Supply Chain Management
An ERP software can help a business integrate its supply chain processes, from procurement to delivery. As a result, the company can reduce inventory levels, decrease order-to-delivery time, and improve customer satisfaction.
ERP Industry Example #2: Online Retail
Businesses that sell products and services online can use an ERP system to improve its order-to-cash cycle. The ERP software will help automate its order processing, inventory management, and financial reporting. As a result, the company can improve order accuracy, reduce delivery times, and increase customer satisfaction.
ERP Industry Example #3: Retail
Brick and mortar retail stores can implement an ERP system to improve its inventory management and supply chain operations. The ERP software will optimize inventory levels, reduce stockouts, and improve product availability. As a result, the company can improve its supply chain efficiency and reduce costs.
ERP Industry Example #4: Manufacturing
Manufacturers can implement an ERP system to streamline its manufacturing processes. The ERP software will optimize its production planning, scheduling, and inventory management. As a result, companies will be able to reduce manufacturing lead times, improve product quality, and reduce costs.
ERP Benefit #1: Better Financial Planning
ERP solutions have modules for forecasting and reporting a wide variety of data. Analytical tools go through historical and real-time data to provide the best possible information for informed decision making.
Reporting in particular is one of the key features of ERP solutions. The applications are capable of sorting data by region, location, profit center, employee, and other customizable ways based on what your business needs most.
ERP Benefit #2: Improved Data Security and Accessibility
A common control system allows organizations the ability to ensure key company data can be shared without being compromised. With all departments using the same Cloud-based ERP system, everything can be stored in one shared database which can be accessed anywhere.
ERP Benefit #3: Improved Communication
An ERP helps manage different forms of communication so employees can stay in touch, whether it's with their own department, vendors, or customers.
Electronic data interchange (EDI) compatibility allows the exchange of digitized business documents in a standardized electronic format from one computer to another. This can be used for interdepartmental exchanges, or working with third-party contractors who have their own formatting.
Read More: ERP Benefits: Advantages and Disadvantages
ERP Modules: Financial Management and Accounting
A financial management module is primarily made up of accounting modules that track the overall profit and loss of your business as well as the overall cash flow. These financial transactions are tracked via a general ledger that shows transactional records and the account structure used to organize these entries.
ERP Modules: Procurement
The procurement module, or purchasing module, helps your business source items that are needed for your business operations. A procurement module will issue orders for services and products by tracking all key order info in real-time including the vendor, purchase quantities, item or service purchased, delivery timeframes, payment terms, and costs.
ERP Modules: Inventory Management
An inventory management module provides inventory control by tracking stock levels and prices of all products your company builds, buys, stores, and sells. The solution allows you to view what raw materials you have on hand and where to find them, as well as provide recommendations on when to reorder items.
ERP Modules: Supply Chain Management
The supply chain management modules manage the flow of goods and services between locations as efficiently and cost-effectively as possible. This means it provides assistance from the initial acquisition of raw materials through to the finished product being delivered to a customer.
ERP Modules: Customer Relationship Management (CRM)
The customer relationship management module stores information on all customers and prospects your organization is pursuing. This tracks the relationships and interactions primarily between your sales staff and customers. CRM data is intended to be used to improve business relationships and grow your business–ultimately improving profitability.
ERP Modules: Human Resources
A human resource management module manages employee information while automating tasks involving the people in your organization, such as employee scheduling, recruitment, and boosting employee productivity. This detailed module keeps records on all employees and stores documents on them like performance reviews, job descriptions, salary information, hours worked, and paid time off.
Read More: ERP Modules: Types, Benefits, and Functions
Popular ERP Software #1: SAP Business One
SAP Business One, available on-premise and via cloud, covers the core functionality a small to mid-size business expects from an ERP: modules for accounting, supply chain management, customer relationship management (CRM), and reporting.
Particularly popular amongst manufacturers due to Material Requirement Planning (MRP) features, SAP Business One's core functionality serves a wide range of industries. And the software is customizable to create a more personalized end-user experience.



Highly customizable
Improved decision-making capabilities via extensive BI
Multi-currency/multi-language support
Requires phone consult for pricing
Setup usually requires help from a Value Added Reseller (VAR)
No payroll module
Price Range: $$$$
Starting Price: $410/user/year
Client OS: Windows
Deployment: Cloud or On-Premises
Popular ERP Software #2: Oracle NetSuite
Oracle NetSuite is often described as the most deployed ERP in the world. The main modules support finance, sales, HR, and other business operations, including real-time data visibility for more informed decision-making.
While popular with small and mid-market businesses, the modules with supply chain and warehouse management functionality make NetSuite also popular amongst enterprise-level organizations.







Hundreds of third-party add-ons available
Feature sets for multiple industries
Highly customizable
Must schedule a consult for pricing details
Tedious setup
Difficult to build reports
Price Range: $$$$
Starting Price: $99/user/month
Client OS: Web
Deployment: Cloud Hosted
Popular ERP Software #3: Acumatica
Acumatica Cloud ERP, as the name suggests, is a primarily cloud-based ERP platform made with the SMB market in mind. Like other ERP solutions, Acumatica offers business management applications for financial, accounting, inventory management, and more.
There are industry-specific versions of Acumatica, including:
Construction Edition
Manufacturing Edition
Retail-Commerce Edition
Distribution Edition
Each edition has slightly different functionality to best suite each area, such as the Construction Edition including accounting modules for general contractors, home builders, and land developers. Flexible configuration options make even the base version of this software suitable for use by different industries.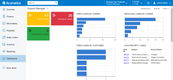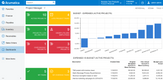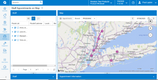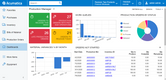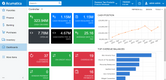 Open architecture for rapid integrations
Multi-entity support
Mobile accessibility
Must schedule a consult for pricing calls
High learning curve
Tedious setup
Price Range: $$$$
Starting Price: $1,800/month
Client OS: iOS, Android, Web
Deployment: Cloud or On-Premises
Popular ERP Software #4: Epicor Kinetic
Epicor Kinetic's integrated ERP has solutions for CRM, manufacturing, supply chain management (SCM), human capital management (HCM), and more. This platform offers scalability for long-term business growth. Epicor notably includes Governance, Risk, and Compliance (GRC) features for keeping organizations compliant with everything from international accounting standards (IAS) to generally accepted accounting principles (GAAP).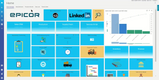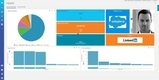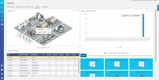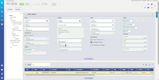 Built for manufacturers
Collects real-time shop floor data
Built-in artificial intelligence support
Not ideal for multinational organizations.
High learning curve.
Price Range: $$$$
Starting Price: $175/user/month
Client OS: Windows, macOS, iOS, Android, Web
Deployment: Cloud or On-Premises
Popular ERP Software #5: Microsoft Dynamics 365 Business Central
It's worth noting that, while Microsoft Excel is a valuable business tool, it is not an ERP. Instead, Microsoft has Microsoft Dynamics 365 Business Central. Like other ERPs, it has financial management, reporting features, and project management. Most notable of all is how Dynamics 365 can operate with other Microsoft software products.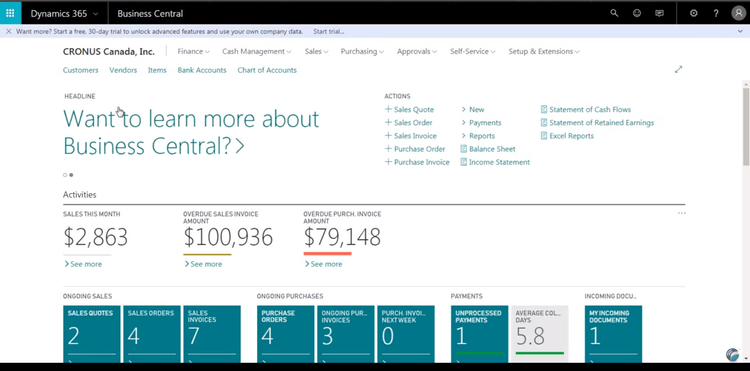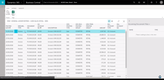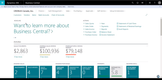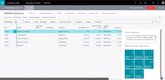 Combined ERP and CRM
Similar interface to MS Word and Outlook
Integrations with Microsoft applications
Not ideal for complex manufacturing needs
May require extensive training
No free version
Price Range: $$$
Starting Price: $70/user/month
Client OS: Web
Deployment: Cloud or On-Premises
Industry-Specific ERP Systems
While many of the above ERP examples are made for any type of business, there are many industry-specific options as well. Unlike the more general programs, specialized ERP software provides capabilities tailored to certain business processes. Further, the vendors can better understand support issues or requests for improvement.
One example of industry-specific ERP is within the world of manufacturing. A manufacturing ERP (MRP) software plans production on the shop floor by determining the need for materials and capacity in order to complete a manufacturing production order. A generic ERP software would likely require integration with a third-party software, or an expensive customization to be built by the software provider that could require extensive design and test time.
By following an industry's best practices, these solutions can reduce costs, speed up implementation, and better serve customer requirements to serve the industry's best practices.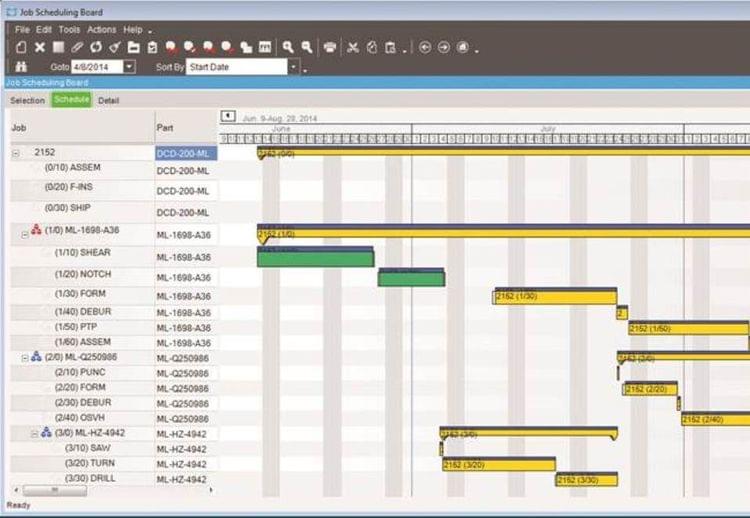 ERP Deployment Methods: On-Premise ERP
An ERP software an in-house software at a physical office on local hardware systems. Can also be managed from a dedicated data center. These systems can only be accessed on-site or in-office (literally on the premises).
Software licensing is typically billed upfront on top of implementation and training costs. The first year of support is usually included, though there may be ongoing costs for annual support and updates. This payment method is more frontloaded, with lower ongoing costs.
ERP Deployment Methods: Hosted Cloud ERP
Cloud software, or software as a service (SaaS) means a software vendor takes care of managing any associated servers, maintenance, and running costs at their own data center. Businesses have access to their data and ERP functionality via remote capabilities and/or a web-browser.
Usually billed as a subscription-based pricing model. Software costs are often paid monthly or yearly. There are upfront fees for setup and training. This payment method is spread out, with costs evenly distributed over the course of ownership.
Read More: On-Premise ERP Software vs. Cloud ERP Software
ERP Deployment Methods: Hybrid ERP
A combination of on-premises capabilities and cloud-based capabilities that work in unison. Commonly a multi-sourced modular application environment that provides the best of both through a two-tier architecture, meaning all core capabilities (such as manufacturing and financials) are maintained on-premises and other applications (such as CRM and sales) are maintained via the cloud. This combination will also provide a combination of both pricing models–allowing you to pay upfront for on-premise functionality and continue to pay on a subscription-basis for cloud functionality.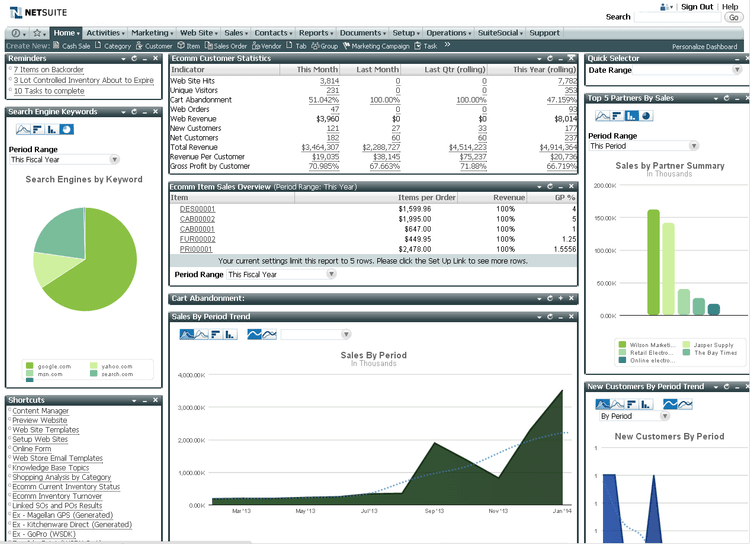 Q: Can ERP Software Be Customized to Meet Specific Business Needs?
A: Yes, ERP software can be customized to meet specific business needs. Companies can choose which modules they want to include and customize the software to fit their unique requirements.
Q: What Are Some Challenges of Implementing ERP Software?
A: Some challenges of implementing ERP software include the high cost of implementation, the need for employee training, and the potential for disruption to existing business processes.
Q: Is ERP Software Suitable for Small Businesses?
A: Yes, ERP software can be suitable for small businesses, depending on their needs and budget. There are ERP solutions available that are designed specifically for small businesses, with lower implementation costs and fewer features than enterprise-level ERP software.