What is Org Chart Software?
Organizational charts offer companies a way to visualize important structures within the business via diagrams. Org chart software creates customizable templates for these flowcharts, allowing for easy illustration of important company concepts in a short amount of time. Generally, these charts display details about human resources (HR), such as how many employees are in a department, who they report to, and so on to fully define the company's internal structure.
Types of charts you can create with Org Chart software include:
Hierarchical: Everyone at the company is a subordinate to someone with the exception of a CEO, president, etc.
Matrix: Some employees are subordinate to multiple supervisors or managers based on cross-functional duties
Horizontal or flat: Employees are not directly subordinate to supervisors or managers, only upper management or executives
Divisional: Instead of employees, these charts are structured around specific divisions, such as products or services, market (i.e. commercial or retail), or geographical regions
Other terms for org charts include organigram, organogram, and organizational breakdown structure (OBS). Whatever terminology you prefer, you can use org chart software to make it a reality. These solutions are frequently combined with workforce management software to optimize employee data and workflows of your organizational structure.
Org Chart Software Functionality
Chart templates: Use premade or completely custom templates to design consistent or personalized org charts; edit custom elements such as fonts and colors to personalize the appearance of the diagrams
Interactive drag and drop elements: Allow users creating org charts to manually relocate information into new areas by dragging and dropping prebuilt elements
Employee directory: Categorize different employee types, their relevant titles, benefits, and payscale along with personal contact information in one shareable HR directory
Data import and export: Automatically bring in data from spreadsheets, documents, or CSV files to populate employee directories to use in org charts; export charts into Excel or CSV files
Version control: Keep detailed records on when and how existing diagrams have been changed and who was responsible for those edits; allow or prevent select users from seeing past versions based on permissions
Publishing and sharing: Once an organizational chart is created, publish the latest version in a shared space online with approved users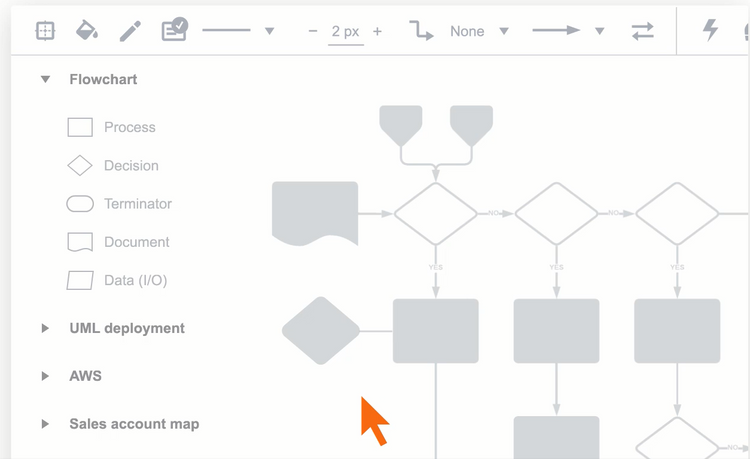 Best Org Chart Software Benefits
Org chart software provides many useful advantages to small businesses and global enterprises alike:
Organize Your Business
The main goal of any organizational chart is to clearly illustrate exactly how each element of your company is connected. Who is in charge of who, which departments are connected, and so on. With a diagram, even the latest new hires can get an overview of the company structure.
Org charts can showcase various details about your company's operations based on:
Hierarchy
Relationships
Departments
Functions
Benefits
Pay-scales
Further, charts can be customized to include additional information relevant to each diagram. Want to include employee start dates to determine seniority? You can do that. Want to color-code each department? Easy. Software gives you the flexibility to draw the exact chart you want to visualize your company structure.
Prebuilt templates are available with various formats to allow you to fully customize your charts. Starting from a template makes it easier to customize the finished product by automatically filling in all the basics from spreadsheets or CSV files. For example, you can use a reporting structure template to inform new hires of who they should report to within every department. The chart can then be customized with a diagramming tool to show specific team members their own placement in the company.
Build Cohesive Diagrams
There are no official standards when it comes to making org charts. Everything from colors to scale can be decided by whoever makes it. Yet within a professional organization, it is useful to keep all your diagrams consistent to avoid unnecessary confusion. Org chart software offers consistent stencils and templates so everyone at your organization can build cohesive diagrams.
Org chart software offers another advantage over traditional diagrams, which is the ability to auto-format lines and boxes. The drag-and-drop interface allows for the individual boxes to be moved around and placed anywhere in the chart. And if you want to create a new chart from scratch, there are still stencils to streamline the drawing process.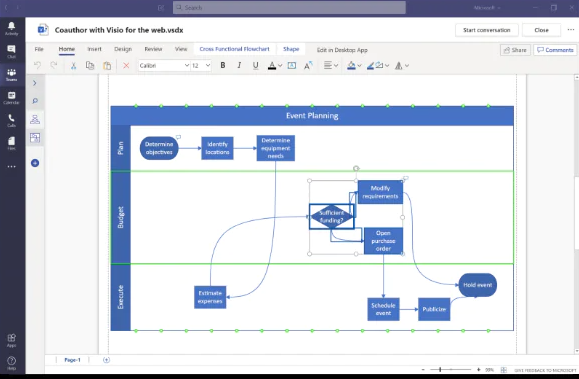 Stay Up-to-Date
As described above, traditional org charts were drawn onto paper and ran the risk of becoming outdated incredibly fast. Virtual organization structures can be updated in near real-time, ensuring anyone who looks at the chart online sees the most accurate information.
During the onboarding process, new team members can receive digital files with the org chart information instead of printed copies. Even in the midst of promotions, hiring events, and retirements, your structural data can remain up-to-date with org chart software.
Depending on the formatting, the data from the diagrams you create can be exported for use in Excel spreadsheets or Powerpoint presentations.
Org Chart Drawbacks
Some companies forgo the use of org charts due to certain shortcomings, most notably the inability to illustrate informal relationships. For instance, imagine a company with multiple departments. Each department has two supervisors and one manager. In the event of a disagreement between two workers in different departments, there can be an issue as to which supervisors have the authority to resolve the issue if an org chart shows them on an equal level of the company hierarchy.
Fortunately, org chart software is starting to address this by allowing more customization. These informal or horizontal relationships can be further detailed to indicate who has seniority in any given situation. Artificial intelligence (AI) has added to the usefulness of org charts in regards to project management by using the supplied data to determine who is best suited for specific tasks and available.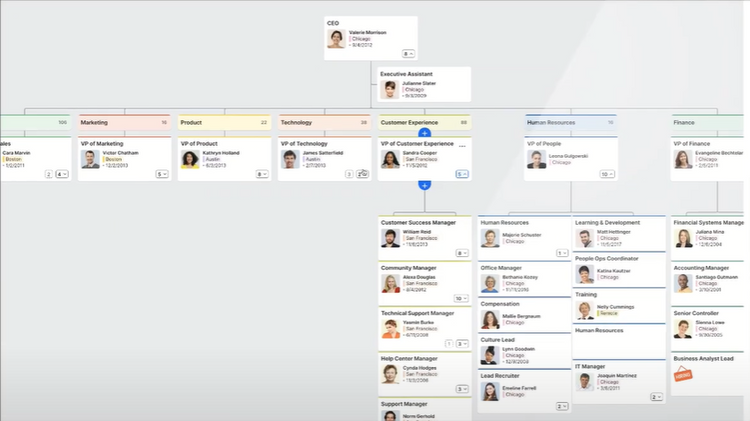 Org Chart Software Pricing
Since organizational diagrams can literally be designed with pen and paper, it's no surprise many companies want free org chart software. While there are free options out there, there are also many low cost options which offer far more functionality than their free counterparts. Prices range from $5 to $16 per user per month, though how much is charged can change based on the size of your organization. For instance, an enterprise level company may pay less per individual user as long as they have so many seats per month.
Additionally, there are BI tools and HR software which include org chart templates, making them a useful alternative for companies which do not want a standalone solution and need other business functionality to automate various processes.