A changeover in management can cause the entire company to dramatically transform. It doesn't matter if a CEO is stepping down or a long-lasting manager is leaving. Having the right successors in place can assuage fears of unnecessary changes to the corporate structure.
A succession plan is made before an employee announces their plans to retire, resign, or otherwise leave your company. You'll want a contingency plan in place well before any unexpected resignations or terminations.
What is Succession Planning Software?
Succession planning software identifies and develops new and potential leaders that are fit for leadership roles once the roles become vacant. This is a part of the greater process and strategy for employee and personnel replacement planning or for promotions into positions best suited for them. By creating employee profiles and tracking employee skillsets, aspirations, and experiences, managers can use visual dashboards and personalized development plans to better aid in filling vacant roles.
Succession planning is a part of the overall talent management process–one that helps hiring managers by determining who should be promoted based on competency and how to develop long-term succession plans. This functionality may also be included in larger human resource software packages.
The best succession planning software will craft and execute strategic and long-term succession plans to help employees take the next step in their career based on competencies and skills. The solution will track and analyze employees to discover high-performing individuals who can succeed as company leaders, while keeping track of employee talents and skills and ensure training and development can be encouraged for replacements.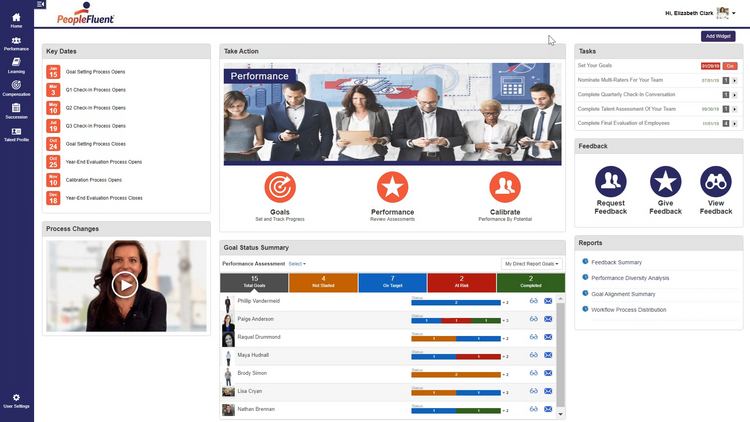 What Are The Features of Succession Planning Software?
Succession Plan Creation: Establish skills, experience, qualifications, personality, and more that is desired out of a potential successor to a newly opened position.
Dashboards: Make strategic workforce planning decisions with robust business intelligence and reporting. Analyze gaps and view nuanced data to reveal future leaders.
Talent Profile Grid Templates: Cross reference leadership potential with employee performance to determine high/medium/low growth potential against performance that is unacceptable, suitable, or exceeds expectations.
Identification of Leadership Talent: Identify high potential managers through talent development input, committees, survey tools, assessed managerial bench strength, diversity requirements, and more.
Employee Comparisons: Find, track, and compare employees that may represent a potential successor for a newly opened role.
Employee Scores: Assign scores to employees based on their skillset to identify high performers and high-risk employees.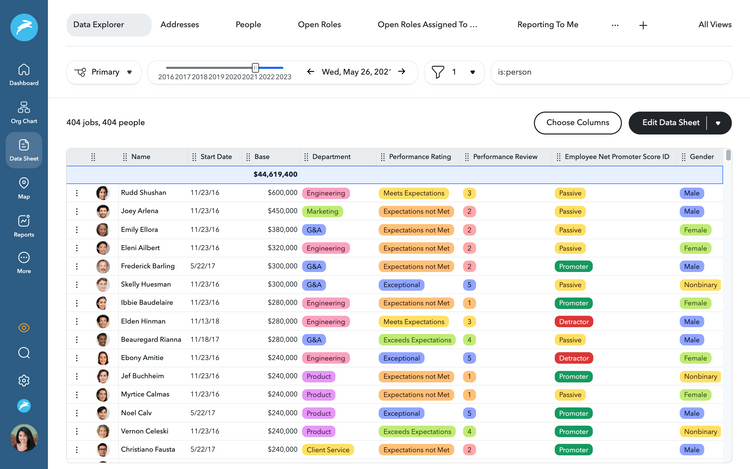 What Are The Benefits of Succession Planning Software?
Succession planning software helps organizations prepare for turnover by identifying and developing employees to fill key roles. Without this tool, your business may be unprepared for future vacancies and turnover–leaving you in a peculiar situation when looking for the right replacement.
Increase Employee Engagement and Reduce Employee Turnover
An organization's investment in human capital management can help improve employee morale and overall engagement with the company. This is accomplished by helping employees meet their own personal growth goals and achievements that they've set for themselves.
A business should not expect to retain employees if they never never have a need for a role an employee is interested in. The most common outcome in that scenario is that the employee will leave to find that role elsewhere. By staying in-tune with your staff's wants and needs, you can act more as a strategic advisor and provide personal guidance on what skills may be needed out of them for them to take that next step.
Succession planning software can offer educational courses and certifications that your employees can take. These are great ways to both develop employee skills and experience while keeping invested in their futures. Once you've identified competency gaps, you can begin grooming employees for their eventual succession. This can be handled in the form of coaching, mentoring, job shadowing, or an increase in responsibilities–all while being completely tracked within your succession planning software.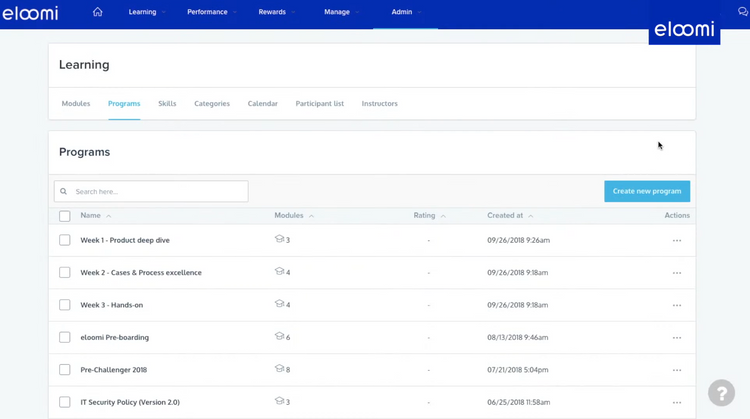 Increase The Pool Of Capable Individuals For Management Positions
Corporate succession planning helps create the leaders your business needs, and ultimately increases the availability of individuals who are capable and prepared to assume these newly opened roles in your company. If a senior executive retires or someone in a more senior management position resigns, your business needs to find the best candidate as quickly as possible without an interruption to your operations.
While talent management software can help find a replacement based on who may be the most qualified, a succession planning process created via a succession planning software handles more thought-out processes of building qualified candidates.
Ongoing employee performance reviews can be stored within their file with performance scores that assign them a numerical rating.
If an employee completes an online training sessions or receives a new qualification from an outside source, their talent matrix profile can be updated to reflect that.
Employees can be assigned flight risk scores that can help inform future decisions regarding their future in the company and if they should be prioritized for new roles in the company.

Visually Compare Employee Work Performance and Potential
Succession planning can have you choosing employees for a position as much as choosing a position for an employee. Doing both allows you to keep your talent in your own pipeline, vs. these skilled employees leaving for greener pastures due to being passed over for increased responsibility.
Talent may reside in an employee who has a vast set of skills (and therefore, qualified for a number of positions). Other times, certain positions can prove to be stepping stones for employees who are looking for or seem fit for more experienced future roles. Any in case, these employees need to be identified as ones comfortable with change, interested in learning new skills, and able to adapt for different environments and leaders.
While succession planning priority will differ from organization to organization, many may consider an order similar to this:
Positions central to strategic goals that have a direct effect on the company's bottom line
Positions that are unique to your company or highly specialized
Positions of influence (decision-makers)
Positions with ongoing training (specialists)
Positions where main experience is gained in the field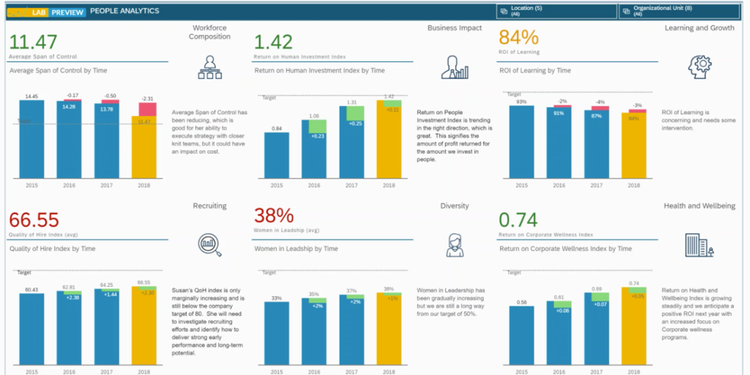 The 9-Box Grid
In the world of human resources, the 9-box grid can help visually display and compare employee work performance and potential. This view acts as a performance map, that lets HR managers identify leaders quickly and effectively.
The X-Axis usually compares performance, determined through performance reviews
The Y-Axis usually compares potential, determined through a set of pre-established criteria
By plotting employees onto the grid, you can group candidates into predefined talent grids. These boxes can range from "Underperformer" to "Future Leader". While simple in practice, HR leaders can use this simple method to pinpoint internal leaders, reevaluate talent placement,ignite dialogue and identify performance issues and talent gaps.
The Five-Step Process of Succession Planning
Succession planning software will identify, develop, and help retain capable and skilled employees in line with current and future business objectives. Software will provide the necessary tools to complete the processes, but management will still be expected to move through each step of the way when it comes to the succession planning process.
Identify Key Areas and Positions: Identify positions that, if left vacant, would be detrimental to current and future business goals.
Identify Capabilities Required: Decide what criteria (skills, abilities, and competencies) is important for the new position and lay forth development efforts employees can participate with in order to acquire the necessary skillset. Succession planning systems can help create job role profiles and help match appropriate candidates, or help communicate ways employees can attain the necessary skills.
Determine Candidates of Interest: Compare career plans with employees and identify strengths and weaknesses for those deemed ready to advance and/or those who may be able to have skills developed within a reasonable timeframe.
Create Succession Plan and Training Schedules: Create clear defined strategies for improving employees via training and development. Define what experiences re needed for leadership positions, and link employee's educational plans to their existing knowledge, skills, and abilities. Provide coaching for employees on how they can hit various criteria to become better suited for a management position.
Evaluate Succession Plan Effectiveness: Ensure that you have plans in place for all key positions and monitor how well new employees may be performing and if certain groups are being represented fairly.