What is Furniture Manufacturing Software?
Furniture manufacturing software helps businesses improve lead times, meet customer demand, and control costs through efficient inventory control, supply chain management, production planning, and quality control. This industry-specific type of manufacturing software was built for the unique offerings and production quirks furniture producers deal with.
Furniture manufacturers have thousands of product variations to manage. The system will track your finished inventory as well as raw materials like wood, metals, and fabrics on-hand. This allows you to see the furniture pieces you have available in addition to product variations that can be made with on-hand materials. Many furniture manufacturing systems also include a product configurator that allows you to set a particular size, pattern, color, or material to create a custom piece.
When supplies run low, purchase orders can be automatically sent to your vendors for re-orders to prevent production from slowing down. Prices of wood, metals, and other raw materials fluctuate frequently–furniture manufacturing software will track these costs in real-time, so you can adjust prices accordingly.
End-product furniture manufacturers use software to manage the entire manufacturing process from obtaining raw materials to assembling the final product. Made to order furniture manufacturers will also need to track sales orders, plan production schedules, and create accurate estimates for custom products. Furniture manufacturing software also helps ensure the right parts kits, instructions, and sub-assemblies are included in one package for furniture that requires assembly by the end-consumer.
Many solutions on the market that are tailored to the furniture manufacturing industry are full enterprise resource planning (ERP) systems. These solutions manage the manufacturing process as well as other business processes like human resources, payroll, and customer relationship management.
Features of Furniture Manufacturing Software
Core Manufacturing Features
| Feature | Description |
| --- | --- |
| Manufacturing Inventory Management | Track quantities of raw materials, assembly parts, and finished products currently on hand. Automate purchase order processing when supplies run low. |
| Bill of Material (BOM) | Create instructions for furniture assembly and lists of materials, equipment, and hardware needed. |
| Quality Control | Track defects in the materials and finished products and manage corrective actions to ensure furniture pieces meet your quality standards. |
| Supply Chain Management | Track the flow of goods from acquiring the raw materials to delivering the final product. |
| Sales Order Management | Create invoices and convert sales orders to job orders to begin fulfillment. |
| Production Planning | Determine and schedule the materials and labor needed for each manufacturing job. |
Furniture Manufacturing ERP Features
| Feature | Description |
| --- | --- |
| Accounting | Track revenue from sales orders and open invoices, as well as business expenses and payments to vendors. |
| MRP | Streamlines manufacturing with shop floor control, purchase planning, demand forecasting, and equipment maintenance scheduling. |
| Customer Relationship Management (CRM) | Store customer contact information and order histories. Automate order entry, shipping notifications, and order status updates, as well as marketing emails based on purchase history. |
| Human Resources | Manage the hiring and onboarding process, employee recruitment, track time and attendance, and benefits administration. |
| Budgeting and Forecasting | Create estimates of the business's future revenue and expenses based on historical trends and future market condition predictions. |
Inventory Management in Furniture Manufacturing Software
Inventory management helps furniture manufacturing businesses track quantities and prices of on-hand raw materials, hardware, and finished products. Raw materials and hardware can include various types of wood and metals, screws, brackets, and nails used to manufacture the furniture. Purchase orders can be automatically sent to your vendors before the materials or hardware runs out to reduce downtime.
Finished furniture is also tracked within the inventory management system. The system includes descriptions of each product, real-time inventory counts, material makeup, and available product variants. Products can also be grouped together to form furniture sets. For example, a matching sofa, loveseat, and ottoman can have similar SKUs to find similar products quickly.
Furniture manufacturing software often includes barcode tagging. The barcode labels can be placed on raw materials, hardware pieces, and finished products. This allows you to retrieve real-time information about the materials and products including quantities, descriptions, and location. Furniture that requires assembly needs to have the right materials and hardware included for the end-consumer. Barcodes can be scanned to ensure every sub-assembly and hardware kit necessary during packaging.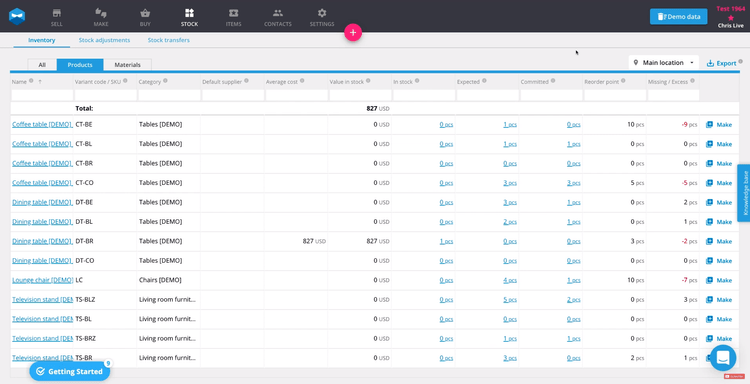 Production Planning with Furniture Manufacturing Software
Production planning helps furniture manufacturers determine the materials, equipment, and labor requirements for each job order. The system creates a schedule that allocates the resources needed for each piece of furniture. If materials are low or out of stock, the system will warn you, so you can reorder as needed before beginning production.
The production schedule helps businesses track each piece of furniture throughout the manufacturing process. For example, you can see when the product is scheduled for the initial assembly and when the piece should move on to the painting or finishing stage. This allows you to ensure products are being finished on schedule. If any part of the process is falling behind, corrective action can be made to prevent late delivery.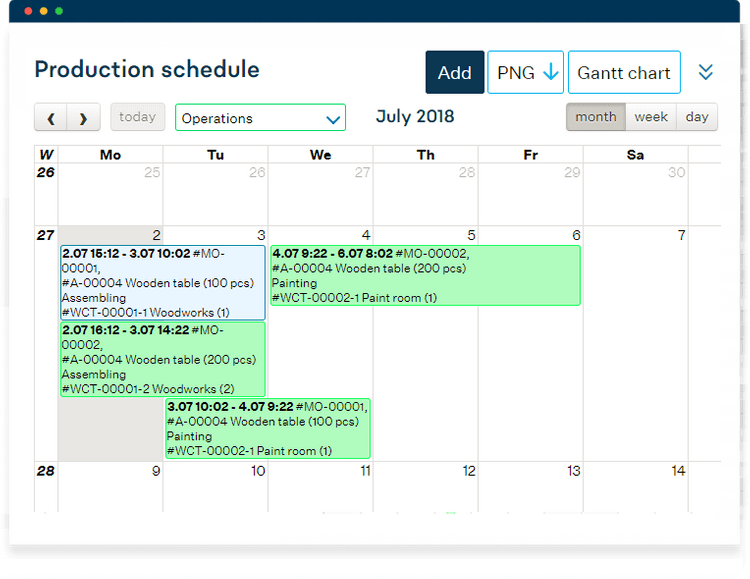 Product Configurator for Custom and Made-to-Order Furniture
Product configurators are commonly used for made-to-order and custom furniture sales. The configurator allows customers to see what a completely customized piece of furniture will look like. Specific parameters can be set up including patterns, material type, and dimension limits within the configurator to control what the customer can customize.
The product configurator will also provide real-time price quotes. When the customer is done selecting their desired customizations, the estimated cost will be calculated and presented automatically. The configurator will also show suggested add-ons and options to upsell products.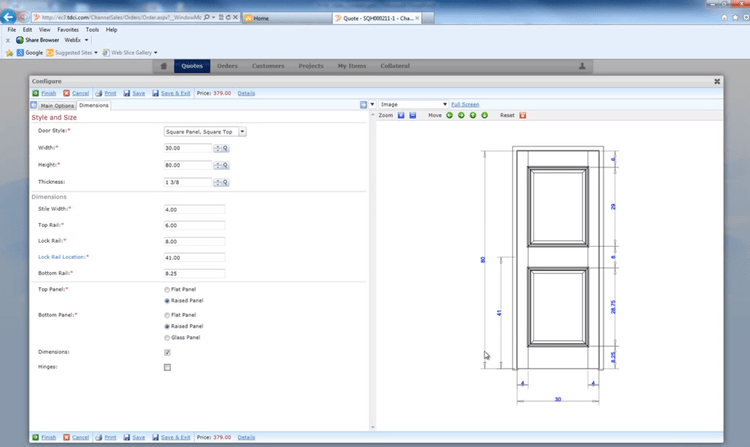 ERP Software for Furniture Manufacturing
ERP solutions assist with managing furniture manufacturing operations, as well as day-to-day business processes. ERP systems assist with the manufacturing side of businesses with material requirements planning, sales order management, quality management, and more. These solutions also typically include features like human resources, accounting, and CRM to help businesses manage backend processes.
Furniture manufacturers that offer direct-to-consumer sales can use ERP software to streamline the sales process. Some solutions offer e-commerce functionality that allows your business to sell to consumers online. The system makes it easy to update pricing, add product variants, upload product images, and automatically update inventory quantities.
Many ERP systems have the ability to integrate with other solutions to cater to your unique business needs. Most commonly, users that want to keep QuickBooks as their accounting software can often find an ERP solution that integrates.
Advanced ERP software sometimes includes business intelligence (BI) tools. BI tools help furniture manufacturers make better business decisions based on both financial and non-financial data. The reports will provide you with detailed information on performance indicators like manufacturing times, materials used for each piece of furniture, how much material is used or wasted during manufacturing, employee productivity, and more. This information can help you find where improvements can be made to improve delivery times, increase ROI, and improve customer satisfaction.