There are many alternatives to Microsoft Dynamics 365 Business Central. Although it's a very popular ERP software, it's not for everyone. Despite the user-friendly interface and robust modules, it can be costly for smaller organizations and has a potentially steep learning curve for new users. If you need an alternative for Dynamics 365, here are the top options:
Short Summary
Top Dynamics 365 alternatives include SAP Business One, Acumatica, Oracle NetSuite, and Odoo.
Consider your industry requirements, budget constraints, and additional features when selecting an alternative.
Some businesses are better served by standalone accounting, customer relationship management (CRM), or human resource (HR) software.
Top 7 Alternatives for Dynamics 365
-SAP Business One -QuickBooks Enterprise -Acumatica -Salesforce -Zoho Corporation -Oracle NetSuite -Odoo
Some of these options are ERPs while others are standalone CRM platforms. Let's explore each option to find the right solution for your needs:
1

SAP Business One: Best for ERP

SAP Business One ERP software provides integrated departmental support for finance, sales, supply chain management, production, project management, and production processes. The ERP for small and medium sized companies offers comprehensive business management capabilities.

The CRM module provides comprehensive, integrated sales features over customer acquisition and retention rates. The starting price of software with this module is $410 per user per year, making it a slightly more affordable option than Dynamics 365.



What We Like
Highly customizable
Improved decision-making capabilities via extensive BI
Multi-currency/multi-language support
What We Don't Like
Requires phone consult for pricing
Setup usually requires help from a Value Added Reseller (VAR)
No payroll module
Overview
Price Range: $$$$
Starting Price: $410/user/year
Client OS: Windows
Deployment: Cloud or On-Premises
2

QuickBooks Enterprise: Best for Accounting

If looking for more accounting functionality, QuickBooks Enterprise is a good alternative to Dynamics 365. This software used advanced technologies and a powerful, industry-standard SQL database to go beyond traditional financial management services. And 13 predefined user roles allow for greater flexibility when setting access to different financial tools.

Since QuickBooks Enterprise is technically an accounting software, businesses may need to integrate with a third-party ERP for additional functionality. This can increase the overall business costs, negating any potential savings from switching from Dynamics 365.







What We Like
More advanced inventory features than other QuickBooks versions
Functions as an affordable, light ERP ssytem
Higher record capacity than other QuickBooks versions
What We Don't Like
Most expensive version of QuickBooks
Requires annual contracts
Windows only
Overview
Price Range: $$$
Starting Price: $199/month
Client OS: Windows
Deployment: Cloud or On-Premises
3

Acumatica: Best Cloud-Hosted ERP

Acumatica operates on a modular basis, which can increase the total cost of ownership with the addition of each subsequent module. However, this also makes the software highly scalable for growing mid to large businesses. This makes Acumatica a good alternative to Dynamics 365, which primarily focuses on expanding small to medium companies.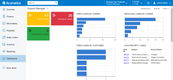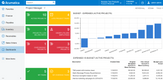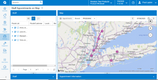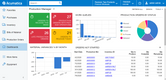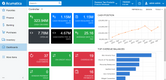 What We Like
Open architecture for rapid integrations
Multi-entity support
Mobile accessibility
What We Don't Like
Must schedule a consult for pricing calls
High learning curve
Tedious setup
Overview
Price Range: $$$$
Starting Price: $1,800/month
Client OS: iOS, Android, Web
Deployment: Cloud or On-Premises
4

Salesforce: Best Online CRM

Sales Cloud from Salesforce is an entirely cloud-based CRM platform. Users can respond to leads, log calls, and check dashboards from mobile devices to get real-time updates on-the-go, anywhere. Salesforce also collects insights from social media sites like:
Facebook
Twitter
LinkedIn
And more
Pricing starts at $25 per user per month. Additional plans range from $80-$330 per user per month and offer extra features like pipeline management and generative AI.




Starting Price
$25/user/month
Client OS
iOS, Android, Web
5

Zoho CRM: Best Low-Cost CRM

Zoho CRM is a low-cost alternative to Dynamics 365. Pricing starts at $14 per user per month and a free version is available. A standalone CRM, Zoho is focused entirely on managing the sales funnel from first contact with new leads to monitoring long-term business trends.

While accounting features are available, a third-party integration may be necessary. Fortunately, Zoho CRM has 40+ native apps and 500+ third-party extensions.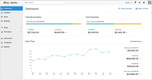 What We Like
Free plan available
Near-total customizability
Flexible AI layer at higher price tiers
What We Don't Like
Most advanced features only accessible at the higher-priced tiers
Long customer service wait times
Limited custom fields
Overview
Price Range: $$
Starting Price: $14/user/month
Client OS: iOS, Android, Web
Deployment: Cloud Hosted
6

Odoo: Best for Free

Odoo is an open-source ERP software that integrates CRM, manufacturing, eCommerce, and more business apps. It is IFRS-compliant and offers both multi-currency and multi-company systems. Odoo's many interconnected modules include accounts payables and receivables, bank synchronization, and reporting. Taxes and related reports are pre-configured based on your fiscal localization package.

The free version of Odoo includes Odoo Online and allows unlimited users. Paid versions are available at relatively low cost, ranging from $32-$59 per user per month. It's also a bit easier to learn than Dynamics 365.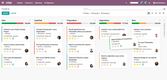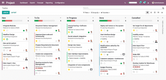 What We Like
Community version is free
Heavy customization options
Double entry inventory system
What We Don't Like
May have to build specific modules yourself
No centralized support
Upgrades not free
Overview
Price Range: $$$
Starting Price: $25/user/month
Client OS: Web
Deployment: Cloud or On-Premises
7

Oracle NetSuite: Best for Medium Businesses

Finally, Oracle NetSuite is a cloud-based, developer-hosted ERP software supporting finance, operations, sales, service, and HR needs. A variety of built-in modules, such as inventory control, eCommerce, HR, and project management, and accounting, provide a wide range of functionality. The tax engine accommodates multiple schedules for local taxes across subsidiaries.

This ERP is ideal for midsize businesses in the areas of distribution, IT, or professional services.







What We Like
Hundreds of third-party add-ons available
Feature sets for multiple industries
Highly customizable
What We Don't Like
Must schedule a consult for pricing details
Tedious setup
Difficult to build reports
Overview
Price Range: $$$$
Starting Price: $99/user/month
Client OS: Web
Deployment: Cloud Hosted
Dynamics 365 Limitations
Microsoft Dynamics 365 Business Center is popular for a reason: it combines powerful functionality with a user-friendly interface. Not only that, it easily integrates with other Microsoft products, such as OneNote and OneDrive. Yet it's not for everyone for a few reasons:
-High cost: Dynamics 365 has two monthly pricing plans. The more affordable option is $70 per user. There is a free trial, but no free version. -Learning curve: SOme users have reported difficulty adapting to all Dynamics 365 has to offer. Training is recommended as part of the implementation process. -Limited manufacturing capabilities: Companies which are solely in manufacturing might find the manufacturing modules offered by Dynamics 365 to be inadequate for their needs.
Factors to Consider When Choosing an Alternative
Which alternative you pick will largely depend on why Dynamics 365 isn't working for you.
Functionality: To start, Dynamics 365 has many ERP and CRM modules. Yet it lacks some more specific features which may be included in an alternative product.
Scalability: Dynamics 365 is best suited for small to mid-level businesses, so any company looking to grow may want a different solution.
Costs: Budget concerns may be one reason for finding new software.
Compliance: Some industries must meet certain safety standards to operate. If Dynamics 365 doesn't meet these requirements, an alternative will be necessary.
ERP Software Alternatives
In some cases, the issue might not be with Dynamics 365 but ERP software in general. A full suite of business applications might simply be too much. In those cases, standalone software from there popular categories offer good alternatives:
Is Dynamics 365 an ERP or CRM?
Microsoft officially labels Dynamics 365 as both an ERP and a CRM. While it can function equally as both, it does have more to offer as an ERP than a standalone CRM.
What is the downside to Dynamics 365?
One major downside of Dynamics 365 is the cost, which can be intimidating for small startups. It also doesn't have many industry-specific features, so any company which needs to adhere to industry-standards may want to look elsewhere.
Still not sure which alternative option is best? Get recommendations from our team today!