Onboarding is an important part of the hiring process. It provides the first impression of your company to potential new hires. Expanding companies need to have comprehensive onboarding procedures in order to ensure all new employees have the same knowledge and experience.
What is Onboarding Software?
Onboarding software streamlines the new employee recruiting and hiring process. Traditional orientation and training methods can take days, weeks, or months, depending on how specialized the position is. By using software, human resource (HR) departments can cut down onboarding to a few hours or minutes.
Utilizing software helps HR managers and employees alike. Onboarding solutions digitize the hiring process, making it easier to track applications, share training modules, and put new employees through orientation. HR can gain a better overview of new hires while incoming employees can have more confidence in their new job.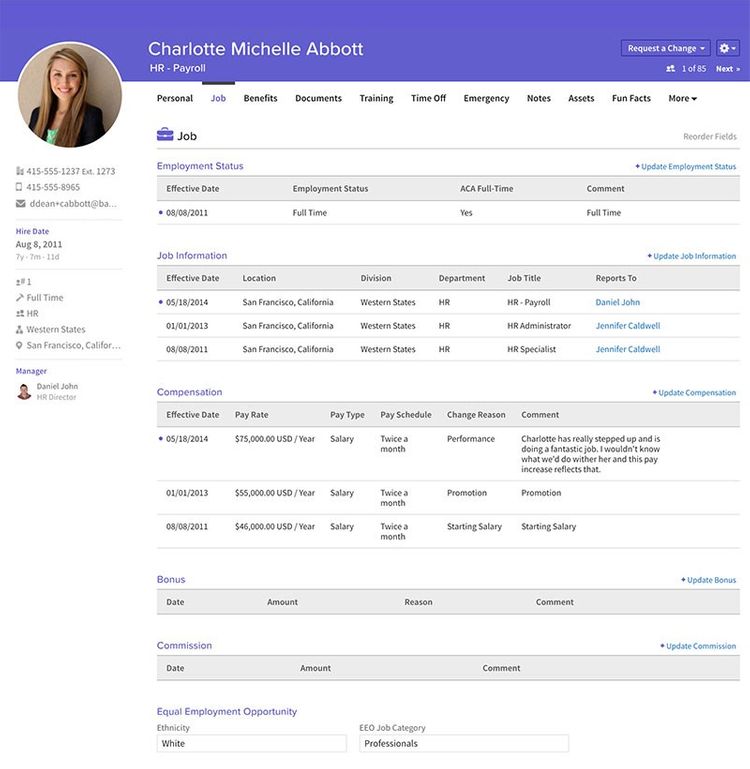 Onboarding Software Features
Talent Acquisition: Post job listings online, recruit talent, and manage potential employee applications and resume attachments
Candidate Tracking: Follow-up with job applicants from their initial inquiry to any formal offers of employment
Onboarding Checklist: Create a pre-boarding and onboarding checklist template of all necessary tasks required of your new hires
Electronic Forms and Document Management: Use E-Verify and I-9 forms with electronic signatures to digitized documents
Employee Handbook: Write every job description into an employee handbook for future reference; keep records of all workplace regulations and rules
Orientation Workflow Management: Set and schedule orientation for new employees, singularly or in groups depending on what's most convenient for your company
Training Management: Build specific training plans for every position at your company
Employee Self Service Portals: Let employees access e-learning training materials and orientation modules online
Best Onboarding Software Benefits
An onboarding software can provide many benefits to companies, beyond easing the new hire process:
Expedite the Hiring Process and Reduce Paperwork
The onboarding process can determine how quickly a new employee can become an asset for your company. The longer your orientation and training takes, the longer you have to wait for results. Traditional onboarding can take anywhere from one month to 90 days. In some industries, the full process may last for an entire year. Fortunately, onboarding software completely streamlines the process by getting new hires started faster. Automate everything on your new hire checklist to reduce the workload on HR managers and trainers.
Electronic forms reduce the amount of paperwork your HR department has to deal with during the onboarding process. Forget about manually filling out countless forms in triplicate - just submit paperless forms online where they can be easily accessed again at any time. Automate the entire process to ensure no important paperwork, from W-4s to I-9s, gets missed.
Additionally, you can expedite employee training by using software to upload specific lessons new hires can access during the orientation period. In this way, onboarding software may overlap with learning management systems (LMS), as both provide e-learning training modules for employees. These custom classes are available online, so new hires can begin their pre-boarding training without coming into the office. Or they can choose to undergo additional training at their own pace.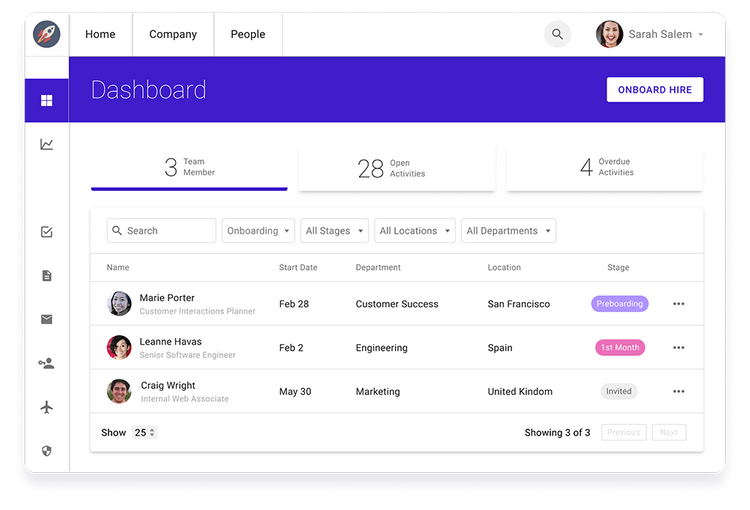 Build Better Bonds
Poor onboarding processes can cause employees to doubt their new company. In fact, a negative onboarding experience can directly lead to new hires seeking employment elsewhere. And high turnover can create a negative feedback loop as current employees assess their job prospects as well. A streamlined process can increase retention and overall satisfaction.
Many companies, especially those which hire multiple employees at once, use a single orientation session to train new hires simultaneously. However, this can backfire, as employees may be from different departments and have different needs they want addressed during the meeting. Team learning applications from onboarding software can train multiple employees at once and establish team dynamics. Good collaboration between new and current employees can lead to better job performance from all team members.
Finally, employee onboarding software lets HR members and managers coordinate upcoming training sessions on an easy-to-use platform. No more trying to track down different departments to set a first day schedule - just create one shared calendar everyone can access.
Clarify Day-to-Day and Long-Term Goals
One major problem new hires face is learning about corporate values. By using an onboarding software to write out an employee or company handbook, you can clearly define your company's long-term goals to all your new employees. Your team can turn to this resource whenever there are questions about how their daily job performance directly contributes to the corporate mission.
Easy-to-use onboarding solutions also let HR managers keep tabs on employee performance without having to personally oversee workers throughout the day. And thanks to self-service portals, employees can check their own performance metrics and find ways to improve.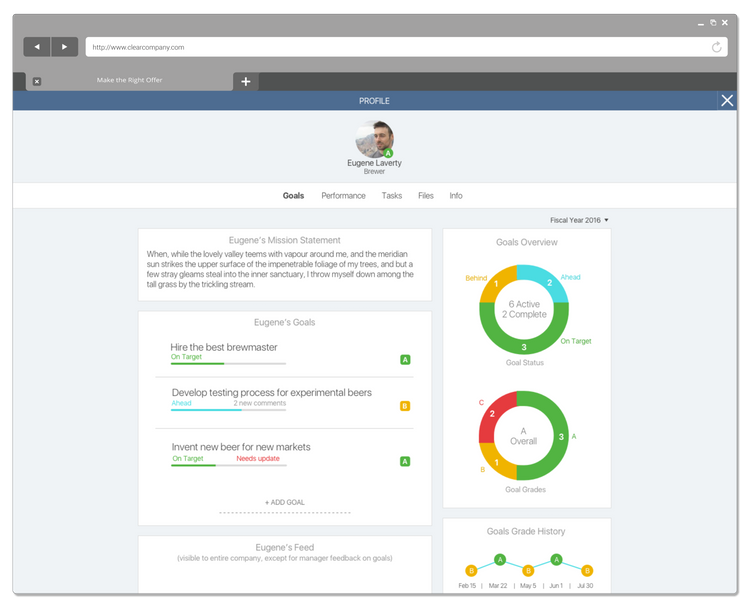 Handle Offboarding Duties
Many onboarding solutions include applications for offboarding as well. Easily access employee paperwork when it's time to perform exit interviews or send out a final paycheck. Then review offboarding materials to see if there are any areas of improvement for your onboarding process to increase new hire retention rates.
Onboarding Software vs Human Resources (HR) Solutions
Onboarding tools are often included in human resource (HR) and human capital management (HCM) software. However, both of these solutions focus more on the overall HR experience than just bringing in and setting up new hires. They may even have payroll applications and time tracking tools.
Since onboarding solutions are more limited in scope, they are particularly useful for large, growing companies with a constant demand for new employees. In contrast, HR and HCM software is useful for smaller companies which want one solution to cover all their HR processes.