It's not exactly spilling a secret to say that accounting has a reputation for being slow and boring. And, let's be honest, get 5 or 10 checks into posting a batch of receivables checks, and you'll probably second that reputation yourself–even if the word "accounting" appears prominently on your own college diploma.
But there's another side to the coin. As any accountant, financial executive, or business can attest, look past the repetitive tasks to where real financial management decisions are made, and you'll find a dynamic information landscape where change is the constant. This tendency toward evolution can be seen in the continuing progress of standards, tax law, software tools, educational resources, financial management theory, and even networking and professional opportunities.
The bottom line is this: As the entire field of accounting advances, professionals must stay current with the changes in order to keep up.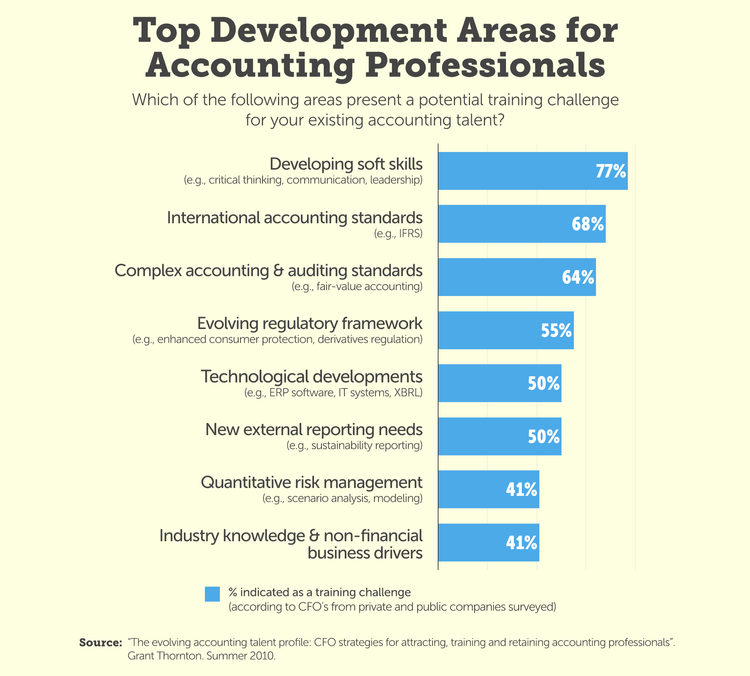 Given the refinement of rules, technologies, and best practices, what accounting professionals really could use is a reliable gateway to source credible, up-to-date answers to critical accounting questions. It turns out such a thing already exists. It just happens to be hiding in a place you might not have the thought of: online library subject guides.
Online library guides are a resource which I personally use extensively for professional writing in the field. Why? Simply put, they help me find better accounting information, faster. There's no reason to horde the resource, though. Online library subject guides are easy to find (if you know where to look) and readily available to use–even to non-students.
In order to put together the ultimate practical summary on accounting library guides, I spoke with many, many librarians from higher education institutions and dug deep.
What Is a Library Guide?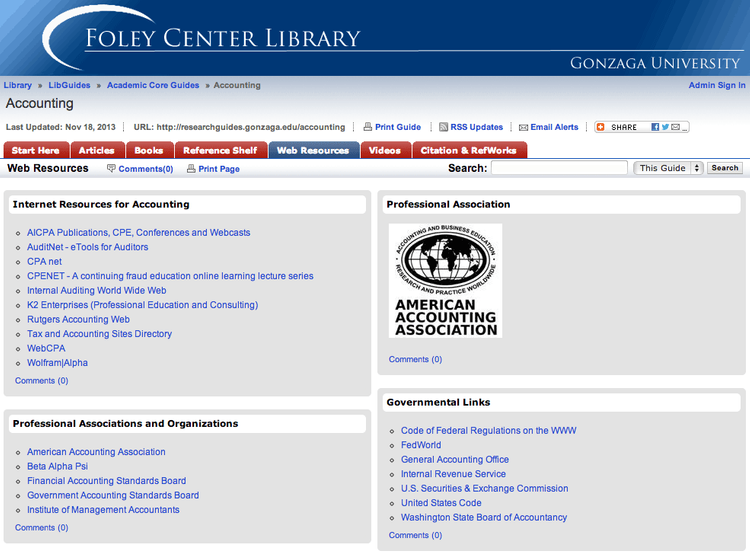 Library guides are online collections of links to resources, organized by particular subjects, and hosted by the library departments of educational organizations. While they are designed for student research, I've found through personal experience they can be just as valuable for professionals seeking practical business information.
Arlyne Jackson from Boston University summarized that the purpose of her accounting subject guide is to specifically, "help researchers find the basic code, law, and regulations of accounting." Kirstin Thomas from Rio Salado College described the value of her accounting guide similarly: "The guide is really designed to be a 'one-stop shop' for accounting research."
What Resources Will You Find on a Library Guide?
The average accounting subject guide typically links to many of the following useful web resources:
Accounting standards organizations
Professional associations and groups
Professional directories
Governmental resources for tax updates
Regulatory compliance publications
Scholarly journals
Popular trade journals
Software directories
Influential blogs
Career pages
e-Books
Videos
Topical news and media sites
Dictionaries of accounting terms
CPA exam preparatory materials
Educational information and tutorials
Corporate tax databases
Statistical databases
While different guides tend to link to many of the same national organizations and publications, each guide has its own distinct flavor and value. Karen MacDonald of Kent State University, explained:
If a school is known for accounting and finance research, the library will probably have a wide variety of resources on those topics, with a lot of specialized research guides like forensic accounting and pension fund management.
Resources can also vary as a product of geography, with links reflecting local interest. Manuel Sanudo maintains the Queens College accounting library guide. His page includes links to the New York State Department of Taxation and Finance and the New York public library. Across the country, Susanne Caro's guide page for the University of Montana helps researchers connect with in-state professionals by linking to the Montana Society of Certified Public Accountants.
What Won't You Find on Library Guides?
In many ways, what makes library subject guides particularly useful is what's not listed. Lily Morgan from Independence Community College explained to me, "Any sites that appear to be selling something or are biased don't make the cut."
Christian Poehlmann noticed a trend towards focusing on web resources instead of print ones. He indicated that he has chosen to focus his guide for the University of Albany more primarily on web resources and online databases as, "Historically, students are less likely to use print resources."
Also, it's important to note that not all access to library guides is completely unfettered. In addition to the freely accessible web resources, most library guides also will feature subscription-only links to full-text archives of journals and databases. As Jonathan Bloy from Edgewood College noted, "Professionals may not be able to access [subscriptions links] unless they are current students, faculty, or staff at the institution."
Resources Vetted Carefully for Quality
The most common attributes mentioned by the librarians when I asked about what they looked for in resources included: relevance, currency, authority, lack of bias, trustworthiness, accuracy, and scope. Curt Friehs of SUNY College at Old Westbury described the role of librarian curators pithily when he said, "A librarian has a master's degree in library and information science. That's a fancy way of saying 'Master's in Finding Information.'"
It became apparent from speaking with the librarians while doing my own research that each one of these trained research professionals have their own approach and unique tactics for sourcing high quality information. Their methods offer food for thought in terms of what fundamentally makes for a good source:
If the information is not updated regularly, I don't consider it a well-run site. I also rule out any sites that have an obvious slant. I want to provide students with unbiased information. Ann Agee, San Jose State University
In general, I do a fair amount of reading for background, to determine the history of the organization, and what is the extent of their involvement in the process. Valerie Beech, Marquette University
I don't include unknown web sites that often. If I do, I examine content and authors. Breezy Silver, Michigan State University
I don't want to include sources that may not exist when I return to update the guide. Christine Adams, Youngstown State University
Does the website have a professional appearance or is it covered in advertisements? Susanne Caro, University of Montana
I've selected the resources on depth and breadth or useful information, quality/accuracy of the information, longevity/reliability of the site and finally ease of navigation. Rhonda McGinnis, Wayne State University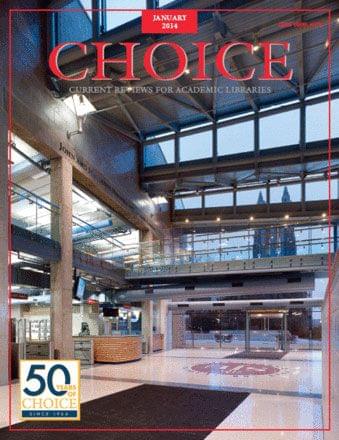 Of course, librarians–just like professionals in any industry–also look to their colleagues when vetting sources. Michael Toy at Salt Lake Community College told me that one factor he considers when adding resources is the the number of times he sees it listed on other library guides. Cynthia Slater of Saint Joseph's University indicated she considers recommendations from peers in BRASS, which is a professional association of business librarians sponsored by the American Library Association (ALA). Jessica Moore at University of Northwestern-St. Paul looks favorably upon resources that have been positively reviewed by Choice, which is a publication sponsored by the ALA.
Library Guides Versus Google
While discussing the larger topic of internet research, though, it almost seems remiss to not mention the 800lb gorilla, Google. Let's be clear on this: Library guides aren't going to replace Google in terms of your professional research. But they can augment it. And, for certain types of research tasks, library guides can prove to be a more effective tool, because they are so carefully curated.
Alyssa Darden from Franklin University commented on how library guides stack up against Google:
A Google search can yield great results interspersed with some questionable ones. The library guides cut out that time spent figuring out which resources are reliable ones.
Robert Sage from California State University, Fullerton agreed, noting the extra layer of qualification that library guides offer as a result of the fact that experts have actively evaluated the resource.
Kathleen Kempa from Southeastern University suggested that part of what defines a high quality subject guide and represents a potential advantage over Google is concision. Kathleen said: "I think lots of extraneous links and long lists of resources just provide too much distraction."
Karen Niemla of the University of Louisiana-Monroe mentioned that guides written by human librarians are 100% spam free, which of course is something that Google can't promise.
From my own practical research experience, I would describe the difference between Google and the guides this way: Google is terrific for searches where you want to locate lots of options and explore. Library guides are useful when you need to focus on retrieving definitive information filtered through the most credible sources, with credibility largely pre-qualified on your behalf.
Do They Really Have Data for the Professional?
Many of the librarians I spoke with were very perceptive about the ways the resources could be used by professionals.
Breezy Silver speculated that her guide would probably be of particular interest to, "newer professionals, those venturing into unknown areas, or anyone wanting to do a career change."
Curt Friehs pointed out the networking opportunities: "Even the best literature in the field is no substitute for making connections with other accounting professionals."
Interestingly, some librarians cited instances of professionals already using the resources.
Emily Doyle of the University of South Carolina told me:
I think there are external users of some of our guides, specifically our Bloomberg guide. It has more hits than makes sense for our students.
Alyssa Darden reported that she had recently created a guide particularly geared towards both student and non-student entrepreneurs.
Rhonda McGinnis mentioned that she's already seeing the impact of a similar resource in action:
I often work with fledgling entrepreneurs in the Detroit metropolitan area and it really helped to create a Library Guide of freely available and statewide funded research tools that they could use to conduct their own Market Research.
Tom Ottaviano from Cornell University observed that the biggest issue facing professional usage of guides was simply related to awareness:
They're underutilized, but I suspect that's because most professionals know the one or two most frequently used, go-to resources extremely well. It's when a professional has to venture a bit outside of their comfort zone that the guides become particularly valuable.
Ultimately, even though research guides are clearly designed with the student researcher in mind, there is a sort of serendipity at work in terms of their possibilities for professionals. Karen Niemla offered an insightful read on the intersecting value of guides for both students and professionals:
Student/academic research is the same thing as "professional" research, in a way. MBA programs and other degree programs aim to prepare students to live and work in the "real world." Academics and research and professional work are not mutually exclusive.
Finding Research Guides
Many useful library guides have been linked to directly in this article. They're among the best that I've found and worth checking out.
But independently finding library guides–perhaps to more specifically target a local focus or a specialized interest–is not hard. "Accounting library guide" is a solid basic term with which to start your web search. The expert Google manuever, though, is to use the following keyword: "accounting library guide site:.edu." Adding the advanced search operator "site:.edu" to the query restricts the results to only educational sites, which will effectively limit the results down to top quality higher education results.
Incorporating Guides Into the Day-to-Day
Clearly, there is a practical benefit to adding library guides into your toolkit for keeping up with changing standards, technologies, ideas, best practices in the accounting field. But I can't help think that value of library guides also suggests something important about the role of curation when it comes to navigating the information overload that is something all of us are facing. It's worth considering.
There is a constant struggle with the amount of information being produced right now and how to sift through it to find what is truly valuable. We all have developed ways to filter out noise and attempt to get to the necessary information. At times this works well, but at other times, we either filter out too much or get lost in web. I can see where having a reliable source, like a library guide, would be a great resource in providing the type of filter needed. It would be great to read your morning news and then click on your professional libguide for some relevant news and have links to the professional resources you may need over the course of the day. Tom Orrange, Medaille College