What Is Online Accounting Software?
Online accounting software creates invoices and tracks expenses for your business completely online, and does not require you to install anything to your computer. The goal of online accounting software is to give businesses increased control of their financials.
With a "log in from anywhere" approach, the increased accessibility can increase the frequency of use, which can make businesses more understanding of their income and expenses.
Entrepreneurs, freelancers, and small businesses are the primary users of online accounting software. Not only can it be used without any hardware investment, but there are little to no start-up costs. This makes the ongoing monthly costs easy, convenient, and affordable.
Features of Online Accounting Software
| Feature | Description |
| --- | --- |
| Online Invoicing | Create, send, and track invoices you've sent out to customers via an accounts receivable application. Collect payments via check or credit cards. Monitor when payments are overdue and send payment reminders. Store contact information on customers. |
| Expense Tracking | Track expenses your business incurs in order to run the business via an accounts payable application. Create vendor files to track details about suppliers and when you've made payments to them. |
| Reporting | General ledgers (GL) create reports such as profit and loss statements and balance sheets. |
| Payroll | Track wages being paid to employees. Input hours worked and calculate paychecks based on their pay rate. Print payroll checks or pay employees via direct deposit |
| Inventory Management | Inventory is recorded as current assets on your balance sheet. The cost of goods sold is also tracked on the income statement. |
| Fixed Asset Management | Automates the calculation of depreciating asset value with standard or custom decay models. |
Cost of Online Accounting Software
Online accounting software can cost as low as $9/month for invoicing-only options, and as high as $60/month for a more complete system. Like most accounting software, the cost will vary primarily based on the number of users and the applications desired. Discounts can usually be found for companies looking to pay on an annual basis rather than on a monthly basis.
The benefit of a subscription-pricing model for cloud accounting software is the lack of commitment. Many online software options provide a free trial and a "pay as you go" approach, which gives a small business comfort knowing they can opt-out at any time.
Free Online Accounting Software
Some of the most popular free online accounting software options available include:
Wave is a free financial software that provides income and expense tracking, invoicing, and receipt management. Additional features such as payment processing via credit cards and payroll are available for an added cost (2.9% fee on all credit card payments, and a base fee of $20/month for payroll).
ZipBooks markets itself as a simple solution providing unlimited invoicing, unlimited vendor and customer database, and unlimited bookkeeping. Additional features such as recurring billing, inventory, and time tracking can be had for $15/month.
---
Free online accounting software can come in a few forms:
A trial of a paid option (limited time use, full functionality)
A reduced version of a paid option (unlimited use, limited functionality)
A complete option (unlimited use, full functionality)
Many paid software options offer free trials to get new users in the door. These trials let small businesses explore the features of a full-priced option without committing to the cost. There are also free versions of software that provide a stripped-down basic version of the paid option.
Some options may be partially free but charge for credit card processing within your invoicing. These types of costs need to be accounted for when searching for a free solution. Sometimes going with a paid option can be the most cost-effective route when you take into account the hidden fees of "free" options.
Best Online Accounting Software
Xero is an online accounting software built exclusively for small businesses. The software lets you log in from a mac, PC, or mobile device to monitor your business cash flow. The most basic version starts at $9/month.
Features include quote to invoice generation, bank reconciliation, expense tracking, and inventory management.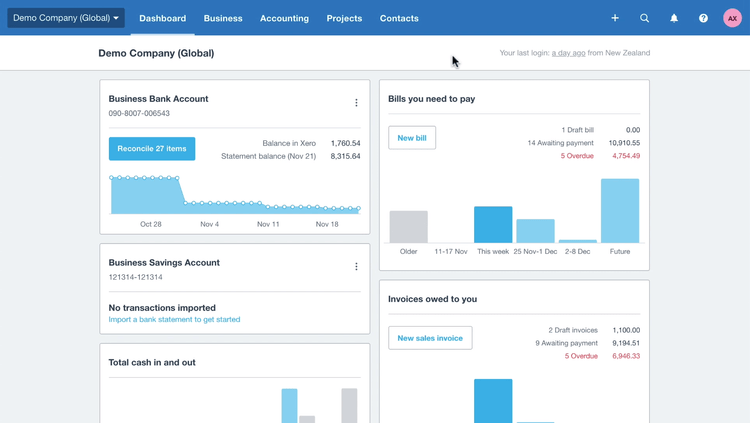 QuickBooks Online by Intuit is one of the most popular and recognized online accounting software among small businesses and startups. Their affordable starting price of $20/month and ease-of-use makes them a great first-choice for many companies. Unlike their locally installed version QuickBooks Pro or QuickBooks Premier, the online version lets you access your data from anywhere you have an internet connection.
Features include income and expense tracking, receipt management, tax deduction recommendations, and basic reporting. Payroll is an easy add-on, starting at $18/month plus $4/employee/month.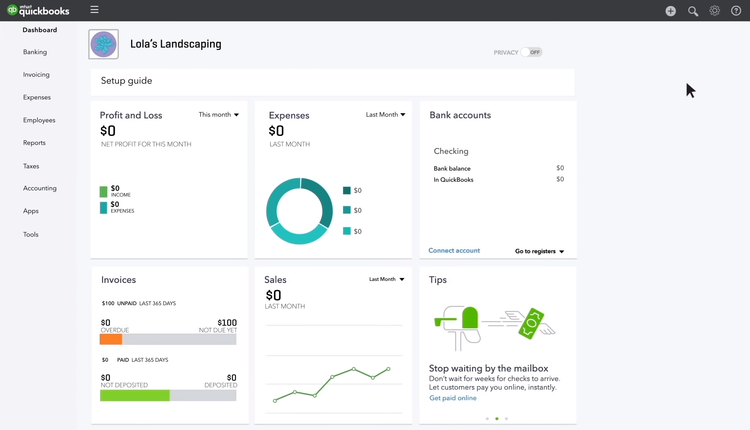 Zoho Books is an online accounting software meant to handle your financials with end-to-end accounting, as well as automated workflows. Zoho Books starts at $9/month and includes a 14-day free trial.
Zoho can be utilized as a suite of applications, so a company can easily add on additional functionality if needed, such as CRM, HR management, and more.
Primary features of Zoho Books include receivables, payables, inventory, banking, time tracking, contacts, reports, and more.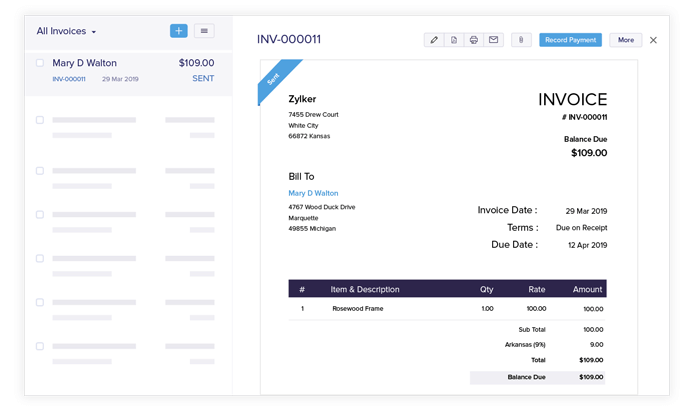 Online Accounting Software for Small Businesses
To determine if online software is best for your small business accounting needs, you'll need to ask yourself the following questions:
Do you prefer having your financials secure on one computer or the freedom to access your data from multiple devices?
Do you have an accounting or bookkeeping background?
What is your monthly budget for software?
For start-ups and entrepreneurs in the early phases of operations, security, ease-of-use, and pricing will be the biggest deciding factors in choosing small business accounting software.
Security: Online accounting software stores your data in the cloud, so you'll need to be comfortable having your data stored online rather than on your hard-drive.
Ease-of-use: Most online accounting software is geared for use by small businesses and doesn't require an extensive background in accounting.
Pricing: Online accounting software is billed on a subscription-based pricing model, meaning you'll pay on either a monthly or annual basis to have access.
To determine the level of security, the ease-of-use needed, and the price ranges you should look into, you'll want to ask the following questions:
How many clients and/or customers do you plan to have?
Do you need to track time for billing purposes?
How frequently will you be sending invoices?
How many users/employees will be accessing the software?
Do you plan on accepting payments via cash, checks, credit cards, ACH, PayPal, or some other method?
Will you be using a cash or accrual method for accounting?
Who is handling your payroll?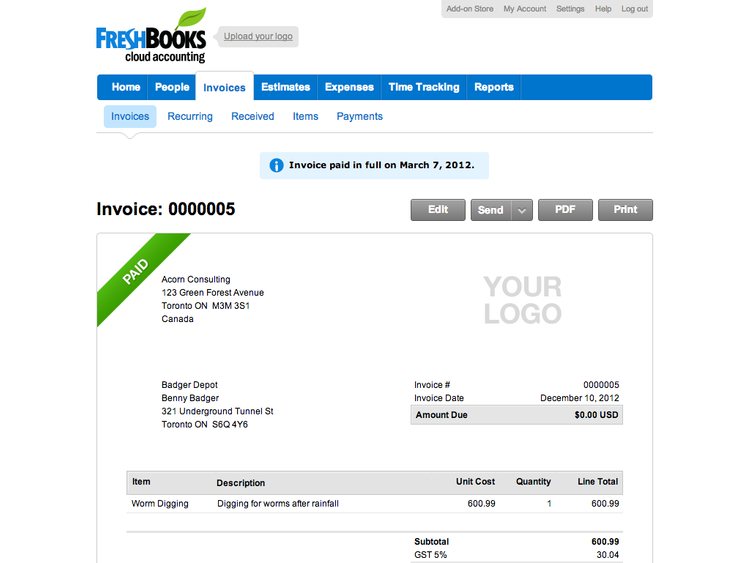 Online Accounting Software for Large Businesses
Large businesses looking for online accounting software will care less about the previously mentioned deciding factors (security, ease-of-use, cost) and care more about customizations and integrated modules.
Customizations will let you create functionality that is unique to your business. This can prevent you from having to purchase an outside solution to handle one specific task, and also avoid double-entry in both systems.
Integrated modules provide an "all in one" feel to your software. Changes made in one application will ripple through the other applications to ensure your books stay where they need to be. Different departments can easily collaborate and have a seamless workflow.
The size of your company tends to have a direct correlation on how robust your accounting system needs to be; the larger the business, the larger the software that is needed. As you grow, so will the number of invoices you send out, the number of vendors you deal with, and the number of employees you need to process payroll for.
Enterprise accounting software will offer features you'll need transitioning from a small to a large business, such as budgeting and forecasting, fixed asset management, and improved inventory control.
Top Products
Sage Intacct: Sage Intacct is a cloud accounting software that describes itself as being "built for finance". The software has strong financial reporting and is a widely chosen option for growing (mid-sized) companies. Sage Intacct starts at $400/user/month.
Dynamics 365 Business Central: Microsoft's flagship accounting and ERP software is available as both an on-premise option or in the cloud with a subscription cost. Dynamics 365 Business Central has an "Essentials" version that includes its core Financial Management tool, which provides a general ledger, AP, AR, budgets, fixed assets, and more. Dynamics 365 Business Central - Essentials starts at $70/user/month.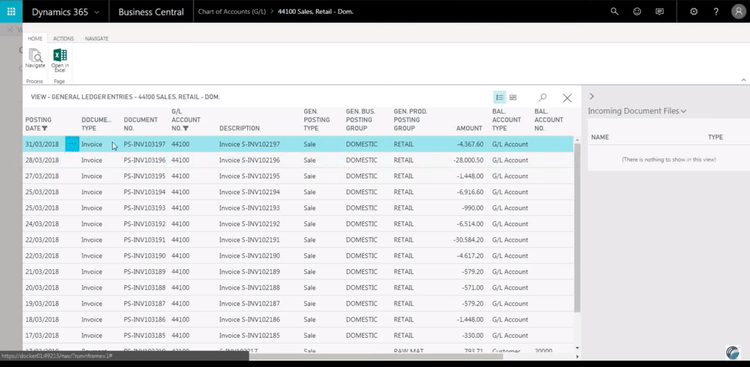 Online Accounting Software for Nonprofits
Nonprofits will desire the same benefits that regular business gets out of online accounting software. However, nonprofits need to consider that their accounting needs differ drastically than that of a small business. Nonprofits typically need to worry about proper fund accounting and tracking their donations accurately, which can be difficult if the software isn't developed with nonprofits in mind. Nonprofits will also care strongly about cost, as they operate on razor-thin margins.
Some of the best nonprofit accounting software available is hosted in the cloud, meaning they may have a web-based (online) portal that you can access the software through. One example is Aplos, which provides fund accounting along with accounts payable, budgeting, and bank reconciliation. Their starter package begins at $49/month for 2 users.