The universe of ERP software is vast. And it keeps getting bigger.
That's great for businesses who want to have choices, but a challenge for decision makers who need to actually understand those choices.
The reality is, the ongoing expansion of the ERP market makes it difficult for business leaders to answer some basic questions:
How likely are you to find the features you need in mainstream ERP products?
How does the feature breadth of your current ERP software stack up?
Which features may require a 3rd party add-on module?
Will you require an industry-specific ERP solution?
Important questions, no?
We thought so. In order to answer these questions, we studied a representative sample of mainstream ERP packages oriented for the SMB market. As a result, we were able to assign percentages to the likelihood of ERP products to provide 50 different ERP features your company may require.
To make the data more digestible, we grouped features into 5 basic categories: accounting, operations, sales, human resources, and non-departmental.
Here's what we found: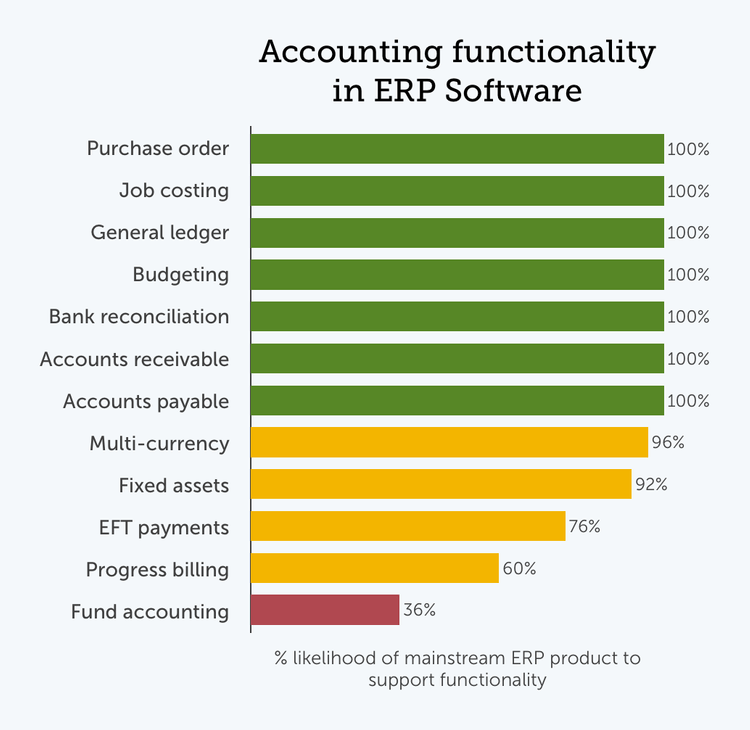 Mainstream ERP products reliably include a core set of accounting and financial management features. The consistent inclusion of ledgers like accounts payable, accounts receivable, and general ledger in ERP products is unsurprising. In fact, its not an overstatement to say that any ERP product lacking these basic financial management modules is probably better described as something other than ERP. Strong financial management capability is a cornerstone of any ERP solution.
But the breadth and sophistication of financial modules can vary. For instance, while electronic funds transfer (EFT) features provide a more advanced payment alternative to traditional check-writing, there are some mainstream ERP products that lack the tool. Fund accounting and progress billing features appear even less frequently–a consequence of the fact they hold relevance only for certain industries (non-profit/government and service/construction firms, respectively).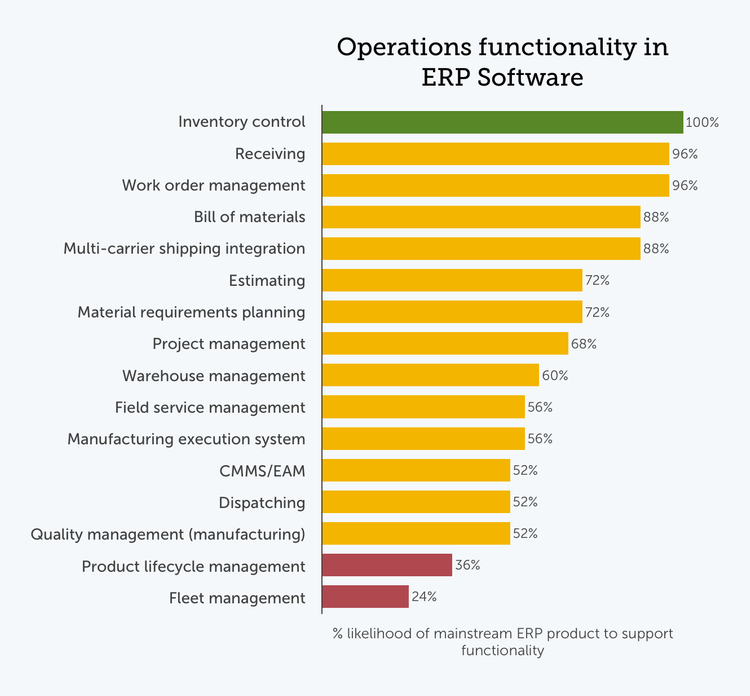 The ambition of ERP software developers is to comprehensively address both financial and operational management requirements. It's a lofty goal. The reason it's a challenging goal is that while many accounting tasks are consistent between industries, operational needs vary substantially.
There are some mainstream ERP programs which include features diverse enough to meet the needs of manufacturers, distributors, contractors, retailers, and service firms alike. But many do not.
Given ERP's origins in the manufacturing sector, it's reasonable to expect a fairly strong representation of manufacturing oriented functionality. Indeed, bill of materials and material requirements planning modules do appear in a solid majority of mainstream ERP programs. However, nearly half of ERP products oriented toward the SMB market lack quality management and manufacturing execution system (MES) functions.
Features which deal with standard product tracking tasks such as shipping, receiving, and inventory control are more common. These functionalities apply to a broader audience. While they represent fundamental needs for manufacturers, they are also required by distributors, retailers, and many service-based companies.
Project and service-oriented businesses have some distinct requirements related to communicating project and job work instructions. Nearly all mainstream ERP products support work orders. More in depth project management features show up in roughly two-thirds of ERP solutions.
Service companies who perform their work off-site, though, may find it more difficult to locate the right solution to support their needs. Field service management and dispatching modules appear in only about half of SMB oriented ERP systems. Fleet management modules are even more rare with more than three quarters of solutions not supporting this functionality.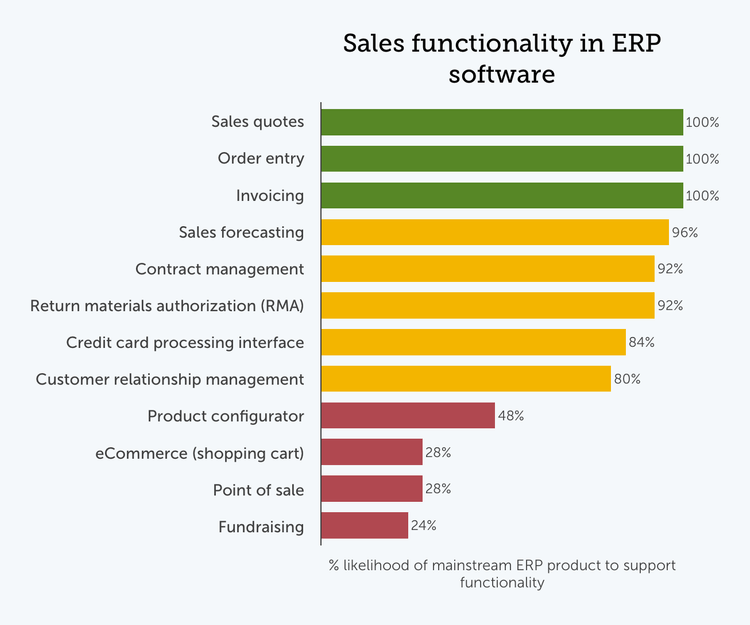 Every business sells something. And, support for sales oriented tasks is another hallmark of ERP software. But differences in both sales channels and the nature of what is being sold lead to differences in the software required to support sales processes.
Standard invoicing and order entry appeared in each of the mainstream ERP solutions we surveyed. But support for more specialized sales channels such as direct and online retail is less common. In fact, based on our data, only about a quarter of SMB oriented ERP products include native point of sale or eCommerce platforms.
Many ERP solutions provide functionality designed to enable other sales-related processes. A strong majority of ERP solutions now offer CRM features. Additional sales process features such as contract management, RMA, and forecasting functionalities are also common.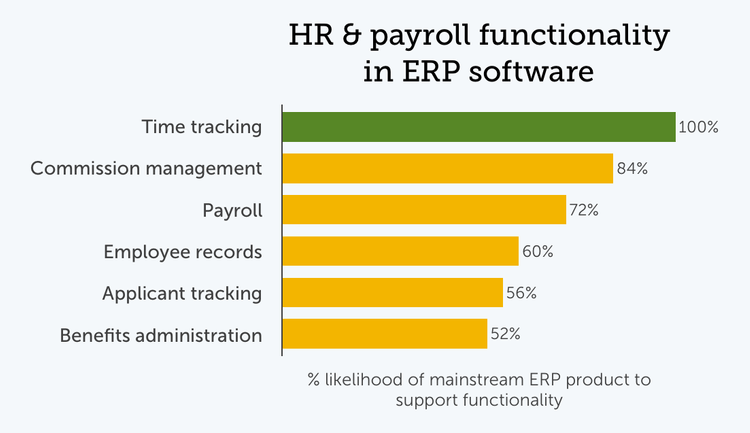 Payment-related functionalities are the most frequently represented human resources features in ERP software. Payroll and commissions applications show up in all but a small percentage of mainstream ERP products. Time tracking features, which facilitate not only payroll but other employee management processes, are also consistently found in SMB oriented ERP programs.
Modules for managing other human resources tasks, such as applicant tracking, benefits administration, and maintaining employee records, each appear in about half of the ERP products designed for the SMB market.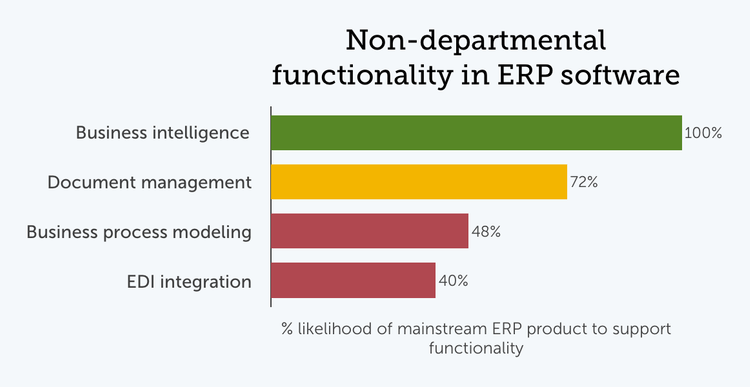 ERP features very often serve cross-departmental needs–but most map to a primary business function.
There are a handful of ERP features, though, which flexibly serve a wide variety of management or administrative requirements.
Business intelligence (BI) is a hot-button technology term these days. Since really all ERP features provide some management reporting capabilities, each could be considered business intelligence tools–at least, in a sense. But BI software has a more specific meaning when applied to flexible reporting modules that offer advanced functionality such as visual display dashboards. Even with this more restrictive business intelligence definition, BI modules can be consistently found in mainstream ERP products.
Similarly, many ERP modules offer application-specific document management capabilities. But an application-neutral document management system can be useful for consistently managing for a variety of business documents and a majority of ERP products offer this functionality in some form.
Sources
How did we arrive at the statistical information on the likelihood of feature inclusion in ERP products?
Good question.
In order to put together the data, we looked at 25 mainstream ERP packages and carefully studied their features. While there are some tremendous niche-industry ERP solutions available, we excluded them from our review. Doing so allowed us to specifically focus on the popular mainstream solutions that comprise the majority of the SMB ERP market.
For the representative sample, we selected the 25 specific SMB oriented ERP products based on three main factors:
Product popularity,
Solution applicability to multiple business types within the SMB market, and
The clarity of product information provided by the software developers.
When calculating feature inclusion, we did not include features which would need to be provided by sister products from the developer or 3rd party add-ons.
Here is a comprehensive list of the 25 products studied:
Acumatica ERP, Deltek Vision, Dynamics AX, Dynamics GP, Dynamics NAV, Dynamics SL, Epicor, Exact Macola, FinancialForce, IFS Applications, Infor Visual, Intacct, Kenandy, Netsuite, Odoo, Plex Cloud ERP, Ramco ERP Suite, Sage 100 ERP, Sage 300 ERP, Sage ERP X3, SAP Business One, SAP ByDesign, Syspro, Traverse, Unit4 Agresso
Feature Names Explained
It wouldn't be technology without some debate about what terms should be used to best describe individual features. In order to provide clarity on the terms we've used, you can find brief definitions of each feature below:
Accounts payable (AP): Accounts payable modules track vendor info, while allowing for the creation and recording of payments for business expenses.
Accounts receivable (AR): Accounts receivable modules record customer payment of invoices, while assisting with the management of late-paying customers.
Applicant tracking: Interviewing job candidates to fill open positions can be a complex process. Applicant tracking systems provide HR personnel and hiring managers a set of tools supporting tasks such as candidate sourcing, interview scheduling, and providing offer information.
Bank reconciliation: Automated bank reconciliation tools allow for the import of bank statements in order to reconcile accounting and banking records with a minimum of user involvement.
Benefits administration: A benefits administration module helps organizations manage the provisioning of employee benefits, such as paid time off, insurance, and 401ks.
Bill of materials (BoM): A bill of materials defines the material requirements and assemblies involved in producing a final product.
Budgeting: Budgeting modules use existing financial data and management input to model more accurate predictions about upcoming business expenses and revenues.
Business intelligence (BI): Reporting features occur in all types of business software. But the class of reporting software known as business intelligence applications improve reporting by offering intuitive reporting interfaces and visual data display capabilities. Business intelligence tools are helping companies base key decisions on information derived from financial and non-financial key performance indicators.
Business process modeling (BPM): Business process modeling applications help business managers document and optimize key business processes. Modeling tools are a cornerstone feature of more complex business process management suites which provide for ongoing monitoring and refinement of processes.
CMMS/EAM: Computerized maintenance management software and enterprise asset management modules both provide advanced equipment/asset tracking features. CMMS/EAM applications can help monitor equipment usage, plan preventative maintenance, and optimize equipment and asset lifecycles from implementation to disposal.
Commission management: Commission tracking applications allow for configurable commission calculations and payment tracking for performance based incentives.
Contract management: Contract management software provides application specific document management capabilities for the management of customer service contracts.
Credit card processing interface: A credit card processing interface provides a means of initiating credit card transactions from billing applications through the transmission of data to a credit card processing service provider.
Customer relationship management (CRM): CRM software provides an integrated tool set for managing customer data and tracking interactions with customers. CRM software complexity varies substantially between programs. It may include dedicated lead management, service tracking, order management, and marketing functionality.
Dispatching: Dispatching software allows service-based organization to dispatch, and often dynamically route, the movement of field personnel.
Document management: Many individual business software modules provide application-specific document management capabilities. A true document management system though provides the flexibility to database and manage access to a wide variety of business documents across multiple formats.
eCommerce - online store: APIs which allow for the integration of transactional data from company websites into the core financial management software are a standard component of ERP software. Fewer ERP solutions provide true eCommerce platforms offering the native capability to host online product catalogs and shopping carts.
Electronic data interchange (EDI) connectors: EDI is a standardized business communication protocol which provides a means for trade partners to exchange key business documents such as purchase orders and invoices in a common format. EDI connectors within ERP software translate documents into EDI format for transmission across a chosen EDI provider network.
Electronic funds transfer (EFT): Electronic funds transfer features in expense payment modules provide a means of making payments electronically via direct bank wire transfer.
Employee records: Employee records modules are essentially application-specific document management tools designed to allow for reliable management of documents containing worker-specific information.
Estimating: Estimating software provides a tool for managing the often complex calculations that occur when projecting labor, material, equipment, and other costs for jobs.
Field service management: Field service management software provides a mechanism for service-based firms to communicate business information such as work orders, product data, and customer details while in the field.
Fixed assets: Fixed asset automate the calculations related to depreciating asset values according to flexible depreciation schedules.
Fleet management: Fleet management solutions provide tools for tracking vehicle assets, often including maintenance and location monitoring.
Fund accounting: Fund accounting software allows for the reservation of cash and assets for use for specific purposes and programs. Fund accounting functionality is commonly required for non-profit and governmental financial management.
Fundraising: Fundraising software, or contributions management software, offers CRM like functionality and tracking tools related to soliciting charitable donations.
General ledger: General ledger modules offer a means of completely summarizing an organization's revenue and expense transactions and recording assets and liabilities. The general ledger is replying key financial reports such as the income statement and balance sheet.
Inventory control: Inventory control software provides location, stock count, pricing, and item information on products, parts, and materials.
Invoicing: Invoicing software is used to create customer billing documents related to the sale of goods and services.
Job costing: Job costing or project accounting modules allow for the categorization of job expenses into logical groups such as labor, materials, equipment, and subcontracting costs. Job cost software facilitates both inter- and intra-job profitability analysis.
Manufacturing execution system (MES): Manufacturing execution systems provide process controls to optimize the scheduling and usage of manufacturing resources by taking into account real-time production data, pending work orders, and resource capacities.
Material requirements planning (MRP): Material requirements planning software provides production planning intelligence with special attention paid to the quantity and timing of materials needed to ensure both peak operational efficiency and on-time delivery of manufactured goods.
Multi-currency: Multi-currency features allow for the representation of financial data in multiple currencies.
Order entry (OE): Order entry software enables the creation of sales orders, as well as the communication of order requirements throughout the organization for product or service fulfillment. Order entry systems in some cases include complete quote-to-invoice functionality.
Payroll: Payroll software offers functionality for all employee payment tasks, including calculation of periodic wages, application of deductions, payment processing (check writing or direct deposit), and generation of governmentally required payroll forms.
Point of sale (POS): Point of sale software provides a set of functionality specialized designed to facilitate in-person, often register-based, customer payments.
Product configurator: Product configurators present sales personnel with a dedicated interface that eases the difficulty associated with creating and pricing complex products designed from multiple component products.
Product lifecycle management (PLM): Product lifecycle management software provides an integrated suite of functionality designed to manage all information related to the engineering, production, and maintenance of products.
Progress billing: Billing clients at multiple points during the completion of project work creates an additional level of complexity that some basic billing programs are not prepared to handle. Progress billing solutions help coordinate the scheduling of billings to coincide with project completion benchmarks and make it easier to track customer payments and balances due.
Project management (PM): Project management feature sets provide collaborative tools for managing project scope, schedules, documents, tasks, resources, and, sometimes, costs.
Purchase order (PO): Purchase order functionality allows businesses the ability to generate purchase order forms for order placement with suppliers. Advanced functionality can include requisition and approvals management features.
Quality management: Quality management software provides controls to manufacturers for tracking key quality metrics such as error/defect rates and overall equipment, as well as tools to optimize processes related to ongoing quality assurance.
Receiving: Receiving software provides dedicated functionality to handle a few critical tasks related to the intake of material shipments: confirming the reception of goods with purchasing, inputting items into inventory, and ensuring items are stored in the proper location.
Sales forecasting: Sales forecasting applications utilize historical data and sales funnel status tracking to create better projections for future sales.
Sales quotes: Sales quote software provides the ability to create, share, and track customer facing sales quotation documents.
Return materials authorization (RMA): RMA features help product oriented businesses efficiently manage processes related to product returns, warranty claims, and repairs, including restocking and issuing credits.
Multi-carrier shipping integration: Multi-carrier shipping integration provides a direct interface with major shipping carriers such as FedEx, UPS, and DHL. Shipping modules also provide functionality for creating shipping documents such as pack lists and shipping labels.
Time tracking: Time tracking functionalities are useful for recording employee time both for payroll, as well as human resource management purposes.
Warehouse management: Warehouse management modules provide a suite of features for coordinating warehouse operations. Inventory control, shipping, and receiving tools and order entry integration provide baseline functionality. A true warehouse management program will also offer optimization features related to planning efficient use of space and minimizing the labor required for picking tasks.
Work order management: Work order management software offers collaborative features for facilitating the communication of work instructions for service, contract, or manufacturing work.
For recommendations on the top software options to meet the needs of a particular feature requirement set, we also offer our free software matching service.