I know. Your Twitter feed is jammed. You might even be plotting your next mass unfollow to clear out the junk. So following yet another B2B source on Twitter might not exactly be at the top of your to-do list. But it should be.
The value of social media is relative to the quality of the sources you follow. Following software providers can tap a great source of content and information–if you're able to find the handles of companies who user Twitter well. The reality is that software developers and sellers possess a tremendous wealth of technical and solutions-oriented expertise.

Sure, you may already follow companies whose software you currently use. You may even follow those whose products you are actively considering buying. But there's real benefit to be found in expanding the degree to which you follow software companies.
Which software feeds should be at the top of your target list? Ideally, target feeds in relation to your business role. For instance:
If you're a marketing professional, follow CRM software thought-leaders who tweet regularly about how to use technology to better connect with customers.

For top executives, especially those focused on finance and technology, check out top ERP providers and their perspectives on solving major business challenges with software.
In order to keep your feed lean and mean, though, you will need to choose wisely. Not all Twitter accounts are created equal. While some vendors fill their streams with me-me-me product pitches and marketing fluff, others provide a valuable service in terms of distilling complex technical information into actionable business intelligence. How do you sort out one from another and access the best that social media has to offer in software thought leadership?
Consider these 5 things you should be looking for when deciding if a software developer or vendor's feed is worth your valuable time and attention:
1

Usage Tips.

Here's a fact: You're not getting everything you can out of your current software systems. It's okay, no one is; there's always improvement to be had. What really matters, though, is keeping an eye out for opportunities. Enterprise software solutions are incredibly complex and offer an infinite number of use-case opportunities limited only by your business imagination. Many providers have realized that Twitter offers an unobtrusive, easy way to communicate feature possibilities.

Follow @Greytrix
2

Case Studies.

How has a tough business problem been solved? Ultimately, that's the question that every case study seeks to answer. The problem is that relevant case studies can be tricky to find. While 3rd party media sites provide a reliable mechanism to present and share news and analysis, it's tougher to find an aggregation of worthwhile case studies.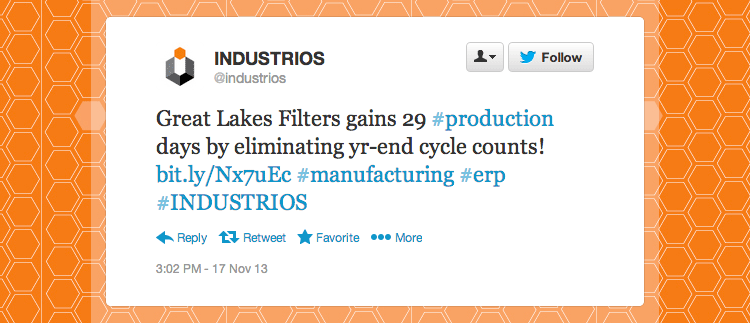 Follow @industrios
3

Solutions to Business Problems.

Case studies of course are not the only avenue for presenting solutions to real business problems you might be facing. Increasingly savvy social marketers for software companies are linking to articles, white papers, blogs, and interviews identifying how you can solve tough problems with technology. Software developers and sellers often focus on discussions related to improving workflows and processes and opening new revenue channels via technology.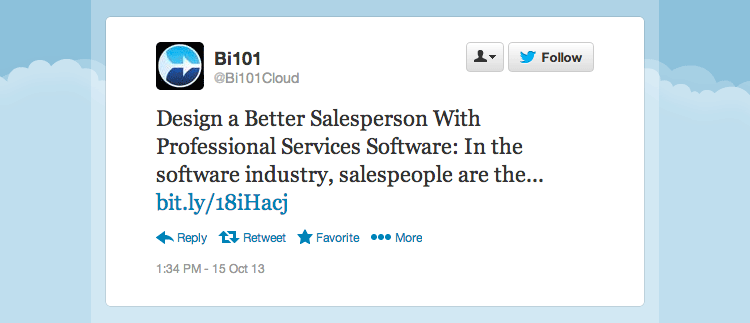 Follow @Bi101Cloud
4

Coverage of Major Technical Trends.

Software providers who consistently create value for followers tend to spend less time pitching their products and more time establishing themselves as thought leaders in their space. The pace of change in software technology is tough to keep up with. Who better to provide insight on the most important changes than the companies developing the solutions driving tomorrow's technology?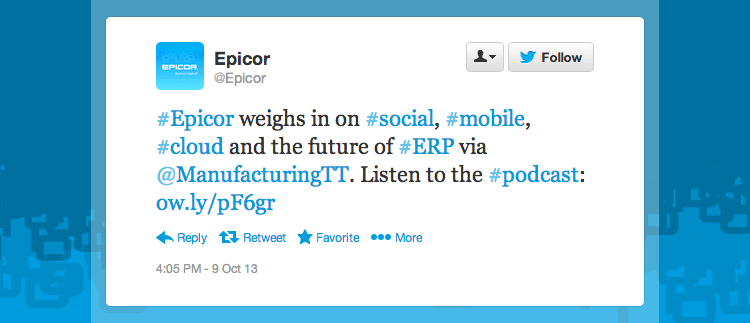 Follow @Epicor
5

Curation of Industry Relevant News and Content.

You likely have some go-to feeds when it comes to keeping up with industry-specific news. In many cases, though, software providers focusing on a particular niche do a terrific job of distilling news and content with a particularly pragmatic and technically oriented filter.

Follow @dexterchaney