When you're searching for software, you've probably encountered terms like "SaaS", "cloud-based", "hybrid", and "on prem" before. Wondering what makes them different? And more importantly, trying to figure out which one would benefit your company? Find out now:
What is On-Premise Software?
On-premise software, sometimes shortened to "on-prem software", generally means any software solution installed on-site on local hardware systems or is managed from a dedicated data center. This means any computer program which you can only access from on-site or in-office computers, or "on the premises".
If an on-premises software cannot be customized, it's called shrinkwrap. However, many on-premise solutions include custom modules for personalized performance. On-prem systems tend to be a one-time implementation fee.
What is Cloud-Based Software?
Cloud-based software, also referred to as software as a service (SaaS), is hosted remotely on a third party data center. Some browsers may be better suited for the software than others. Open source options allow the user to customize the program themselves.
Cloud-based software is often used by companies with multiple locations which need to stay in real-time coordination with one another. Since SaaS is continual, users pay for service on a monthly or annual basis.
A Third Option: Hybrid Deployment
Hybrid software systems are a mixture of on-premise and cloud-hosted software applications. Secure data may be stored on-premises while specific applications are only available through the cloud-based tools.
Hybrid solutions are used to cut down on the amount of physical software implemented on on-site computers in order to increase computational efficiency. They can be customized or implemented as shrinkwrap.
Finding the Software Deployment Model Best for Your Business
There are several factors which will determine which style of deployment is best suited for your company:
Updates and Improvements
One big difference between on-prem and cloud-based systems is how changes to hardware and software are managed. A perpetual license agreement for an on-premise software means you may not be eligible to receive updates, even if they improve service. Updates and improvements can lead to downtime, though SaaS providers will usually send out warnings to their customers with estimates for when the system will be working again.
Cost of Services
Finally, you need to know your budget before seeking software. Cloud-based software is often SaaS. Charges for continued use may be monthly or weekly. On-premise software usually involves a one-time perpetual license charge and implementation costs. 5 years of an SaaS may cost the same as one-time on prem deployment.
You may want to make one big-time payment upfront or continue to make small payments over the years. And if you have to buy new hardware for your software, your overall implementation costs will go up no matter what.
Number of Facilities
Do you operate from a single office with a dozen employees or are you part of a worldwide corporation? That matters when picking software. Cloud-based software is ideal for global companies with multiple locations across time zones and in different countries. If you work in one store and just need a POS system to record transactions, you're better suited going with an on-premise deployment.
Reliance on Hardware
If you regularly work with hardware, like barcode scanners, medical equipment, or POS cash registers, you'll need a software system which can be deployed on each device. There are many cloud-based solutions for handheld devices while larger machinery often requires on-premise software. Several hybrid systems allow you to integrate on prem device hardware with cloud-based software used in your offices.
Reliable, Real-time Support
Software doesn't always work exactly as planned. Changes to an operating system or a disruption to Internet services can lead to delays or outright failures. While most software companies offer some level of IT support during implementation, additional help may not be available for free if you have a perpetual license on-premise software. Some cloud-based providers offer free 24/7 support, though this is not always the case.
Cloud vs On-Premise ERP Systems
Imagine your company needs to select an enterprise resource planning (ERP) systems. These software suites contain comprehensive tools useful for streamlining business operations across every industry, from basic accounting to inventory control. Reviewing the differences mentioned above, you might decide on an on premise ERP software in order to protect your data. Or you may choose an entirely cloud-based ERP solutions to facilitate remote access to various applications. Or you might determine hybrid ERP systems has the most benefits for your company.
Selecting the right ERP software and deployment model can take time. Request a free ERP software recommendation from Software Connect.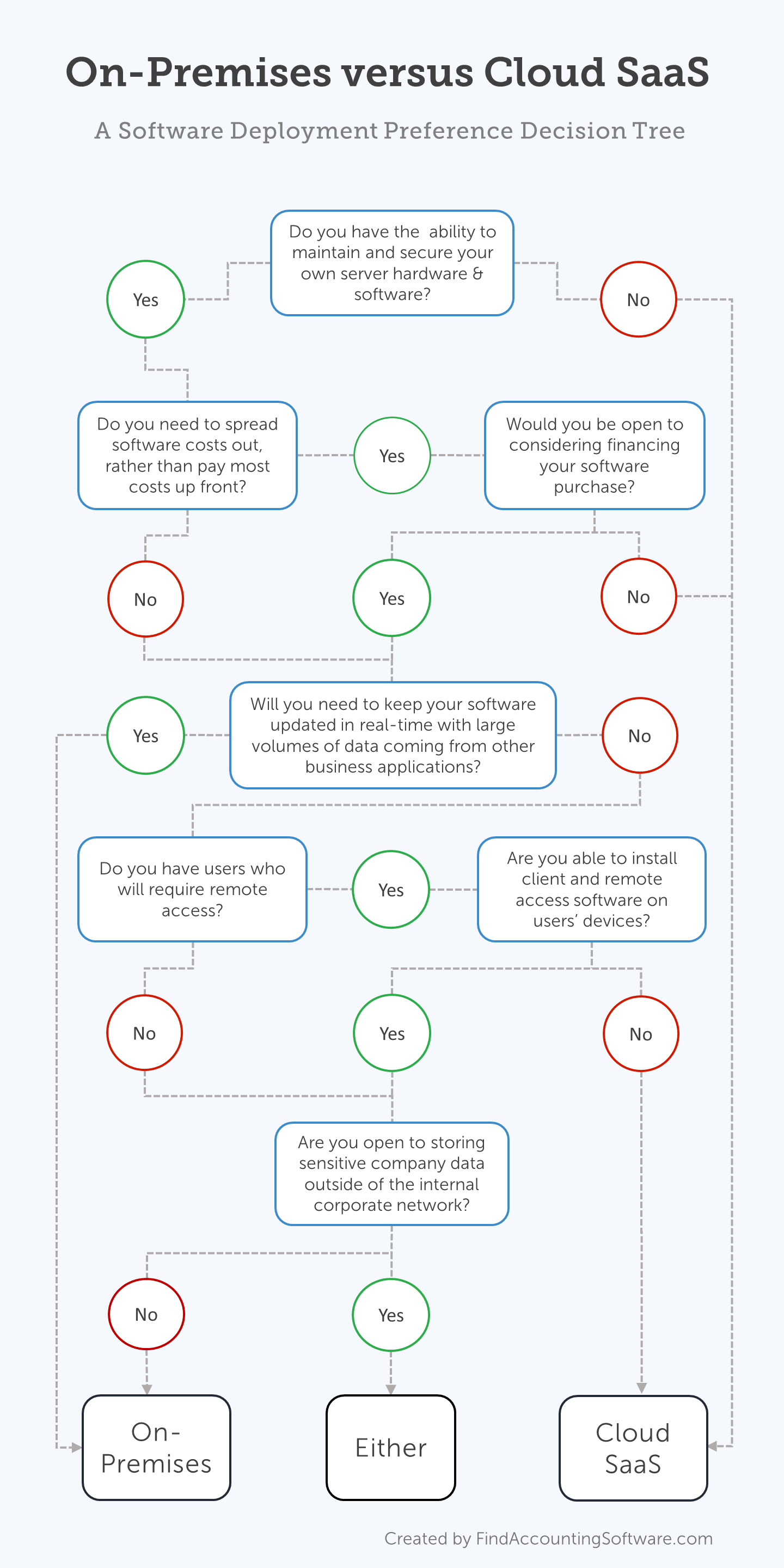 Not sure what's best for your business? Contact the experts at Software Connect for a free software recommendation.