What happens when a paradigm-shifting tech trend collides with what Time Magazine described as the biggest news story of 2013?
That's the question for anyone wondering how the exposure of unauthorized NSA communications surveillance is affecting attitudes toward hosting business software "in the cloud."
So, are concerns over government spying and bulk internet data collection likely to limit the number of companies embracing the cloud?

Key Findings
Our recent survey of IT professionals revealed some interesting answers. According to the data:
Half of IT professionals report the NSA story affected their likelihood to recommend cloud hosting.
But few IT pros (18%) have completely ruled the cloud out for business software deployments.
Cloud providers and hardware sellers will continue to duke it out for the 38% of IT pros who are "undecided" about recommending the cloud.
Before digging into more detailed statistics about current cloud adoption attitudes, it's worth looking back at the major recent cloud and government surveillance stories which are shaping opinions:
Timeline of Recent Cloud and Surveillance News Stories
February 2013: Supreme Court Dismisses Surveillance Challenge.
The Supreme Court dismisses the ACLU's suit, Clapper v. Amnesty International, which questioned the constitutionality of Patriot Act, Section 215 and mass collection of phone records.
March 2013: Amazon and CIA Agree to $600M Cloud Deal.
Amazon beats out IBM for a lucrative, high profile contract to build a private cloud for the CIA.
April 2013: Microsoft Launches IaaS Offering.
Originally designed as a Platform-as-a-Service (PaaS) offering, Windows Azure expands to provide Infrastructure-as-a-Service options.
May 2013: VMWare Offers vCloud Hybrid Service.
Long-time server virtualization leader, VMWare, gets into the IaaS game providing their single platform option for extending existing private data centers for cloud usage.
June 2013: IBM Acquires Cloud Provider SoftLayer for $2B
Reeling from a public defeat to Amazon on the CIA deal, IBM expands their cloud offerings with the purchase of SoftLayer.
June 2013: NSA's Internet Surveillance Program Revealed
Based on documents leaked by Edward Snowden, the Guardian and the Washington Post reveal the NSA's PRISM internet surveillance program.
June 2013: Edward Snowden Charged With Espionage
Shortly after the leak of NSA surveillance program documents, federal prosecutors formally charge Edward Snowden with espionage and theft.
August 2013: FISA Court Details of NSA Violations Released
The Office of the Director of National Intelligence releases 2011 FISA Court documents laying out NSA abuses and identifying Fourth Amendment violations.
September 2013: Senate Intelligence Committee Hearings
The Senate Intelligence Committee holds open hearings considering changes to the Foreign Intelligence Surveillance Act (FISA) to address NSA abuses.
October 2013: Google Apps Used in 39% of Small Businesses
InformationWeek reports on a survey revealing that a large number of small businesses are relying on cloud-based office productivity tools–especially in the form of Google Apps and Gmail offerings.
October 2013: Yahoo and Google Data Collection Methods Revealed
The Washington Post runs a story that details how the NSA was able to capture internet traffic coming directly from Yahoo and Google data centers.
January 2014: President Announces End of Collection of Calling Records
After years of collection of all Americans' calling records, President Obama announces that Patriot Act, Section 215 program activities will be suspended.
February 2014: Oracle EPM SaaS Offering Released
Oracle adapts its Hyperion business intelligence product for the cloud and announces the release of its first enterprise performance management SaaS option.
---
Ultimately, it was the "Snowden Leaks" in June which brought the simmering debate on individual privacy versus national security to a full boil. But the political angle is only one part of the story.
From a business perspective, billions of dollars of IT investment hang in the balance as decision makers take on the practical question of whether corporate data security concerns related to government surveillance practices should keep them away from the cloud.
Study Overview
Infoworld reported that in 2013, "Cloud computing took a step closer to becoming the default computing platform." But does the NSA scandal have the power to knock it two steps back?
In order to get a perspective on this question, we took it to the frontlines: IT professionals. We asked 125 IT pros the following three questions:
How has the revelation of NSA Communications impacted whether you'd recommend cloud-hosted business software?
Have you ever recommended hosting business software "in the cloud"?
Moving forward, would you ever recommend hosting business software "in the cloud"?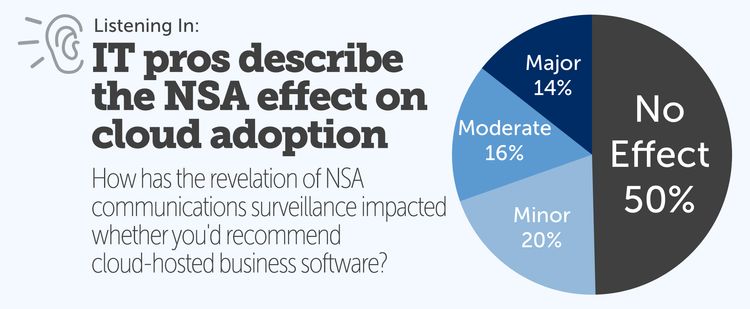 When asked, a strong majority (70%) of IT pros reported that the "revelation of NSA communications surveillance" had only a "minor" or "no effect" on whether they would recommend "cloud hosted business software."
In order to make sense of this data, though, we wanted to understand where IT professionals were coming from and where they were going–in terms of recommending the cloud for hosting business software.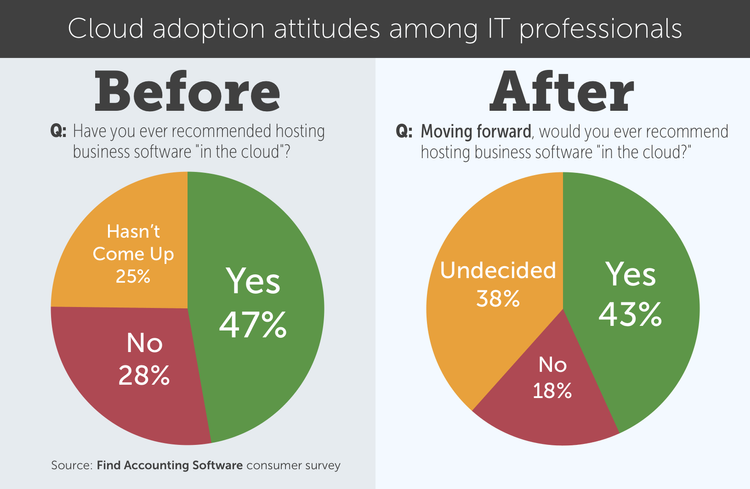 Our respondents were split roughly fifty-fifty in terms of whether or not they had previously recommended the cloud. But when we limited the data set to just the individuals who had actually faced the decision, we found that 63% of IT professionals had recommended a cloud deployment, while 37% had passed on the opportunity to do so. The numbers are similar to what has been reported in other recent surveys detailing cloud adoption rates. Notably, in mid 2013, a GigaOM research survey found that 75% organizations were now using some sort of cloud software.
But what do IT professionals intend to do when facing future cloud hosting decisions? We posed the question of whether IT professionals would ever recommend hosting business software "in the cloud." The most common answer provided was "Yes" (43%). Further, eliminating the "Undecided" group revealed that 70% of respondents with a definitive take (either "Yes" or "No") would recommend cloud deployments of business software.
It's clear that the battle for the hearts and minds of IT pros is far from settled when it comes to the cloud, though. 38% of our respondents did tell us that they were "Undecided" about whether or not they would recommend hosting business software in the cloud.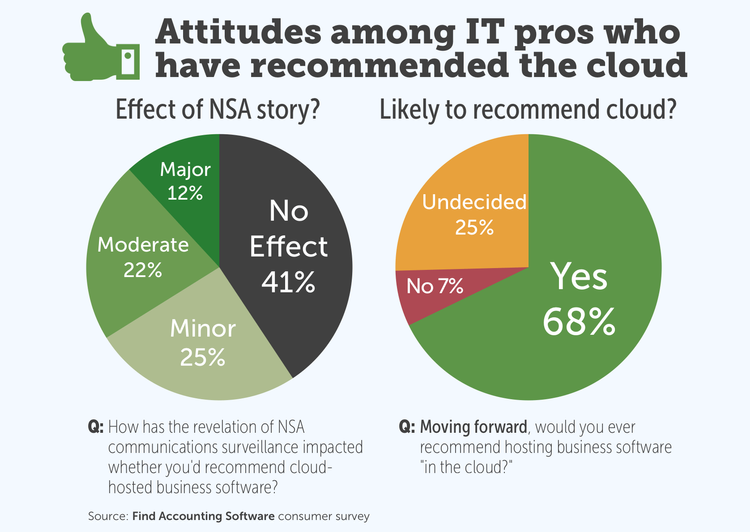 Focusing on the the thoughts of IT pros who acknowledged they had previously recommend cloud hosting of business software, we found that they were predictably less likely to be "Undecided" about future cloud recommendations. While 34% of IT pros with a history of recommending the cloud indicated that the NSA story had a "Moderate" to "Major" effect on whether they'd recommend "cloud-hosting business software," we found that 68% said that they would still recommend it.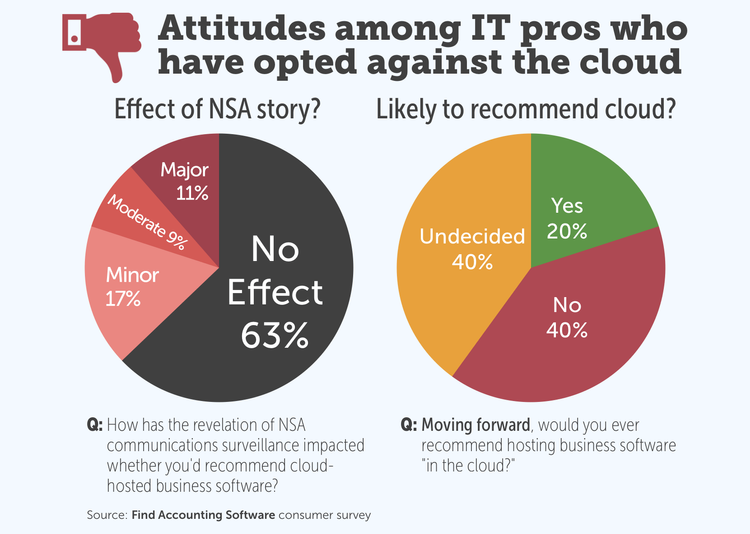 Narrowing the focus to the group of IT pros who have not embraced the cloud despite opportunities to do so, we found they were the most likely to report that the NSA story had either "No effect" or a "Minor effect" on their likelihood to recommend the cloud. In fact, only a small percentage (20%) definitively reported they would ever recommend cloud-hosting business software. One interesting point to consider: Even among this group of IT professionals who had previously passed up cloud-hosting options, 40% indicated they were "Undecided" about future cloud-hosting.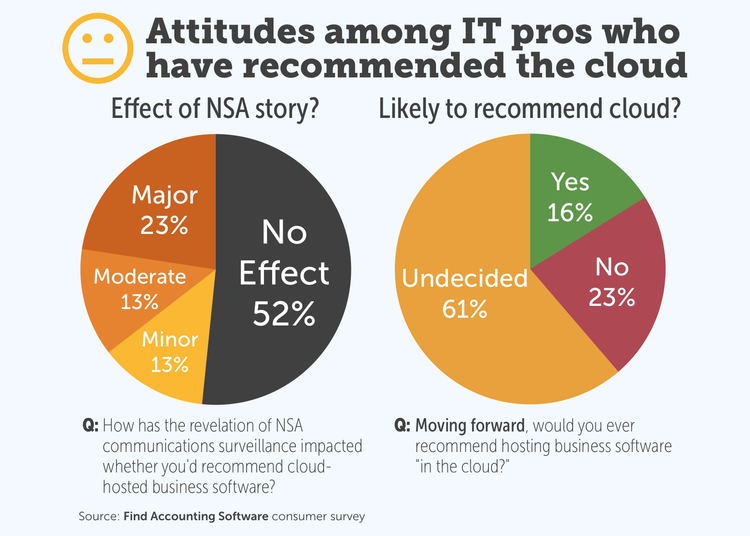 One of the most interesting result sets came from IT professionals who reported they previously hadn't had an occasion to recommend for or against the cloud. "Newbie" cloud decision makers were the most likely to report the NSA story had either a "Moderate" or "Major" effect on their likelihood to recommend cloud hosting. Still, this group remained highly ambivalent about the cloud, with 61% indicating they were "Undecided" about whether they would "ever recommend hosting business software 'in the cloud.'"
Study Conclusions:
Businesses face a complicated decision to when deciding whether or not they should host business applications "in the cloud." While there are many factors which need to be considered, data security plays a particularly important role.
The NSA surveillance story is clearly impacting attitudes toward the cloud. Specifically, our data shows that 30% of IT professionals reported that the story had either a "Moderate" or "Major" effect on their likelihood to recommend cloud hosting of business software. But while the story is having some impact, it does not appear to be the type of impact likely to turn back the overall trend toward increasing cloud adoption rates. Overall, we found that even in the wake of the NSA scandal, only 18% of IT professionals indicated that they would not recommend hosting business software in the cloud.
Methodology:
The data presented in this report originates from a Google Consumer Survey conducted between February 24, 2014 and February 26, 2014.
All data collected in the survey was from respondents pre-qualified as IT professionals. Specifically, each respondent answered "Yes" to the question: "Are you currently employed as an IT professional?"
Overall, 125 IT professionals participated in the survey. 21% of respondents were female, 68% were male, and 11% did not disclose gender information.
The age distribution for respondents was as follows:
18-24: 18%
25-34: 32%
35-44: 14%
45-54: 12%
55-64: 10%
65+: 2%
Unknown: 12%