2016 will go down as a notable year for product development within the Microsoft Dynamics suite of business management solutions.
Dynamics GP has already seen a landmark version update previously this year, while significant updates of NAV and SL are also expected later this year.
An Interview with Dominick Zappia of Admiral Consulting Group
In order to better understand the changes in the Dynamics product offerings, I connected with Dominick Zappia at Admiral Consulting Group. Admiral Consulting Group is an authorized Microsoft Dynamics solution provider with a client list including DreamWorks SKG, United Way, and the New Jersey State Bar. Dominick Zappia is the Vice President of Sales.
What Can You Tell Me About the Recent GP Release and the Web Client Improvements?
GP 2016 was in fact released on May 1, with significant improvements in the technology and inherent application functionality.

The HTML 5 interface will provide a much more enhanced user experience than past versions, when it was with Silverlight. The UI improvements will better align with the user expectations from a typical web application. Folks today are used to going on the web and having very nice user experiences. With this HTML 5 interface the user experience will be much greater with the improvements in navigation. It will be in line with what a user would experience if they weren't accessing GP via the web and were just accessing it on their desktop.
Dynamics GP Has a Legacy as a Server-Based and Locally Hosted Program. How Extensive Is the Web Client Functionality in the New Version?
The web client functionality gives you complete read access to GP.

There's really 3 user types in GP. There's what referred to as a full user, a limited user, and a self-service user. The self-service user is a web-based user who could have certain functionality available to them, such as requisitioning for purchase orders, looking up employee information or payroll information-- things of that nature. The limited user has some full read rights, but they also have some light access rights such as time and expense entry. But the web component of it is very friendly as far as the ability to be able to navigate around the screen. The web component is becoming more prevalent with GP users, as the newer versions are released.
What's the Difference in the Web Clients Between NAV and GP?
NAV, in my opinion, was always a little more advanced when it came to web-based access. GP is getting there now with 2016. In NAV 15 you were able to operate NAV on multiple operating devices, on Windows or iOS or Android. In 16, it's still there and better. And now with GP 16 you are seeing more of that. NAV was also more focused on the Azure platform [Microsoft's enterprise hosting platform], which GP 2016 is more able to do than in past versions. So I believe that GP is catching up with NAV in terms of the back-end technology, however I will say that NAV is still a product that a lot of folks like to be able to use because of its development and architecture and ability to do customization and integrations with the product. It has a very friendly development toolset.
Can You Discuss a Little Bit About the Market Niche for Each of the Dynamics Products?
SL is a very powerful solution for project-centric companies like engineering and professional services firms, where they have very unique billing requirements. Also, another sweet spot of SL that we have found is in the financial services sector mainly because of the power behind SL's inter-company and multi-company capabilities.

On the GP and NAV side, as far as our client-base, many of our clients are manufacturing and wholesale distribution. GP has really relied on the ISV eco-system over the years, whereas NAV's ecosystem wasn't as extensive. We are seeing more and more of it in the US now, but in the past GP has relied a lot on the ISV's to extend the functionality of its products. Whereas NAV clients may tend to build from the extensions within that product to provide them with the functionality they need.

NAV is a true global product. It's widely used around the world. I think there are about 90,000 to 100,000 companies using NAV. So it has a global presence as well so what we find with NAV is that we have a lot of relations with NAV partners in Europe who come to us implementing NAV at the parent company's North American division. So, again, NAV is global and comes in multiple languages. GP certainly has multi-currency things of that nature, but NAV is far more of a global product.

Again, getting back to the development, a lot of our NAV clients have development teams on staff that like to build the extensions out. The ISVs are much more relied upon with GP.
From What I Understand NAV Has an Upcoming Release in 2016? Do You Have Any Expectations on What to Expect?
I haven't seen official notes yet, but my understanding is that one of the changes is the ability to deploy it on a mobile device and have the same experience that you would have on your desktop. I think there'll be more in the way of Power BI. With 2016, there's a connection between NAV and Power BI and it will be more advanced there. So from that standpoint NAV is really cutting edge with regards to the technology and those are some areas you'll see continued improvements.
How About Over on the SL Side? What Is Microsoft Laying Out in Terms of Its Roadmap?
Well, on the SL side, I just received an email about that recently and it looks like a release will be coming out at the end of this year. There'll be a lot more focus also on the web application capabilities. SL, being a product that is focused on project based companies--most users who are users for a project based company are remote, they're folks who need to access an application from an iPad or a Surface--so with SL you're seeing more advancement on their web apps. Now you're able to download an app just like you would for an iPhone and be able to enter your time or expenses or things of that nature. That's really where we're seeing SL going.
How Has Microsoft Embraced the Cloud With Their Product Development?
I think over the last couple years, from a marketing perspective, I've seen more and more marketing around the cloud from Microsoft and with that they are beginning to incorporate their Dynamics ERP products into the cloud. The competition with NetSuite and other cloud based solutions has allowed Microsoft to do a much better job, in my opinion, marketing their ERP products in the cloud environment. I think you're seeing more and more of that with the commercials for Microsoft cloud. Now they're starting to build an entire platform from ERP to Office 365 to Sharepoint to CRM.
Returning Back to the Recent GP Release, Beyond the Web-Client Advances, What Other Interesting Developments Are You Seeing?
A couple of the interesting things form the end user perspective, on the sales and inventory side they have what they are referring to as an all-in-one document view. Traditionally, in GP when you wanted to access information with regards to inventory and sales it required a lot of mouse-clicks. What they've come out with is "all-in-one" where it displays multiple components of sales, like sales by order date, sales by customer; it just makes the user experience less mouse dependent with all those individual silos of having to go from quotes to orders to invoices to returns. Now everything will be on a single view for reporting purposes.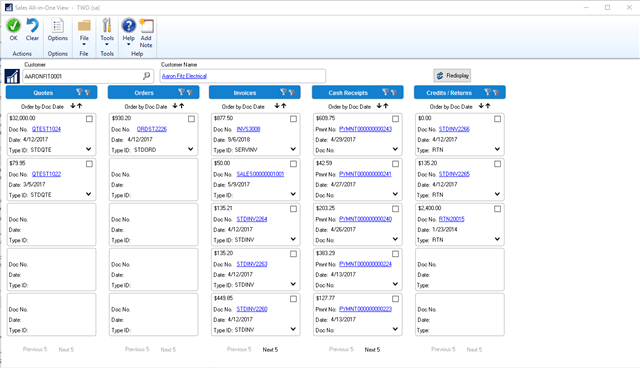 With That Reporting Experience, Is That Something Individual Users Can Customize or Configure a Bit to Display the Information That Is Most Relevant to Them?
Yeah, exactly. It's actually information that is displayed on the screen, so it's more of a holistic overview of the documents in one window, instead of having to go through multiple windows. Traditionally the information for quotes and orders and invoices were held in separate silos and access was a little laborious to be quite honest. So people could modify their screen, but it allows for them to view multiple pieces of information in one screen.
What Do You Advise Clients Who Are Interested in New Versions About Preparing to Do an Update to Make Sure It Is a Smooth Process?
Traditionally with clients we would wait until the first service pack was out. But the stability of these products has gotten much greater over the years, so we will update them sooner than maybe we have in the past.

The thing to keep in mind with any of these new versions is the technology environment. Are they going to have it on-premises? Are they going to have it in the cloud? If they are going to have it on premises, are they using the later versions of the server, SQL server, Office? So we want to make sure that the infrastructure is deployed to support the version.

The other part of the process when you're upgrading is getting the client to understand that with the new features they'll have more functionality. So we train them on the new functionality. We want to understand where they are having some issues or of challenges and we want to understand where we can use the new features to make them more efficient. The upgrade is one part of the process. The other part is more a discovery session--kind of a process analysis. We like to look at other components of the operation where maybe integrations can be done with GP. Maybe they have their CRM systems running independently of GP, for example, so we would look at integrations for that. Overall we approach updates from more of a higher level to look at processes to make sure clients are taking advantage of what is available and to improve any inefficiencies.
How Can People Who Are Interested in Finding Out More Information About Dynamics GP or Admiral Consulting Group Get in Touch?
Sure, the website is a good place to start. There's also an [email protected] email. I can also be reached directly at my email, which is [email protected]. Our phone number is (732) 257-7440 and my personal extension is 230. Any of those avenues would work to get in touch.