Not long ago, the idea of perpetual, real-time software access to customer, work order, and inventory records from the job site was just a pipedream for service contractors.
Less than ten years into the era of iOS and Android, though, things have changed. Now, it's the companies whose field technicians are without mobile access to service management systems that have become the outliers.
The rise of mobile-enabled field service management software has brought about new opportunities for field-based service providers. Mobile enabled contractors are now:
Increasing efficiency and productivity by eliminating duplicate data entry,
Decreasing job completion times with access to real-time data,
Improving the quality of work performed for customers,
And, even decreasing delays in order-to-cash revenue cycles.
The benefits of mobile field service management systems are playing out on both sides of the accounting ledger. As quality and timeliness improve, so too does customer satisfaction and revenue. As processes become less redundant and more efficient, costs are cut. The final result is better profitability and a major competitive advantage for companies who choose their mobile field service management system wisely.
But choosing the right field management software approach isn't the easiest task. Without proper integration between mobile devices and in-house service management systems expected efficiencies can disappear or, worse, fail to materialize entirely.
An Interview with Jory Lamb of VistaVu
In order to better understand the opportunity presented by mobile field service management systems and how companies can take advantage of it, I connected with Jory Lamb, CEO and Founder of VistaVu Solutions. VistaVu Solutions is a leading provider of SAP software with extensive experience in the mobile field service management arena, having developed their own FSM system: FieldVu Mobile.
What Business Benefits Are Provided by Allowing Field Employees to Input Data on the Job Site Versus Waiting to Do It Later?
The business benefits really start immediately from the point of enabling field employees to input data from the job site into a mobile application. By integrating a mobile interface, operational data can be automatically passed into the core financial software system. Doing so improves efficiency by eliminating the need to rekey field ticket data later.

But the efficiency gain is really only part of the picture of the larger business benefits. Allowing for the entry of data at the point it originates also improves the accuracy of records by reducing the instances of field ticket entry errors or lost tickets.

Another positive benefit of entering the data in real-time is that it becomes possible to bill customers faster, which is an important step for reducing days sales outstanding (DSO).
What Are the Key Tasks That Should Be Supported in Mobile-Enabled Field-Based Service Management Software?
There are a number of common job site tasks that can be enabled with a field-based service management software.

There's a lot going on at the job-site and it's important that service management software is able to keep up with the resources being utilized. In an electronic field ticketing system, this means there should be adequate support for tracking time spent on a job (labor), tracking materials used (inventory), and tracking equipment (assets).

Finally, another consideration is that it's not only important to be able to support all these tasks, but to be able to perform work in online and offline modes to manage instances where there are connectivity issues.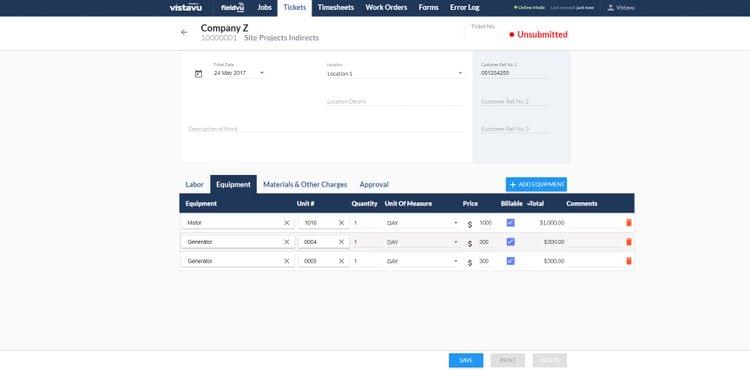 What Do Service Companies Need to Consider When Deciding Between a "Mobile Web" or "App Native" Approach to Supporting Field Service Capabilities?
When choosing between a mobile web or app native approach, the most important thing to consider is the actual type of devices that field workers have available–or that will be made available to them.

With a native app approach, apps are generally limited to certain devices. A mobile web solution offers more flexibility in that it can work on any device and it doesn't matter what operating system or hardware the end user has.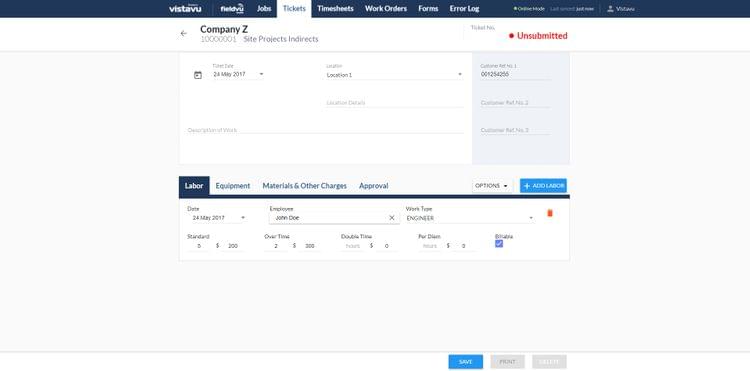 What Are the Most Common Service Level Improvements That Businesses Are Able to Pass Along to Customers When They Are Using Effective Field Management Software?
It is important to realize that field mobile solutions not only provide efficiency related business management benefits, but also allow service providers to improve the overall level of service delivered to customers.

The most noticeable differences for customers when their contractors are utilizing mobile-enabled field service management software is that there are fewer instances of billing errors, invoice documentation can be delivered faster, and the ability to deliver digital documentation in the field prevents delays.

But beyond that, it's also reasonable to expect an overall improvement in job performance. With access to scheduling, asset, and material information on the job site, contractors are able to deliver improved quality with fewer delays and less downtime.
Do You Hear Concerns From Businesses Considering the Adoption of a Mobile-Based Field Management System That Users Won't "Embrace" the Technology and Will Continue to Use Manual Processes?
For the most part, field workers embrace and love the change because it makes their work easier and can save them time driving field tickets back to the office.

But in order to ensure smooth adoption of the technology, companies need to allow for a transition period and company policies must be set in place to consistently roll out new software into the field. Companies often roll the solution out to a few crews to learn what challenges it might pose and ensure they build effective procedures to address these challenges before rolling out to a wider audience.
Experience Breeds Wisdom. What Factors Might a Company Who Is Looking to Improve on a Current Mobile-Enabled Field Management System Know to Consider That a First Time Buyer Might Underrate?
A company should look at their existing ERP/accounting platform and ensure that it is capable of integrating into a field service management software system.

Very often companies will implement a FSM solution and then realize it does not easily integrate into other solutions. So, for instance, it may integrate into the system but only the invoice component. It's possible to find out that a field service doesn't integrate customer lists, inventory, job details, labor, or equipment easily if due diligence isn't observed in the selection process. In order to make sure this doesn't occur, we've developed FieldVu Express to fully integrate FSM with the ERP solution to ensure the company has an accurate 360 degree picture of their data.
For additional in-depth discussions of field service management strategy, make sure to follow VistaVu Solutions on LinkedIn and Twitter.