The top JD Edwards EnterpriseOne alternatives include SAP S/4HANA, Oracle E-Business Suite, and Microsoft Dynamics 365. In our analysis of the best ERP software, we have ranked these alternatives based on factors like usability and functionality.
Best JD Edwards EnterpriseOne Alternatives Shortlist
Below are detailed summaries of the best JD Edwards EnterpriseOne alternatives that we'll be covering in this article:
Understanding JD Edwards EnterpriseOne and Its Limitations
JD Edwards EnterpriseOne is a robust ERP system with modular, industry-specific applications, tailored for organizations in manufacturing, construction, distribution, and service sectors. Its scalability and rich feature set, updated quarterly, make it a prime choice for many large enterprises.
However, its comprehensive nature introduces a steep learning curve and a typically complex implementation process. Additionally, the high total cost of ownership may deter budget-conscious businesses. These challenges might push some companies to consider alternative ERP solutions that offer a more straightforward user experience.
1

SAP S/4HANA: For Complex Manufacturing

Why we chose it: SAP S/4HANA is best for complex manufacturing due to its instantaneous data handling. Leveraging the strength of the SAP HANA in-memory database, the system assures swift data queries, equipping decision-makers to navigate through expansive datasets efficiently. With SAP S/4HANA at their disposal, an enterprise can detect an impending supply chain hiccup and proactively amass the requisite materials.

Moreover, its integrations with the Internet of Things, supercharged by artificial intelligence and machine learning, enable predictive maintenance. This becomes invaluable for manufacturers, ensuring they can sidestep unforeseen disruptions and curtail expenses.

Read our full SAP S/4HANA review.
2

Oracle E-Business Suite: Most Scalable Alternative

Why we chose it: Oracle E-Business Suite is scalable because each module within the suite is designed to be both deep in its individual functionality and seamlessly integrated with other modules. This allows businesses to start with what they need and add more modules as they grow, without compromising on depth or integration. Whether it's financial, human capital, or supply chain management, each module offers a rich set of features that cater to both basic and advanced needs.

The architecture of Oracle E-Business Suite is built to be customized and extended to meet unique business requirements. It provides tools and frameworks that allow organizations to tailor the suite to their specific needs, ensuring that as the business landscape or strategy shifts, the ERP system can adapt accordingly without major overhauls.

Supports multi-national data formats

Supports multiple languages and currencies

Embedded Oracle E-Business Intelligence tools

Pricing requires consultation

Tedious implementation

Less user-friendly than newer cloud solutions

Price Range: $$$$$

Client OS: Windows, macOS, Web

Deployment: Cloud Hosted
3

Microsoft Dynamics 365: Best for Seamless Integration

Why we chose it: Microsoft Dynamics 365 Business Central stands out for its integrations with other flagship Microsoft offerings, including Office 365, Power BI, and Dynamics CRM. Additionally, Business Central's open API framework allows for easy integrations with third-party applications, making it versatile and adaptable to various business ecosystems. This means fewer data silos, reduced manual data entry, and a singular, unified business platform.

Read our full Dynamics 365 Business Central review.
4

Infor CloudSuite Industrial: Best for Discrete Manufacturing

Why we chose it: Infor CloudSuite Industrial provides tools precisely tailored to the challenges of discrete manufacturing, like complex product configuration and advanced scheduling. In industries like aerospace or automotive, products often have intricate specifications. Infor offers tools that allow for advanced product configuration, ensuring manufacturers can customize products per customer requirements without errors or inefficiencies.

Discrete manufacturing often involves multiple production runs with varied priorities. Infor's sophisticated scheduling engine allows manufacturers to optimize resource allocation, ensuring timely delivery while minimizing production bottlenecks.

Read our full Infor CloudSuite Industrial review.
5

Epicor Kinetic: Best for Hybrid Manufacturing

Why we chose it: Epicor Kinetic is adept at handling diverse manufacturing methods, encompassing discrete, make-to-order, and engineer-to-order settings. It furnishes bespoke tools and processes for each type, enabling manufacturers to refine operations and curtail inefficiencies. For instance, Kinetic's agile scheduling empowers make-to-order manufacturers to adapt swiftly to order modifications, redistributing resources or revising production timelines as necessary.

Read our full Epicor Kinetic review.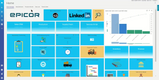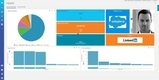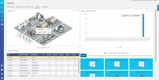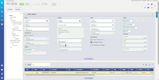 Built for manufacturers
Collects real-time shop floor data
Built-in artificial intelligence support
Not ideal for multinational organizations
High learning curve
Price Range: $$$$
Starting Price: $175/user/month
Client OS: Windows, macOS, iOS, Android, Web
Deployment: Cloud or On-Premises
6

Oracle NetSuite: Great for Growing Companies

Why we chose it: NetSuite provides proficient inventory and supply chain management, especially as businesses scale. By seamlessly connecting with eCommerce platforms and point-of-sale systems, NetSuite automates inventory oversight and supply chain operations. Such integration aids expanding enterprises in ensuring product accessibility, optimizing processes, and curbing expenses linked to manual stock verifications.

Moreover, NetSuite introduces sector-focused editions. This bespoke strategy ensures companies aren't shoehorning a one-size-fits-all ERP into their unique needs. Instead, they receive features designed expressly for their industry, cutting down on setup duration and promoting a more instinctive user experience.

Read our full NetSuite review.
7

IFS Applications: Best Industry-Specific Features

Why we chose it: IFS Applications zeroes in on the unique requirements of specific industries. The platform's composable environment ensures adaptability, allowing businesses to select functionalities as per their needs and expand over time. IFS allows you to select from over 100 business components which in turn are made up from more than 6,000 smaller software components. It can be tailored for aerospace and defense, energy utilities and resources, construction and engineering, manufacturing, and service industries.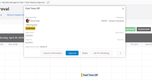 Lots of functionality included
Easy Excel exports
Customer support is very responsive
Some users reported performance issues
Unintuitive user interface
Limited customization options
Price Range: $$$$$
Starting Price: $250,000 (perpetual license)
Client OS: Windows, Web
Deployment: Cloud or On-Premises
8

QAD Adaptive ERP: Best for Global Manufacturers

Why we chose it: QAD Adaptive ERP supports global manufacturers with multiple currencies, intercompany transactions, and international financial regulations. This ensures that global manufacturers can maintain accurate and compliant financial records, no matter the complexity of their operations.

QAD focuses primarily on manufacturing sectors, offering solutions to streamline operations, financial management, and customer engagement, ensuring that manufacturing enterprises remain agile. It offers a modern, device-independent and intuitive user interface that enhances productivity. It's designed to be flexible, allowing users to tailor their workspace to their preferences and job functions. This enhances user adoption rates and efficiency in a manufacturing environment.

Collaborative supply chain portal
Popular user interface
Product data management integrates with PCC or PLM
Slow speed of filtering large data sets
Lack of flexibility in customization
Steep learning curve
Price Range: $$$$$
Client OS: Windows
Key Factors to Consider When Choosing a JD Edwards EnterpriseOne Alternative
Take these key factors into consideration when choosing alternatives to JD Edwards EnterpriseOne:
Implementation Time and Complexity: One common criticism of JD Edwards EnterpriseOne is its complex implementation process. If you've found this to be a pain point, you'll want to seek an alternative that promises a smoother and more straightforward implementation.

Total Cost of Ownership (TCO): JD Edwards can come with a high TCO due to licensing, upgrades, and other associated costs. When switching, it's essential to find a system that provides transparency about both initial and ongoing expenses to avoid hidden costs.

User Experience and Learning Curve: The steep learning curve associated with JD Edwards might mean your team faces challenges in adoption or efficient utilization. An ERP with a more intuitive interface might resolve these user experience issues.

Vendor Support and Community: If your organization feels unsupported or isolated using JD Edwards, it might be beneficial to seek an ERP solution backed by a robust support structure and an active community.
Summary
For businesses seeking a comprehensive ERP solution, JD Edwards EnterpriseOne has been a favored choice, boasting modular, industry-focused applications. Especially appealing to those in manufacturing, construction, distribution, and asset management, it offers impressive scalability and frequent updates, making it a reliable tool for sizable enterprises.
However, its very strengths can also be deterrents for certain businesses. The platform's intricate features, while powerful, come with a notable learning curve, potentially challenging for firms with leaner IT resources. The detailed setup can prolong implementation and escalate costs. For companies sensitive to expenses or in the nascent stages, the high total cost of ownership might be a hurdle too steep. Thus, for businesses seeking a more streamlined, cost-effective, yet powerful solution, exploring alternatives to JD Edwards EnterpriseOne could be a strategic move.
Still not sure which option is best? Get recommendations from our team today!
Is JD Edwards EnterpriseOne suitable for small to medium-sized businesses, or is it better for larger enterprises?
JD Edwards EnterpriseOne is characterized by its comprehensive suite of modular, industry-specific business applications, making it highly adaptable to diverse enterprise needs. These modules cover everything from supply chain and project management to real estate and human capital management. Its depth and breadth make it highly attractive for larger enterprises that require intricate, interconnected functionalities to manage complex business processes.
However, for smaller businesses, such extensive capabilities can be overwhelming and may result in underutilization. Furthermore, the associated costs—both in terms of acquisition and ongoing maintenance—can be prohibitive for SMBs.
How does JD Edwards' user interface compare to newer ERP solutions?
JD Edwards, being an older platform, bears a user interface that may seem dated when juxtaposed against contemporary ERP solutions. While functional, its interface lacks some of the intuitive design elements and user-friendly navigation features prevalent in more recent ERP platforms. Newer solutions like Workday or Acumatica, for instance, emphasize a more visual, drag-and-drop interface with cleaner layouts and real-time data dashboards. These platforms prioritize a user-centric experience, designed with the modern user in mind, making it quicker to adopt and simpler to use.
What support and training resources does JD Edwards offer compared to alternatives?
JD Edwards offers a wide range of support resources, including an extensive online knowledge base, user communities, and dedicated support teams. Additionally, they offer training through Oracle University, which provides courses, certifications, and training resources.
However, the intricate nature of JD Edwards means that the training can be more intensive and potentially more expensive than that for simpler ERP solutions. More modern and streamlined ERP platforms often offer quicker onboarding processes, guided in-app tutorials, and community-driven help centers, enabling users to get up to speed faster and often at a reduced cost.