Time tracking is the practice of recording how many hours a worker, team, or company has spent on a specific task. Traditionally, this was performed using paper time cards and timesheets to track time spent on individual projects on a daily, weekly, or monthly basis.
What is Time Tracking Software?
Time tracking software is made to help businesses know how much time their employees, contractors, and vendors are spending on specific projects. Essentially, these systems replace paper timesheets for all tasks performed on a computer or mobile device.
Time tracking software is often used for two purposes: to record individual employee performance and to accurately bill for services charged by the hour. The former can be a valuable tool for streamlining project management while the latter helps with invoicing. In particular, the ability to track project statuses helps with the creation of invoices by accurately reflecting work completed and to be done. By using software or a mobile app for time tracking, companies can better manage their time.
Time tracking systems are also useful for payroll purposes, as employee hours can be tracked based on attendance and time spent on particular projects. This in turn leads to better job costing as businesses can use time tracking to review which projects take the most time and need more resources.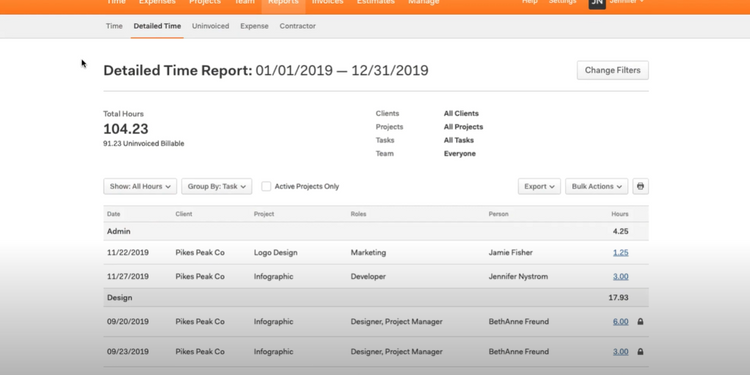 Features of Time Tracking Software
Digital time cards: Let employees clock in and out of work with online time cards and log hours in digital timesheets
Real-time entry: Use an automated timer to record task duration for individual employees or work teams
After-the-fact time reporting: Allow users to update and adjust their work hours after their project is completed
Timers and alerts: Set custom alerts for timed tasks to avoid going over budget
User activity monitoring (UAM): Record the different actions performed on work computers during scheduled hours; take screenshots of work screens or log website interactions
Project/client time assignment: Log hours worked based on the client or project in order to properly invoice later
Mobile time entry and adjustments: Use mobile devices and apps to submit time anywhere, particularly useful for staff based outside the main office
How is Time Tracking Different from Attendance and Billing?
There is a lot of overlap between time tracking applications and software designed for attendance and billing purposes:
Time and attendance software works in conjunction with payroll software to create accurate timesheets for every employee. Tracking in this capacity is more broad, as it's mostly just for calculating how many hours an employee worked and when.
Time and billing software is the most similar to general time tracking software, though it notably includes additional features such as automated bill calculation. There are also invoice creation templates to make it easier to bill customers and vendors. The goal is to automate expense tracking, not necessarily determine how much time is spent on different tasks.
Time tracking solutions are designed to break down how employees spend their time on individual projects and tasks. Then, you can identify opportunities to streamline task management. This includes tools for maximizing productivity through better project management methods. Some solutions include attendance, invoice, and employee time billing functionality as well.
Which software type is best suited for your business will depend on your end goal. If you want to digitize your timesheets and handle some billing, an all-in-one time tracking system is likely right for you.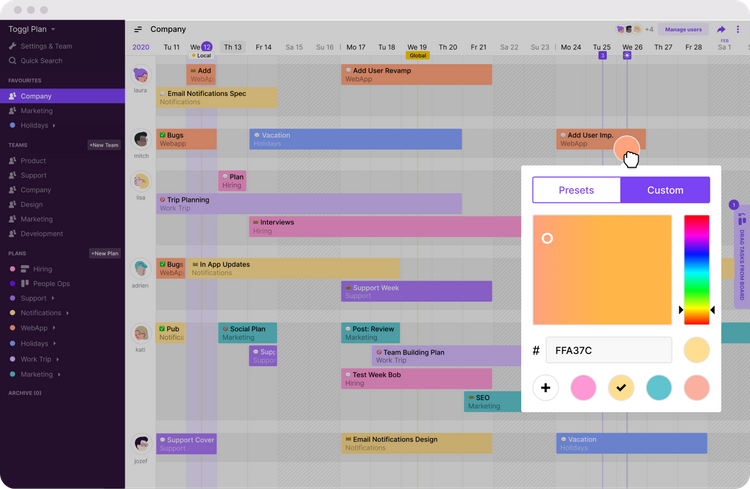 Best Time Tracking Software Benefits
There are several benefits to implementing a time tracking system at your workplace:
Digital Timesheets Improve Accuracy
One of the main benefits of time tracking software is the ability to digitize all your company timesheets. Employees can clock themselves in and adjust their hours from their own workstations, either through a browser or mobile device.
Time can be tracked in several ways, depending on what your company needs:
Durational: Log how much time was spent on a task
Chronological: Record the total time to complete a task in real-time
Automatic: Employees set start/stop timers on each task which occurs during the work day
Manual: Employees clock-in/out of work themselves to measure billable hours
There are subtle differences between these time tracker measurement methods. For example, a task might take an employee 6 hours to complete going by duration. Yet in reality it might have chronologically taken two business days to finish because they didn't start until the afternoon of the first day. As such, it's important to select the right time tracking method to get an accurate estimate of completion time.
Additionally, real-time user activity monitoring (UAM) can show which employees aren't fully focused on their work projects. There are many time tracking apps which are compatible with iOS and Android devices for continual tracking of off-site performance.Whether the software is installed on a specific computer or accessed through an app, you can be aware of what actions your team is taking while on the clock.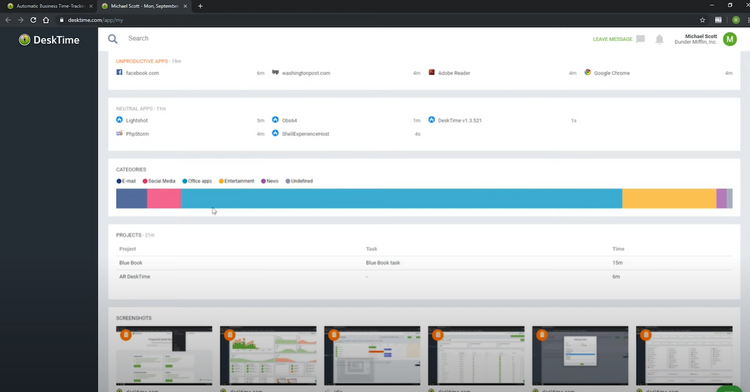 Maximize Worker Efficiency
In business, wasted time is wasted money. Reviewing timesheets can reveal which workers are most productive and who is falling behind. This allows you to reward employees based on their performance. You can also identify which tasks need additional time to complete. A time tracking app lets you review task progress in real-time.
These timers can also keep workers in check. Send out automated notifications to remind employees when tasks need to be completed for greatest profitability. Customizable solutions let employees determine when they need alerts the most. By encouraging good time management skills, your team members can become more efficient and more profitable for your company.
And hourly professionals can know exactly when each session is up with these reminders. For example, a lawyer performing a one-hour consultation can have an automatic reminder sent 15, 10, or 5 minutes before the end of time slot in order to keep the meeting on track. Otherwise, they might go over the agreed upon time with their client and delay all their other meetings for the day.
Other hourly professionals who benefit from time tracking software include:
Accountants
Entertainers and musicians
Medical consultants
Contractors
Independent consultants
IT and tech support
Generate Accurate Invoices and Payroll
Time tracking solutions can integrate with payroll software to better determine correct employee compensation. This also helps freelancers who need to calculate their rate down to the hour.
Finally, knowing exactly how many hours were spent on every project means you can create incredibly accurate invoices for your clients. For example, if UAM shows a worker was going to charge a client for time when they weren't actually working, you can rectify this before sending out an invoice.
Time Tracking Software Pricing
Time tracking software pricing is often based on the number of users and projects being tracked. As such, the total costs will depend on the number of employees you have. There are plans available for as little as $3 per month per user. More expensive plans are generally $30 or $40 per month per user. Bulk pricing is often available, meaning larger companies may pay less per user than small businesses.
Some software options have custom pricing as well, so request a quote. Free options, like Clockify, are available, though there are costs for additional features.